I love budgeting, but I know sticking to a budget can be difficult if money is tight. When you're budgeting, you may not be aware of how to save money on a tight budget.
Maybe you're already packing your lunch for work or keeping your distance from costly hobbies and expensive coffee shops.
It's important to get creative with your savings strategies and explore options you may not have already tried.
Here's a list I put together of 30 ways to save money on a tight budget.
These are things you can start doing now to set yourself up for financial success without feeling deprived.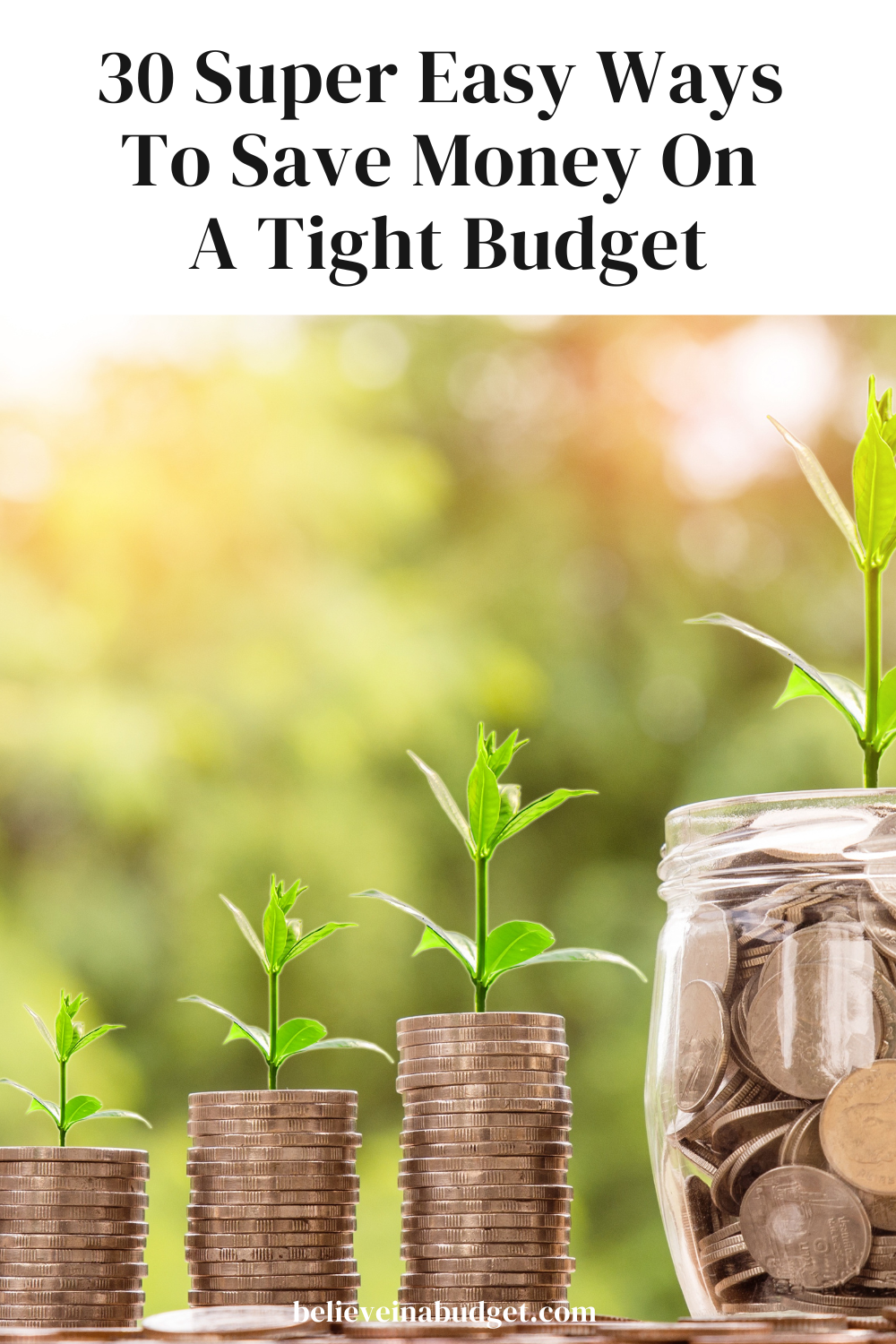 How do I save on a very tight budget?
Simply put, the best way to save money on a tight budget is to a) make more money and b) cut out as many unnecessary expenses as possible. An easy way to do this is to have a set budget and keep it simple. One of my favorites is the 50-30-20 budget rule.
What is the 50-30-20 rule with money?
Basically, the 50-30-20 rule is the easiest way to budget your money and keep it on track. It means 50% towards needs, like rent and bills you have to pay. Then 30% goes towards "wants", or things that can be adjusted (like your grocery budget). Last but not least, 20% goes towards savings or debt.
For people who hate to budget, or don't have time to go line by line, this budget solution can help you stay away from high expenses, but still make it easy for you to manage your money.
How do I stop living paycheck to paycheck?
If you're living paycheck to paycheck, first let me know that you're not alone. In fact, studies show that 61% of Americans were living paycheck to paycheck in June 2022.
If you've tried cutting out expenses and making more money, but are still struggling, please reach out for help. There is nothing morally or ethically wrong with getting help when you need it. SNAP benefits, local food pantries, WIC, Medicaid, and other government and non-profit benefits can be critical when trying to get out of the paycheck-to-paycheck cycle.
Next, you'll want to try to decrease expenses where you can, and get a better job (or side hustles) that can help you build your savings and pay off debt to open up some breathing room. Below, I share some ways to cut out expenses however you can!
30 Easy Ways To Save Money On A Tight Budget
1. Start Meal Planning More Effectively
We all have to budget for groceries every month. However, how much you spend often depends on how well you plan your shopping trip and utilize the foods you buy.
I only make a few grocery runs every month. Start by taking inventory of the foods you already have. Maybe there's something left over from the last grocery shopping trip or you have some pasta in the cabinet that can be turned into a meal.
Write your shopping list based on meals you'd like to prepare and what ingredients you need for them. Then, plan everything out to stay organized. This is also a great way to eliminate food waste as well.
2. Cut Lifestyle Expenses
Changing lifestyle habits is one of the best ways to save money on a tight budget. Adjusting your lifestyle doesn't mean you have to give up what you love completely.
If you are big on traveling, you may not be able to do international trips right now but you can explore your own backyard instead. Go on local hikes or do a day trip to a national park for free.
If you love getting your nails done at the salon, see if you can get a few tools and supplies to help you get salon-quality nails at home.
3. Create Some Sinking Funds
A sinking fund is when you start saving a pre-determined amount of money for a specific goal or expense. It's not the same thing as an emergency fund because sinking funds are for planned expenses that you know are coming up.
For example, you know Christmas is on December 25th each year so you can develop a sinking fund to start setting money aside for holiday expenses.
It may seem challenging to save money on a tight budget with sinking funds, but keep in mind that you will likely need to spend money in the future on those expenses anyway.
Why not start setting something aside to prepare even if it's only $10? Doing so can help eliminate financial stress in the future along with the temptation to use a credit card or take out a loan
4. Lower Your Cell Phone Bill
There are so many affordable cell phone companies out there these days. Don't pay the high costs.
If you're not paying the lowest amount possible, look into prepaid companies like Mint Mobile, Tello Wireless, and Total Wireless. Plans often start around $10 per month and you get to keep your smartphone.
Plus, I love how you can cancel your service at any time or add on data plans during the month with prepaid phone service.
5. Check Credit Card Fees
Credit card companies are known for sneaking fees in that you may not even notice. Check to see if you're paying an annual fee, foreign transaction fees, or even a monthly maintenance fee.
Call your credit card company to see if you can lower or waive any fees you're paying. If you've been a customer for a long time and are current on payments they may be willing to work with you.
6. Cash-Only Spending
One of the best ways to save money on a tight budget is to adopt a cash-only budgeting method. There are many budgeting styles out there, but using the all-cash method can help you avoid overspending and work with the funds you have.
It's been proven that people tend to spend more with a debit or credit card. With an all-cash budget, you can't pay the bill later and you must stick to the allotted amount you've given yourself.
This can prompt you to get creative and manage the money you have more intentionally. Make cash budgeting fun by grabbing some stylish customized budgeting envelopes from Amazon and having regular budget meetings in your household.
7. Eat Through Your Cabinets
Before you plan a grocery shopping trip, challenge yourself to create some meals based on what you already have in the pantry or freezer.
I call this eating through your cabinets and you may be able to come up with some delicious recipes as a result of what you already have on hand.
Challenge yourself to see how many meals or snacks you can create. Beans and rice are common pantry staples that could make a filling meal. Consider making a stir fry with frozen veggies.
If you have bananas that are going bad, see if you can make banana bread. As you can see, the opportunities are endless so have fun with it and save some money by working with what you already have.
8. Shop With Ibotta
Ibotta is another way to save on shopping. Ibotta can be used as either a desktop extension or a mobile app. Receive a $20 welcome bonus just for getting the app. Ibotta partners with over 700 online retailers so you can save when you shop online as well as in person.
If you're doing in-person shopping, be sure to search for and redeem offers on the app before your shopping trip. Then, scan your receipt on the app to earn rebates.
Note: Another great app that I like using to save money on shopping is Fetch! Check it out here.
9. No Spend Week or Weekend
Reset your finances with a no-spend, day, week, or month. The whole point of the no-spend period is to eliminate extra unnecessary spending. Make your own rules and determine what you won't spend money on outside of regular bills.
You can start small by challenging yourself to a no-spend day or no-spend weekend. Then, slowly work up to a no spend week or longer.
10. Review Car Insurance Rates
Don't settle for your current car insurance rate since rates fluctuate all the time. The average American should be shopping around at least once a year to see which companies can offer the best premiums and coverage.
Most insurance providers offer discounts for things like multiple policies, low mileage, good driver, good student, and paperless.
If you don't want to call around then you can use Insurance Quotes to help do the comparison work for you.
11. Save Automatically
One of the best ways to save money on a tight budget is to automate it. That way, you work savings into your budget even if the amount is small.
Spare change savings apps like Digit and Acorns can help you invest and save with ease. At the end of the day, it's all about creating a healthy savings habit. You'd be surprised to see how much $5 to $10 per week can make a difference.
12. Order Groceries Online
Top retailers like Walmart, Whole Foods, Aldi, and Target have opened this up as an option in select parts of the country.
I love ordering groceries online because you can see exactly what you're going to spend and avoid the temptation of grabbing things in the store that weren't on your list.
Most stores offer grocery pick-up for free but you may pay a fee to have groceries delivered to your home.
13. Utilize Your Local Library
Libraries are great resources for free entertainment, events, books, and more. Rent movies, video games, and other items from your local library for free.
Your library may even offer other resources like free classes, free or low-fee laptop rental services, community programs, and more.
14. Adjust Pet Food Budget
Don't forget about adjusting your pet food budget as well. If you want to mix it up and save money on your dog's food try out Chewy. Chewy doesn't only have food but also gives pet parents a place to get toys, beds, and treats.
There are no shipping costs for any order over $50. Chewy offers savings to customers who start their auto-ship feature. All new members get a 30% off their first order then 5%-10% off any additional recurring orders.
15. DIY Your Haircuts
It might be hard, but changing your hairdresser or barber can offer very nice savings. It wouldn't be easy to say goodbye to someone you've been going to for years, but your budget might benefit from the change.
See if you can learn how to cut your own hair since this could limit your salon visits to just one or two times per year.
Related reading:
16. Make Your Own Cleaning Supplies
Save money by simply making your own cleaning supplies.
There are plenty of recipes out there (especially on Pinterest) that can help you keep cleaning supplies in your home, but for half the cost.
It might not be as potent as buying it from the store, but it can get the job done.
17. Free or Low-Cost Events
Don't overspend on entertainment. Cities are filled with free or low-cost events. I've had luck looking at my local library for flyers or posters of free events in my area.
Also, many organizations do a good job of promoting their event through Facebook. Just take a look through your Events tab on Facebook and see what is coming up.
You might be surprised by the ways you can save money on a tight budget by doing this. The events will have all the information you would need like the address and what hours the event will be held.
18. Save Money on Gas
It is convenient to fill up with gas at the gas station closest to your house. It's not always the cheapest though. If you do a lot of driving, gas can be a big expense.
Gas Buddy gathers all the gas stations in your area and gives you the prices per gallon for your zip code. The app is a quick way to find the cheapest place for a gallon of gas and how far away from it you are.
19. Lose the Car Payment
With the average monthly car payment ranging between $300 and $450, this cost can seem pretty outrageous for someone on a tight budget.
Consider getting rid of the burden of having a car payment by either selling your car and buying a cheaper one with cash, sharing a car with your partner, or exploring other transportation options.
If you live in a very walkable city, you may be able to walk or ride your bike. You can also explore public transit options in your area as well.
20. Keep Track of Your Spending
Keeping track of your spending can help you find where your money is going and save money on a tight budget. Keep a better eye on your account statements and activity.
Take the time to create a spreadsheet and put the effort into tracking. There are many websites and apps out there to help you track your expenses including Qapital, Mint, and You Need a Budget.
21. Start a Side Hustle
In order to get in a better place financially, starting a side hustle could be a way to increase savings.
I absolutely love side hustles and the flexibility they offer so I put together an epic list of side hustles that can help you earn $1,000 or more a month.
If you need to pay down debt faster, save, or have extra spending money, starting a side hustle can help you with that with no problem.
22. Avoid Bank Fees
Bank fees can be avoided and should be if possible. According to a 2019 Center for Responsible Lending Report large US banks collected over $11 billion in overdraft fees alone.
That's not even including account maintenance, ATM, or other fees banks collect from their customers every year.
If your bank charges outrageous fees consider switching to a bank that doesn't. Some banks will even give new customers a bonus just for opening an account with them.
23. Pay Yourself First
Prioritize savings before anything else. This will help you get the best results instead of waiting until later to try saving. Instead of saying you'll just save the next check, save as soon as you get it.
24. Use Credit Card Rewards
If you are able to use credit cards wisely even while having a tight budget, you could take advantage of some of their reward options like cash back and points.
If you can earn cashback for getting groceries and pair that with Ibotta rebates, you'll save even more money.
Of course, you shouldn't go overboard with credit cards and overspend, but a strategic strategy could help you stretch your budget.
25. Cancel Subscriptions You Don't Use
The cost of subscriptions can be sneaky if you forget about them or no longer use the product or service. Be honest about subscriptions you aren't using and cancel them to save money.
26. Prorate Utilities
Instead of paying your utility bills every month based on usage, consider pro-rating them and paying a fixed amount every month.
This could be beneficial if you have lower bills during the summer but higher amounts during the fall and winter as your consumption increases.
Another way to cut your utility expenses would be to try a free service like Billshark which can help negotiate your bills.
27. Shop Around Before You Buy
Don't settle for the first price whether you're shopping online or in-store. Take the time to shop around and find the best deal.
You may give in to the first price you see in order to get the item fast. Consider using sites like Brad's Deals and Retail Me Not to help you shop around for the best price.
28. Utilize the Benefits of Amazon Prime
Yes, Amazon Prime does cost money but students get a 50% discount and there are a ton of benefits to using this service. To start, you get a free 30-trial and can get access to some of the best prices on household goods (and everything else for that matter).
Free 2-day shipping is unlimited and convenient if you need your items fast.
You can also take advantage of Amazon Prime video for entertainment and exclusive savings on other Amazon services and products.
Overall, the annual cost pays for itself if you use Amazon every month so you'll likely wind up saving money
29. Financial Windfalls
A financial windfall is when you get hit with an unexpected sum of money. This could be a work bonus, tax refund, credit, gift money, etc. These windfalls can be crucially important if you're trying to save money on a tight budget.
One of the best things you can do is act as if the windfall didn't occur and put it directly toward savings.
30. Sell Something
eBay, Craigslist, and Facebook Marketplace are all great places to sell items you don't use anymore. If you're looking for a way to get cash, go through your closets are sell stuff that hasn't been worn or used in years.
Ways To Save Money On A Tight Budget — Starting Today!
There are so many creative and flexible ways to trim your budget so you can decide what works best for you.
From personal experience, I find the best way to prioritize saving on a lower budget is to combine spending less with earning more even if it's through a small side hustle.
What are your favorite ways to trim expenses to make room for savings?