Learning how to start a blog was one of the best decisions I've ever made. In less than a year, I was able to quit my full time job and make a full time living from starting a blog. I have shared tons of blog income reports over the years, including my first income report on how I made my first $60 from my blog.
I am going to teach you how to start a blog today. You don't need to have any tech experience to set up your blog, but you do not need to follow a few steps. The whole process only takes about fifteen minutes to go through all the steps.
Click here to sign up now to learn how to start a blog and then follow the instructions below.
Blogging has also allowed me so many opportunities. With this tutorial, you will:
Different blog idea topics that you can blog about
Learn how to start a blog with step-by-steps instructions
Hosting plans and options
Get a FREE domain name with your hosting plan
Bonus tips on what to do after you start a blog
How to make money blogging
As I shared above, I made my first $60 from my blog. Each month, I made a little bit more in income. In less than a year and in my spare time, I made just under $13,000. This was all in my spare time, too! I still had a full time job, so having this extra income was so helpful.
In my first year of blogging full time, I made around $90,000. You can read all my blog income reports here.
If I can learn how to start a blog and make it successful, you can too!
Blogging ideas so you can learn how to start a blog today
Are you looking for some ideas on what to blog about? You have come to the right place.
Recipes
Printables
Sharing budgeting tips
Mama / family life
#Adulting
Paleo / Keto / Low sugar eating
Vegan
Saving money
Making money
Building a home
Remodeling
Starting a business
Your profession / career
Crafts / DIY / How-to steps
Book clubs and reviews
Healthy living and/or weight loss
Lifestyle
Tutorials
Homeschool
Fashion
Personal Finance
Makeup and hair
Photography
Art
Journaling
Teacher / education
Faith / religion / inspiration
Reviews/ direct sales – LuLaRoe, Scentsy, Essential Oils, R+F, Mary Kay
Vintage finds / picking
Product Sample Reviews
Pets – accessories, bakery, etc.
Shopping hauls
Wedding / wedding planning / event planning
Shopping
Service based, such as accounting, bookkeeping, real estate
Brick and mortar shops
Self care
Garden / homestead
Coupons / save money on groceries
Car / woodworking / building / 'shop' hobbies
Student / college / Greek life
Home decor
Everyday lifestyle
Mental well being / self help / depression / chronic illness
Travel / vacation
RV
Disney
Camping / hiking
You can also start a blog so you can share your experiences in multiple ways.
Don't think that you have to be a professional writer or expert either. Some of the best blogs write from the heart and are not perfect!
How to start a blog today in just 15 minutes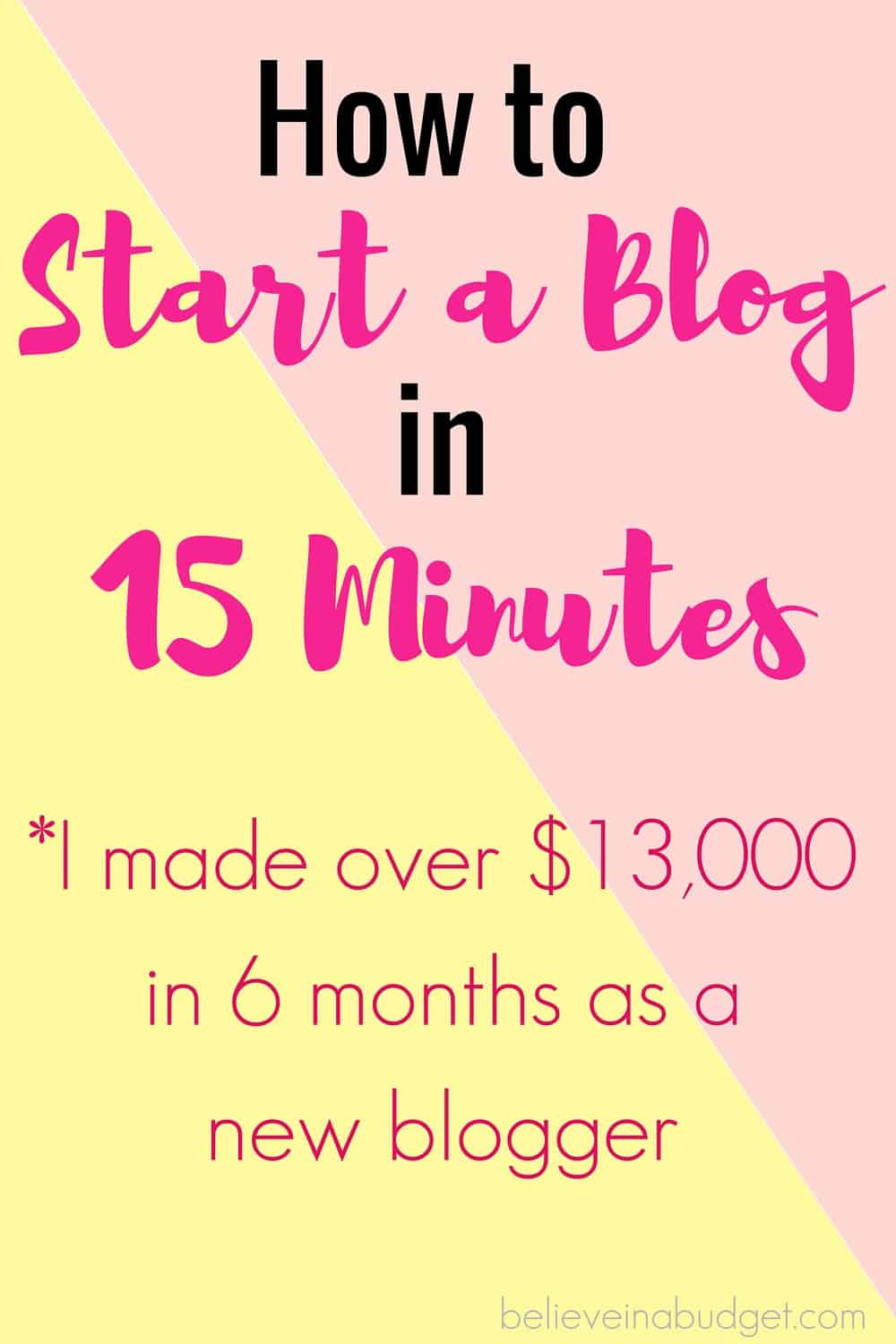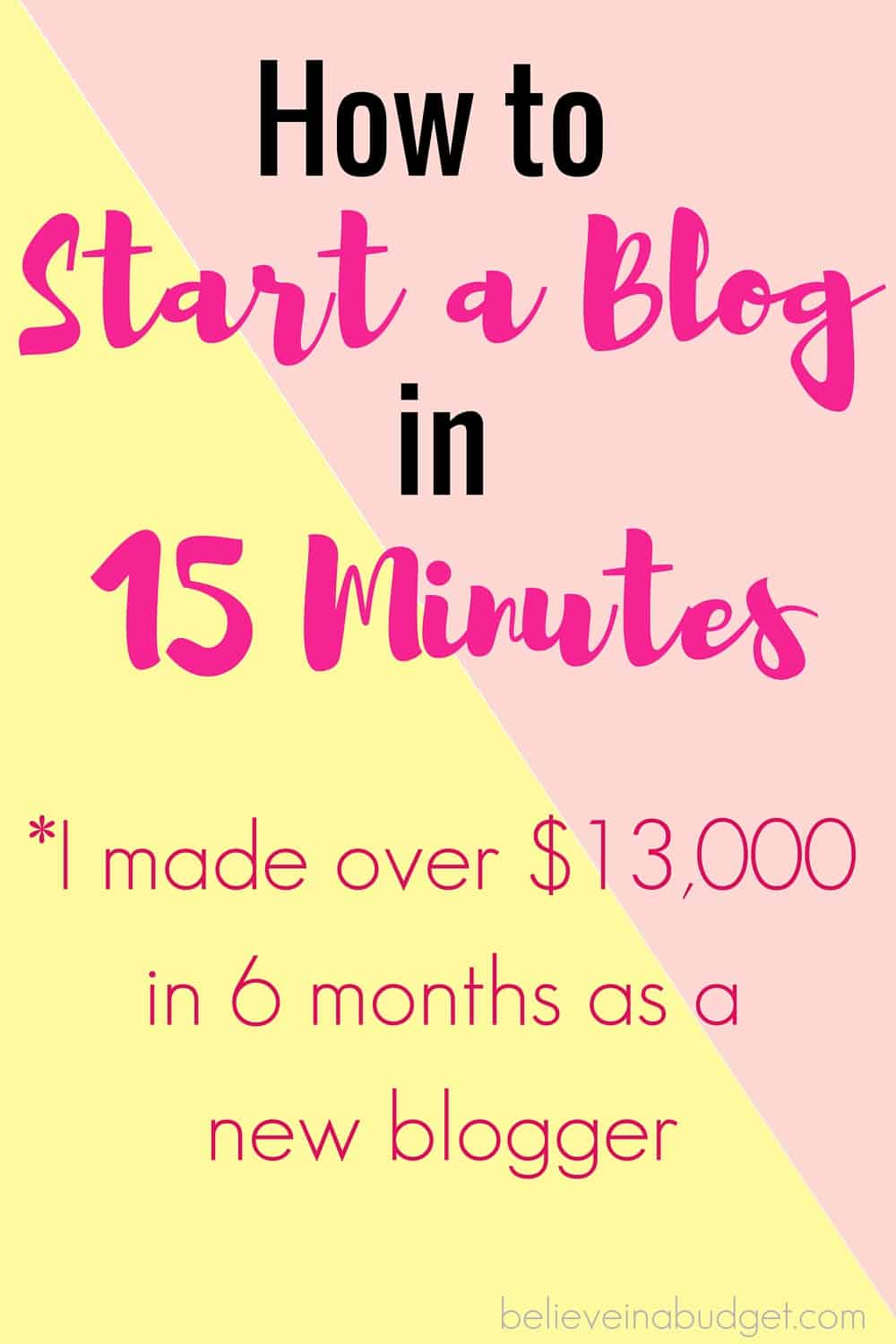 When I first learned how to start a blog, I had a full time job.
Mornings are my most productive time of the day. I wake up early and do a little bit for my blog each day.
Everyone works differently, so figure out a time that works best for you. You might be better working in the afternoons or evenings!
Before I knew it, I started making a small amount of income.
After four months of blogging, I received my first paycheck for $60. This was so exciting!
A few months later, my hard work and persistence blogging started to pay off.
In a six month period, each month my income would increase.
When I added up how much money I made, I realized that in six months I had made around $13,000.
What I like best about blogging is that I can make money without having to have a part time job. I have made more money blogging compared to having a part time job.
When I was working full time and had a part time job, I was exhausted and had no time for myself. I was also spending extra money on gas and was never home.
Once I started earning money from my blog, everything changed. Now I get to work my own hours at a time that's convenient for me. This allows me more time for my family and friends.
Blog tutorial
Today I want to share how easy it is to start a WordPress blog on Bluehost. Starting a blog with Bluehost is really cheap and only costs a few dollars a month.
I am going to walk you through the entire process step by step. You can leave this blog post tab open while you set up your blog so you know exactly what to do. This will take around ten to fifteen minutes total!
Because this blog post receives so much traffic, Bluehost has even offered a discount to my readers so you can get a low special price that you cannot even get if you were to go straight to their website. Yippee!
I am also going to show you how to get a FREE domain name for an entire year when you purchase a 12 month Bluehost plan. This is a great deal and will save you an additional $15!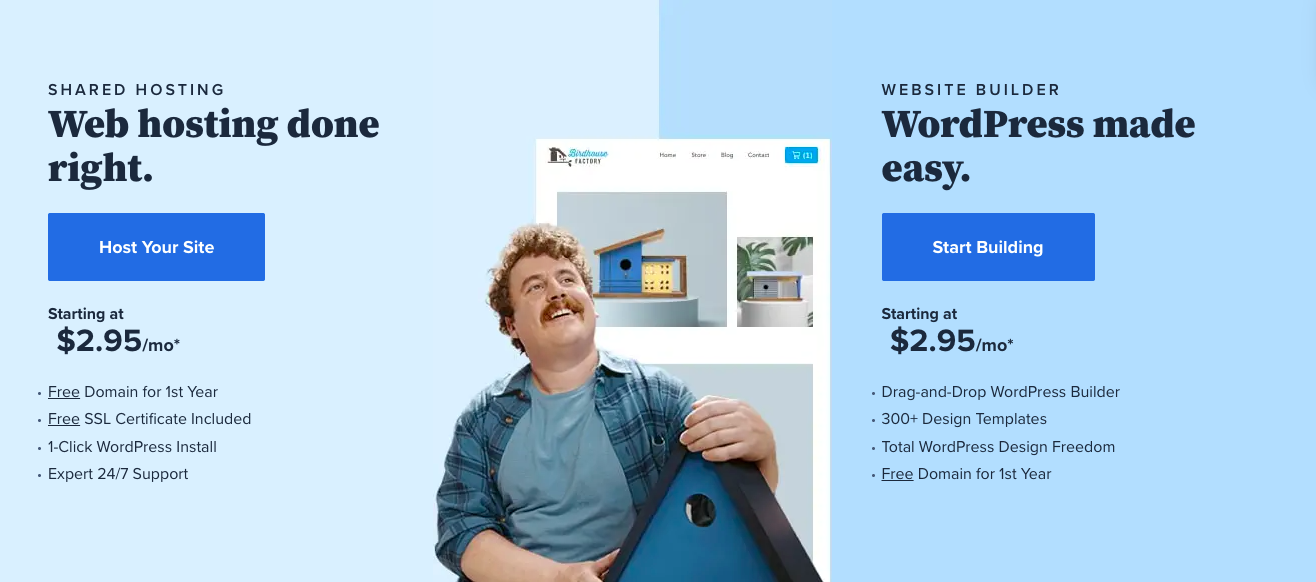 Pick your plan
I would start with the basic plan. You can always upgrade later if you want, but I have never found that to be necessary.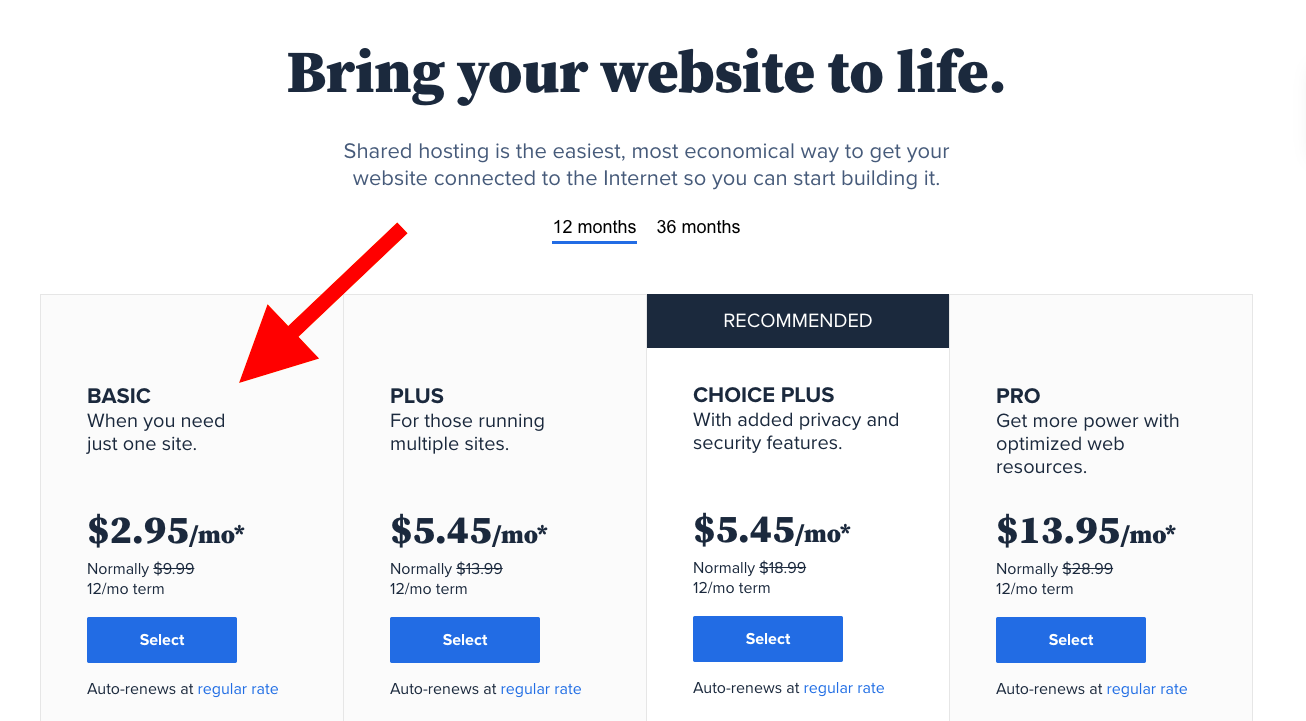 Select your domain name
Picking the name of your domain (AKA your blog, online shop or website) is important, so put some thought into your name.
When I decided to start my blog, I made a list of possible names for my website.
I wanted the name to relate to saving money, getting out of debt and budgeting, so Believe In A Budget made sense and was the winner.
It's also easy to remember and has a good ring to it!
Over time, I also decided that I wanted to purchase a domain using my personal name, Kristin Larsen.
So I purchased the domain name KristinLarsen.com and now own that as well.
Many readers email and ask what should they name their website – their personal name or a brand name?
One advantage to using your name for your website is because you have the flexibility to create and write about anything.
When selecting a fictional name like Believe In A Budget, this is a more specific niche. It wouldn't make sense to write about a ton of other hobbies outside of personal finance.
If you are having trouble deciding what to name your blog, here's a list of things to remember:
You can always change the name of your blog or website down the road and it's really easy to do!
If you feel comfortable using your own name, this can really help you create a brand around YOU! It's great to own your name online!
If you want to build a brand but don't want to be center stage, pick a phrase to use as a blog name. This is where I felt most comfortable as I'm fairly private 😉
When selecting your own name, you have free range to do anything with your website.
When selecting a phrase for your blog, website, shop, etc., you need to select a title that will align with your vision!
Using my link, Bluehost is giving all my readers a FREE domain name for 1 year when you sign up for a 12 month hosting plan.
This is a really good value, so make sure you take advantage of it.
On the next page, you will be asked to set up a new domain name, use a domain you own or skip and create your domain later.

Choose your new blog plan
To get the best price, select the 36 month plan. This is the plan I selected when I started my blog. It was the most cost efficient as well.
This will save you money and you don't have to renew your blog every year. I have heard horror stories from other bloggers that forgot to renew and their blog expired. Don't make this mistake!
If you aren't sure if you want 36 months, at least select the 12 month plan.
This way you can test the waters, so to speak, and still get the FREE domain name.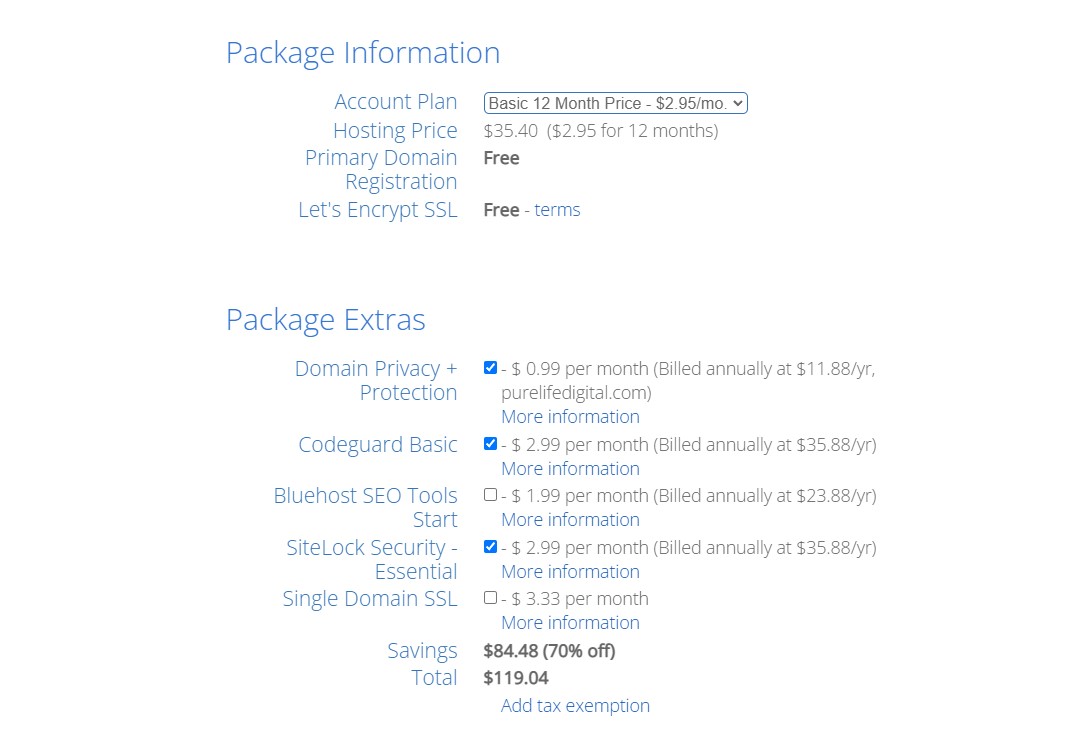 Some of the extra options will display pre-checked, but you don't need them and can always add them later. I personally like to keep the Domain Privacy + Protection because I don't want my information out there!
Once you pay for your website, you will get to this screen.

When you get to the screen below, create your password.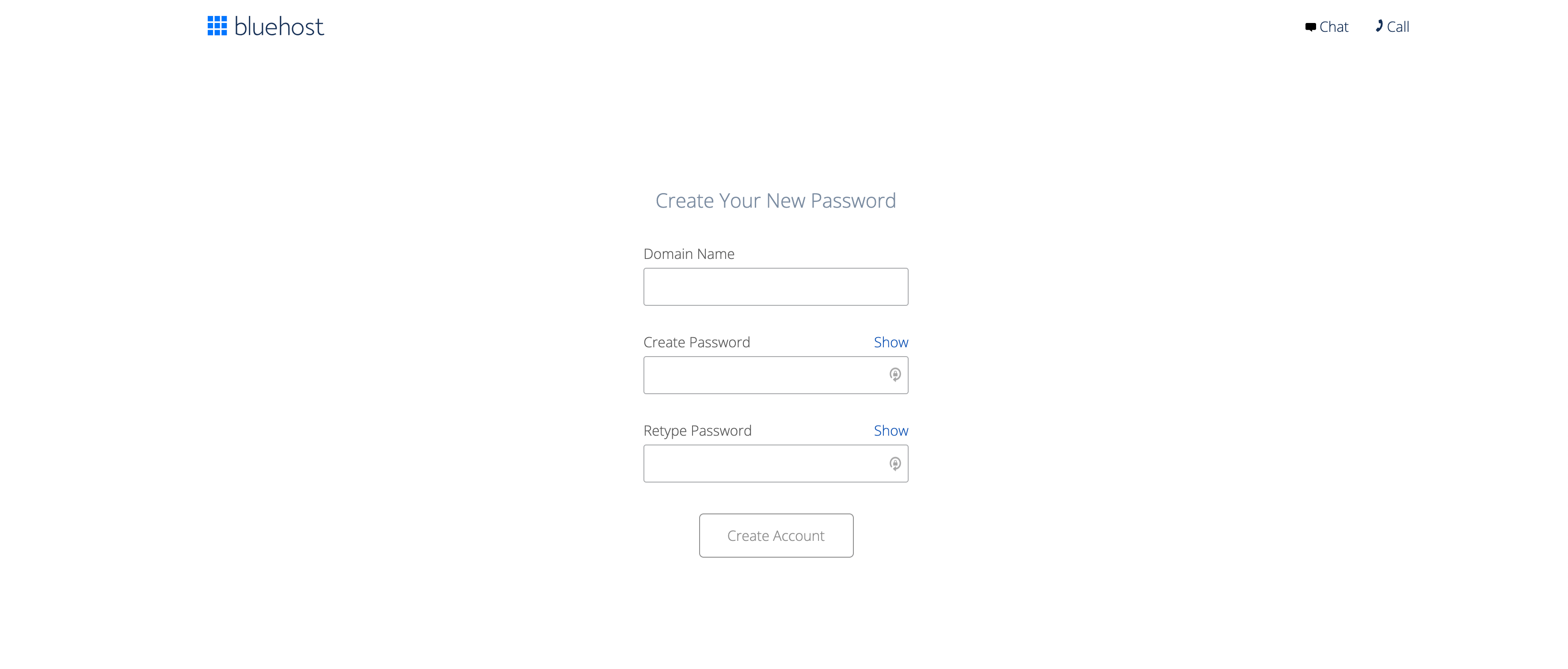 After creating your password, don't forget to write it down or add it to a password-saving account, like LastPass.
Let's connect WordPress and Bluehost together for free!
Thanks to Bluehost, after your hosting account has been created, WordPress will automatically install.
Bluehost makes it super easy to create a WordPress blog. They do most of the work for you! This is great, especially if you are not tech savvy.
To get started with your WordPress site, log into your account using the details you just created. Make sure you are going to the 'Hosting Login,' not the 'Webmail Login.'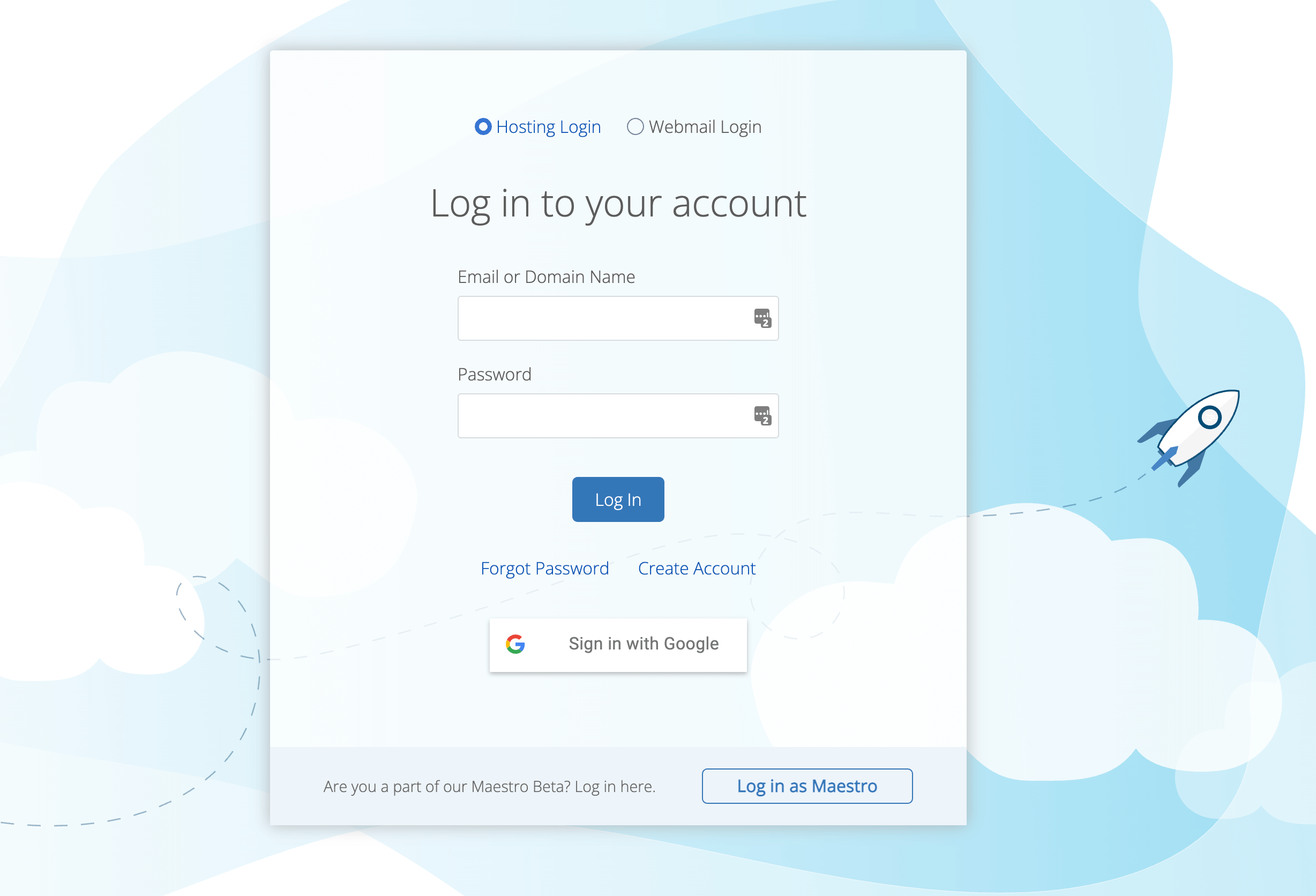 When you log in for the first time, you will be shown this screen.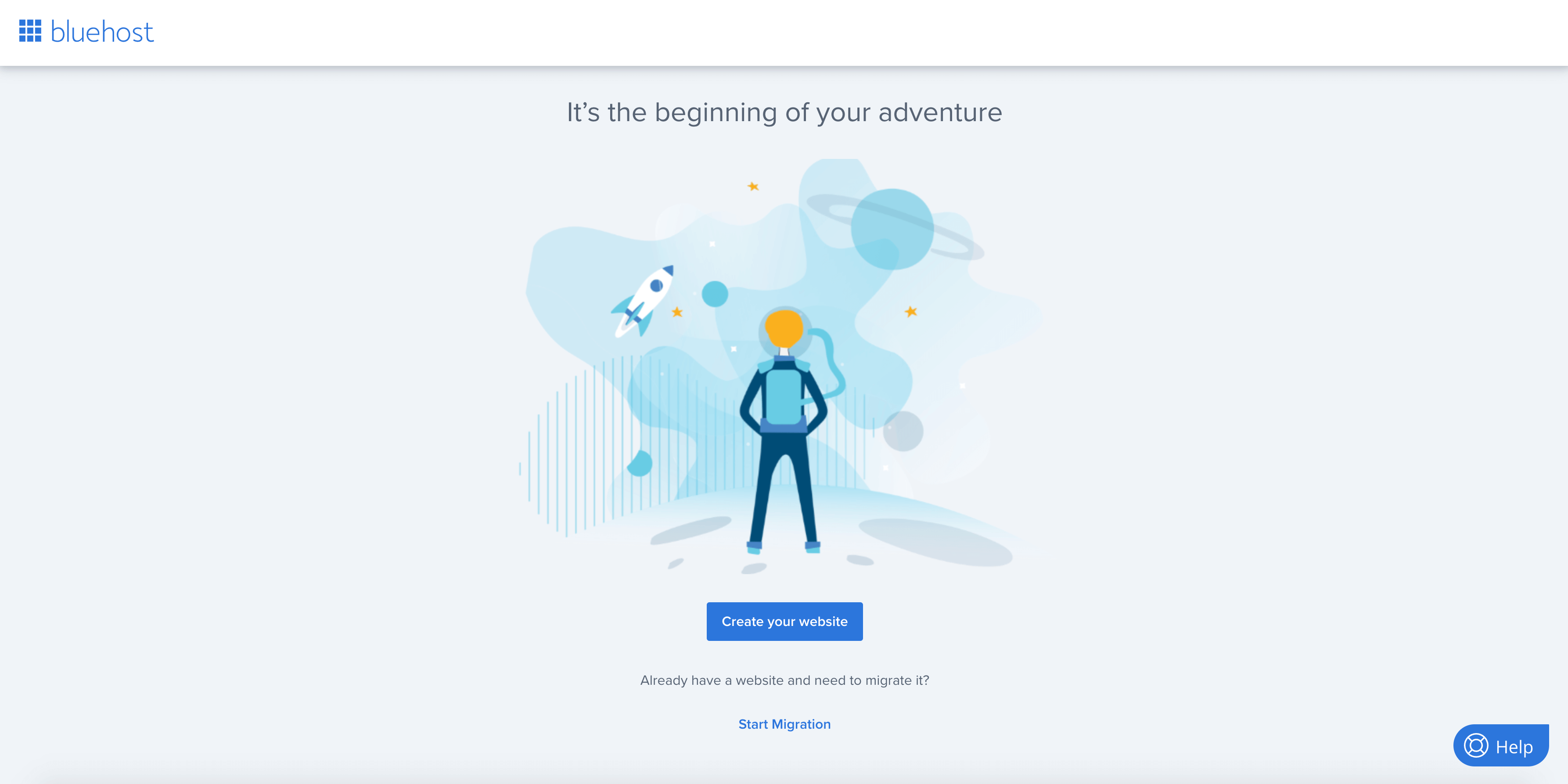 Click the blue 'Create your website' button to advance to the next screen, which will ask you how you would like to build your WordPress site.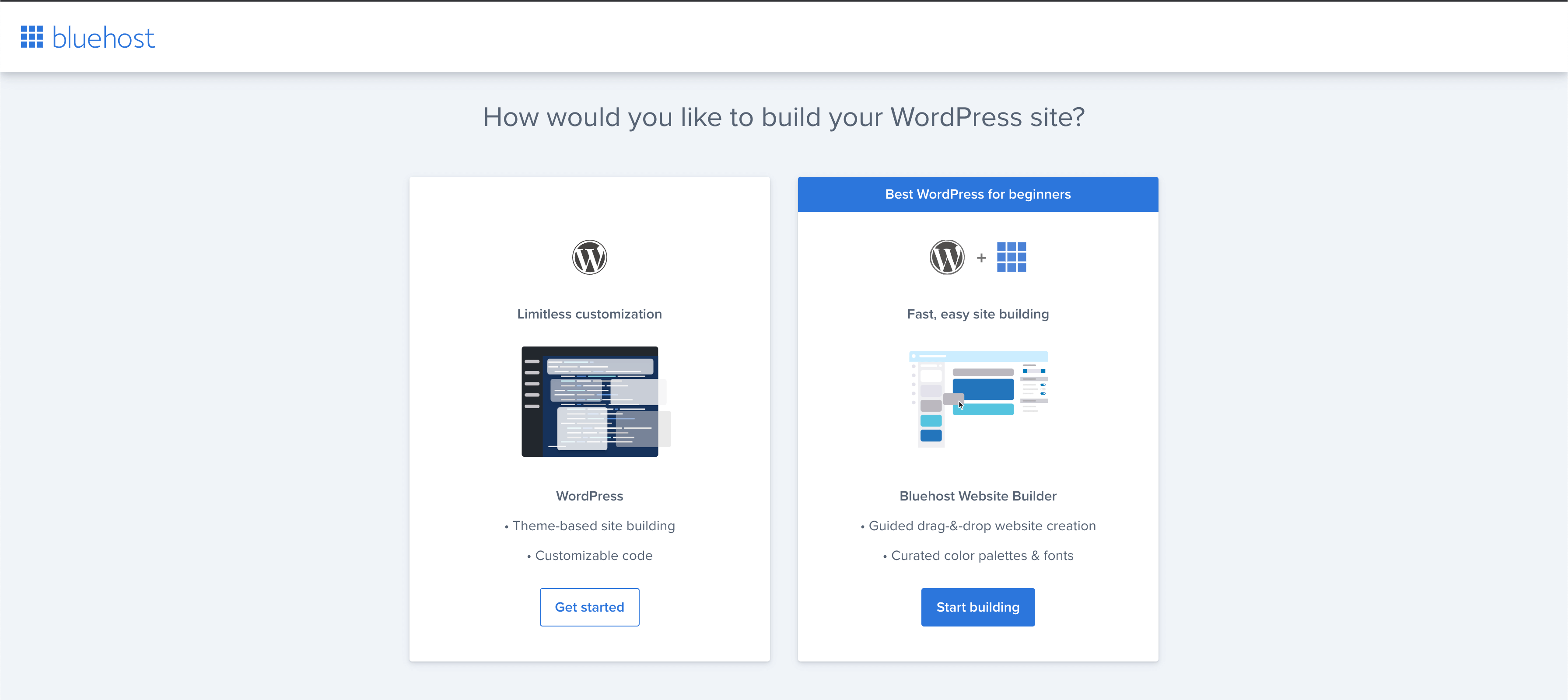 I've always built my sites using the first option, which Bluehost refers to as 'Limitless customization.' The rest of this tutorial is based on that selection, but you are welcome to choose the 'Fast, easy site building' option!
What's the difference? The first option allows you to pick 'themes' that are already designed. The second option allows you to essentially design your own theme using Bluehost's drag-and-drop builder. The first option is easier, but the second option provides you with more design flexibility.
Start off by picking a theme. Bluehost offers some free themes from WordPress.org. Note, you can always update your theme later, which I will discuss later on in this blog post.
For now, it's easy to pick a free theme so you can get started. Changing your theme on your blog only takes a few minutes!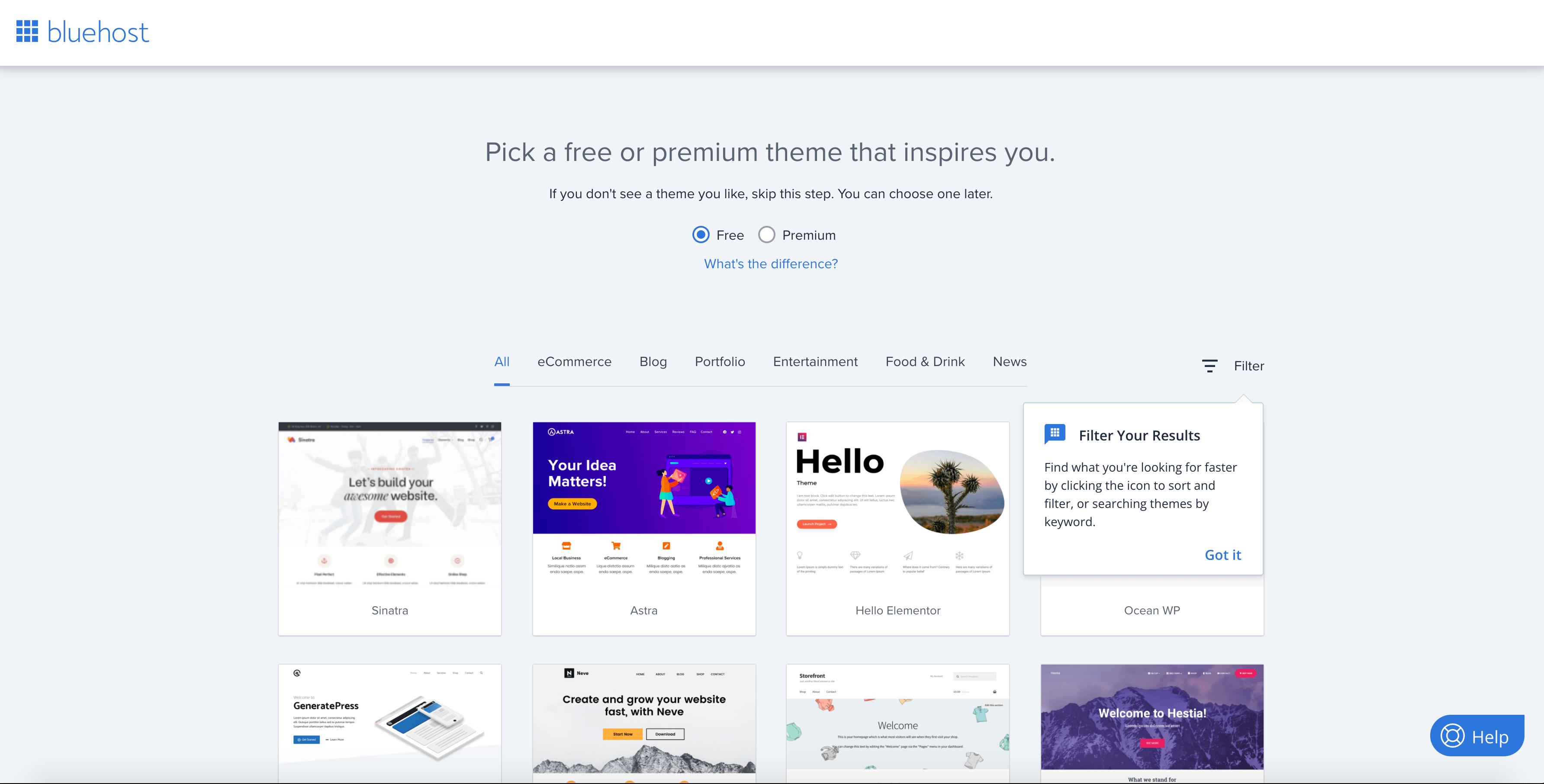 Everything will then be installed for you. How easy is that?
Now that you've picked your theme, let's jump into WordPress and get you even closer to constructing that first blog post.
Click on the Start Building button.

Decide whether this site will be for business or personal use. It doesn't really matter which option you pick.
I would personally select business, especially if your goal is to make money blogging!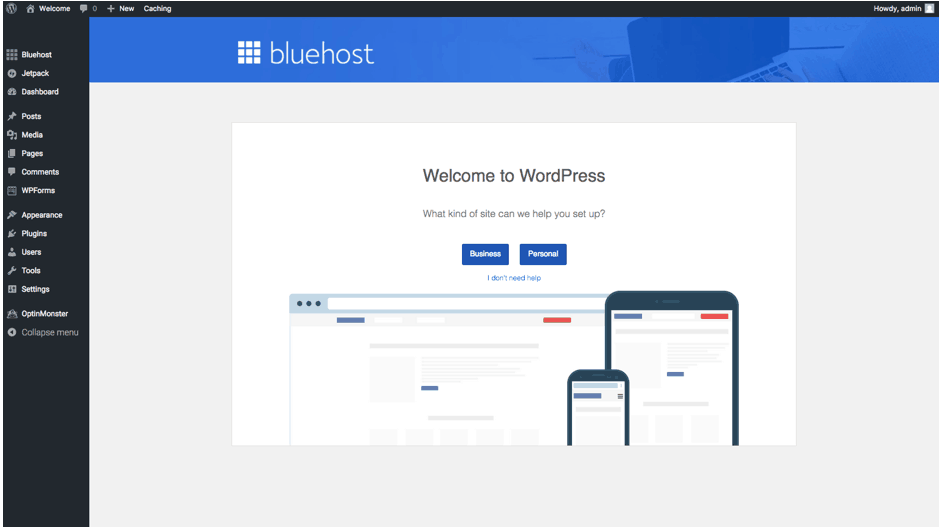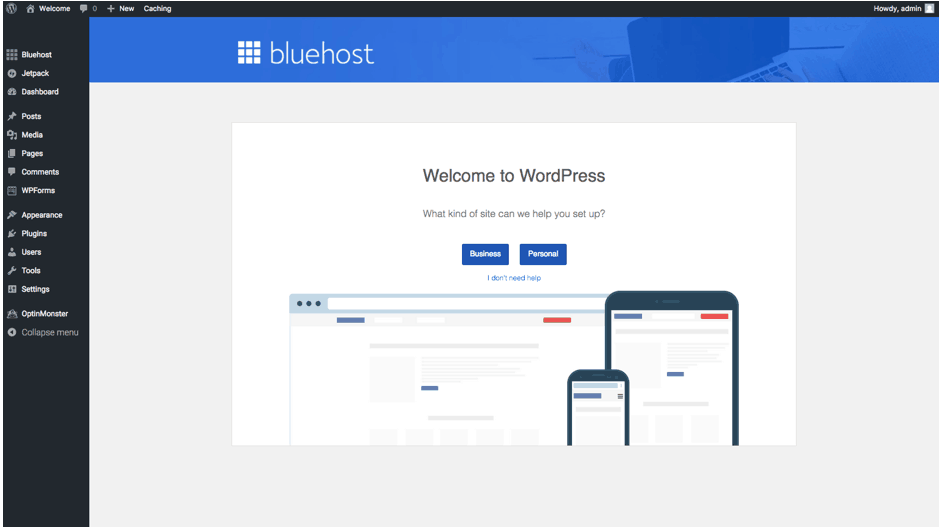 On this step, you'll see an overview of Bluehost+WordPress integration.
You can manage WordPress plugins and blog posts/pages here.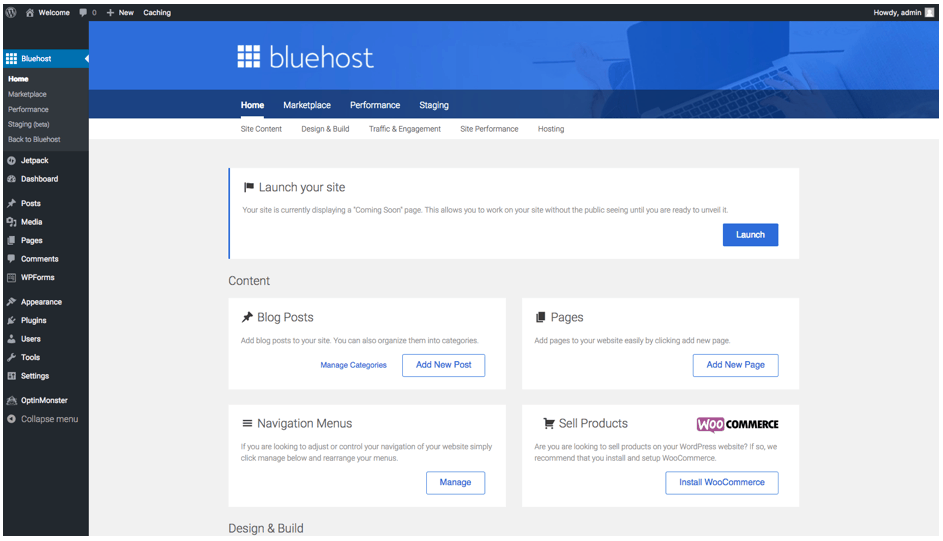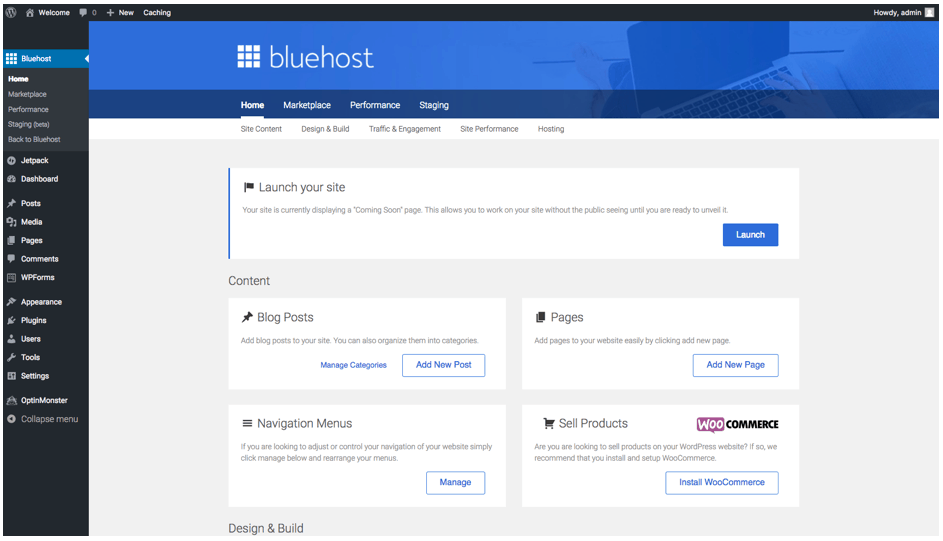 Decide on a site title and description here. You can fill it in or leave it blank.
For example, my site is Believe In A Budget.
My site description currently says 'Learn how to start a blog, side hustle and work online!'
If you find yourself spending too much time thinking about this, just skip it for now.
It's easy to add once you are ready and only takes a few seconds to update on WordPress.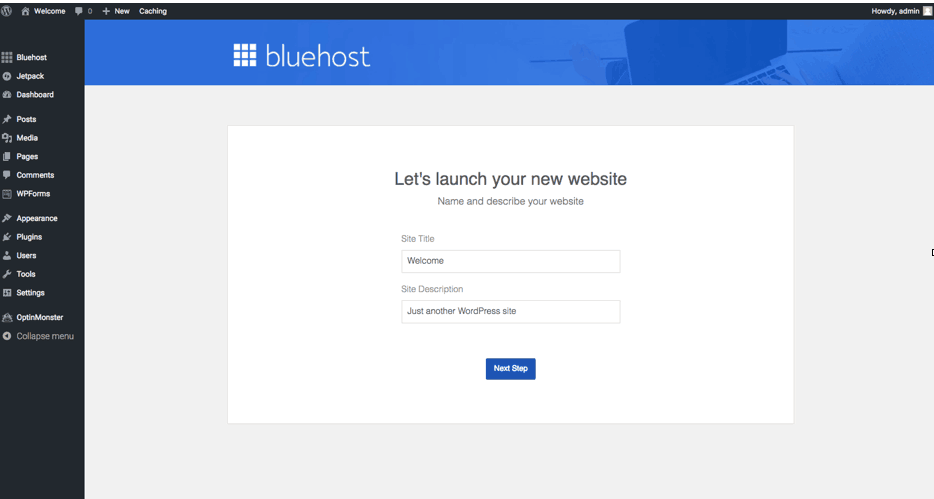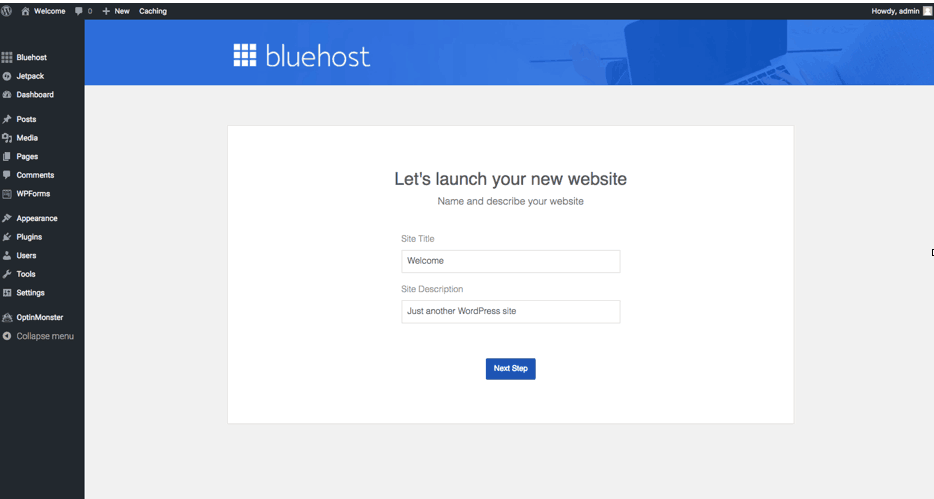 Here's what the dashboard of the Bluehost control panel looks like.
This is where you access your account information as well as some more of the tech-related things.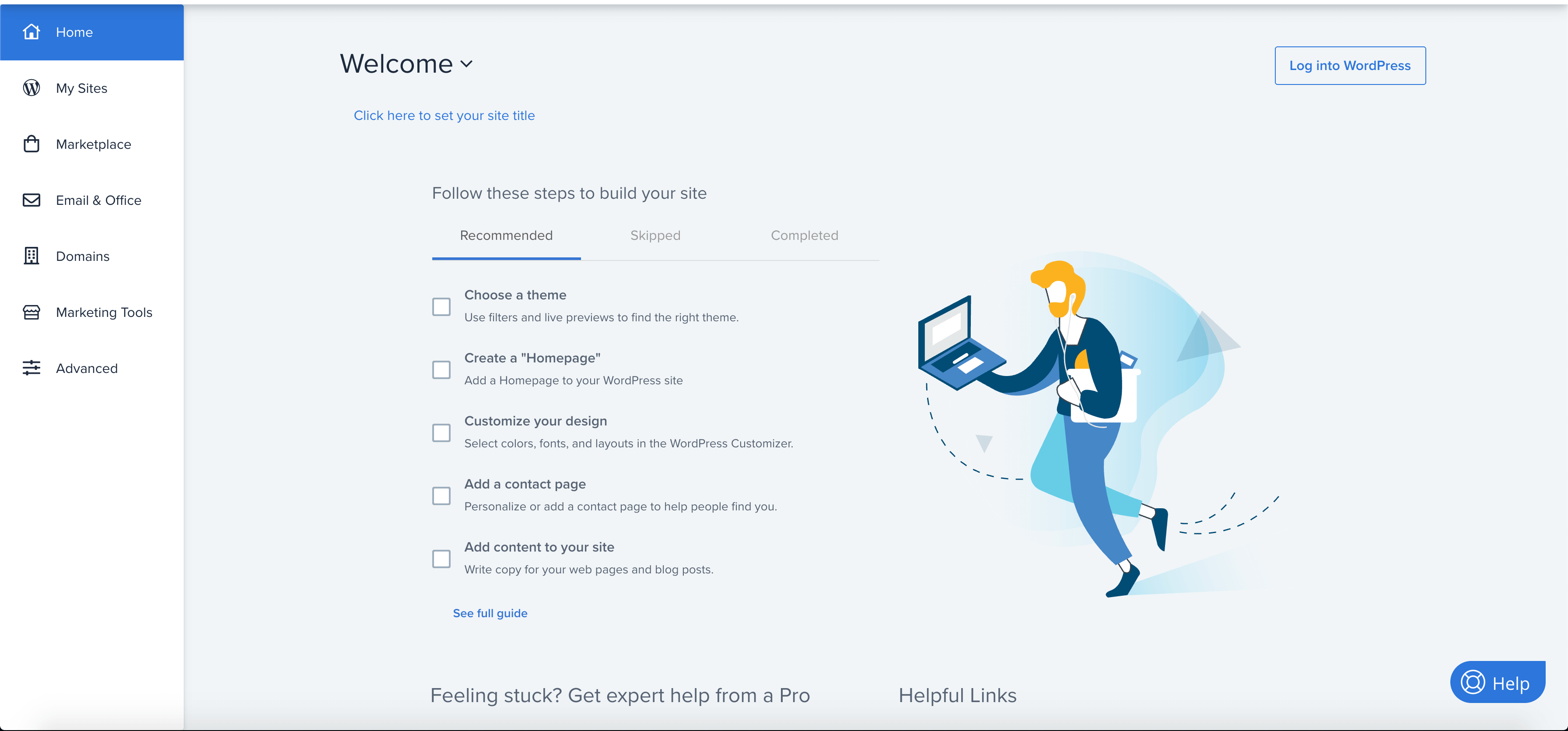 Once WordPress and Bluehost are done connecting everything, just click the button that says Log in to WordPress.
That's it! You've officially set up your blog!
Keep reading below so you know what to do after you start a blog for more tips and next steps!
After you start a blog today, what's next?
If you do not want to use one of the free themes mentioned above, you can pick out your own theme.
All of themes I mentioned have a wide variety of theme styles, which are perfect for all types of blogging niches.
I hope these tips have helped you to learn how to start a blog today!