As a Pinterest VA for seven years, people often ask me how to become a Pinterest VA if they have no experience.
A Pinterest virtual assistant, or Pinterest VA for short, helps brands use Pinterest for organic and paid marketing.
The Pinterest virtual assistant role is a fairly new side hustle and career. I have worked with hundreds of clients over the years and am super qualified to teach more about this subject.
How to become a Pinterest VA and make money
I think it's important to point out that I became a Pinterest virtual assistant by accident.
My college degree in not in social marketing and there isn't any college program that specifically teaches Pinterest.
I originally got my start as a personal finance blogger, with absolutely no experience in the online world.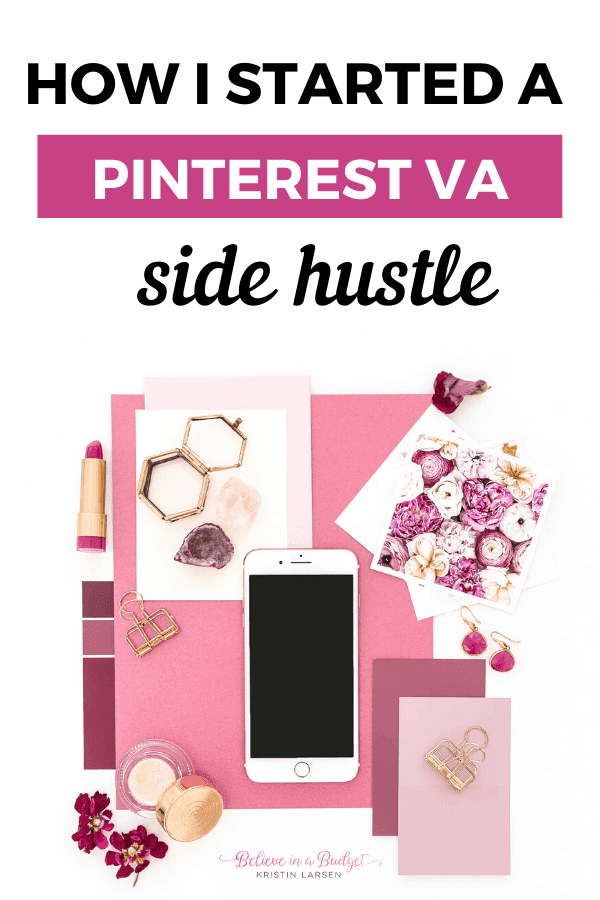 Even though Believe In A Budget is geared around making money online and side hustles, there's more to my business than just this website.
As many of you know, a lot of my time these days is spent on my Pinterest programs, including Become a Pinterest VA TODAY!.
Since launching Believe In A Budget in 2015, a lot has happened!
I made the progression from a Pinterest Virtual Assistant to a Pinterest Expert.
Become A Pinterest VA TODAY! has helped thousands of students start a Pinterest virtual assistant business.
I have also been featured on numerous podcasts and guest blog interviews.
I still can't believe I have been a featured Pinterest speaker at conferences and workshops across the United States.
Never in a million years would I have thought this would be my future!
I use my Pinterest expertise to drive traffic to my website
In January 2015, I launched this blog Believe In A Budget. I struggled to get any traffic to my website.
Between January and spring of 2015, I was only receiving a few thousand page views per month.
I primarily focused on writing personal finance blog posts. Sharing articles about making money and saving money based off my experience was fun.
While I was publishing new posts three times per week, my blog traffic was lagging.
Facebook and Twitter were not my strong suits, but one area where I felt comfortable was Pinterest!
Pinterest made complete sense to me. With a background in design, I was able to quickly design images that were 'pin-worthy' and clickable.
I started studying pins that ranked really well. I focused on images, colors, fonts and pin descriptions.
Tracking my Pinterest results
In my first month of using Pinterest, my blog traffic shot up!

My monthly traffic continued to climb:
July 2015 – 3,691
August 2015 – 17,341
September 2015 – 40,047
October 2015 – 45,869
November 2015 – 54,339
December 2015 – 159,869

More than 90% of my traffic came from Pinterest each month!
One thing I noticed was I was able to get a lot of traffic without having a big Pinterest following.
At the time of publishing the case study, I had around 2,700 followers on Pinterest.
Shortly after my traffic increased, I wrote this case study about how Pinterest helped my blog grow. I went from 5,000 monthly page views to 40,000 monthly page views in only a couple of months.
While the Pinterest case study had absolutely nothing to do with my website, I decided to publish my findings anyways. I figured if anything, maybe my post would help a fellow blogger who was new like me!
After publishing the Pinterest case study, everything changed. Everything!
I started offering Pinterest VA services and advertising
Before I knew it, fellow bloggers were reaching out to me. They asked if I would be willing to help grow their blog traffic with Pinterest, too.
Initially, I resisted because I worried I wasn't qualified to help. I told my fellow bloggers I would try my best, but couldn't guarantee results.
Instead, I promised I would try my best and do everything I could to help grow their blog on Pinterest.
So I said yes to everyone!
I was cheap – too cheap.
I wanted to help as many blogs and businesses as possible while offering a fair price. This seemed fair since I was just starting out.
As time went on, I was able to help almost every Pinterest client!
I started offering the following Pinterest Virtual Assistant services
Consultations
Writing pin descriptions that would rank well in the Pinterest search results
Creating a Pinterest business account
Setting up a scheduler system like Tailwind
Setting up a master scheduling plan
Promoted pin campaigns
and more!
As time went by, I was able to increase my rates. I started working with higher-end clients with bigger budgets. This meant I was able to work the same amount of hours but earn more income!
Fortunately, I was able to rely on word of mouth for nearly all my blogger clients.
I created a 'Hire Me' page so potential clients could find me
Being proactive, I created a 'hire me' page on my website.
This was so I could advertise my Pinterest VA services to the public.
Even though Believe In A Budget was primarily focused on personal finance, I decided that I had nothing to lose by adding this page to my website.
My 'hire me' page really helped take my services to the next level. In addition to helping bloggers in all different niches, I started working with businesses across the country and internationally.
As a Pinterest VA, my clients were diverse
Here's a quick list of some of my Pinterest clients that I have worked with:
Wellness and spa centers
Nail salons
Magazine
Brick and mortar shops
Gift box subscription services
Contractors/vendors
Authors
City tourism and travel
Furniture makers
Children's toy manufacturer
Church
and more!
Go From a Pinterest Virtual Assistant to a Pinterest Manager
My Pinterest business grew quickly. Before I knew it, my small Pinterest VA business was getting bigger and bigger. Due to the demand, I was able to launch my own Pinterest management company!
In addition to my full-time day job, I quickly had over a dozen clients within a couple of months of publishing my Pinterest case study. I was working around the clock and struggling to keep up with everything.
I decided to hire a virtual assistant that could help me with Pinterest. It took some time, but I was able to provide her training so she would be able to assist me with all my Pinterest clients. This was a much stress reliever and a time saver!
Around this time, I also had decided to leave my full-time day job! In addition to working as a Pinterest virtual assistant, Believe In A Budget was also starting to bring in online income each month.
Within ten months of launching Believe In A Budget, I was able to walk away from my day job to become a Pinterest virtual assistant and blogger full time.
I haven't looked back since!
How I Transitioned From a Pinterest VA to a Pinterest Expert
In 2016, I realized that my Pinterest management company was still growing and I was starting to get overwhelmed!
I was turning down potential clients left and right because I didn't have any free time. I was working with a couple of different VAs to help run my business.
However, I still felt a constant pressure to go, go, go!
In addition to offering Pinterest VA services, I was increasing the amount of consultations that I was offering.
These were one-time services for bloggers and business owners that wanted to learn how to use Pinterest, but go the DIY route.
It soon became obvious that I was giving many of my client consultations much of the same framework to get started with Pinterest.
While each consultation was customized to fit the client, I definitely felt that everyone was in the same position when just starting out.
Instead of solely offering 1:1 Pinterest services, I added Pinterest products to my income
After a lot of thinking, this lead to creating Pinterest Presence.
Since retired, this was an online course for brands that wanted to use Pinterest but go the DIY route.
I took all the information that I applied to myself and all my clients. Then I packaged it into a course and started to offer it to clients that I didn't have time to help due to time constraints.
As Pinterest Presence launched and started to do well, I decided to pivot in my business. Pinterest Presence was helping entrepreneurs and providing an extra source of income for my business.
Scaling back my business
After much debate, I decided to scale back my Pinterest management business.
I significantly raised my rates for the majority of my clients. Secretly, I hoped that some would break up with me so I could reduce my workload.
I also realized that I could free up a large majority of my time. I kept a handful of clients, which lead to reducing how many employees I needed to help me.
The transition wasn't easy – there were a few bumps in the road.
Pivoting my Pinterest VA business helped me continue to make the same income from Pinterest virtual assistant work while having a small fraction of clients!
I also had more free time to get creative, which is something that had been lacking from my schedule.
I focused on creating multiple revenue streams
This meant I could improve my courses to stay current with the latest Pinterest trends and introduce other products that could help DIYers.
In addition to growing my Pinterest business, I started accepting speaking engagements geared around Pinterest.
I also became a Tailwind ambassador, which has an official partnership with Pinterest.
Now I get to work with the awesome team at Tailwind to help educate other bloggers and business owners learn how to use Pinterest and Tailwind!
The Become a Pinterest VA Today! program
Coming full circle, I was also able to create Become a Pinterest VA TODAY! in late 2016.
Yup, you heard that right.
My goal is to help as many people as possible launch a career as a Pinterest virtual assistant.
There are so many blogs, online business owners, brick and mortar shops, etc. out there. That means there is a shortage of Pinterest VAs in the workforce.
Because of the shortage, Pinterest virtual assistants are in high demand. There's plenty of room to go around for everyone!
As long as he or she has passion to learn a new skill-set, Pinterest VA is the perfect side hustle.
I started off not knowing anything as a Pinterest virtual assistant. Quickly, I became an expert in less than two years because of all my experience working with so many clients.
It's amazing that without any background experience, I could earn a full time living working from anywhere.
In addition, if you would like to hone in on your expertise, Pinterest Manager Academy and Pinterest Expert Business Academy are perfect if you want to become a Pinterest expert.
[convertkit form=5202420]
Do You Have Questions About How to Become a Pinterest Virtual Assistant?