I am always looking for ways to save money and spend less. It can be hard to start saving money, especially if you are a spender. If you are ready to make change and adjust your budget, this post will help you learn how to save money.
My friend Tracy is going to share 17 different strategies on how to painlessly save money. Enjoy!
Saving money means brown-bagging it to work or school, staying indoors on beautiful sunny days with only an oscillating fan to keep you cool, placing a lock on your wallet, and basically cutting out any semblance of fun from your life, right?
While some of these tactics might work, there are a variety of alternate ways to save money that aren't quite so painful and may result in a quick boost to your savings.
Related reading:
5 easy steps to determine your monthly spending habits
We have 17 simple ways to save a nice chunk of cash in 30 days – no second job required.
There are two keys to saving money. The first is not spending. The second is paying less for the things that you do not want to give up. Do both to see results quickly.
Despite your personal preference, a successful savings plan begins with a current assessment of your monthly spending. Start with the following five steps to determine your current monthly spending habits.
Step 1: Pull out last month's bank statement. Use more than one bank account for spending each month? Don't forget to include information from all accounts in this process.
Step 2: Gather any receipts you have on hand for the past month. These receipts will help identify items that were paid for using cash and were not recorded on your bank statement.
If you do not keep receipts, you can still assess your monthly spending habits. Perfection is not required. Do not use an absence of receipts as an excuse to not follow through with this painless plan.
Step 3: Use an Excel document or pencil and paper to record the category for each expense and the total amount spent. For example:
Category Total Amount Spent
Housing $1850.00
Car Payment $450.00
Food $600.00
Car Gas $80.00
Step 4: Use a yellow highlighter to mark fixed expenses like housing, car payments, etc…
Step 5: Circle (or italicize) the categories that you did not highlight. You have now identified opportunities where you can make a few painless adjustments with results you can see in about a month.
Category Total Amount Spent
Housing $1850.00
Car Payment $450.00
Food $600.00
Car Gas $80.00
Now, set that to the side and keep reading.
17 ways to save money in 30 days
Below you'll find 17 painless ways to save over $300 in the next 30 days. Combine two or more of the tips below, and your bank account will thank you.
1. Use a Budgeting App
You must know what you're spending your funds on in order to be able to save money.
There's no getting around it. Fortunately, budgeting apps are available for free on both iPhone and Android. Find the one that you like and stick to it.
The main point is that you must know where your money is going each month so you can then make the modifications needed to save money.
Side Note: We love using Qapital!
2. Chat Up Your Cable Company or Switch to a Month-to-Month Service
Whether you use Time Warner Cable, DirectTV or Dish, there are deals to be had. These companies do not want to lose you as a customer. They are already losing many customers to Amazon Prime, Netflix, Hulu, etc…
They're willing to offer deals to have you stay on board for at least another six months. Call them to let them know you want to switch to a competitor. It helps to mention a current special offered by a competitor.
Doing this will most likely result in you getting a significant deal versus your current plan.
When we tried this, we were able to not only reduce our payment but received a free sports package for six months!
Another great option is Sling TV. This is an app that be used on your TV, iPad or cell phone to watch live TV, pre-recorded shows and more! With a month-to-month service, you can cancel anytime. There are multiple channels to choose from and something for everyone.
Finally, if you are really trying to save money, this digital antenna costs is cheap and will help you get all the main, public channels for free. This is one of the easiest ways to save money!
3. Go Secondhand
Do you have non-grocery related purchases that you have to make this month? If you do, then go secondhand by shopping at your local thrift store.
Yes, you can shop sales at the mall, but to dig deep and save significant coin, you need to buy smart.
Here's the great news. Many thrift stores now carry discards from traditional retailers. You can tell by the tags that are still attached to the "used" clothing.
4. Carry Cash
There's nothing like the feel of crisp bills in your wallet. There's also nothing like the feel of parting with them to a cashier. When we carry cash and pay with cash, the money becomes more "real" and may help curb impulse spending.
Of course, this only works if you set a limit to how much money you're carrying.
This goes back to number one on this list. You must know how much you're currently spending. Then you can establish how much cash you can carry and spend while still meeting your savings goals.
5. Sign Up For Rewards Programs
Make a list of every single place that you make purchases. This includes restaurants, gas stations, drugstores, and supermarkets. We have had great success with Walgreens, Panera Bread, and Chick-fil-A.
You'd be surprised that most retailers have some sort of rewards program available to you. Check out the websites of your preferred retailers to sign up today.
And yes, there is such a thing as a free lunch. Chick-Fil-A is great about providing "Just Because" rewards for using their rewards app. This is on top of the rewards you can earn for eating there as you usually do.
Free 7 Day No Spend Challenge
Join thousands that have saved hundreds with the no spend challenge. Sign up to take the No Spend Challenge for free!
6. Pay Yourself First
The easiest way to do this is to have a portion of your check direct deposited to a dedicated account. This may seem hard at first. But out of sight out of mind.
We suggest 1 to 3% to start. Still sound like too much. Start with $10.00 per paycheck. Trust us, you won't miss it.
One great app to use to save money is Digit. You can transfer money in and out of this account and it's super easy to use. Here's $10 cash just for signing up!
Another way to pay yourself first is to use Acorns. The app rounds up your purchases and invests the change. You can withdraw your money at any time, or watch it grow. It's a great way to start investing, even when you don't have a lot of money.
7. Return Stuff
Did you buy a new purse last week despite the fact that you already have four? If it's still in the packaging then you probably don't need it, and you are probably not going to use it.
Return it to the store and put the funds in your savings account.
8. Eat Your Veggies
Make at least two vegetarian meals a week. If you can do more – that's fantastic!
Meat costs more per pound than fresh fruits and vegetables. The bonus here is that you'll probably be improving your health while saving money.
Don't forget to download the Ibotta app on your phone to save money after grocery shopping. You can earn instant cash back rebates based on your purchases. What is really great about this app is it rewards you for generic purchases.
For example, you can earn fifty cents cash back from any brand of 'vegetables' and can even combine it with coupons. Get $10 cash back for signing up with Ibotta.
Another app similar to Ibotta is Fetch, but instead of getting cash back, you get points for each receipt you scan, no matter what you buy (including your veggies!). You can get 2,000 bonus points just by signing up with this link.
9. Snag Cell Phone Promos
Similar to cable companies, your cell phone provider does not want you to switch companies. They will offer discounts left and right by merely reaching out to them and asking about their latest promotion.
Sprint, in particular, is good about providing a current usage analysis at no cost and making recommendations for lower cost plans. We were able to get our bill down to a more reasonable amount just by making a phone call.
Remember, these companies will not let you know that you should probably be on a better, less expensive plan unless you ask. This can be a high expense each month. This is one the best ways to save money each month simply by reviewing your bill and inquiring about less expensive plans.
10. Adjust Your Thermostat
Change your thermostat setting in your home up or down 3° depending on the time of year. This change can equal significant savings over the course of the year.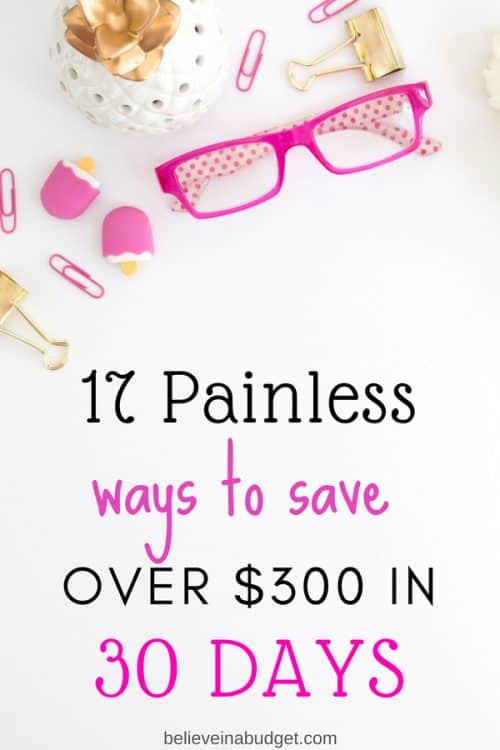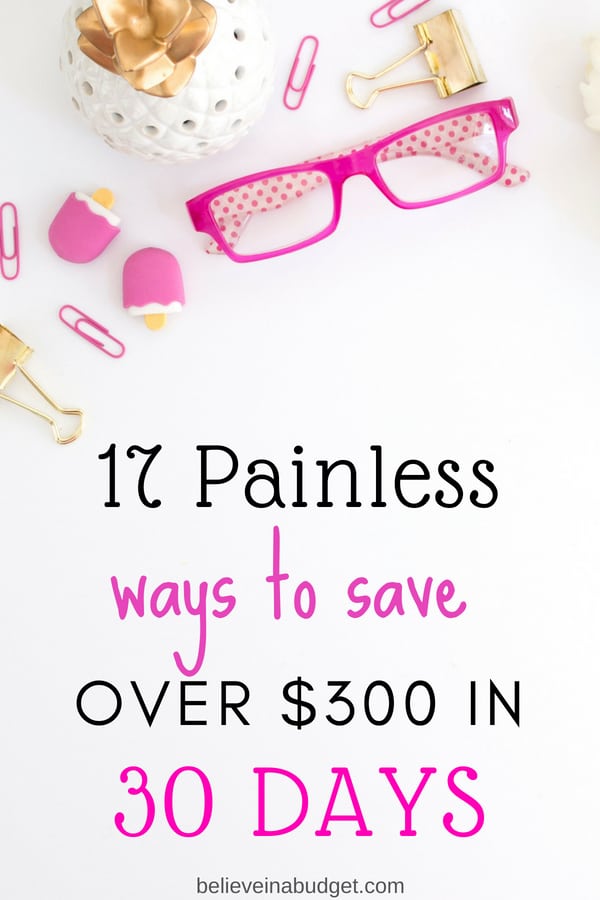 11. Drink Water
Instead of sodas, tees or other flavored beverages – drink water.
This one should be pretty obvious. At roughly $2 a pop, you can easily save $60 a month if they know you by name at Starbucks.
12. Get In The Passenger Seat
Do you have coworkers that live close by or who take a similar route to work each day?
Start a carpool with at least four co-workers. Offer to drive one week on and three weeks off.
Everyone should commit to leading the carpool for one week over the next month. Imagine how much gas that will save.
13. Cancel Subscriptions
Been to the gym lately? If it's been at least 30 days, consider canceling or at least putting your gym membership on hold.
Do you have other subscriptions you may have forgotten about?
Don't forget your paid iPhone or Android app subscriptions. Many of these downloaded apps automatically renew without notification. If you're not still using a paid app on your device, then it's time to cancel the subscription.
14. Make a List
You've probably heard this one before, and that's because it works.
Make a grocery list and stick to it. You're likely to spend more money than you intended without a grocery list. However, the key is to be realistic. One way to gauge what you need on your list is to look at prior grocery receipts. What items do you consistently buy and consistently need to replenish? What new recipes do you want to try?
Identify your pantry basics and create your list by planning your meals. If you struggle with planning meals, try out a service like the $5 Meal Plan. For only $5 per month, you receive meal plans with ingredients. What I like about this service is that the meals overlap ingredients, which helps save money on groceries.
Another way to stick to your grocery budget is to use a service plan like Shipt. Based on where you live and proximity to big-box stores, you can order groceries online and have them delivered for free.
I currently use Shipt to have groceries and other items delivered from Target and my grocery store. I can also select the time I want my order dropped off, which is extremely convenient! Here's $20 towards your first purchase! If Shipt isn't available in your area, Instacart is another great option and you can get free delivery here.
15. Use Store Brand Products
For many people the idea of using store brand products means lower quality. That's simply not true but the only way to know for sure is to try it for yourself. And, guess what?
If you do decide that the product is of lower quality return it to the store. Most store brands have a 100% money back guarantee.
16. Borrow It
Is there something that you need for the short term that you could borrow from a neighbor? Maybe it's a blender for a special meal. Or maybe it's a power drill for that home repair project you need to finish. Whatever it is, see if you can borrow it before you buy.
17. Excel Spreadsheet, Pen & Paper
Remember that Excel document or pencil and paper we used earlier to record the categories for each expense and the total amount spent? Pay special attention to the items you circled. Do you see any additional places where you can make adjustments?
There are many ways to save over $300 in 30 days. Select a handful of the tips mentioned above, and we feel you'll be on your way to padding your bank account. Don't forget to open a dedicated savings account so you can see your savings grow each month.
✕
Free 7 Day No Spend Challenge
Join thousands that have saved hundreds with the no spend challenge. Sign up to take the No Spend Challenge for free!
---

Tracy Scott is a writer at Earn It Save It where they love finding new ways to earn money and save money online. PSST! They don't shy away from earning it offline either. They aim to provide tips, tricks, hints and on occasion – step-by-step instructions on how to improve the lifestyles of its readers in a fiscally fun and frugal way.
---