Do you track your expenses? Creating a plan for your money and determining where it will go is a great first step, but it won't help much if you don't track your expenses.
When you think about it, creating a diet and exercise plan doesn't automatically mean you'll become healthier. You need to track your workouts and meals and develop healthy habits.
It's the same thing with personal finance. While creating a budget is a great first step, you also need to track your expenses if you want to gain any traction.
Tracking your expenses can also be helpful early on if you need to identify certain spending patterns and triggers. So how do you get started? There are a few key steps you can take.
Related reading:
Various Ways To Track Your Expenses
Look At Your Account Statements
One of the easiest ways to get started is to look at your bank or credit card statements.

If you use a debit or credit card for most of your purchases, your statement will show you each transaction over a set period of time.
You might want to compare month-to-month which means you'll need to save a few months' worth or statements.
Another route you can take that may be quicker is to use a site like Mint.com to track your expenses from various different sources.
For example, if you have a debit card and tend to rotate between using 3 different credit cards as well, you can connect all your accounts to Mint and receive a view of your transactions all in one place.
Categorize Your Spending
As you go through all the transactions on your statement, you'll likely start to notice some trends and patterns.
For example, you may notice that you have some subscriptions or tend to dine out each Wednesday and Friday night.
It's important to create spending categories based on your actual spending.
If you're using a service like Mint, your spending may already be categorized somewhat and you'll just need to go over the categories to ensure everything is accurate.
Once you create those categories, you can use that information to create your own realistic budget. Don't know how to create a budget, this course shows you how to create one and choose the right budgeting method for you.
[convertkit form=5279423]
Be Consistent and Organized
Tracking your expenses is not something you should do once or twice. You should continue to do it if you want to see long-term results. Tracking your expenses can help you spend and save more intentionally and avoid getting into debt.
Yes, it does require a little time and effort to get into the habit of doing it but it always pays off in the end.
In order to keep up with it consistently, I recommend organizing a spreadsheet where you can track both your income and expenses throughout the month.
Below is an example of an old spreadsheet I created to track expenses.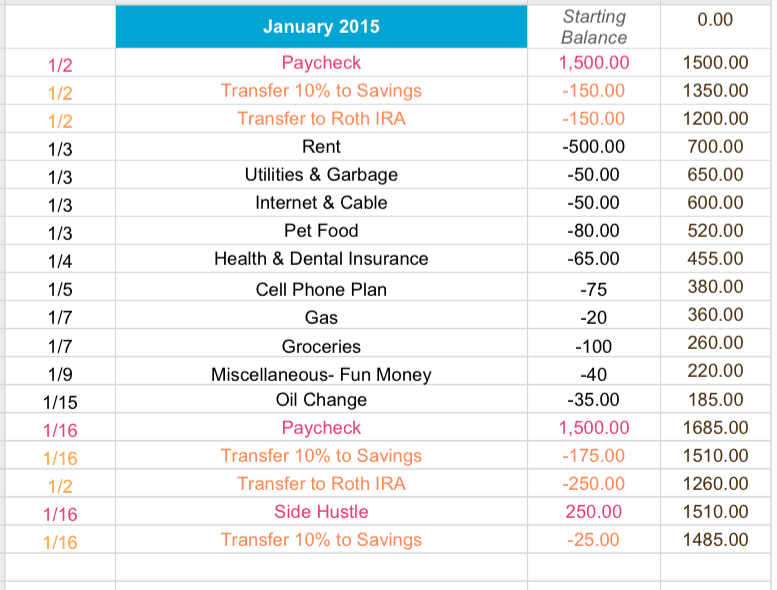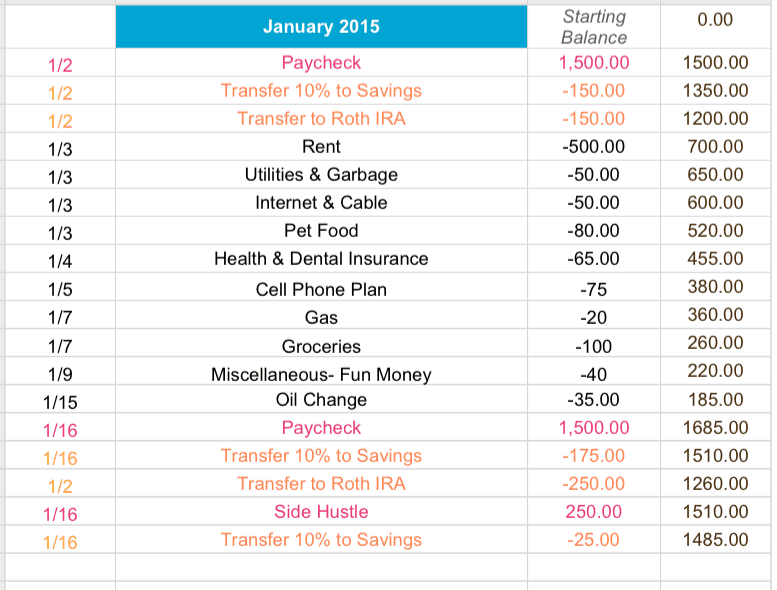 This check register spreadsheet correlates with the sample monthly budget spreadsheet from this post.
Here is how to make the check register spreadsheet work for you:
Start the spreadsheet with your current bank balance. If you are starting from scratch, enter $0. Then follow these steps.
1. Add all income expected for the month. If you get paid every other week, you'll have 2 lines of income for the month. Record the dates of expected payment and your paycheck total. You can also look at your calendar to see if you have any extra income coming into your bank account like from side hustles or bonuses.
2. Look at all monthly bills. List all your "fixed" expenses for the month in order by due date and the bill total. You can also list all the expected due dates for other variable expenses including bills and utilities. This will be helpful for those bills that you know you'll have each month but aren't so sure how much they will be. Try to make an educated guess for the expected amount due based on previous bills.
When in doubt, guess high as you would probably rather plan for a higher bill amount then be surprised when it comes in lower than expected.
3. Incorporate all expenses from the categories listed on the previously completed budget sheet. This includes expenses such as grocery shopping, household items, pet food, etc.
For example, if you grocery shop once every week or two and stick to a budgeted amount. Take that expense and add it to your spreadsheet. You can even add in the date you expect to go to the grocery store.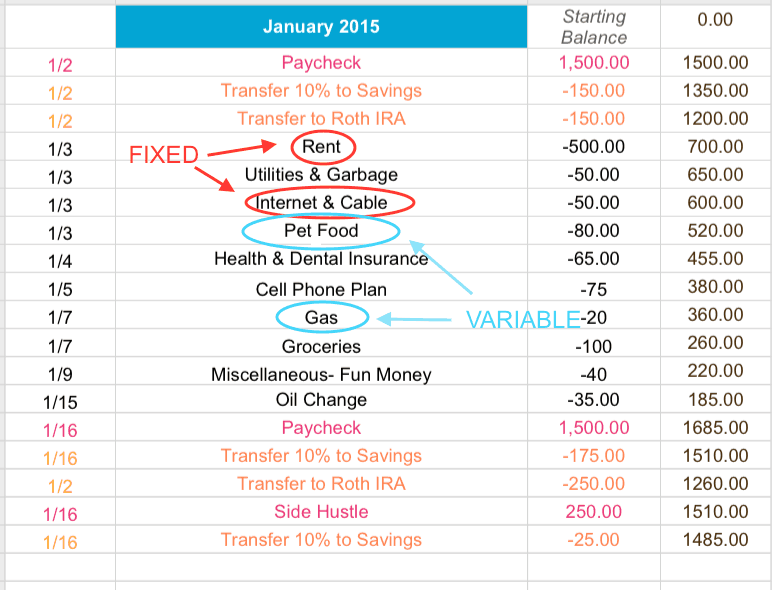 Tip – I love to use different colors on my spreadsheets. Not only is it helpful to differentiate income versus expenses, it's easier to read!
I would suggest doing something similar to what I have mentioned above when it comes to applying these types of categorized expenses. By writing down my planned expenses ahead of time, this helped me plan where my money is going each week!
Want to do this digitally and don't like spreadsheets? Check out Qapital!
Hold Yourself Accountable
One of the best things about tracking your expenses is being able to hold yourself accountable. If you set goals and spending limits, make sure you're meeting them when you track your expenses each week.
If you find out that you're spending too much money in a certain area of your budget, you'll know that you need to cut back and re-evaluate.
And, if you realize that your spending is exceeding your income, you might want to consider finding a way to make some extra money so you can meet all your expenses.
You can try mystery shopping. This is becoming more and more popular as there are a ton of websites you can sign up with. Here is a list of all the best ones I have worked with.
You can also walk dogs or babysit. I used to dog walk for 30 minutes and charged $20 per walk. Most of my clients needed me 3-4 times a week and this was regular income.
If you're looking for quick ways to make money online, try to earn money online with Swagbucks.
Rakuten is one of my favorite sites because it pays you cashback for everyday shopping. I've made over $700 from shopping online and earning cashback. Join Rakuten here!
Ibotta is another rebates app that I absolutely love. The app that lets you earn cashback rebates from your purchases. This is by far one of my favorite ways to earn cashback.
The money can quickly be transferred into your PayPal account and the savings add up fast. Join Ibotta and earn a $10 cash bonus!
Use A Budgeting or Money App
There are so many budgeting apps that can help you track your expenses. One of my favorite ways is using Qapital because it's easy to check and manage online. Check out Qapital here! However, there are quite a few other apps you can use as well, including apps like Mint, Personal Finance, You Need a Budget, and Every Dollar. All of these types of apps can help you track your spending, log all of your expenses and purchases, and help you stick to a specific budget. They're also helpful if you don't want to use something like a spreadsheet!
Another way to save and make money with an is to use Acorns. The app rounds up your purchases and invests the change. You can withdraw your money at any time, or watch it grow. It's a great way to start investing, even when you don't have a lot of money.
When you're able to make more money to ensure your income exceeds your expenses, it makes the whole process much less stressful!
[convertkit form=5278136]
How often do you track your expenses and how do you keep it organized?