One of the most common questions people ask me is how to sell stuff on eBay. I've been selling and purchasing on eBay since 2001, so I have a lot of experience on both ends.
Selling items on eBay is a great side hustle and a great way to make extra money. There are some people that even sell full-time on eBay!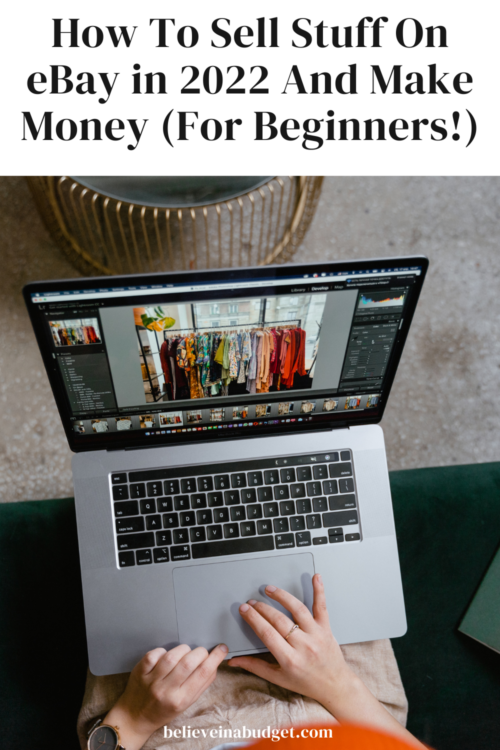 Ever since I made the decision to move, I have been going through my apartment trying to decide what to keep and what to get rid of.
I like to break everything down into these four categories:
If I have an item that doesn't sell, I will donate it. There is a Goodwill donation box in my parking garage, which makes donating even easier!
Because I am always short on time each day, I have only been selling two to three items each week on eBay.
Even though I would like to sell more items, this keeps me from being overwhelmed.
In the past month, I have sold over $350 in clothing alone!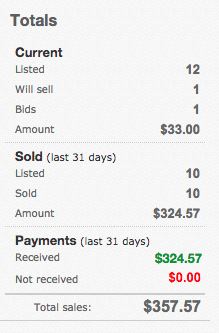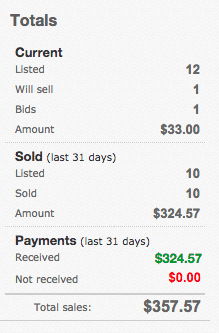 I am not sure whether to be thrilled I have made such a nice, tidy sum or be totally disgusted by how much clothing has been just sitting around in my closet.
Either way, this keeps me motivated to keep going through my closet and downsize.
How much money does it cost to sell something on eBay?
If you plan on being a casual seller and only selling what you have around the house, it's free to list on eBay. But if you list more than 200 items per month, you'll pay at least $0.35 per listing. There are some category exclusions that apply, so you may pay more for certain items.
How much can a beginner sell on eBay?
Technically, you can sell upwards of 199 items before you are charged fees for listing, but if you plan on making this a side hustle or even a full-time gig, there is no limit to what you can sell. You'll just need to pay extra fees.
Is it worth it to sell on eBay?
Absolutely! eBay is still one of the top marketplaces online, along with Facebook Marketplace and Craigslist. But the biggest benefit to eBay is that you don't need to meet someone face to face in order to give them their item. You just need to list it and then ship it once a customer purchases it (more on that later!).
Is it easy to sell things on eBay?
Yes, it's super easy. I have a checklist below on how to get started as a beginner, but it's as simple as signing up, taking some photos, creating a listing, and waiting for the sale!
Who pays for shipping on eBay?
This depends. First, you can price the item higher and include "free shipping" as a benefit to the buyer. But usually, this only works for smaller items that don't cost much to ship.
If you have a larger item, if a buyer wants it faster than the average 5-7 days, or if it's an expensive item that requires insurance and a signature, I recommend charging for shipping.
Luckily, eBay offers discounted shipping fees, so you can pass those savings on to your buyers if you'd like. And you may be able to ship an item for much less than going straight through USPS, UPS, or FedEx (to name a few).
How do you receive payment on eBay?
You receive payments from eBay to your linked checking account. You will need a bank account to sell on eBay, so keep that in mind if you don't have one currently.
Do I get paid before I ship on eBay?
Technically, no. While the buyer pays when they purchase the item, eBay holds the money until the buyer receives their package. This is to protect them as the purchaser and make sure they get what they ordered.
However, eBay will let you know when it's safe to ship. This means that the funds are ready to be deposited, so you'll know it's safe!
How much does eBay take from a sale in 2022?
Starting March 1, 2022, eBay increased its final value fees by around 0.3% in most categories. For example, sellers with a Basic and above eBay Store who sell in the Home & Garden category saw 11.7% to 12.0%, a difference of 0.3%.
Of course, the categories and what you sell will determine how much you pay overall, but you can expect to see an increase of at least 0.3%. eBay has its list of increases here.
What To Sell On eBay
Many people ask what they can sell on eBay. It's possible to sell almost anything on eBay.
Some of the most popular items to sell on eBay are:
Clothes
Purses
Electronics
Kitchen Gadgets
Old toys and collectibles
Vehicles
Sports-Related Items
Some of the best-selling items I have sold on eBay were items I didn't think would be worth a lot of money at all!
One of these items was a Mickey Mouse wallet from Walt Disney World. I had purchased it as a gift and the wallet had only cost around $20. When I decided to sell it on eBay it went for over $90! I was completely shocked because it was a very plain wallet with one very small Mickey Mouse logo.
On the other end of the spectrum, I had a nice digital camera that I expected to sell at a higher premium. When the bidding ended, it didn't do as well as I would have liked it to.
This just goes to show you never know what people will spend money on. If you are unsure if your item will sell, you don't have much to lose if it doesn't sell on eBay.
Explore eBay + Do Your Research
eBay is one of the oldest marketplaces where sellers can list items, create a store, and sell their goods. Before Facebook marketplace was even a thought, there was eBay. It's pretty simple to list on eBay, and we will get into that in a minute. But before you start, make sure you explore the platform and do your research.
Things like seller fees, feedback, shipping costs, and more, should all be explored before you get started.
How can I increase my chances of selling on eBay?
Now that you know about eBay and what is expected from sellers, let's talk about how to actually sell on the website.
Step 1 – Get started
First, all you have to do to get started with selling on eBay is sign up with an email account or your Facebook account. From there, eBay will send you straight to your "sellers hub", where you can start listing your items right away.

Step 2 – Create your listing
Before we start filling this section out, it's a good idea to see if your product is already selling on eBay. Researching your own product will help you:
Determine how many other sellers have the same product
Set a selling price
Write a description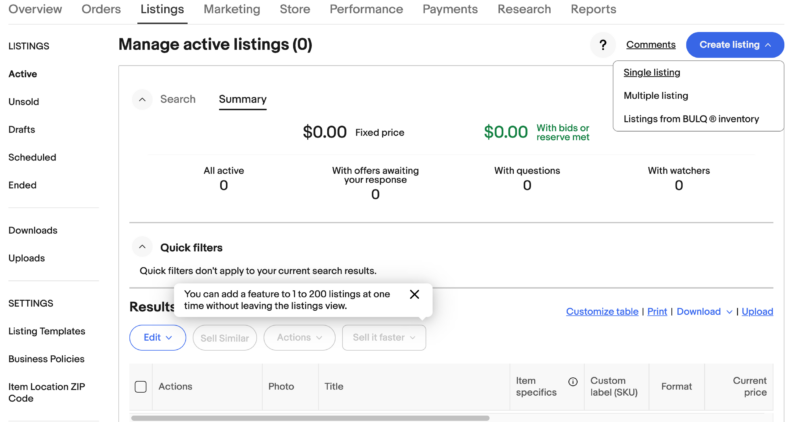 As an example, I am going to sell a pair of Ray-Ban sunglasses that I have.
The sunglasses I would like to sell range anywhere from $150 – $500 new. Because I want my sunglasses to sell in a fairly quick time frame, I plan to list mine lower than the competition.
This makes the price looks attractive and increases my odds that someone will purchase my Ray-Bans versus the competition.
Step 3 – Upload photos
Generally, you can use your camera on your phone to take pictures. You are allowed to provide 12 different photos as part of your eBay listing. Here are some tips to take good photos:
Use natural light
Take a lot of different angled shots
Do a couple of closeups
Provide any SKU numbers or relevant codes to authenticate your product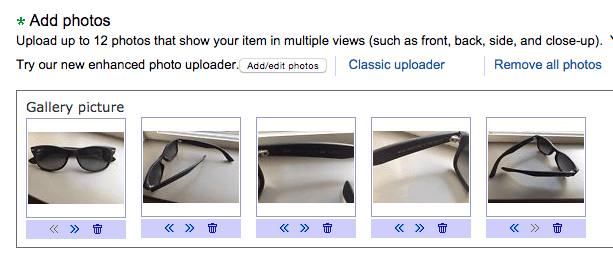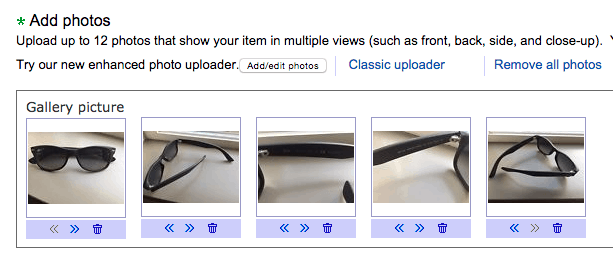 As you can see in the photos, I took multiple photos of the Ray-Bans, as well as a zoomed-in photo to display the manufacturer's information.
Tip – Once you have uploaded your photos, you will be able to rotate the photos (in case they are loaded sideways) and rearrange the order. The first photo will be your display photo in the eBay search results. Make it a good one!
Step 4 – Item specifics
This information will come up next if you are selling something specific and the verbiage will be catered to your exact product. So if you are selling a shirt, the specifics might include questions like brand, color, and size.
All of this information is optional. You can leave it blank or fill it in. By filling it in, it makes it easier for a buyer to find your product.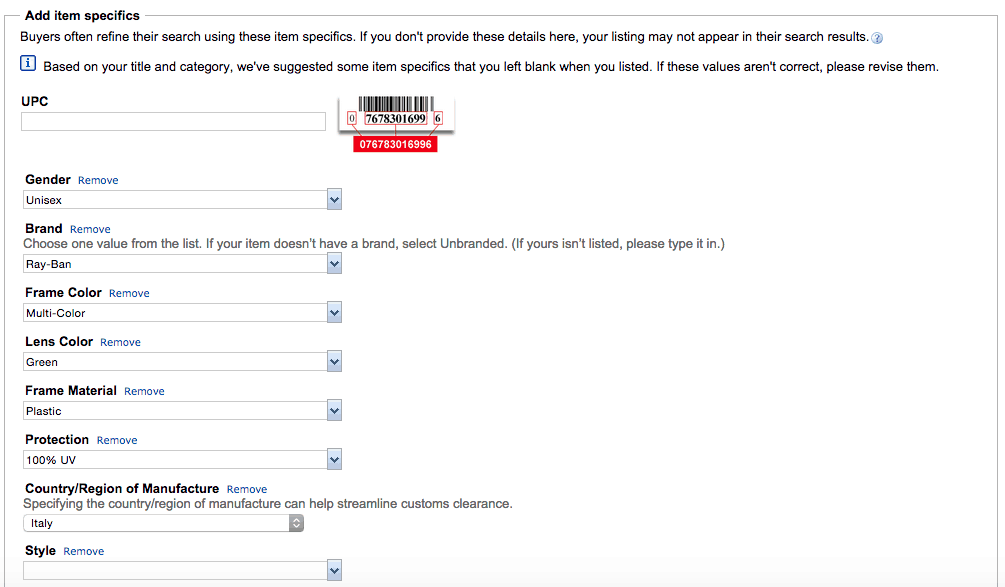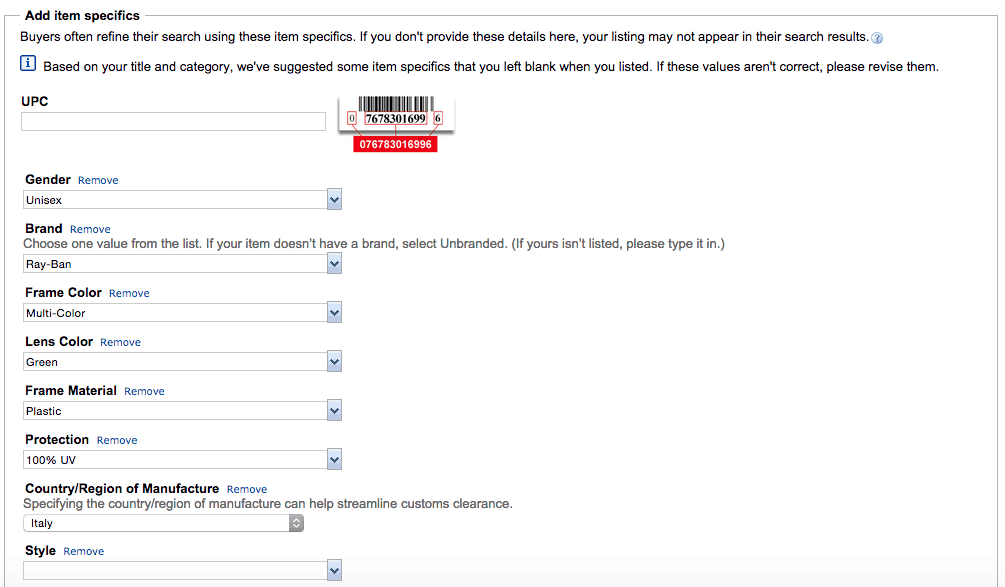 Step 5 – Description
This is where you can enter information about the product you are selling. I prefer to keep my listings short so a buyer doesn't have to read too much information.
Tip – Use a different font and font size than the standard provided. This is free. I like to use a friendlier-looking font and size 14 font. This makes it easier to read and more personable.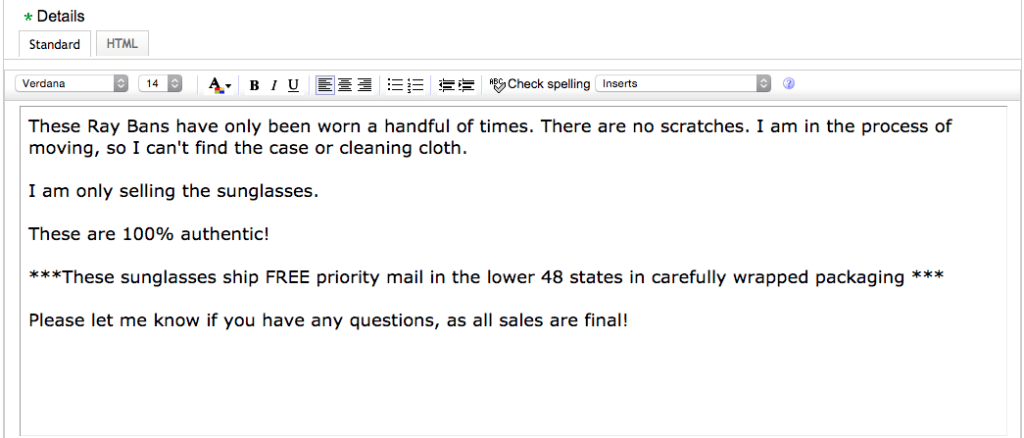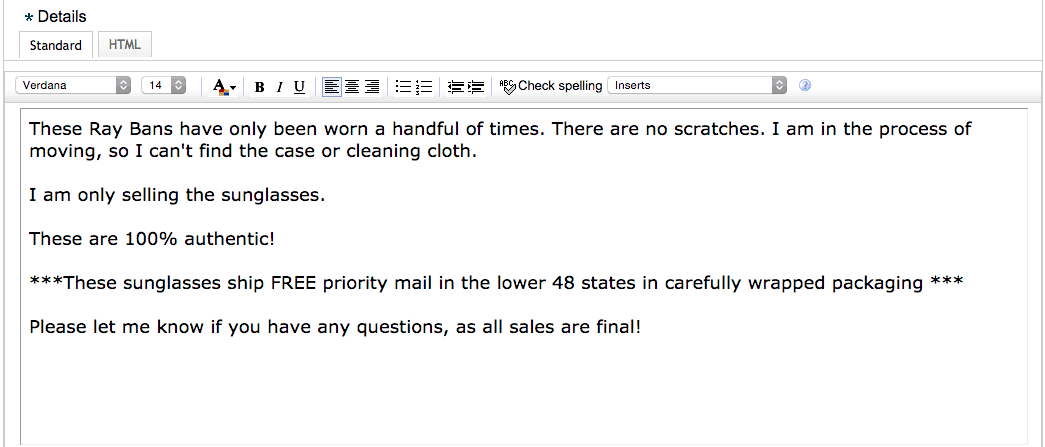 Step 6 – Determine the selling price
You have two options when it comes to selling your product – Auction or Buy It Now. Here's the difference between the two options:
Buy It Now
Firm on the price
Have multiple items of the same product
Buyers can still negotiate with you by offering to buy at a different or best price offer
Auction
Open to pricing
Aren't sure what the Buy It Now price should be
Potential to drive up the cost with a bidding war
I decided to list my Ray-Bans at a Buy It Now price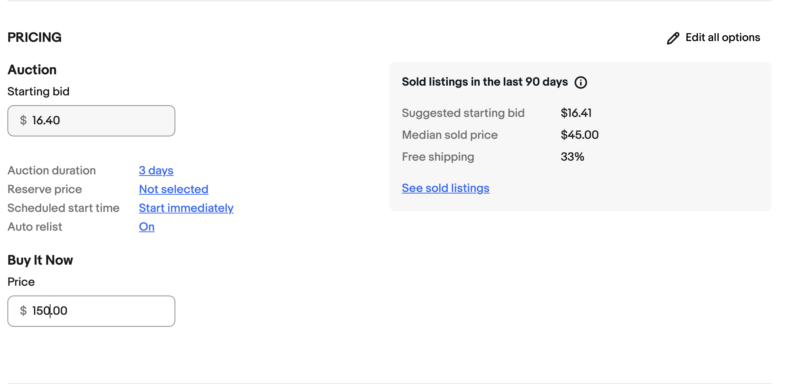 Tip – You can change the duration of your sale. The standard duration is 7 days, but there are options ranging from 3 days to 30 days. I leave mine at the standard 7 days to create a sense of urgency for the buyer.
Step 7 – Shipping cost
It's important to determine the following when shipping an item:
What kind of packaging are you using?
Which carrier do you want to use – UPS, USPS, or FedEx
What is the item's weight?
Where do you want to ship to?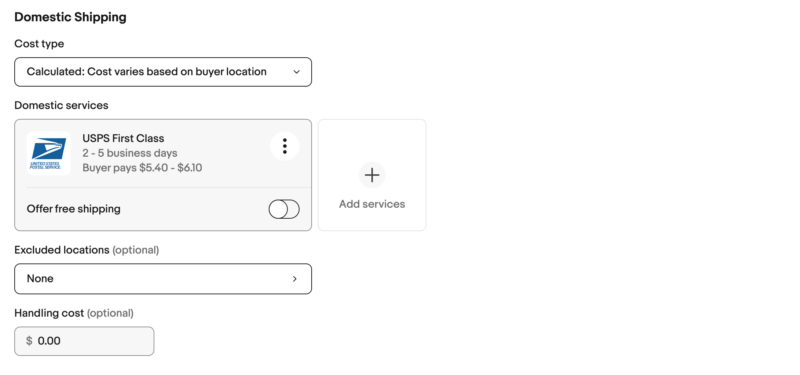 Tip – I have always used USPS because of the low price and ease of use. These are my best tips for shipping on eBay with USPS:
Buyers love free shipping! Provide free shipping and add it to the cost of your product.
USPS is generally the most cost-efficient carrier and delivers on weekends
USPS provided free shipping boxes. You can order these online and have them delivered for free!
Invest in tracking confirmation to ensure a product gets delivered (this is included in the cost of priority shipping)
USPS's online Click-N- Ship program is 10% cheaper than going to the post office.
Schedule a free pickup from your home. Your mailman will pick up your package during their normal route.
If you need help with determining what shipping product is best for you, click on the Calculate Shipping link and a box will open.
The shipping calculator will walk you through your options and help you determine what is best.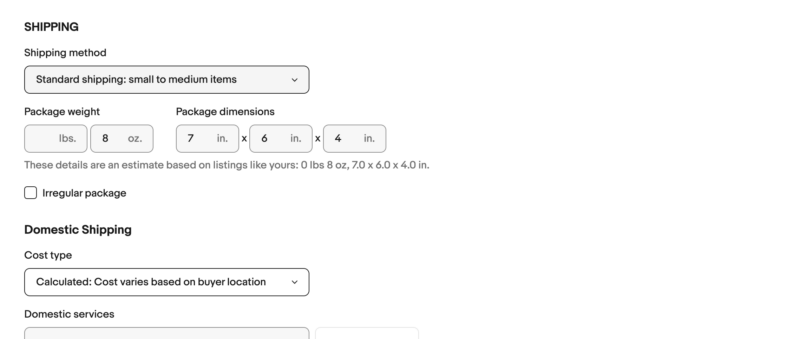 Step 8 – Return Policy
You must decide if you want to accept returns. This would be a good idea if you are a mass seller or have a big inventory of a certain product.
I do not accept returns and state in my description that all sales are final. I am more of a "garage sale" seller, so everything is sold as-is. This has never been an issue in my entire eBay history.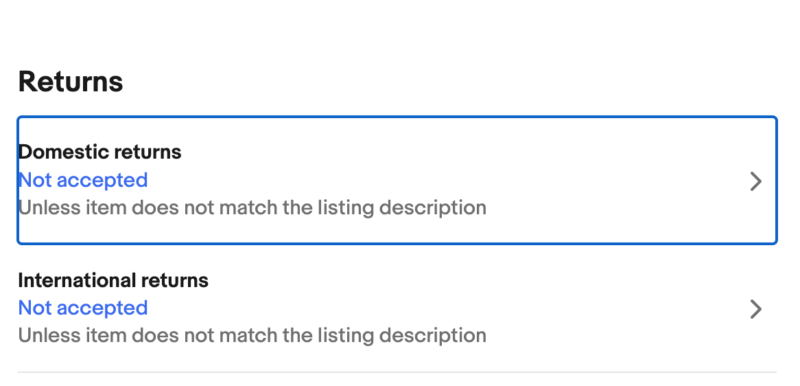 Step 9 – Get paid
eBay pays via ACH transactions, so you'll get the money right in your bank account! Be sure to add your account in the payments section.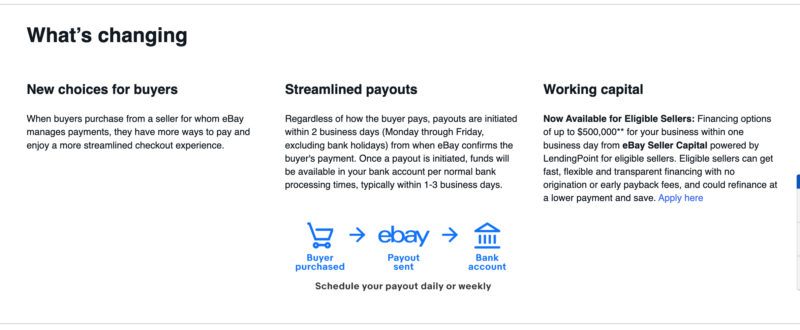 Step 10 – Review Your Listing
You are almost at the finish line! Here you can review your listing and see what it would like published. You are able to edit your product and make changes.
Tip – you can still edit or revise your item after it has been published. Mistakes happen and you won't be penalized!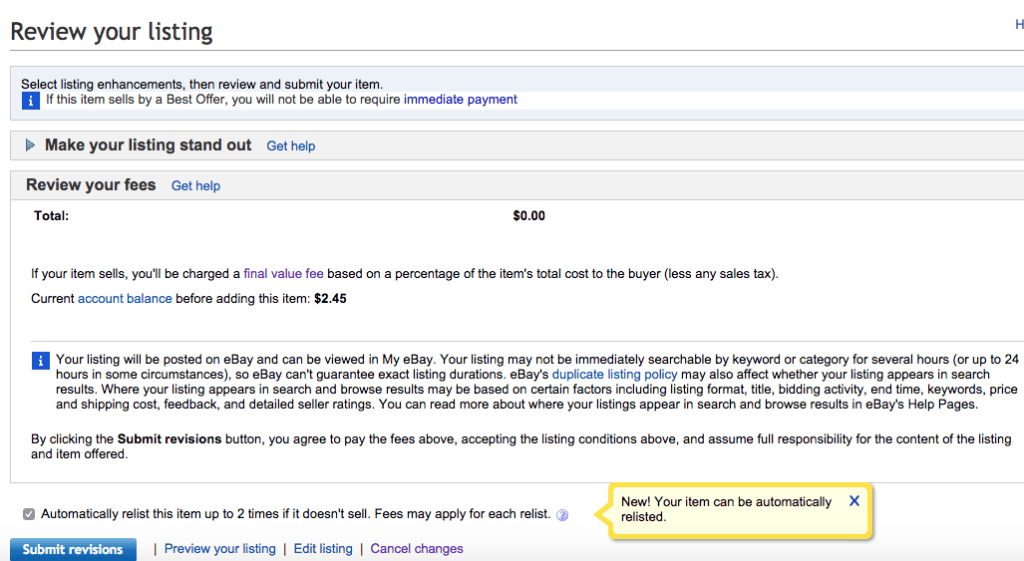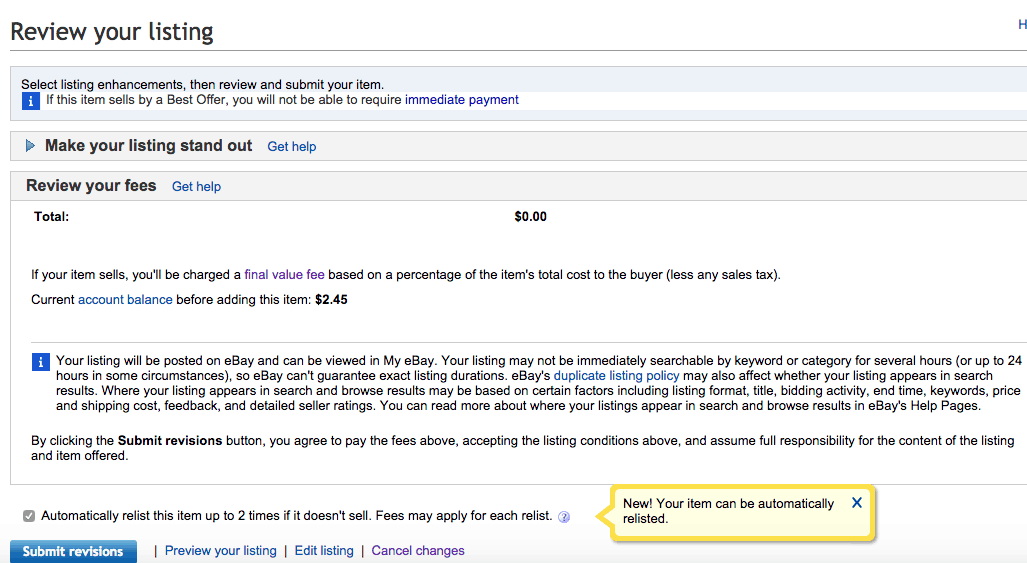 Step 11 – You did it!

Template tip
The overall process to list an item on eBay can seem daunting. When creating a brand new listing, it can take around 15 – 20 minutes to list a product. Once you become more efficient in the process, you can list a product in a much shorter amount of time!
One of my favorite things about selling on eBay as you can reuse one of your selling templates.
For example, let's say you list a short-sleeved shirt on eBay, but have another one you would like to sell. eBay will ask you at the start of the selling process if you would like to sell a similar item.
By clicking yes, the majority of the listing will already be filled out for you. You will simply need to change the title, description, and photos.
This process will take me under 10 minutes to sell a different item.
How To Sell Stuff On eBay Bottom Line
I find that I make considerably more money on eBay vs garage sales. I am able to get a fair price online versus the thrifty shoppers who are scouring garage sales.
While the learning process to use eBay can seem a little challenging at first, overall it has been worth the time and investment.
I hope this tutorial on how to sell stuff on eBay can help you make some money!
Related reading:
Have you ever sold or purchased anything on Ebay?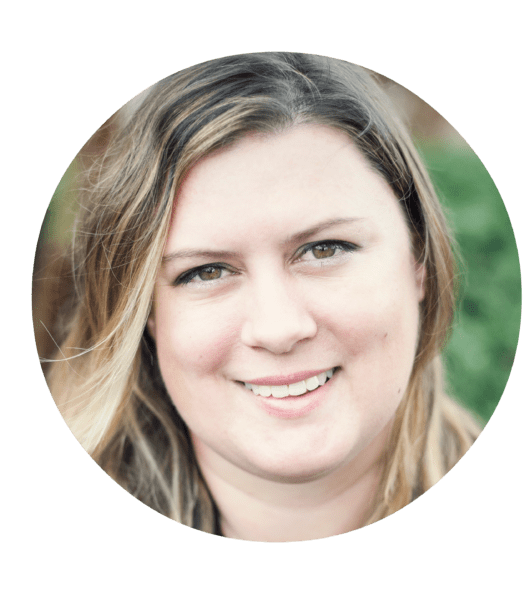 Kristin is the creator behind Believe In A Budget. She teaches others how to start a blog and how to side hustle. Her course, Become A Pinterest VA Today, helps bloggers + businesses drive traffic to increase their website's profitability. Click here to learn more!