Here is my June online income report. This month I am sharing how I make money online from my blog and business. I'm excited to go through my income report and share everything that happened this month.
After a hectic spring, June stayed just as busy. There hasn't really been a slow-down period yet this year, and I am definitely starting to feel it.
I thought I would be able to slow down starting in June and work less over the summer, but I don't think that's on the agenda this year 🙂
There's just too many things going on and I need to stay focused.
June was basically a blur. It went by really quick! I focused on planning out my summer months and working on goals for July and August as well.
Let's get down to business!
If you are new to reading my income reports…
If you are new to reading my blog income reports, here's a quick refresher!
I started my blog in January 2015. My most popular income report is still my very first one! In April 2015, I published my first income report proudly stating how I made $60.
My first income report is still incredibly relevant! If you are a new blogger, you can read my first income report to learn how I can make money online.
I have now been publishing income reports for over three years. Time is flying by and I still think it's crazy that I am doing this!
---
If you haven't started blogging, this blog post will provide you with a list of blogging ideas, tips and teach you how to set up your blog in 15 minutes.
---
It took me about four months to earn any income from my blog. That was the hardest four months ever because I was so new to blogging and wasn't sure what I was doing.
Earning that first paycheck was the best feeling ever and confirmed that my hard work was starting to slowly pay off!
Since I started blogging and reporting my income reports, my income has overall steadily grown from the very beginning.
I'm at an exciting point with my income reports because I can look back at 2015, 2016 and 2017 and compare how much my income and expenses have changed.
By going through all of my online income reports to see what worked, what stressed me out and what big decisions I was making at the time has been HUGE for me.
This blog is like an online data diary for me, so I'm really glad I have been documenting everything for so long!
I also love the shift my blog and business has made. As things have changed online or with blogging, I've focused on being able to change as well.
For example, most of my income in the early days came from Pinterest VA freelancing and Pinterest management. I have always used ads on my site and done sponsored posts when I felt it was a good fit for my blog.
Today my income primarily comes from affiliate income and my own products and courses. It wasn't an easy shift; it took almost an entire year to shift my focus and accomplish this.
I'm really glad I documented my journey though, because readers ask me about this all the time! I would venture far enough to say that many people get their start online as a virtual assistant, and then start or continue to focus on making their own brand profitable too.
[convertkit form=5202421]
Here are some of my previous online income reports
It's pretty awesome to look at every single income report over the past few years. I've been publishing monthly income reports for a little over three years now.
I feel like I can read every single one of these reports and remember exactly where I was in life and what I was doing at the time.
Writing every online income report definitely brings out a wave of emotions because there's so much going on in my brain:
Fear of oversharing
Fear of not sharing enough
Proud that I have a successful blog and business
Being judged for talking about my income
Happy because I'm helping others
Here's a sample of some of my previous online income reports. I bolded June so you can see where I have been previously in regards to income: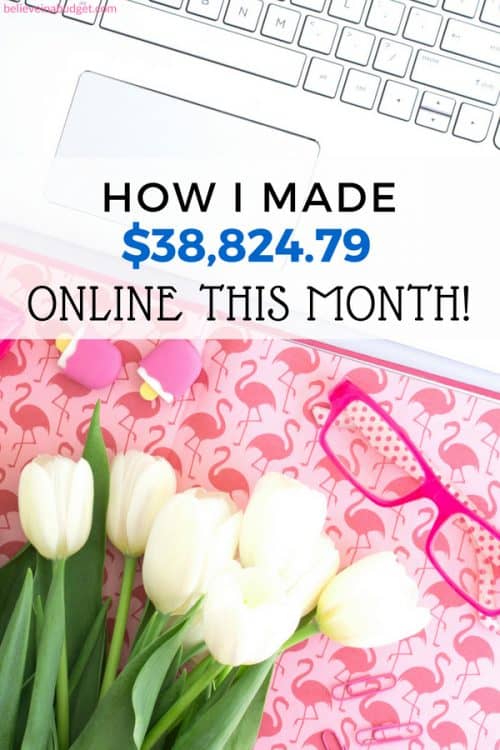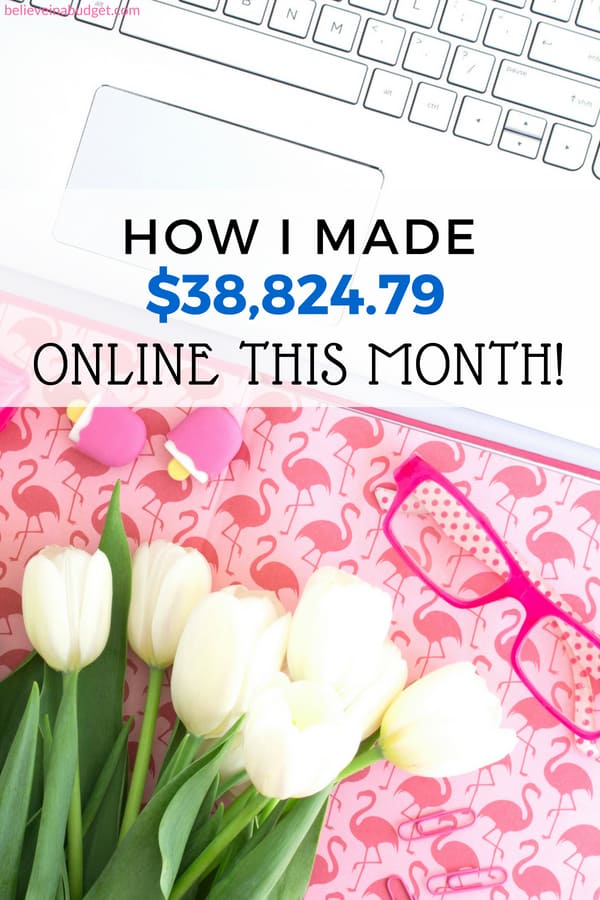 Here's the breakdown of my 2018 June online income report:
Total Income: $38,824.79
[convertkit form=5202420]
2015 – 2018 June online income reports
I started my blog in 2015. I thought it would be fun to look back at how much I made in May from previous years. This is consistent growth!
In my 2015 June online income report, I made $66.10
In my 2016 June online income report, I made $9,700.11
In my 2017 June online income report, I made $29,268.78
In June 2018, I made $38,824.79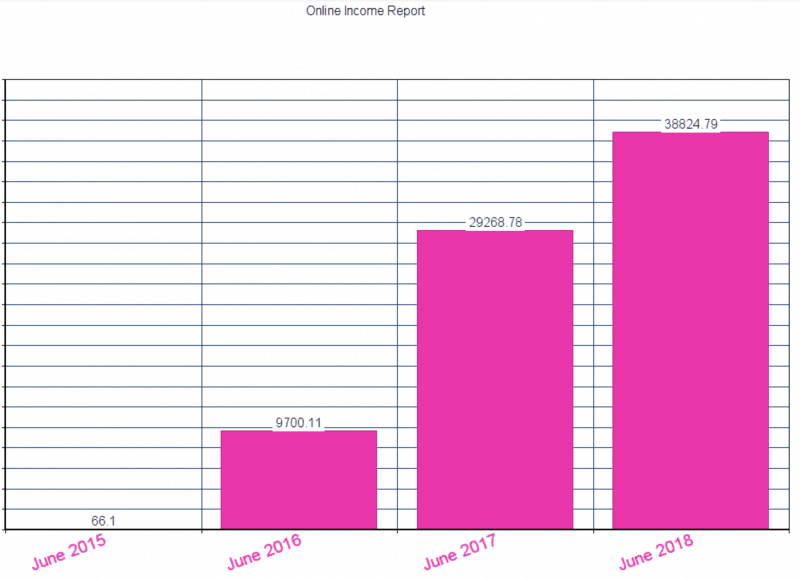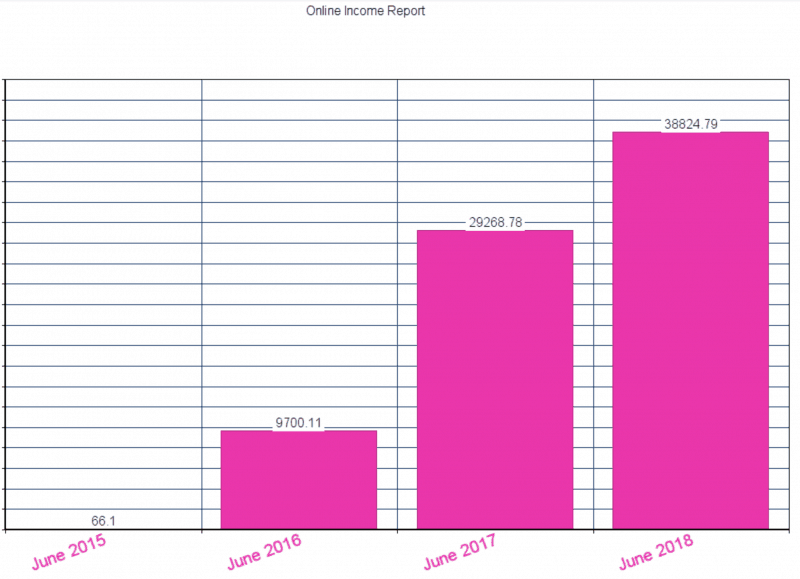 What's really amazing about watching my increase over the past few years is that I would not have have been able to do this at my day job. Don't get me wrong – I loved my line of work and had a great job.
Unfortunately, I was also at the point where I had pretty much peaked in regards to my position and salary, and I was still pretty young.
The thought of making the same amount of income each year working for someone else started bugging me, which is part of the reason this whole blogging thing began
One of the best perks of blogging and having an online business that I run and operate, is that I control my income.
Can you imagine where you could be one year from now? I had NO IDEA what to expect from blogging and my online biz, so looking at the chart above makes me feel really good.
June online income report expenses
Here are my June expenses:
VA work + professional services
Affiliate payouts
Total Expenses: $12,371.85
I previously have been breaking down my expenses individually, but have started lumping things together.
Similar to my income reports, I have to be careful about over-sharing since I have different contracts with different vendors. To make sure everyone is happy, this seems like the best method moving forward!
In addition to the above expenses, I also have pre-paid expenses that I have already paid for annually. The reason I switched over to annual plans compared to monthly plans is because of the savings. Pre-paying with an annual plan can save a lot of money!
I would recommend doing this if you feel confident about your purchase. I feel confident about most of the tools I'm using, but it took me over two years to feel like this with certain companies!
I don't include the services below in my monthly budget because I've already paid for them upfront. I do set aside funds for these expenses each month so I can be prepared when their various renewal dates come up.
I set aside money each month that go towards my annual expenses. That way when an annual payment is due, I already have the funds set aside.
Having a buffer for my business is really helpful! This allows me to be financially ready when payments are due without having to take money from that current month's income.
Aside from starting my blog and selecting a theme, I had very few if any expenses for almost my first year of blogging. I think I spent around $100 for my first year of blogging!
As my income grew, I was able to invest in more tools (all the ones mentioned above) one at a time.
Finally, this doesn't include things like health insurance or taxes. I was putting 30% aside each month. I've adjusted that number to between 30-35% moving forward to account for extra expenses and to put more in my business savings account.
I also have to plan for things like savings, retirement, my HSA account, making sure I spoil my dogs, etc.
Six Month Check In – I've almost made as much this year compared to my entire income from last year!
We are half way through the year and I've brought in a little over $284,000. Last year I ended the year around $290,000 so that's pretty exciting.
I've worked a lot this year, and worked very intentionally with my time to grow my businesses, and everything seems to be paying off. I knew going into this year it would be a big year for me in terms of what I wanted to accomplish for growth.
My 2018 word of the year was expand, and I would definitely say that is still the case.
I have no idea what to expect for the rest of the year, I just know it involves working at the same pace I've been going for the first six months. I'm excited!
---
If you haven't started blogging, this blog post will provide you with a list of blogging ideas, tips and teach you how to set up your blog in 15 minutes.
---
How to use Pinterest to make money online
Ever since I started my blog and to this day, my main source of traffic is still Pinterest, followed by Google and then Facebook! Pinterest allows me to earn a great living online.
By using Pinterest, I can send traffic from Pinterest directly to my website, blog posts or my products. I did so well with Pinterest at an early time, that I became a Pinterest virtual assistant and then started a Pinterest management company.
As a Tailwind ambassador, which has an official partnership with Pinterest, I have been really fortunate to hone in on my Pinterest skills and stay up to date on all the Pinterest trends and changes.
If you need help with Pinterest, I recommend doing the following:
Grab this FREE guide below on how your blog or business can grow and make money using Pinterest.
Use this 20 Step Checklist to make sure your Pinterest account is optimized and ready to go.
Sign up for Pinterest Presence, which teaches you how to drive traffic back to your website and is full of technical training and marketing strategies. It's how I went from 5,000 monthly page views to over 200,000 monthly page views in roughly six months!
If you want to learn how to use Pinterest AND become a virtual assistant, check out Become a Pinterest VA TODAY!
June Goals
The first thing I did was line up a mini vacation for July 🙂
We booked an AirBnB outside of Asheville, North Carolina for a five day getaway. I love using AirBnB because there are so many perks compared to a traditional hotel.
I'm not a great travel hacker (although I would love to get better at this in the future), and I find the whole concept of an AirBnB really fun!
We booked a 500 square foot 'Tiny Home' that is right inside a charming small town with restaurants, shops and a brewery. Here's a $40 coupon for AirBnB!
*Update – here's my review of our Tiny Home vacation!
In addition to this blog and Pinterest VA, I decided to start a third business, which I call my secret #sidehustle project.
It is a passion project and I'm excited to see if it produces any revenue down the line. have big plans for this fall, and I'm using a lot of the summer months to get this project into the next phase.
*Update – I revealed my secret #sidehustle project here!
Why I focus on annual income instead of monthly income
When I first got started as a new blogger and was starting to make money online, I really felt like I was focused on a month to month basis with earning income.
In my first full year of blogging in 2016, I definitely was in hustle mode. I felt like at the first of every month, my income was at zero dollars and I had to start all over again. This lead to a lot of stress and anxiety!
At the end of 2016, my blog made a little over $90,000 in one year. Per month, this totaled around $7,583.00. Over time, my average monthly income has increased. Today my average is in the five figures per month.
This is where I made the decision that I had a solid blog and business and needed to adjust my work attitude to be more positive. I focused on longevity and not racing towards quick, monthly accomplishments.
Instead of focusing on what I needed to accomplish at the start of each month, I planned out my year instead.
Then each quarter, I go back through my plans and make sure they still line up with what I want to accomplish. This helps me stay on track as well as be flexible to pivot if something changes.
This made total sense because as many of you know, I love to plan and love my planner! I regularly check in on my profit and loss for the year (I use Quickbooks to do this) and get a feel for how my blog and business is performing.
[convertkit form=5202420]
I hope you enjoyed reading my June online income report!