Do you stick to a grocery budget each week? I definitely do! With many people spending time at home, this grocery list might come in handy as you watch your budget.
Each week I budget $50 to spend at the grocery store. I decided it would be fun to take a photo of what I buy and list how much each item costs.
I love reading how much other people spend money in their daily life. This includes creating a detailed and organized grocery list to help you stick to your budget.
This blog post is all about how to stick to a grocery budget, and maybe you want to share your ideas in a blog as well.
In the past, I have written about how my tips and tricks to stick to a grocery budget. No matter what, I still have to plan my grocery list each week to make sure I save money.
It's not easy to stick to a $50 budget for myself. I use every dollar and try to get the best deal possible, all while still buying the best food possible.
[convertkit form=5279421]
Meal planning to stick to your grocery budget
The cost of groceries varies so much across the United States. I have to really plan out my meals ahead of time and figure out how to overlap my food. I pretty much each the same thing all week!
Before I went grocery shopping, I wrote down what I had leftover to work with.
You can do the same thing when making your grocery list.
Frozen broccoli
Waffle mix
Salsa
1 Greek yogurt
I purchased a waffle mix a couple weeks ago and made exactly one waffle. This was such a waste of money for me.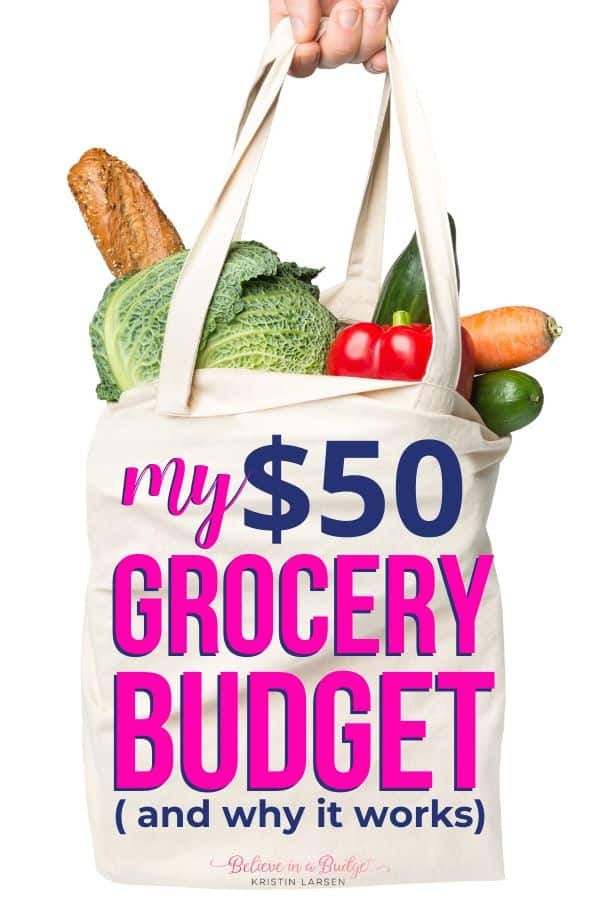 Does this happen to anyone else?!
Since I don't stock my pantry with bulk items, I told myself I have to incorporate this mix into a couple meals this week.
Otherwise it will literally sit in my cupboard forever and I'll end up just throwing it out.
If you're short on time or have no idea where to start when it comes to planning your meals,
I'd highly recommend trying out the $5 Meal Plan.
It's a $5 monthly subscription plan that sends healthy, affordable meal plans and shopping lists to your inbox weekly.
I love how the $5 Meal Plan has gluten-free and picky eater friendly options for those who love switching up their meals.
You can try it for 14 days for free here!
Here is my $50 grocery budget
Here is an example of my most recent grocery budget. I would love to know if your grocery prices are similar!
Eggs 3.69
Cheese 2.50
2 small avocados 2.00
1 small lemon (not shown) .50
Salad kit with dressing 3.50
14 oz sirloin steak 8.09
8 oz sirloin steak 5.89 **
Creamer 3.49
Grapes 3.25
Mushrooms 1.19
2 roma tomatoes 0.88
English muffins 1.39
Salad dressing 2.49
Ziploc bags 1.69*
Corn on the cob 2 for 1.00
2 bananas .52
Perrier 1.00
Tupperware 1.99*
Grand Total: $43.07+ tax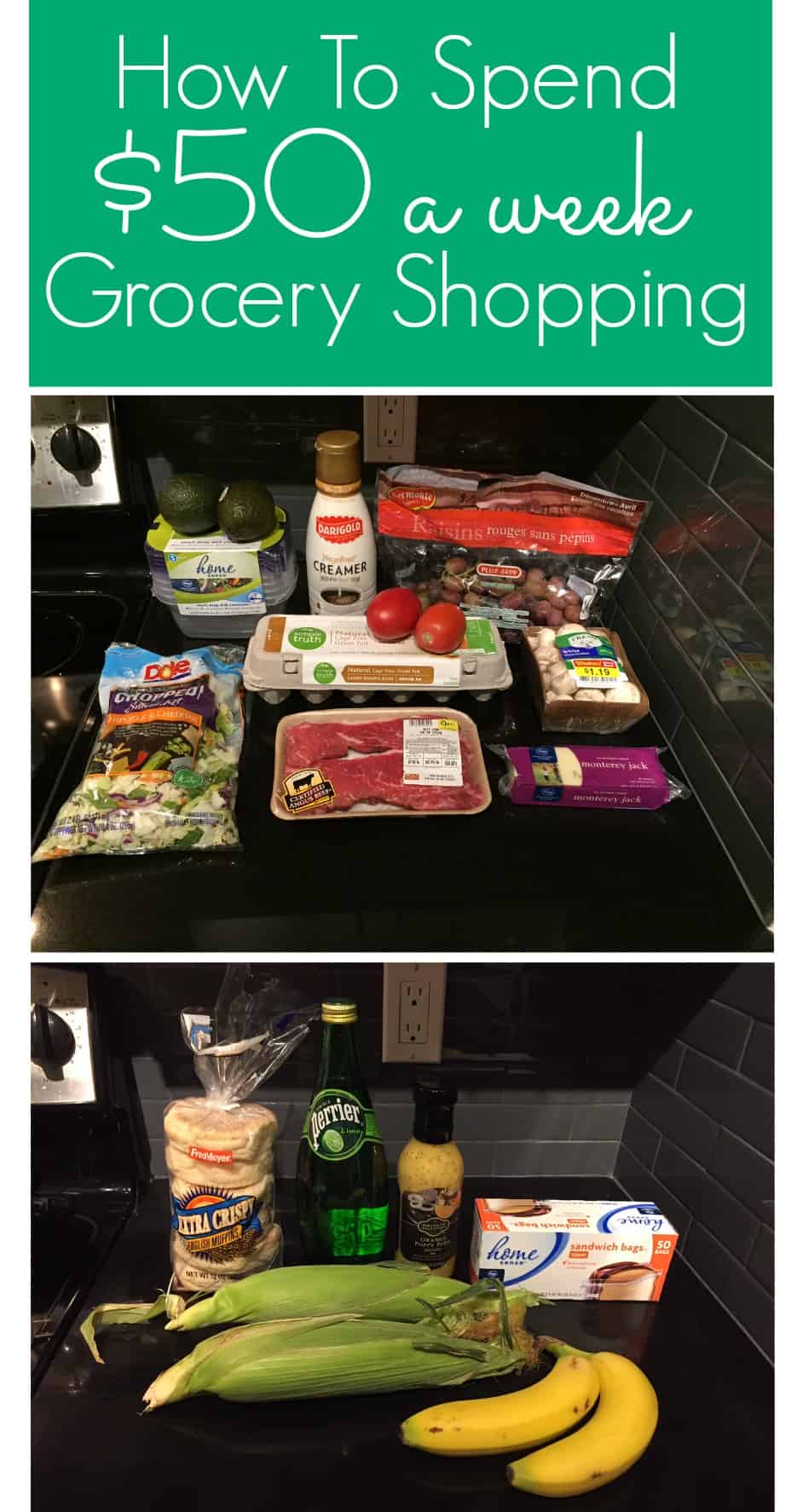 *These are gremlin purchases and are not part of my regular budget.
I decided to incorporate them into my $50 budget, but I am ok if I end up spending a few extra dollars on additional food this week.
**I bought an extra steak for my roommate. We went grocery shopping together and he bought corn tortillas and chips that we will share.
I have about $6 leftover to use still for the week. I will probably end up grabbing a couple of Greek yogurts, salad mix, and some chocolate.
Menu
Here's what I'm eating this week. Not overly exciting, but good enough!
Banana waffles
Egg sammy
English muffin with peanut butter (I keep a jar at work)
Grapes & cheese
Tacos / Quesadillas
Chips and guacamole
Steak salad
Omelet
Meals I Make With My Tight Grocery Budget
As you can see, I'm going to be cooking all my meals this week which is what I usually do for the most part.
Preparing your own meals will save you tons of money because it's cheaper to be whole and fresh foods as ingredients instead of buying pre-packaged, ready-made food.
Packaged food is often processed which means it has a ton of salt and preservatives in it.
You don't have to be a chef to prepare your meals either. I like to keep it simple and stick to what I love. You can also look up recipes online or on YouTube for ideas or borrow a cookbook from the library.
It takes me less than 20-minutes to prepare most of my meals and sometimes I cook in batches so I'll have leftovers for the next day or to freeze.
Batch cooking and freezing meals is a great way to save time as well as money since you can just grab a quick prepared meal out of the freezer instead of ordering takeout.
I recommend getting some freezer-safe containers to store your leftovers.
Using a grocery delivery service to help Your Grocery Budget
I've been using the past Shipt app for over two years now and could not be happier.
If you aren't familiar with Shipt, it's shopping and delivery service that does all your shopping for you! Depending on where you live, you have different delivery options.
We are able to place our grocery orders online through the app and have access to Target, 2 grocery stores, CVS and Petco.
The main reason we use it is to save time because of our busy schedules. For the past couple of weeks, we use it as a safety precaution to avoid going out and doing our part to social distance.
Shipt has a promotion right now where it costs $89 for 12 months of membership. That is equal to $7.42 per month for 12 months. Learn more here about Shipt.
Here's what you get:
Unlimited deliveries
Pick your delivery time (as little as 2 hours)
Choice of where you want your deliveries from
Access to your 'shopper' incase you left something off your list
Delivery straight to your front door
Shipt not available in your area? Another great app that you can try is Instacart.
Should you coupon on a $50 grocery budget?
I want to mention that I am not an extreme couponer!
In fact, I rarely use coupons as most coupons I see are for processed foods and food I don't normally eat.
I generally shop at two places – Trader Joes, located nationwide and occasionally Safeway, a grocery chain in the Pacific Northwest.
As I have lived all over the country, I also shop at Publix and Krogers.
Couponing can seem out-of-date or too time consuming to some, but if you're looking to stick to your budget, there are more modern ways to take advantage of discounts aside from cutting out coupons on newspapers.
First off, you'll automatically save when you shop in season. I tend to buy whatever produce is in season to optimize the sales.
As I mentioned above, I do not use a lot of coupons. However, I like to browse the grocery ads online ahead of time. I also look online at what digital coupons my grocery store is currently promoting.
After you receive your shopping receipt, I recommend scanning it into a program like Fetch Rewards.
This is a free app that rewards you with points depending on how much you spend. The points can be redeemed for all kinds of gift cards from stores everywhere.
Finding coupons may still work for you. However, it's important to make sure you're not wasting too much time trying to save a very tiny amount.
Additionally, avoid feeling pressured to buy multiple items just because they are on sale.
And, if you want to save more money, make sure you meal plan. While finding sales is great, zero food waste and knowing what you have to eat to avoid going out is even better.
Related reading:
If you are ready to stick to a grocery budget, you have to make a plan. Take some time to really think about what you need without being wasteful.
If you know you are going to eat a few meals out at a restaurant, try to plan accordingly. This means you should purchase less at the store. There is nothing worse than wasting food!
Have you been sticking to a grocery budget?