If you are trying to save money, it is important to grocery shop with a budget in mind. Did you know it's possible to save money on groceries without coupons?
I want to mention that I rarely use coupons as most are for processed foods and food I normally don't eat.
I used to go grocery shopping a few times a week after work and was spending too much money! Each trip to the grocery store would always cost more than I initially planned on spending.
For the past several months I have made a conscious effort to reduce my trips to the grocery store to once a week, or less. This has forced me to plan my grocery list better and shop smarter.
By reducing my weekly grocery shopping, I can't even begin to tell you how much money I am saving! I used to go into the grocery store to buy an item or two, and would somehow walk out with more than I planned.
Here are tips to save money on groceries
Look at your local grocery store's flyer
I do this online once a week. This helps me create a grocery list and meal plan.
Make a price list
I do this in my head, but you can easily write down product prices in a journal or notepad.
I have a good idea of how much items should typically cost and can spot when something has gone down in price. I never buy when the price is high.
[convertkit form=5279421]
Buy in bulk when the price is right
This is similar to making a price list. When I see a favorite product of mine go on sale, I will purchase in bulk.
I know it will take about a month or so for the items to rotate on sale again at the store and I'd rather have a couple extra in my pantry.
Use a Food Vacuum sealer
I dread the thought of buying groceries, only to throw them out a week later because we didn't eat them. It's such a waste of food!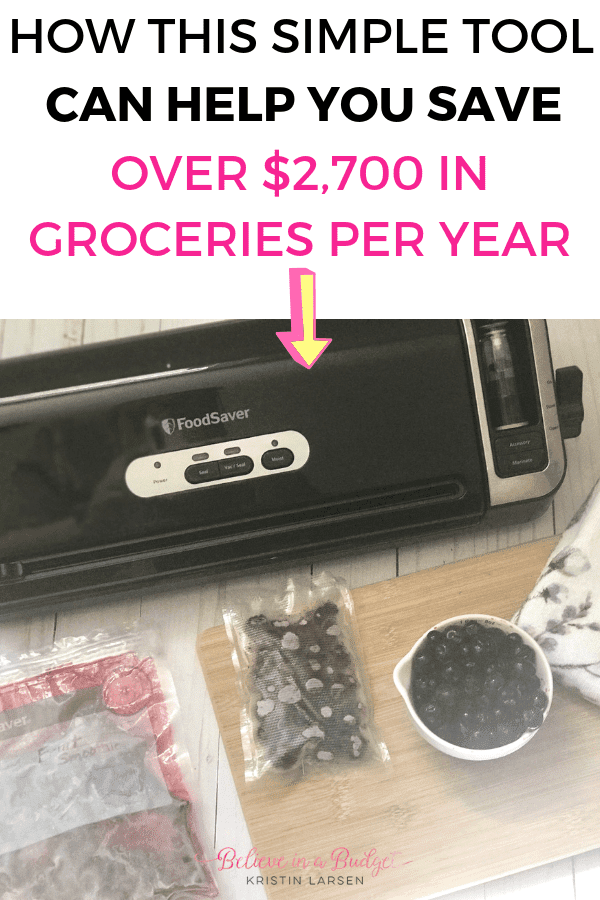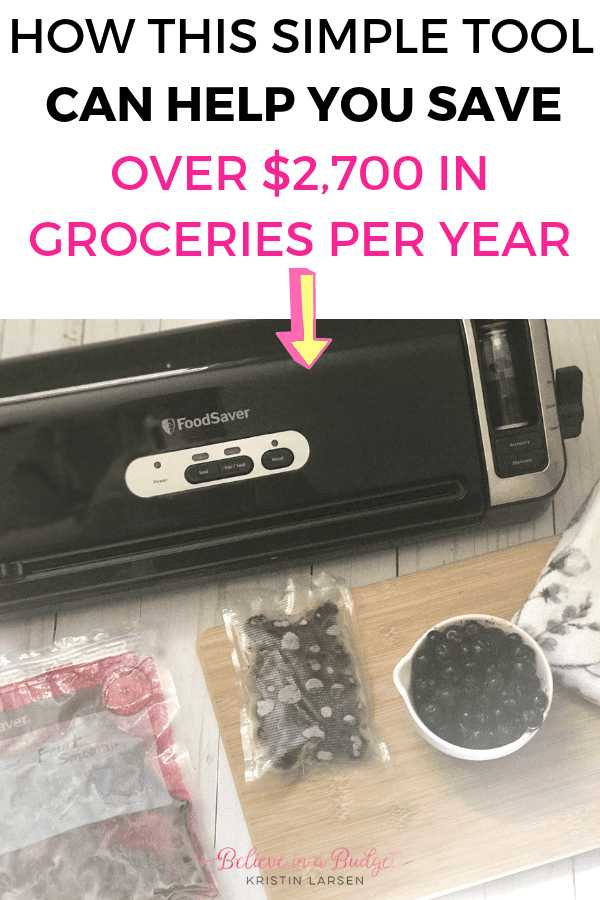 I use the FoodSealer Vacuum, which helps keep food fresh up to five times longer, compared to using an ordinary storage method.
It's also perfect for meal prepping and freezing food, especially when I purchase bulk items.
On average, a person can save around $2,700 per year using the FoodSealer Vacuum compared to ordinary storage methods, letting food go bad and simply wasting food.
I'm all about saving money and preventing waste, so this has been a welcome tool in my kitchen.
So far, I've used the FoodSealer vacuum to meal prep and freeze recipes for fruit smoothies, breakfast sandwiches, quesadillas, muffins, and large cuts of meat that I can divide into multiple portions.
Clearly, I am always short on time, so meal prepping is big in my household!
If you haven't had a chance to try a food vacuum, save 15% OFF through 10/31/19 by using coupon code FOODSAVER15 on the FoodSealer Vacuum.
Use apps
After you finish grocery shopping, you scan your receipt and your groceries to get instant rebates and cashback. I've been using Ibotta for years and it's like getting instant cashback, which goes into my PayPal account. Click here to get $10 in cash when you sign up!
Another app similar to Ibotta is Fetch, but instead of getting cash back, you get points for each receipt you scan, no matter what you buy. You can get 2,000 bonus points just by signing up with this link.
Create a meal plan
If you're short on time or have no idea where to start when it comes to planning your meals, I'd highly recommend trying out the $5 Meal Plan.
It's a $5 monthly subscription plan that sends healthy, affordable meal plans and shopping lists to your inbox weekly.
I love how the $5 Meal Plan has gluten-free and picky eater friendly options for those who love switching up their meals. You can try it for 14 days for free here!
Get out the crockpot or instant pot to batch cook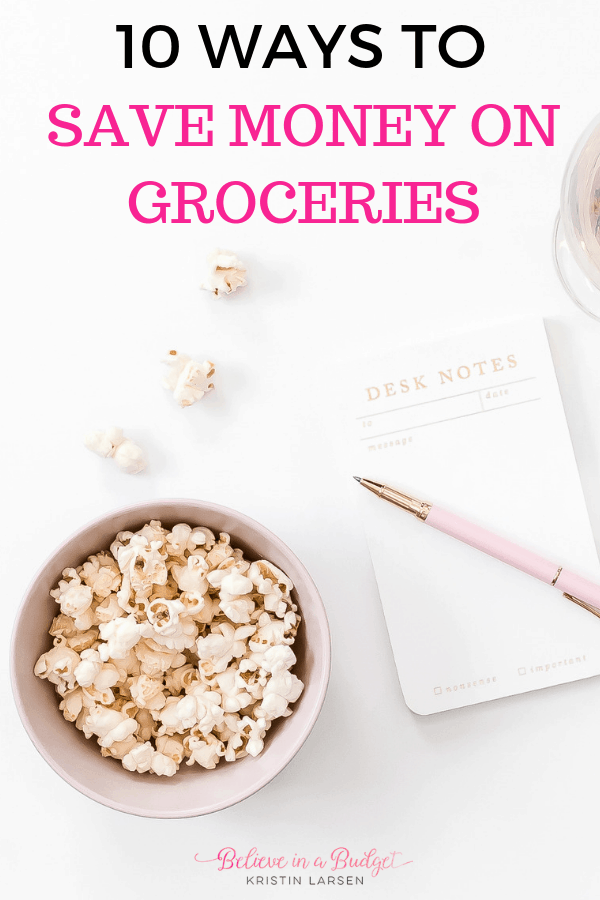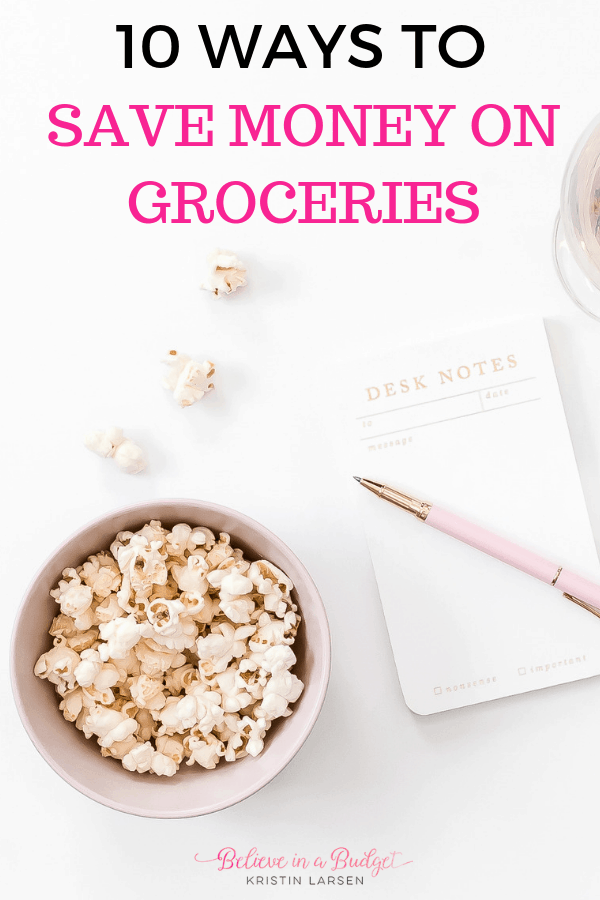 I love a good crockpot or instant pot because it makes cooking a breeze.
I've made chili, soups, pot roast and even bread in the instant pot.
I like this instant pot because it doubles as a crock pot, steamer and has several other functions.
It is easy to buy a handful of inexpensive items at the grocery store and have meals for days!
Shop with a budget in mind
I go into the grocery store with a limit on what I am spending.
I am so focused on my grocery list that I now list the anticipated price next to the item I plan on purchasing!
If I am purchasing something like meat or fish, I will give myself a maximum price limit for the item so I don't blow my budget.
I can pretty much add up my grocery list and know what the total will be once I get to the checkout lane.
Use Shipt and avoid the grocery store altogether
One of the best ways I save money is by not going to the grocery store.
Instead, I use a company like Shipt to order all my groceries and have them delivered.
I can schedule all my deliveries in advance and can pick a time that's convenient for me. Groceries can be delivered in as little as an hour!
It costs about $50 for an annual membership. This allows you to order groceries as often as you need and there is no shipping fee if you spend $35 or more.
This has done wonders for my grocery budget. This prevents an temptation to add things to my cart since I can see how much each item costs when adding it to my virtual cart. Plus I also save time and money by not driving to the grocery store.
You can learn more about Shipt here.
Note: Shipt not available in your area? Try out Instacart!
Look for weekly deals
A couple of my local grocery stores have amazing Friday deals each week. I occasionally like to scoop up a freshly made Rotisserie Chicken that is always $5 on Fridays.
I will shred the entire chicken and put it to use in various meals, including giving the dark meat to my dogs as a food topper in their meals.
Related reading:
What tips do you have to save money on groceries?
[convertkit form=5278137]