Making extra money can literally change your life. That is why I love having hobbies that make money.
Most Americans admit they either need or would like to earn some extra money.
I started side hustling as a teenager and still do today. It's helped me add more money back to my budget, pay off debt, and even grow a successful business.
Whenever people ask me which side hustle they should start, I always recommend they look at their interests and hobbies. Odds are, you have a hobby now that can actually be monetized. Yes, you can earn money doing something you love and enjoy!
In fact, I put together this list of hobbies that make money so you can get started side hustling today!
25 Hobbies That Make Money
1) Blogging
Have you ever thought about starting a blog? While blogging can be a great hobby, it can also be a flexible business.
There are so many ways to monetize your blog from selling products and affiliate marketing to working with sponsors and selling services.
I started my blog in January 2015 but started getting serious about blogging a few months after. I went from making $40/month to over $4,000/month in 6 months.
As you can see, blogging is not only fun but it can be super profitable!
If you're thinking about starting a blog, check out my tutorial guide to see how easy it is to set up your first blog.
If you are scared to start a blog, I recommend reading this blog post about all my fears I had about blogging when I first started and how I overcame them.
This list of over 120+ blogging ideas is also super helpful when selecting a blogging niche.
2) Freelance Writing
If you enjoy writing or journaling, realize that you can actually get paid to write content online. Freelance writers write articles, blog posts, and other content for websites and publications. You may get paid a rate per article or per word.
To get started, you'll want to determine your niche which can be a topic you enjoy writing about and/or an area you have experience in. Get writing samples by submitting guest posts.
Here are some sites that actually pay for guest articles. Some of the best places to look for writing jobs include:
3) Dog Walking and Pet Sitting
Another one of my favorite hobbies that make money involves caring for pets.
If you're an animal lover like me, you may enjoy walking dogs and pet sitting for extra money. I started pet sitting in junior high and also walked dogs.
For a 15-minute walk, I charged $20. I also let people drop their dog off for the day for $40. If it was an overnight stay, I would increase my rates and charge double.
This was several years ago so I'm sure rates have gone up by now! Pay scale also depends on your location and the demand for pet sitters.
You can always start marketing your dog walking or pet sitting services on Rover to connect with new paying clients.
Check out this full guide to starting your own pet sitting business.
4) Facebook Marketing
Do you spend a lot of time on Facebook?
So many people use social media which makes it the perfect place for businesses to advertise.
Consider putting your social media skills to use and getting paid to manage Facebook ads for small businesses.
If you don't have any Facebook ad experience, don't worry. My friend Bobby has made thousands managing Facebook ads and he created a program that teaches you how to earn $500 – $1,000/month doing this part-time.
This free training workshop will teach you how to get started with Facebook ads.
5) Designing Printables
I love using printables to organize various aspects of my life whether it's a meal plan, budget planner, or worksheet to track my progress on a goal.
Many people who buy printables purchase them directly on Etsy.
If you like to use printable downloads, you may enjoy creating them and selling them online too.
This free printables ebook is full of ideas to help you think of ideas to make throughout the year.
6) Earning Rebates For Shopping Online
Okay so shopping online isn't the most productive hobby, but it is convenient and sometimes it's necessary.
If you're ordering regular household items online each month, you might as well earn some cash back for it.
Even if you are shopping for supplies or material for your hobby, you should always be looking for a coupon or cash back with every purchase.
While it's fun to find hobbies that make money, its even more fun to get a discount if your hobby has any costs associated with it.
Rakuten is one of the best sites to consider using for online coupons and cash back. They partner with thousands of stores and I recommend you download their browser extension so you can easily earn cash back on your online purchases.
Rakuten pays shoppers every quarter so long as you have a cash back account balance of at least $10.
7) Virtual Assistant Work
A virtual assistant is someone who helps a business or individual perform a certain task but they do it all online.
This means you can work from home whether you like to help other people get organized, edit content, run their social media accounts, or manage emails.
When I started blogging I found that I liked making Pinterest images and also doing Pinterest marketing to grow my blog.
I figured out other bloggers would pay me to do the same so I became a Pinterest Virtual Assistant (VA) which was super fun.
I created a course called Become a Pinterest VA Today! in late 2016 to help others learn how to earn money as a Pinterest VA as well.
Today I've helped over 3,500 students and alumni go through the program!
8) Personal Shopper
Personal shopping is a fun way to make money if you like to be on the go often. There are so many people who don't have the time to run their own errands so they'll hire someone to do it for them.
You can start your own personal shopping concierge business, or you can use an app to help you get paying clients. Instacart and Shipt are good apps to consider if you want to pick up groceries for customers. You can also try apps like TaskRabbit or see if you can land some mystery shopping gigs.
9) Personal Stylist
Do you like picking out clothes and styling other people? You may like working as a personal stylist as a side hustle.
Personal styling is all about making people feel good in the clothes they're in and develop their own style.
Stitch Fix hires part-time personal stylists often and allows you to work from home and set your own schedule.
10) Focus Groups and Panel Studies
If you're not afraid to speak your mind, realize you can get paid for this. Panel studies and focus groups will pay you to share your opinion on different topics and companies.
Panel studies are very lucrative and each one pays anywhere from $75 to $20+ for just an hour of your time. Some studies will pay you with a gift card while others might send cash via PayPal.
This panel study guide is based on all the companies I have worked with over the years.
11) Sell Crafts and Baked Goods at the Farmer's Market
Have awesome crafts or baked goods that you like to sell?
Try becoming a vendor at your local farmer's market. There are so many things you can sell at the farmer's market and it's a great place to gather a lot of potential customers in one place.
Before you invest in becoming a farmer's market vendor, you'll want to see what the attendance is like and which products are being sold.
Try to visit your local farmer's market before applying to sell at one to observe the other booths and the amount of traffic each booth gets.
Learn more about becoming a vendor at the farmer's market here.
12) Become a Proofreader
Proofreading can be enjoyable work if you like to review content and catch errors.
When you find yourself constantly catching typos and grammar mistakes when reading something, cash in on your skills by landing some proofreading jobs.
Proofreaders make an annual salary of around $52,000.
13) Part-Time Travel Agent
Do you like to plan trips? Travel agents step in and do all the work for clients looking to go on vacation. Agents book flights, rental cars, hotels, or cruises.
Travel agents work throughout the year but are especially busy during vacation season and holidays. The first step would be to get certified. The Travel Institute is a great place to start.
14) Freelance Photography
Photography is a job that will always be needed. This is another one of the best hobbies that make money. If you like taking photos, you can definitely cash in on your skills
Photographers can step in and take pictures at events like weddings, birthday parties, anniversaries, or holidays.
Food photography is also a great side hustle. There are many food bloggers and brands that need help photographing meals and desserts.
To start off, look on platforms like Craigslist or Facebook groups can be a good choice, but you can build even bigger from referrals or word of mouth.
15) Video Editing
Videos have become a very popular way to promote a business or service.
Some people know how to shoot the video, but just don't know how to edit it. If you have the skills this can be a great industry to get into.
So many people are starting YouTube challenges these days and there are also plenty of entrepreneurs and small businesses that will need help with video editing.
16) Fitness Instructor
Keeping in shape is extremely important to our health and well being.
If you have the personality and worth ethic, a fitness instructor can be a great way to push others to get fit. It can be instructing an individual or group.
According to the US Bureau of Statistics, there are over 350,000 fitness trainers or instructors in the United States. That number is predicted to grow to over 400,000 by 2028.
17) Flip Furniture
If you're creative and have a little patience consider flipping furniture.
The key is finding furniture that people are willing to part with.
Second-hand stores or places like the Facebook Marketplace are great places to start looking. You may have to restore the furniture or fix it up, but it can be well worth it when you try and resell it for a profit.
18) Start a YouTube Channel
Another way to express yourself to an audience besides blogging is through a YouTube channel.
Choose the niche that fits you best and start pushing content. I started my YouTube channel late last year and have loved the whole process.
The YouTube Partner Program is one way to make money through the platform. Here are the main qualifications that need to be made before making money on YouTube.
19) Product Demonstrator
Like talking to others and sharing your favorite products with them?
If you're one of those people who would recommend a great store item to someone without even getting paid for it, you make like side hustling as a product demonstrator or brand ambassador.
Companies will pay you to give out samples in local stores. It's super easy and pays well.
20) Driving Others
If you don't mind getting out of the house and driving others around there are a few different options to continue this hobby.
Uber and Lyft are two popular ways to make money driving others to their destination.
If you're not interested in having people in your car, you can always try your hand at delivering food for apps like DoorDash and Postmates.
21) Baby Sitting
Some people just love being around kids whether it's teaching children, or coming up with fun activities for them to do.
Parents will pay you to watch their children on platforms like Sitter.com and Care.com.
According to a 2019 survey taken by UrbanSitter the average hourly rate for babysitting one child is $16.75 and $19.26 for two kids. Don't forget to use a daily planner to track all you babysitting gigs.
22) AirBnB A Spare Bedroom
While not always conventional, if you have an extra bedroom, consider using AirBnB to make extra money.
Unlike a rental, you can pick and choose the dates you want your spare bedroom to be available.
If you like to decorate and have a cute, unused bedroom, this is a great way to get a return on your purchases.
In many instances, homeowners have actually made more money using AirBnB compared to renting a room per month or year. Learn more about how to become a host here.
23) Participate in a Medical Study
If you've ever been inside a doctor's office, you might have noticed flyers for medical studies.
Medical studies are hosted by a pharmaceutical company and a doctor. If a patient qualifies, he or she will receive treatment and financial compensation.
I participated in a medical study, made over a $1,000 and received free medication in a three month period.
To learn more, this guide will help you get started with medical studies.
24) Donate Plasma
Out of all the hobbies that make money, this one saves lives!
While not necessarily a traditional hobby, if you enjoy helping others and donating blood, this might be the perfect way to help your community and get compensated with each donation.
While every location has different requirements and compensation, you can safely donate plasma twice a month.
Donating plasma is different that donating blood. While blood donors can safely donate once every eight weeks, plasma donors can participate twice per month.
25) Sell Your Crafts and Goods Online
If you like to sew, build things or anything in between, an Etsy shop or Shopify store is a great way to sell your products online.
Physical products are different than a shop consisting of digital products. Examples of physical product includes things like home decor, bath, beauty and kitchen products.
To start an Etsy shop, this blog post will walk you through how to get started. The author even shares how she now makes six-figures per year creating baby products.
Your Hobbies Can Be Pretty Profitable
As you can see, you may be leaving lots of money on the table by not monetizing some of your favorite hobbies. It's fun to make money doing something that you love and enjoy.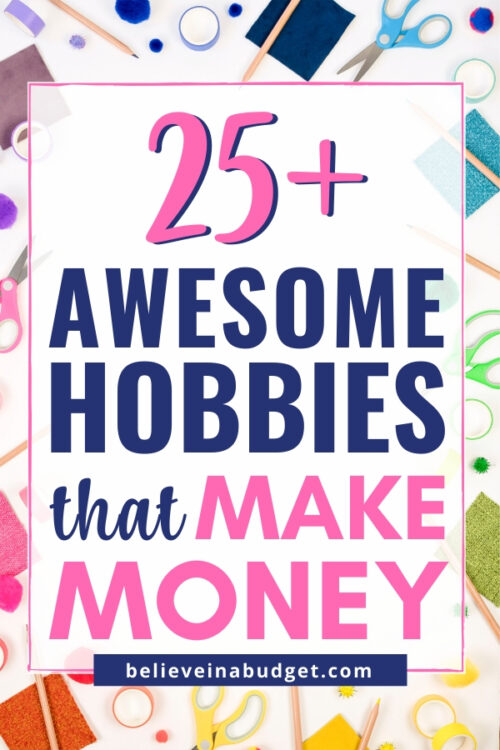 Challenge yourself to take things to the next level.
That might involve starting your own side business, signing up for an app, or getting serious about your marketable skills.
Hobbies that make money are the perfect side hustle!
Do You Have Any Hobbies That Make Money?