Welcome back to another exciting and fun article in the Side Hustle True Story series. In this series, I go into detail about some of the more interesting side hustle jobs I have done in the past.
Some of these jobs were well worth it and a lot of fun. Other side hustle jobs were a total failure!
When I compiled a list of 25 ways to earn extra income, I chose not to include every side hustle job I had ever done because some of the jobs were a little odd.
This week's article from guest blogger Chonce is no different!
Side Hustle True Story: I Poured Alcohol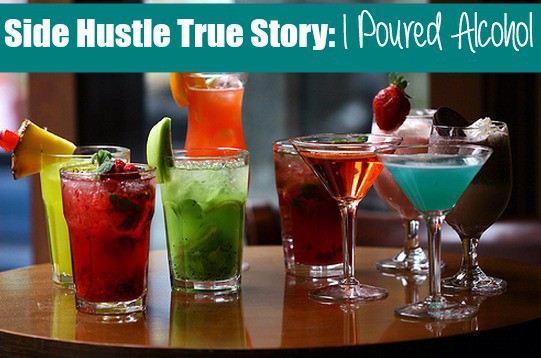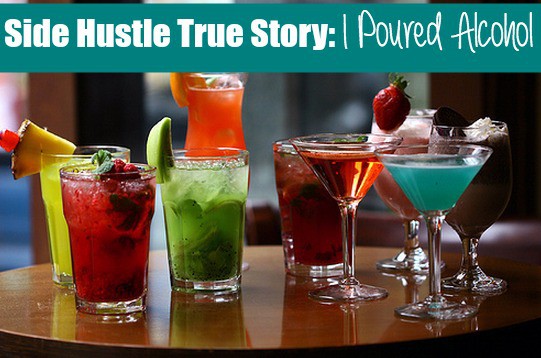 How Did I Hear About This Job?
I was actually browsing online for side gigs and signed up to receive Zip Alerts when a demo company contacted me. The company hired independent contractors to do in-store product demonstrations for alcohol and wine brands along with bar promotions at local pubs and bars to market specific brands of alcohol. I did plenty of demonstration jobs before with food, so I figured it would be an easy laid back side hustle.
Where Was The Job Located?
The company I worked for had contracts with hundreds of grocery stores and liquor stores all over the state so I could have picked up work anywhere, but I chose to work at local stores because it was convenient and didn't require much driving.
Basically our regional booking agents would compile a list of available jobs and locations and send it out to all the independent contractors so we could 'bid' on which job we'd like to take. For example, if I saw a alcohol tasting available at my local Jewel Osco the following Saturday and I wanted to do it, I would simply email my booking agent to request the job and she would either send me a confirmation email if I got the job or I wouldn't hear back from her and I'd assume I didn't get the job.
What Did I Do Exactly?
For tastings I was responsible for bringing my own table, table cloth, bowl, shaker, and bottle opener. These were out-of-pocket expenses and I saw it as an investment since I anticipated doing a good amount of tastings. I purchased everything for cheap at Walmart and borrowed a bottle opener from my friend.
Once I arrived at the store to do my tasting I had to check in with a store manager, set up near the product I would be representing, and purchase bottles to sample along with sample cups and any other ingredients needed to create a mixed drink with the company's credit card. Then my task was simple. I just had to pour samples of the alcohol and get people who were 21 and older to try it and hopefully buy it. I recorded their comments and anticipated sales on a worksheet that I had to fax back to the company the following Monday and I always took a few pictures of the table I set up to send to my booking agent.
Being nice and friendly and pushing sales was the main purpose of the job but I didn't feel extremely pressured to sell and I was being paid hourly. For bar promos, the only thing I had to bring to work was myself. There was usually another person working with me and we would purchase the alcohol that was being promoted that night with our company credit cards and walk around, smile, and give people free samples. Easy peasy.
What Was My Work Schedule Like?
My work schedule depended on the tastings I decided to book and what stores they were at. Most shifts were 3-4 hours and the tastings that took place at grocery stores like Jewel and Whole Foods were usually 11am-3pm, 12-4pm, or 1-5pm and tastings that took place at liquor stores were usually 4-8pm or 7-10pm. But by choosing which tasting I wanted to do, I always had full control of what my schedule would be. Most tastings and bar promos took place on Fridays, Saturdays, and Sundays. Bar promos were usually only 2 hours long on weekends.
The Perks
Sometimes I got free merchandise and T-shirts from the bar promos. After my tastings I usually held onto the juice I purchased to make mixed drinks with if I had a lot left over. Holding on to opened alcohol after a tasting is illegal but there was nothing wrong with bringing home perfectly good juice at my company. I also liked being able to create my own schedule and choose when I wanted to work.
Biggest Pet Peeve
I didn't like the inconsistency of the job and the fact that we had to bid on gigs but I got used to it for the sake of the money I was earning. I would have preferred to be assigned to a specific store and work in that store every weekend or on some type of consistent schedule without wondering when I would work next.
How Was I Paid?
I was mailed a check 30 days after each tasting and sometimes if I did two or more tastings in a week the pay would all end up on one check. I was paid $20/hr for tastings and $25/hr for bar promos.
How Long Did This Side Hustle Last?
I only did a few bar promos and mostly did tastings over the span of a year. The job was okay overall and it was fun to meet new people and easy to make money but it was simply one of those simple side hustles with no room for advancement or progression. I'm not sure if I would do it again.
What have you done to earn extra income?
---
Chonce is a personal finance blogger and freelance writer who enjoys sharing debt stories and talking about saving, budgeting, earning more, and conscious spending. In her spare time she enjoys working out, playing sports with her son, cooking, and thrifting. You can follow her journey at My Debt Epiphany. Connect with Chonce on Twitter, Pinterest and Instagram.
---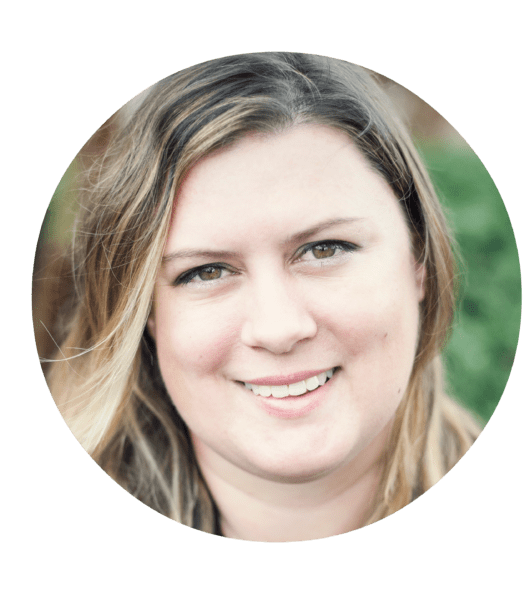 Kristin, is the creator behind Believe In A Budget. She teaches others how to start a blog and how to side hustle. Her course, Pinterest Presence, helps bloggers + businesses drive traffic to increase their website's profitability.