Welcome to another edition of the Side Hustle True Stories series! This is always a fun post to share because I have earned extra income doing so many different side hustles over the years.
One of my favorite side hustles ever was working as a vendor at local farmers markets. I did this side hustle for a couple years and loved it!
How to Sell at Farmers Markets as a Business
Do you have an awesome craft or baked goods that you sell? If you are serious about turning your hobby into a part-time or even full-time job, you might consider starting with your local farmer's markets.
This is a great way to test the waters, listen to customer feedback and learn more about what products sell the best!
Local farmers markets have become a staple in almost every community. They are a great way to bring people together and shop locally.
There are so many products that can be sold at a market. Aside from fresh fruit and vegetables, I have seen:
Fresh seafood, meat and poultry
Cheese, eggs and dairy products
Baked breads and pastries
Coffee
Pot luck type foods
Crafts, jewelry, clothing
Pet treats and pet products
Books, puzzles, toys
And more!
How to determine if farmers markets are a good fit for your product
Attendance
Was the market thriving or sleepy? Was the market crowded and full of excitement, or was it quiet and boring?
Products being sold
I did not apply to any markets that was selling my product. I preferred being the only vendor in my niche. For markets that have a high number of booths, duplicate categories were allowed and quite common.
What were customers buying?
Were customers coming in to buy fruits and veggies and leaving right after? Or were they browsing every booth and purchasing other products? If customers were coming to the market to solely buy a few vegetables and leave, the market was not a good fit.
How much were customers spending?
I wanted a market where customers did a lot of shopping and also purchased non-essential items. If a customer was willing to spend money on non-essential items, such as cupcakes, jewelry or dog treats, I knew I was in the right market.
How to apply at your local farmers' markets
Most markets have a website where you can apply. Otherwise, attend the market and ask to speak to a market manager. Most vendors require you sell your own product, and it is handmade and/or local.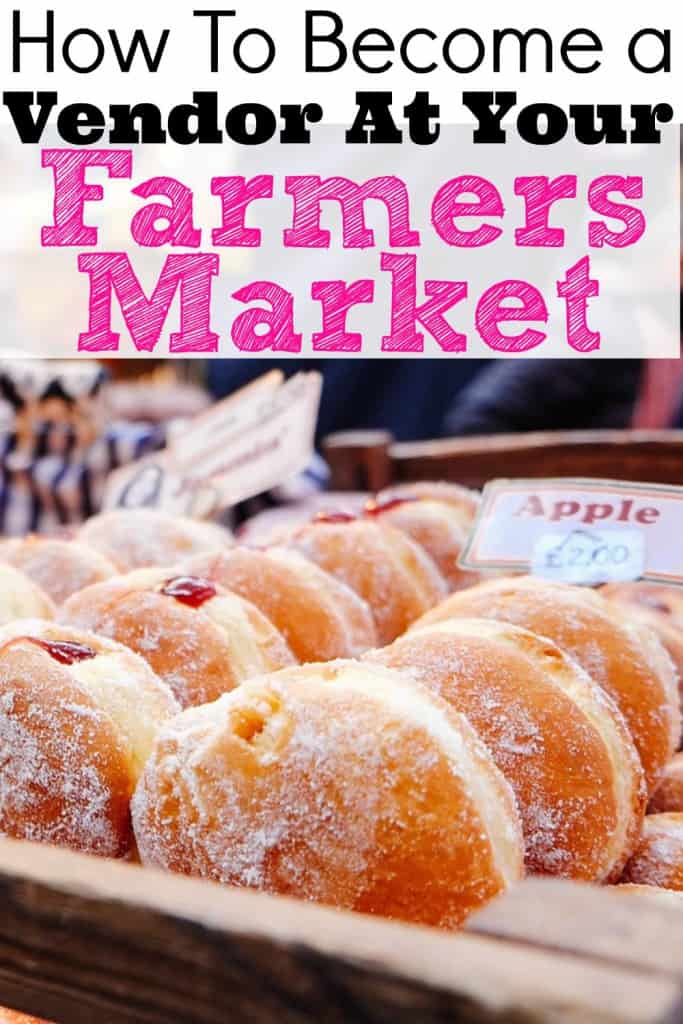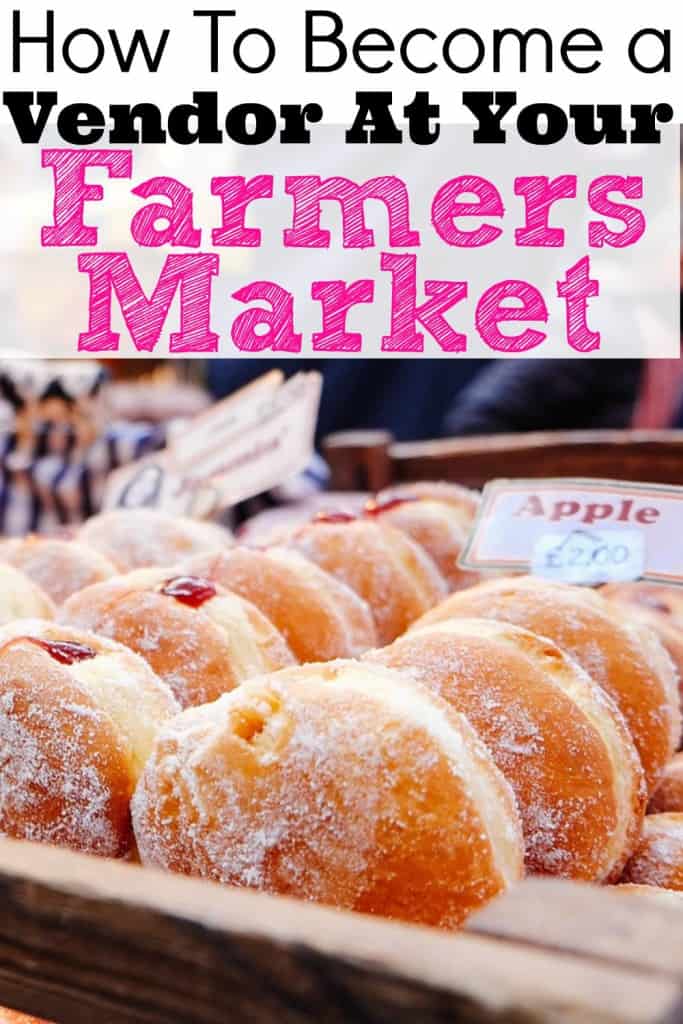 The majority of farmers' markets will not charge an application fee to apply. In general, you should only have to pay for your rental spot!
Weekly rental spots can vary greatly depending on the location and the attendance of the market. I have paid anywhere from $10 to $50 for a booth spot.
The application process usually includes:
Submitting a short description of what you would like to sell
Copy of your tax and license information
Picture of your product
Picture of how you would display your booth.
Submitting a photo of your booth setup can be a little tricky if you have never sold at a farmers market before.
I chose to set up my entire booth display in my driveway! I set up my display space the same way I would if I were at the farmers market. This includes setting up my folding tables, my tabletop decor and my product. I also hung my banner and weighed down my tent.
Doing a practice run is really beneficial for a number of reasons. First of all, it might be a necessity if you need to take photos of your booth set up.
Second, it takes some practice setting up and taking down your booth. When I first got my pop-up tent, it took me forever to figure out how to open it! Now it is much easier and can be done quickly.
Third, you want to be efficient with how long it takes to set up and take down your booth. When I first started out, it would take me almost thirty minutes to get set up. Once I mastered the art of being efficient, I was able to be set up in 10 minutes!
What you need to set up your booth
You need to have a complete set up for your booth. This includes:
How to become the manager of local farmers markets & what it involves
I originally started with one farmer's market. My product started doing well and I eventually expanded and participated in multiple farmers markets a week.
I was really active in promoting my markets, which included reaching out to other vendors via Etsy and word of mouth. Eventually, I became the farmer's market manager!
Once I was a manager, my duties expanded. Not only was I still running my own booth, but I was now in charge of all the booths at the market.
This included collecting the rent from each vendor, assigning booth spaces to vendors as well as assisting with setup and tear down at the end of the day. I also had to review applications and assist new vendors.
One of the perks included free rental booth. I was able to sell product for free of charge. On top of this, I was also paid a monthly salary for being the market manager.
Becoming a market manager is a lot of work, so if this is something you are interested in, you will have to be ready to commit and never miss a market.
Bottom Line
Selling your product at your local farmer's markets is a great side hustle and an amazing way to earn extra income. If you are just starting out your side business, farmers' markets are a great stepping stone to take your business to the next level.
Do you shop at farmers' markets?