If you love animals, you might want to know how to start a pet sitting business. Do you watch your friend's pets for free? You may not have to offer complementary services since you can start your own pet sitting services and make a profit from providing care for people's animals.
As a dog mom myself, I know how important it can be to find a pet sitter who is knowledgeable, passionate, and truly cares.
Having a pet sitting business is fun but rewarding work. In my honest opinion, this market is wide open and it's one of the best options for a flexible side business.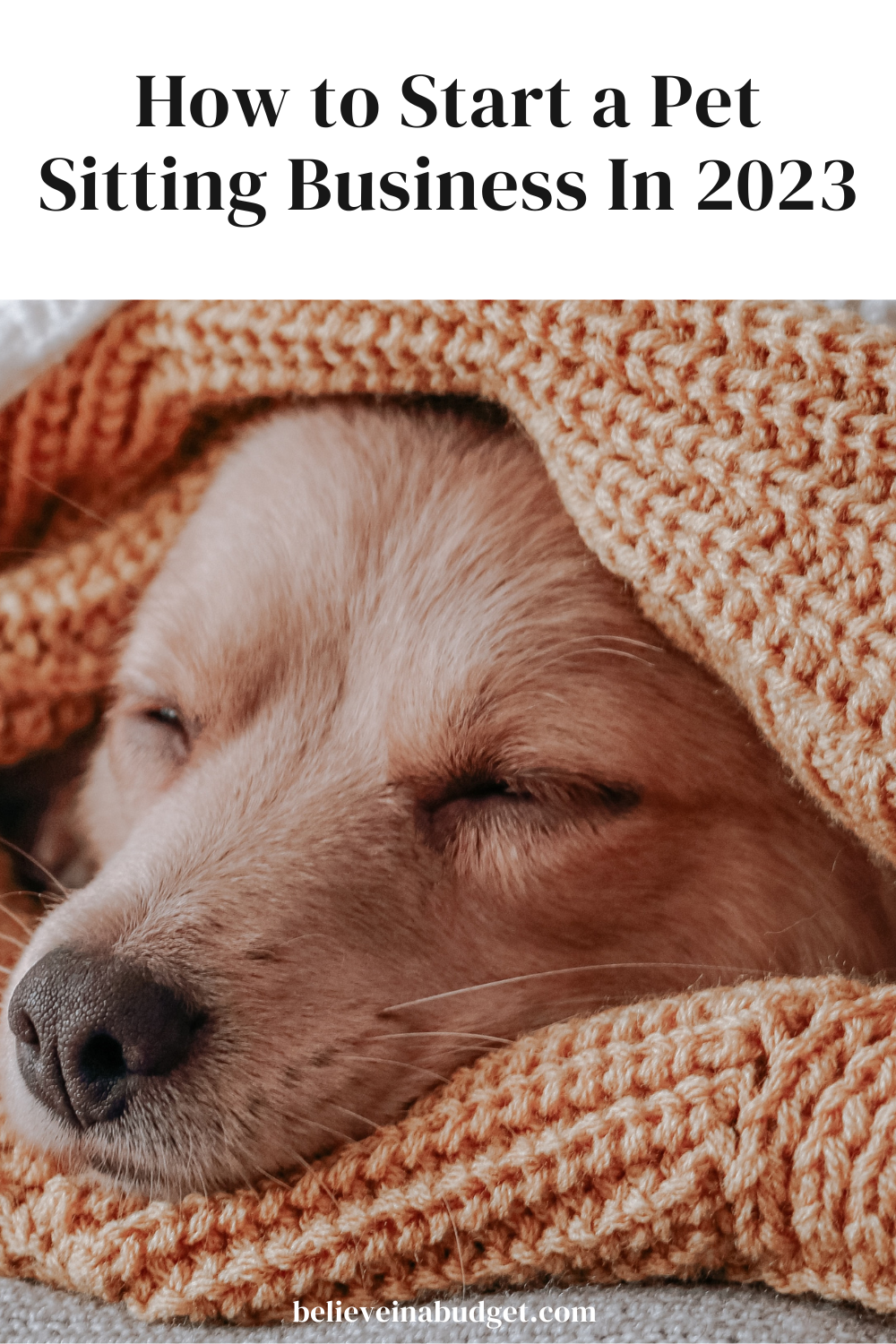 Why I Started A Pet Sitting Business
When I started working from home, I was looking for a steady side hustle to earn extra income. Not wanting a part-time job, I really looked for something I could do to earn money while working from home.
I got to know my neighbors when I would take my dogs on walks or to the local park. One day a pet parent asked if I would be interested in pet sitting her dog as she had to travel for work.
Since our dogs got along quite nicely, I said yes and offered to keep her pet at my home for the day and overnight.
After getting all her information, and learning more about her dog's daily habits and schedule, we were all set! She dropped her dog off at my home and I sent her daily texts and photos so she could feel comfortable knowing her pup was in good hands.
This started my new side hustle as a pet sitter!
Before I knew it, I was recommended to other neighbors. Not only would I offer to pet sit in my own home, but I also added dog walking and even cat sitting to my side hustle business.
I loved offering dog walking services. Being able to walk to my appointments, get exercise and play with dogs were great perks. Sometimes, I would even bring my dogs along if I knew they already got along with each other.
Pet sitting and dog walking both provided me with a steady stream of income. I was able to set my own schedule and work with clients I really liked.
While I already had a high-paying job I loved, it didn't make sense for me to become a full-time pet sitter or dog walker.
However, I think starting a pet sitting business would be an extremely lucrative career or job for anyone that loves animals.
Related: How to Start a Dog Bakery
Why A Pet Sitting Business Is Perfect For Animal Lovers
Before you embark on any venture, you want to figure out what motivated you to get started. There are several great reasons for wanting to start a pet sitting business. Perhaps you:
Adore pets and would love to care for animals each day
Are looking for a way to earn money flexibly and set your own schedule
Another core reason would be because there's a direct market to serve. People in your community need quality and efficient pet sitters to help when they travel, work long hours, or are unable to care for their pets overnight on occasion.
You could use this as an opportunity to build your own solid network of clients and put people at ease knowing that their pet is in great hands.
Sure, there are apps that allow you to connect with potential clients to market your services to. However, you have to pay a portion of your fee to those platforms and you don't always get to obtain contact information from your clients.
This means they're not really your clients and can only come through the app or service you're using.
According to Indeed, the average pet sitter earns around $40,000 per year after expenses. This could be the perfect side business or an opportunity to supplement your current income.
How To Start A Pet Sitting Business
To start your own pet sitting business, you'll need to begin with a solid plan.
Decide What Types Of Pets You'll Care For
Most likely, you may want to start pet sitting from your home since it's convenient and cost-effective. Doing so will also allow you to keep your start-up costs pretty low.
Get clear on which specific services you'll provide including walks, feedings, interactive playtime and overnight stays.
Decide Where You'll Offer Your Services
Determine if you're willing to pet sit at clients' homes along with how far you'd be willing to travel.
Or, will you offer pet sitting services in your home? Make sure you have enough space in your home and that it's a safe environment for all animals. If you have pets, make sure they are friendly to other animals.
The last thing you want to do is create a stressful environment just to make extra money.
Research Pet Sitting Business Rates
Knowing what to charge is key when starting a pet sitting business because you don't want to overcharge or undercut the value of your service.
Here are a few things you can do to narrow down an ideal rate.
Are pet-sitting businesses profitable?
They can be! Here's how to make sure yours is.
Review Local Dog Walking Companies And Pet Sitting Service Rates In Your Area
It never hurts to see what others are charging in your area because it lets you know what people are willing to pay. On Rover, independent pet sitters are charging anywhere from $20 – $45 per day, with in-home overnight stays for as much as $150 per night.
On this site, you can narrow down your search by typing in your zip code so you can compare what other pet sitting and dog walkers are charging and if they are getting clients.
Check Out The Competition
Another option would be to check out the competing pet sitting businesses in your area to see what they are charging. Some companies may have rates listed right on their website.
How do pet sitters make money? What is the income range?
Everyone who goes into business wants to be profitable. One of the things I enjoy about launching a new business is running the numbers and doing projections.
I mentioned earlier how pet sitters can earn around $40,000 per year on average after expenses. This is not bad for a new business, but you also want to realize that your expenses may be a lot higher during the first year.
You'll need to pay for licensing, insurance, materials, and supplies along with marketing and advertising.
As your business grows, you can consider hiring and training more people to help you. While it will cost more to hire a team, you will also have the potential to take on more clients and grow your income.
If you can earn around $40,000 per year as a solo business owner, perhaps you can double that if you hire an additional person and grow your clientele.
Set Your Pet Sitting And Dog Walking Rates
Once you've done your research, you should be more confident about setting rates for your pet sitting business.
When finalizing rates, keep in mind what your services will be along with your expenses. You want to at least break even and be able to make a profit.
According to HomeGuide.com, professional pet sitters can charge anywhere from $20 – $30 per day and $45 – $75 per night. Of course, this can vary by location, the demand for a pet sitter, and availability. The length of stay and services provided will have a direct effect on what you charge.
Also, consider everything that will go into your service.
How many walks with you take dogs on? Will you do multiple visits per day if pet owners are at work or out of town? Do you feel comfortable administering medication and feeding different types of animals like a pet bird, fish, frog, or rabbit?
The most common animals for a pet sitting service are cats and dogs.
An investment is required to start any business. With a pet sitting business, however, that investment can be pretty low when started as a side hustle.
There are many ways to get clients as a new pet sitter or dog walker. Let's talk about the different avenues!
Start Small With Friends And Family
If you don't have a lot of money to spend on marketing, start with friends and family. Share your business on your social media pages and ask loved ones to send you referrals and spread the word.
You may even want to offer an introductory incentive or discount to help you land your first clients.
This can also be a great way to get some quick but quality reviews for your business. Remember, word-of-mouth referrals and testimonial marketing can be very effective – and it's free.
Join A Reputable Business As An Independent Contractor
Consider joining a pet sitting marketplace like Rover to get started and market your services on an established platform. Yes, they will deduct a fee from your earnings but it still gets your profile shown to tons of people in your area.
After a while, you can always transition away from the platform and start to make your own independent client connections.
Start Your Own Pet Sitting Business
Once you've determined that your business makes sense, you'll need to legitimize it.
This is where the bulk of your start-up costs will come in but trust me, it's worth it to set things up right from the beginning.
Do you need a license to look after other people's dogs?
Maybe, depends on where you live! However, there are always costs associated with starting your own business, whether in your home or not. Here are a few expenses that you should plan for.
Website: $4 – $35/month
You'll need a self-hosted website to promote your pet sitting business. This can cost anywhere from $4 to $35 per month. If you're not too savvy with getting it set up, you may need to hire a designer or purchase a theme that you can install. This tutorial will give you a free website name and walk you through how to start your business.
Online calendar: $0 – $10+/month
Think about how you'll keep client bookings or whether you'd prefer clients book you through an online system.
If you can avoid doing things manually in your business, it will save you a lot of time and patience. A calendar booking system is a great investment since people can book your services automatically once they pay.
Calendly is a free calendar booking system while SimplyBook.me starts at just $10 per month.
A Contract: Free
Make sure that you have a contract agreement ready for new clients to sign. Using a contract helps you both get on the same page regarding the service provided and any other important details.
You can create a contract yourself or have a professional review it. If you create one yourself, you can use a free tool like Hello Sign to make it easy for customers and clients to sign.
A Business Bank Account: Free
Consider keeping your business finances separate from your personal finances by opening a separate business bank account.
This will be extremely helpful in terms of organizing income and expenses – especially when it's time to file your taxes.
You can open a business checking account at most major banks and credit unions. Keep in mind that you may have to pay a monthly maintenance fee if you don't meet their minimum balance fee requirements to waive it.
Business license, etc.: $0 – $400+
You may need a business license depending on the state you live in. Contact your local business licensing office to see what you need whether it's a license or permit. Your local Chamber of Commerce may be able to help with this as well.
To apply for a business license, you will need an Employer Identification Number (EIN) that you can get for free by going to the IRS Website and following their instructions.
Insurance: $129+
Consider getting pet sitting insurance to protect you and your clients. Clients may even ask if you have insurance and feel more peace of mind knowing that you took the extra step to get covered.
Pet sitting insurance usually starts at around $129 per year and Pet Care Insurance is a good company to look into.
How To Make Money Pet Sitting
The best part about pet sitting (besides the cute animals!) is getting paid to do something you love. However, just like with any side hustle, you'll need to decide how you'll accept payment. The easiest way to do this is to accept payments through your website or by sending invoicing.
Using a payment processing system can allow you to accept debit and credit card payments.
Keep in mind that you will likely pay a transaction fee and/or a monthly fee to use the payment system. However, this is an expense you can deduct from your taxes. Free and low-cost platforms include Venmo and PayPal.
How To Find Clients With A New Pet Sitting Business
Once you hash out all the smaller details and get your business set up, it's time to start marketing so you can find clients with pets to care for. Here are all of the best ways to start marketing a new pet sitting business.
Share Your Background Experience
Start by sharing your background experience either on your website or social media.
Maybe you have credentials that apply or experience caring for pets when you were growing up.
Being transparent about why you love animals and why you chose to start this business can be a great way to market yourself and differentiate your business from competitors.
Join Neighborhood Groups
Another way to market your business is through social media groups.
See if you can join any community small business groups that allow you to promote your services and connect with other prospects.
There are tons of groups on Facebook and Nextdoor, which is an online neighborhood hub geared toward people looking to build connections.
Sign Up For Rover
Of course, you can always sign up for Rover and create a profile to market your business initially. Rover can connect you to tons of potential clients who are actively looking for pet sitting and/or dog-walking help.
Ask To Leave Your Card
Go out into your community (dog bakeries, vets, etc) and see if other businesses will let you leave flyers and business cards for their customers to see.
You may even want to see if local pet groomers and veterinarian offices will allow this as well. Consider offering a discount or promotion to anyone who picks up your card or flyer at a local business and books your service.
Craigslist
Promote your business on Craigslist under their 'pet services' section. Just create a listing and add some important details from your website about your services and rates.
Ask For Referrals
Once you start getting clients, continue to ask for referrals to build your business. See if clients can provide testimonials and refer a friend or colleague to you in the future.
You can even set up a referral program to reward people with an added service of percentage off their next service if they refer you to a paying customer.
Related reading:
How To Start A Pet Sitting Business: Conclusion
Starting your own pet sitting business can definitely give you more freedom and flexibility along with the chance to feed your love for animals by providing care. Pet sitting and dog walking is one of the many side hustles you can start from home.
Just keep in mind that you'll need to brainstorm a solid plan and lay out your expenses before getting started.
Overall, this is a low-cost remote business that you can start up pretty quickly if you're looking to launch pretty quickly.
Would you ever consider starting a pet sitting business?
[convertkit_form form="390635″]