This summer I plan to focus on my fitness, but I also want to exercise on a budget. There's no shortage of options when it comes to exercising and getting on a great fitness regimen. There is everything from barre classes and kickboxing sessions to spin classes, personal trainers and accountability coaching.
Not to mention all the cool gear. I do love FitBits and all the gadgets, but it's really not necessary if you're looking to level up on your fitness this summer.
If you would like to get a FitBit, this is the one I am currently using. I like it because I can swap out the band colors. I alternate between four colors. I have had it for almost two years and it has help up really well!
The great thing about exercising in the summer is that you don't need to be cooped up in a stuffy and expensive gym. You can take advantage of nature and perks around the community to get your daily recommended level of exercise in.
Related reading:
Check out these fun and easy ways to exercise on a budget this summer.
How to Exercise on a Budget This Summer
Get Out and Walk or Run
This is probably my favorite exercise. Getting your exercise in this summer can be as easy as going on a walk around the neighborhood.
I love to walk around with my dogs and check out new places or trails nearby. If you can squeeze a 45-minute walk in each day or break it up throughout the day, you can easily cover 2.5 miles.
Perhaps you could cover even more ground if you decide to jog or do some interval training.
You can even rollerblade or ride your bike as an alternative. Either way, it's a great way to get some cardio in daily and enjoy the weather.
Fortunately, this is one of the most affordable ways to exercise on a budget.
Get Inexpensive Equipment
Most people pay for pricey gym memberships because they believe they need to use the equipment the gym offers. Sometimes, that equipment may not even be readily available to you if the gym is busy and someone else is using it.
Plus, you can work out at home for free and invest in some inexpensive equipment.
I did some work with a physical trainer last year and realized that the most important piece of fitness equipment you have is your body. You can use your body to create resistance and build strength with workouts whether you're doing squats and lunges or push-ups and tricep dips.
When it comes to equipment for your home gym, you may just need a few basic items like:
No need to get a fancy elliptical or exercise bike. You may not even feel motivated to use that type of bulky equipment regularly.
Another thing I'd recommend considering is a speed rope. You can usually find one for under $10 online or at stores like Target or Amazon. If you don't like to jog, you can simply jump rope for a few minutes each day as your cardio workout.
It's definitely something you can add to your routine to build up your experience. Plus, jump rope fitness is a real trend. I've seen videos of people sharing how they lost 100 pounds over the course of a year just from jump roping each day.
Watch YouTube Videos
There are literally thousands of free workout videos to stream on YouTube. Whether you're looking to tone up, lose weight, or target a specific area of your body, there's bound to be a workout routine video on YouTube to help you.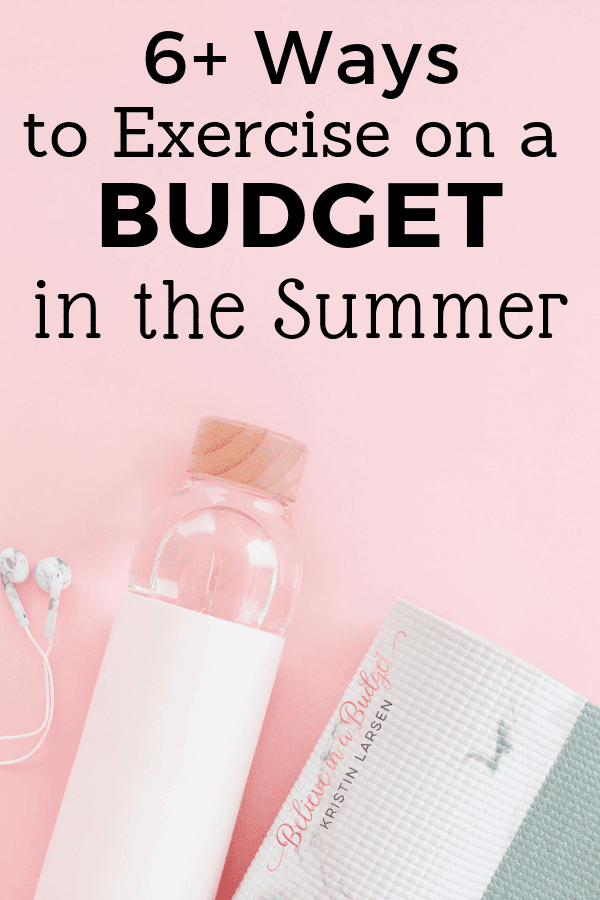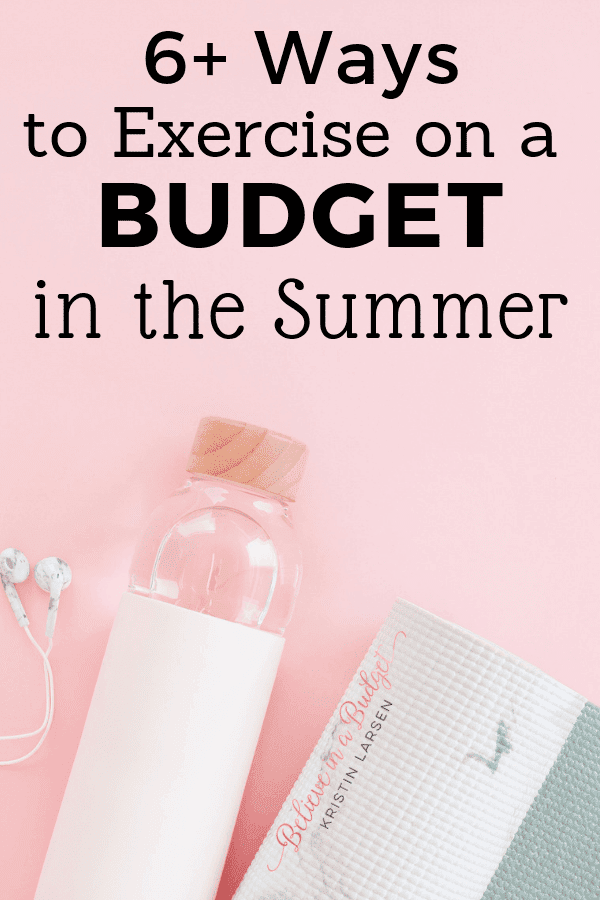 I also love how there are tons of options even if you're short on time.
For example, if you just want to try a 15-minute total body workout, just type those keywords into the search bar and you'll see tons of results.
The only caveat with YouTube is that anyone can make a video and post it.
This just means you have to be careful when choosing your fitness videos and make sure you stretch before and after.
Generally, if the YouTube channel has a decent amount of subscribers, comments, and positive ratings, it should produce quality workout videos.
PopSugar has a fitness YouTube channel that includes group workout videos lead by expert celebrity trainers.
Women's Health also occasionally posts exercise video routines along with nutritional tips and food reviews.
Yoga with Adrienne is a great channel to check out if you're interested in free yoga workouts and stretch routines.
If you're looking for a truly entertaining workout, The Fitness Marshall channel posts dance routines featuring some of the latest songs. The steps are really easy and it will get you moving and burning calories quickly. Plus, Caleb Marshall is a super funny instructor with lots of energy!
Use an App to Exercise on a Budget or For Free
You can always download an app to help you adopt a solid workout routine this summer. There are tons of free and low-fee apps that come with hundreds of exercise routines, nutrition tips, and more. Here are a few of the most popular ones to choose from.
Nike Training Club
Nike Training Club is a free app that allows men and women to meet their fitness goals through personal training sessions they can use anywhere, anytime. Real trainers and athletes come up with the workout routines available in the app so it's just like having your own personal trainer.
App users also get tips on nutrition, wellness, and mindfulness to achieve overall wellness. While the basic version of the app is free, you can buy the premium version for $14.99 or get a free 7-day trial.
C25K
What if you could get fit enough to run a 5k by the end of the summer? C25K is a free app that trains you to run your first 5k in 8 weeks. The app uses an interval training technique so you will alternate between walking and running until you build up enough strength and endurance.
Workouts are about 30-40 minutes long but you will only train 3 days per week.
30 Day Fitness App
This app is awesome if you don't like going to the gym or purchasing a ton of equipment. It is a paid app but you get access to hundreds of workouts. The exercises are short and sweet. Plus, you can adjust the type of workout and intensity to your current fitness level.
You can try it out for free for the first week, then it's just $4.99 per week for unlimited access. You can cancel at any time.
Beachbody On Demand
Beachbody is a popular fitness and nutrition company and you've probably heard of their famous superfood shake called Shakeology. This company has launched their very own app and it's definitely giving users more bang for their buck.
Beachbody On Demand lets you stream over 700 different workouts from Beachbody trainers. Remember those infomercials you used to see for programs like P90X with Shaun T or 21 Day Fix? They're all on the streaming app so you don't have to buy them separately. You get full access to all these programs plus nutrition guides. What I love about this program is that they even have their own cooking show called Fixate where they show you how to prepare healthy meals and meal prep.
This is a subscription service but it's around $99 for the year, $59 for 6 months, or $39 every 3 months after a 14-day trial which isn't bad. You can stream content from any device and even your living room TV.
Visit the Community Pool
Swimming is another fun way to exercise this summer. However, when most people say they're going to the pool, that usually doesn't mean they're going to be getting an active workout in.
Let's say you actually want to swim laps though. See if your local park district or community pool has a lap pool that you can use for regular exercise. Consider doing some interval training where you swim 4 easy laps to warm up, then do 8 sets of 2 laps at a faster pace.
Rent a Kayak or Canoe
I love kayaking. It's a great way to work out your arms and build more upper body strength. If you don't own a kayak or canoe, you can always rent one this summer.
Sometimes you can rent a single kayak for as low as $10-$20 from 30 minutes to an entire day. Sign up for a class or two to learn basic rowing techniques.
If there's a lake or river nearby, this is a fun activity you can do each week. We love kayaking, so I purchased my first kayak last summer. It was an initial investment, but I have gotten a lot of use out of it!
Just Get Out and Get Moving
Over time I've learned that exercise doesn't have to be so black and white or formal – especially during the warm summer months. All you really need to do is just get up and get moving.
Determine what you like to do whether it's walking, running, riding your bike, kayaking, or streaming a workout video in the evening. Whatever you choose to do, make sure you enjoy it so it will be super easy to commit.
Now I'm ready to hear from you.
Related reading:
Do you have any fitness goals for the summer? Have you thought about how to exercise on a budget? Let me know your ideas!