Visiting the Pioneer Woman's Lodge has been on my list of places to visit for the longest time.
Ree Drummond, the creator of the Pioneer Woman, is one of my favorite original bloggers that I started reading years ago and loved the stories she shared.
I have been following her journey since she released her cookbooks and launched her cooking show and can say she is one of my favorite people I follow online!
As a long time fan, I have all of her cookbooks and scooped up her latest cookbook while visiting!
If you are looking for a book to add your list, I also recommend reading her non-cookbook or listening to it on audio to learn more about her life as it's a fun and easy read.
I can remember when parts of the book were written in her blog first (years and years ago!) and seeing it updated and expanded into a book.
After visiting her town and seeing how remote her ranch is from city living, I can see why she started her blog. The online world can be such a great way to connect with others!
If you would like to learn more about blogging, this post will help you get started.
How to Access the Lodge
In order to visit the Lodge, you first need to make sure the Lodge is open to visitors. As long as the show isn't filming or being used, you can stop by the Mercantile to get tickets.
The tickets are free! They also include instructions on how to get to the Lodge, which are about 20-30 minutes away from downtown Pawhuska.
The drive out to the Lodge is peaceful and quiet. You will be on gravel roads for a portion of the drive, and due to the rain, I had never seen my car covered in so much mud.
My First Impression of the Lodge
The Lodge is built into a hill and overlooks the prairie. At first glance, it looks like a small home that blends seamlessly into the hillside.
In actuality, it was so much bigger than I anticipated!
On the cooking show, we really only see the kitchen of course. But it's an actual home with stunning views in every room.
After you park, you can walk right on in the front door.
There's a few folks at the Lodge to answer any of your questions and they make you feel right at home! While I did not get any other exterior photos, the photo below is part of the outside sitting area and overlooks the prairie.
This cute ranch pup was hanging out and very friendly. If you have dogs, make sure you leave them at home or at your hotel!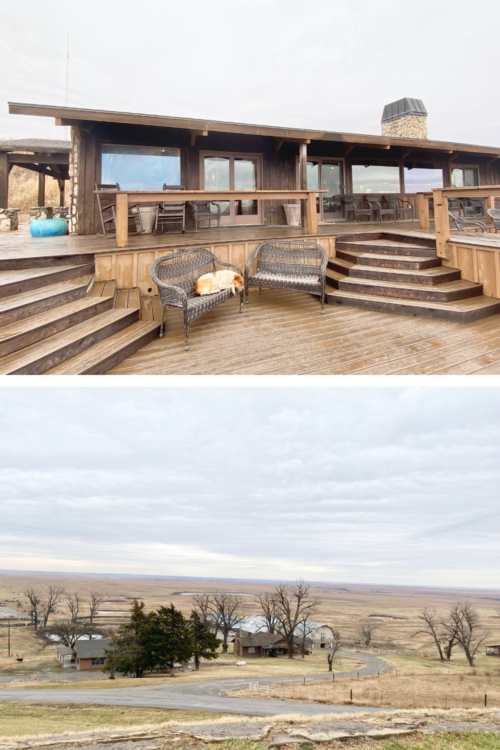 Inside the Lodge
As soon as you walk in, you can see the large kitchen where Ree and her family film the cooking show. I definitely took photos holding some of her 'props' that were placed on the kitchen counter.
The lodge was about as authentic as you could get!
If you love the Pioneer Woman's kitchen products, you would love her pantry closest to the kitchen. It was a working pantry and everything in there looked like it was used regularly for filming.
Here's a behind-the-scenes look from Ree on her pantry.
I've been in love with her KitchenAid mixers for as long as I can remember, and I was so excited to see it in person.
Nothing looked like it was set up just to look good; it was a walk-in and beautifully organized pantry!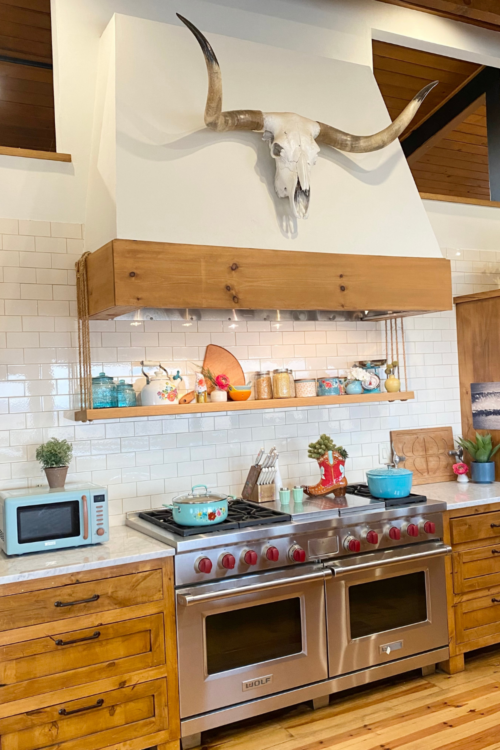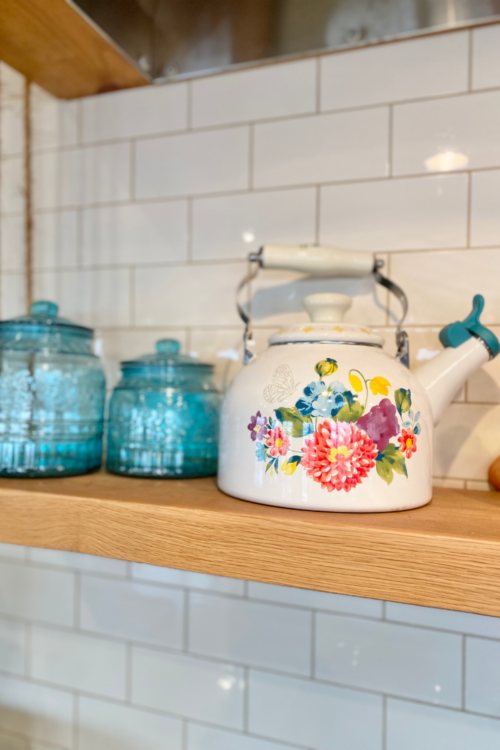 Teal Glass Canisters (you can see these in my home office videos) | Teapot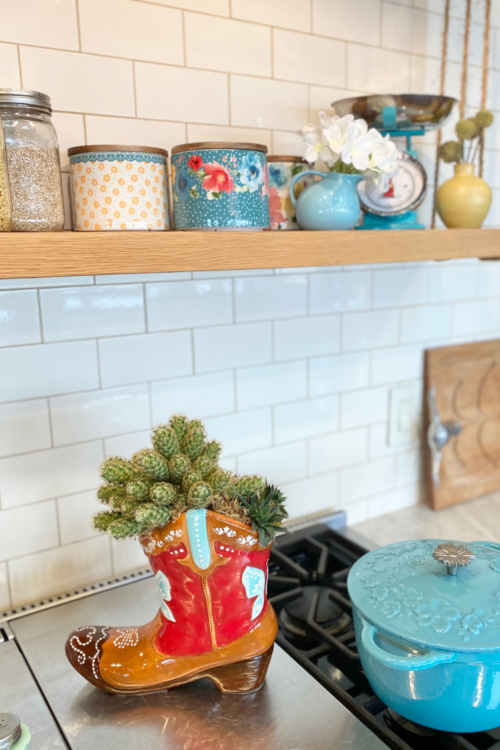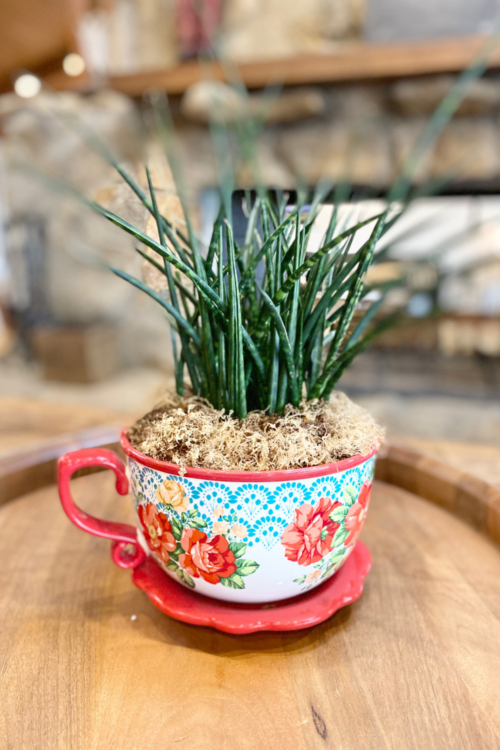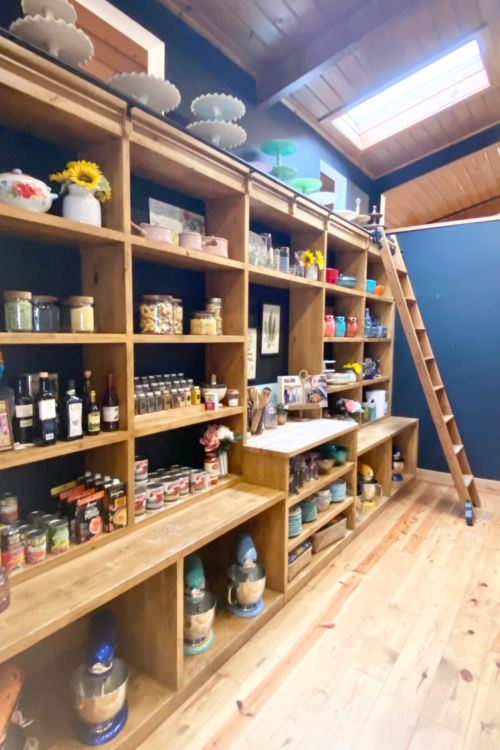 Cake Stand 1, 2, 3 | Canisters | KitchenAid Mixer 1, 2, 3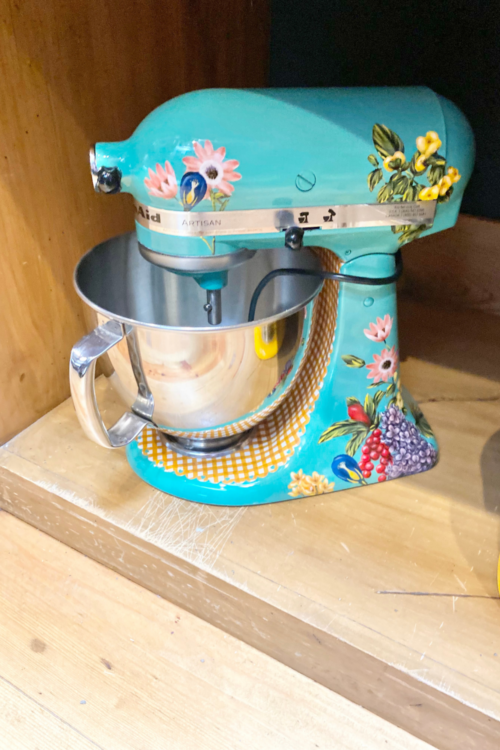 Exploring the Lodge
In addition to the big kitchen and pantry, we had an opportunity to explore the rest of the Lodge. And it did not disappoint!
My favorite part of the entire home was the gallery wall of all the family dogs! I might have to do this in my home.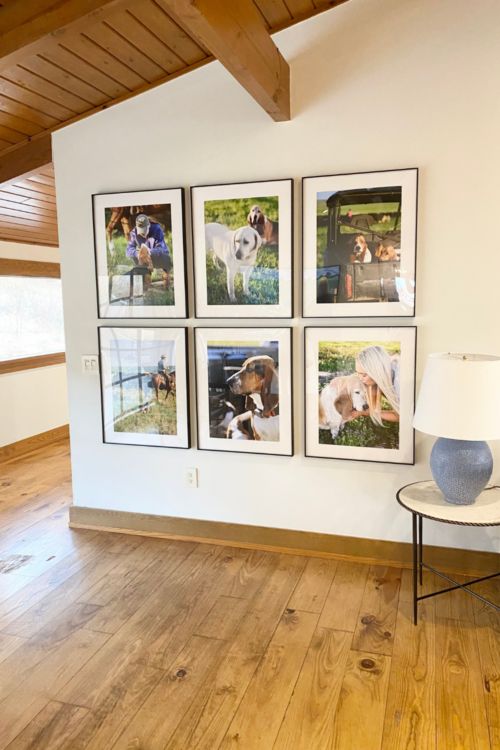 The Lodge has several bedroom and bathrooms, and all have gorgeous views overlooking the country side. There's a big living area, dining area, seating areas and a large fireplace.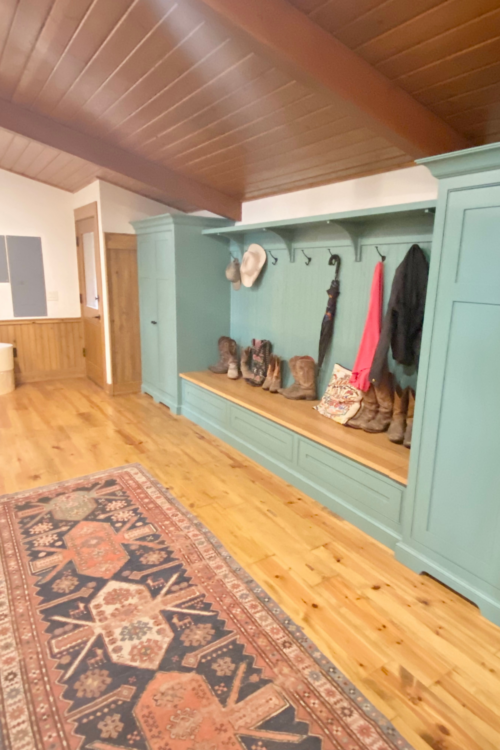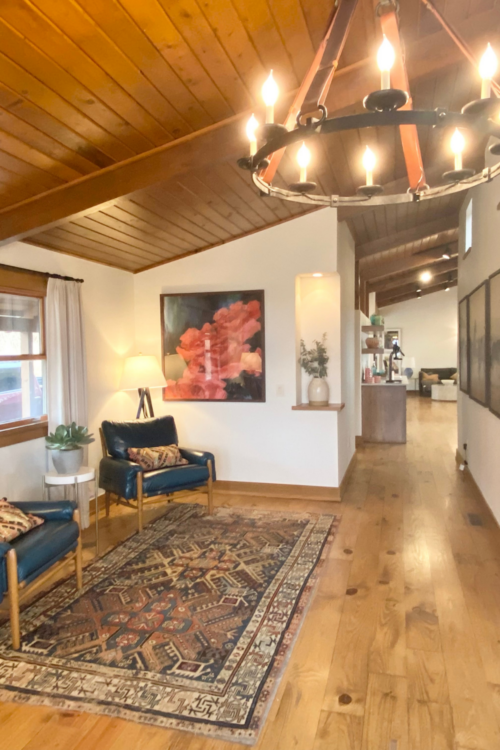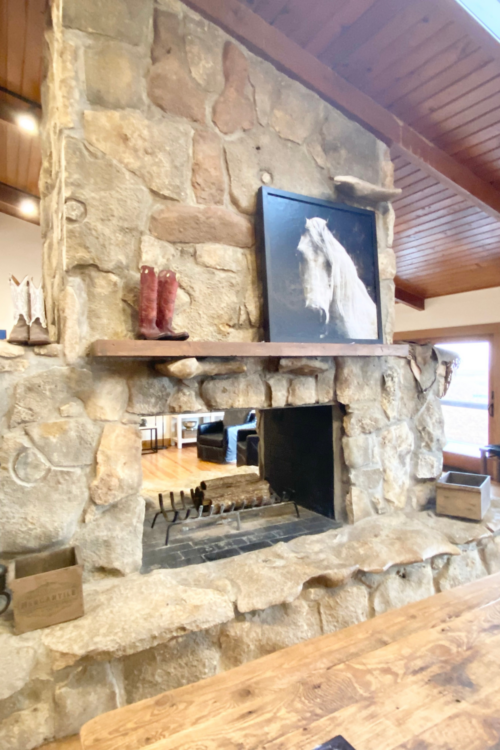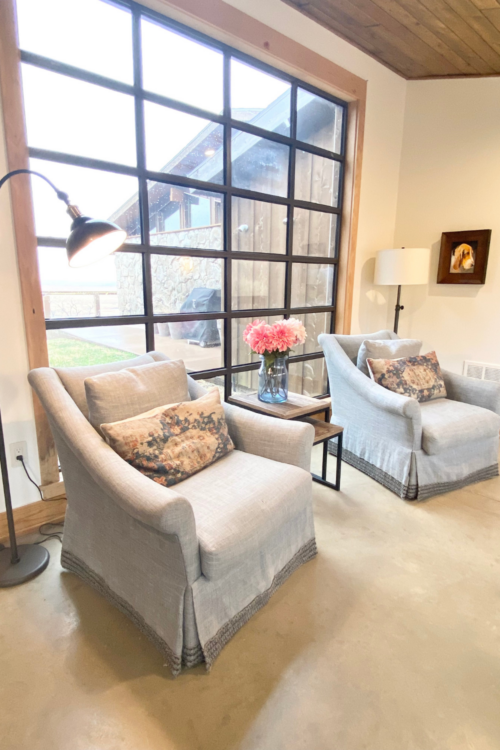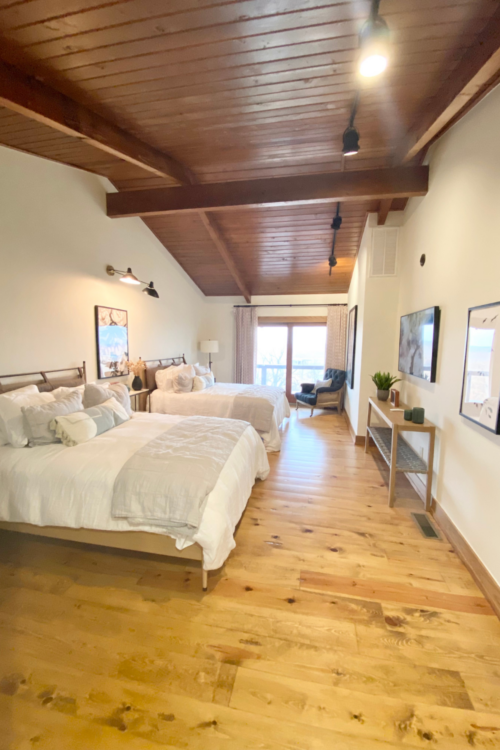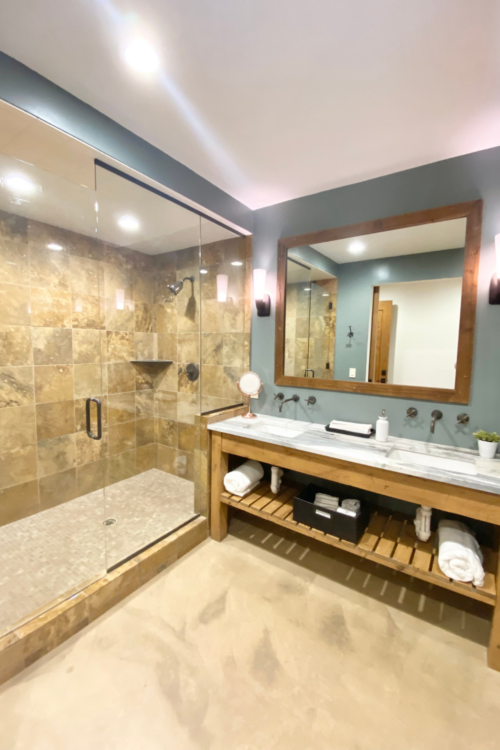 Finally, in the back of the Lodge, is another area for cooking and prepping food. It's not easy creating so many recipes and meals all at once and this space makes perfect sense!
I just loved this area and really envisioned an entire team of people working in here together. Also, the amount of refrigerators was amazing.
The best part was the other pantry in the Lodge was full of every single Pioneer Woman product.
I am not going to share a picture so it's a surprise if you get to visit, but be prepared to love it!
I have never seen so many products at one time, and knowing every product was from different lines from the Pioneer Woman was really neat to see. I've had my eye on a few products and seeing them 'in the wild' was all I needed to finalize my purchases.
Final Thoughts
I absolutely recommend making this part of your stop while visiting Pawhuska or if you're in the area, like Tulsa or Wichita. The city of Pawhuska and the Lodge are perfect for a day trip.
We spent a couple hours at the Lodge talking with the team and enjoying the view.
This visit was part of a getaway and roadtrip, so I will have a separate post about the Pioneer Woman's Boarding House as well as the Mercantile and downtown Pawhuska.
Free 7 Day Blogging Course via Email
Join thousands that have learned how to start and grow a profitable blog. Sign up for free tips below and get started right now!