Since it's been a while since I've done a random life update, I figured now would be a good time to write about one area of my life that has been a little crazy. It can be tough trying to handle work stress and anxiety, as well as personal stress.
My last random life update was fifteen months ago! So much has changed since that post and I feel like a totally different person.
While this post isn't dedicated to all the random things I could ramble about, I am going to write about one area that's really impacted me over the past six months.
On the flip side, work and blogging is great. If you need some help earning extra income, this free guide will teach you to earn extra blog income overnight!
I'm going to warn you guys – this post is a little heavier than I normally write about on my blog. If you get my weekly newsletter, then you know that's where I prefer to get really personal.
With so much chatter happening between my blogger friends and non-blogger friends, I thought now was as good of a time to share one area in my life that I was struggling with on a regular basis.
Related reading:
Let's talk about stress and anxiety
Lately I've been having a lot of conversations with my friends about stress, overwhelm and mental well-being. The common takeaway from every conversation seems to be that we are all on overload and are all struggling with getting everything done.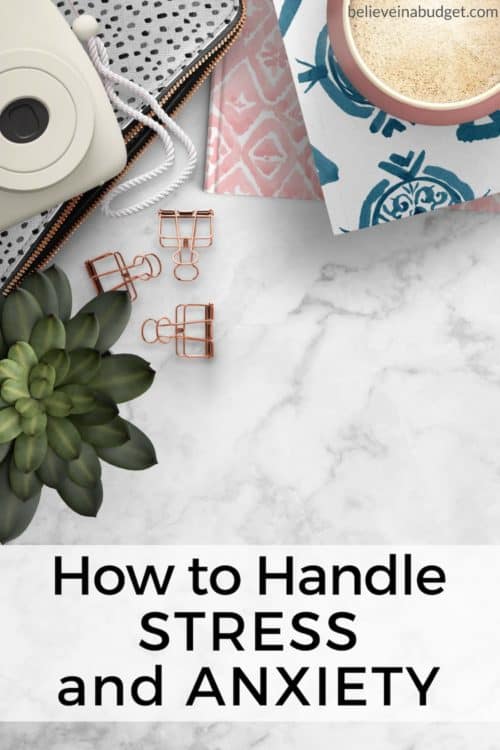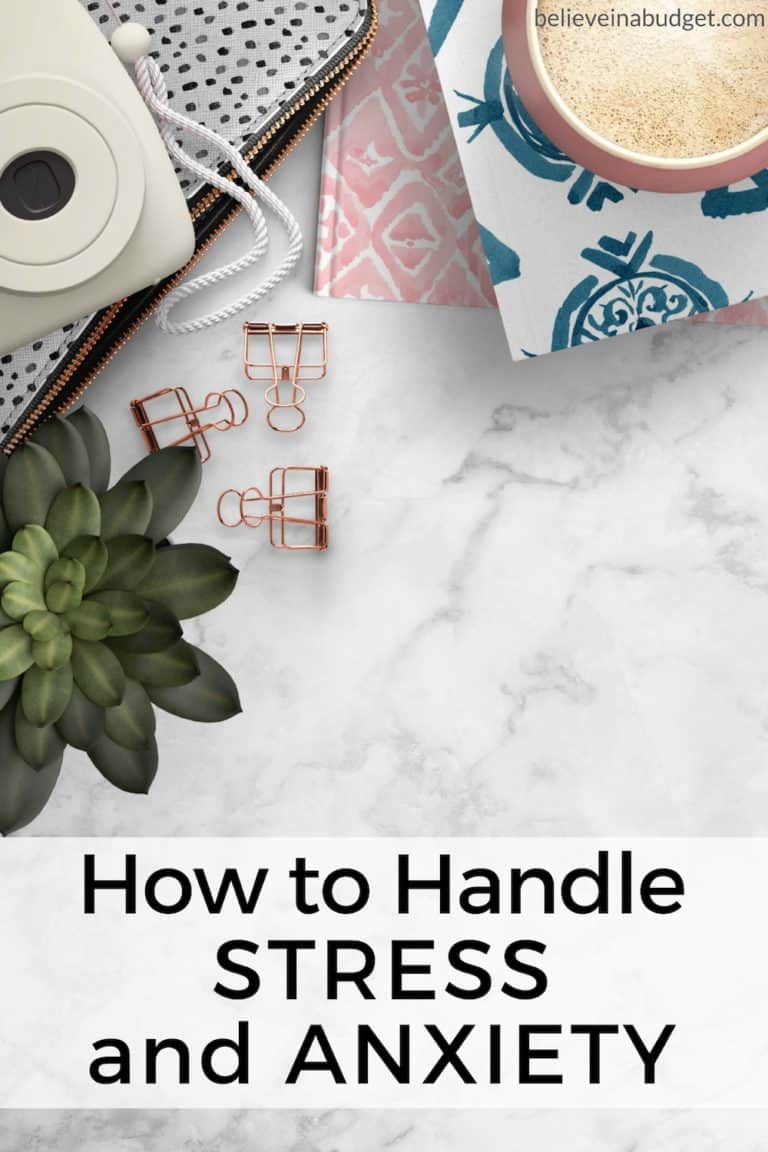 Don't get me wrong – I am super happy with my life!
My goal was to be able to quit my day job and create a blog and business that would allow me to earn a full time living.
The past two years have been some of the best years of my life because I have a freedom that I never thought was possible.
Also, if you are a blogger and feel overwhelmed and stressed out or don't know what to work on first, I recommend downloading this free guide that will help you really focus on the right things with your blog.
This freedom has allowed me to create my own work schedule, travel, spend more time doing what I want, etc.
There are some downsides to being self-employed.
The obvious stresses were being responsible for paying my own taxes, figuring out health insurance, retirement accounts, etc.
I also stopped having a steady paycheck, which was really scary! Now that I'm self employed, my paycheck dates vary.
I've always had some stress and anxiety, but I had no idea how much my stress level would change the longer I became self employed.
Towards the end of my first full year of blogging last year, I realized something was off.
Instead of feeling uplifted at what an amazing year I had created all myself, I was stressed out, anxious and exhausted.
Blogging stopped being fun
While my income was steadily increasing, I felt disconnected from everyone, including my own blog.
I started this blog as a personal finance blogger, but stopped identifying as only a personal finance blogger.
My Pinterest virtual assistant business took off, which lead to an entire hallway of new doors that opened.
While it all happened organically, I felt like I had two personalities – I was a side hustler blogger and a Pinterest educator with three Pinterest products (Pinterest Presence, Become a Pinterest VA TODAY!, Pinterest templates).
Things got harder when I started receiving a handful of emails of people calling me out for having a blog with the word 'budget' in the title, but not writing about budgeting anymore.
Some emails went as far as to ask why I was even still blogging still and they couldn't identify with the Pinterest side of things.
A fellow blogger criticized my success and felt that I achieved too much too early on.
That hurt because I thought she was my friend.
I had another blogger send me a nasty email letting me know she was way too important to hang out with someone like me.
That was probably for the better, since her email said a lot about her character.
I started to think, is this the new normal?
Even though I received a ton of awesome, amazing emails and have made amazing blogging and business friends, I focused on that 1% of negativity and let it dictate my life. It took me a while to realize it's not me, it's them. People lash out at other people when they are experiencing difficulty or having self issues and choose to take it out on other people.
I felt guilty as my income increased
With the few negative emails and other disconnect, I started to hate (yeah, I know, that's a strong word) writing blog income reports and sharing my income online.
I felt guilty that my income was increasing and worried readers wouldn't identify that I was still just like them.
Sharing my first blog income report for $60 was and is still my favorite blog income report. Want to know where the guilt came in?
It was actually easier to make over $22,000 last month than it was to make that first $60 from my blog.
Those first four months of blogging were the hardest months of all my blogging. The biggest challenge was just getting started and sticking with it.
While blogging is still hard for different reasons, those first few months defined who I was. I had the drive to succeed. I wanted to learn how to blog, and I was determined to leave my day job and create my own version of freedom.
Writing my first online income report for $60 was the best feeling ever!
For the past year, I've worked really hard for my income to become more 'passive', meaning that I could earn income when I wasn't technically on my laptop working.
It wasn't easy – I had to start from scratch and figure out how to do that.
Unfortunately, this affiliate income course wasn't created yet or I would have save a lot of time with my research, re-writing blog posts, etc. 🙂
Surprisingly, I've only received positive emails about my income reports, so that feeling of guilt was completely self-induced. If you want to start your dream blog, you can get blogging ideas and tips here.
My anxiety and stress exploded
While it sounds ridiculous, every month that my income increased, I started questioning WHY I deserved to make more money. I started to ask myself:
Have I just gotten lucky?
Is is really fair that my friend works 40+ hours a week and I can earn more working less hours?
Is this going to go away? Is everything going to crash and burn and next month I'll make zero dollars?
If my blog and business fails, what will I do? Will I have to go back to a 9-5 job?
All of these questions increased my stress and anxiety.
Eventually I realized that these are good problems to have and my work situation could be a lot worse. I'm incredibly grateful for my job as a blogger and business owner!
I reached out for help
It took me a couple of months to decide that I needed help.
The first thing I did was see a doctor. He helped me get on the right medication to help with the stress and anxiety.
This made a huge difference and really helped me cut down on the panic attacks and lack of sleep.
I know everyone has different feelings towards medication, but it was the right decision for me.
I also re-evaluated my life and made a list of things that I needed help with on a personal and professional level.
I needed an overall work-life balance
I needed an activity, hobby or distraction that would help with anxiety and be a stress reliever
I needed to learn how to separate myself from negativity, be it people, online or in any situation
Here's a few ways to reduce stress and create a better work-life balance
Below is a list of everything I have done over the past six months to reduce my stress and anxiety and create a better work-life balance.
These have all made a huge, positive impact in my life! I think I will always have some stress and anxiety, but it's decreased greatly and I feel like I am back to my normal range of handling stress!
Spend less time online
Social media has become a major time suck for me personally and professionally.
Trying to stay caught up with all different social media platforms was leaving me exhausted and causing me stress.
I also started feeling a disconnect viewing picture after picture of everyone showcasing the 'best of the best' images.
My life feels far from perfect and I had to keep reminding myself that no one is going to share the hard or less perfect stuff. So FYI, writing this blog post isn't easy 🙂
I intentionally changed my behavior to reduce the amount of time I was spending online. I decided to keep Instagram, but I removed Facebook, Twitter, Pinterest and SnapChat from my cell phone.
These platforms weren't making me happy, distracting me and wasting my time. Facebook was the biggest time suck for me.
Now I'm intentional about how much time I will spend online each day. I use the 'shortcuts' tab for important group boards I participate in and removed myself from a ton of group boards that weren't benefitting me.
I also rarely scroll my feed.
If it weren't for my Facebook business page and a few select group boards, I would close my Facebook account if possible 🙂
If you have the same issue, try to cut down how many social media platforms you use and limit how much time you spend online!
Find a workout or activity that reduces stress
Lately I've been on a boxing and yoga kick. Both activities have helped me reduce my stress and anxiety and help me commit to a schedule.
When I'm boxing, every punch feels like I'm releasing stress that has been building up.
Exercising has really helped me mentally and physically!
Signing up for boxing and yoga was a big step for me! I've never comfortable in large group settings, especially when it comes to working out.
I had to do some serious shopping around to figure out how to find classes that would help an introvert feel comfortable in a group setting 🙂
Fortunately, my friend introduced me to ClassPass and can't believe I haven't heard about it until recently.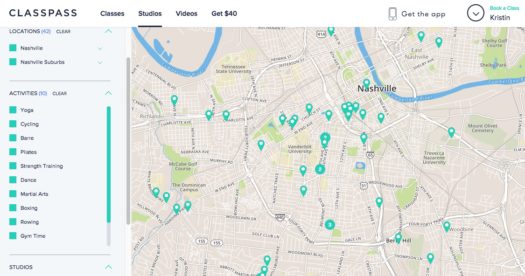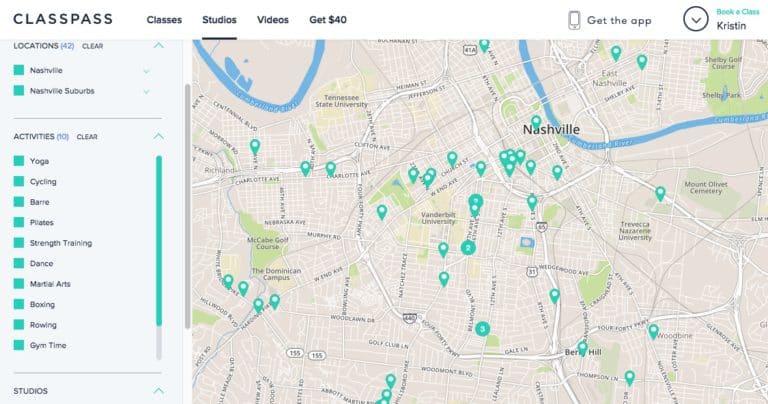 ClassPass is a nationwide pass that you can use to try out tons of different fitness classes, studios and gyms. You just enter your zip code and can view what's available in your area.
It's a great way to experiment and try out different studios without committing to one particular place (or paying registration fees, sign up fees, etc.)
ClassPass has done wonders to help me try new things and helped me stay active. There are different packages depending on how many times you want to work out a month and no weird fees. In my first month,
I signed up for the 5 ClassPass and only paid $10, but there are larger packages as well! Sign up to get $40 off your first month here (and only pay $10 for 5 classes anywhere!)
Take a mini vacation, workation or staycation
When it comes to getting away from real life, I've become a big fan of two to three night mini vacations.
Short getaways have done wonders for my health and helped me create a better work-life balance.
Have you ever come back from a long vacation and then feel like you need a staycation so you can catch up on everything? Yup, that's me!
I've actually found myself less stressed by taking a mini vacation versus a long vacation. I also would rather go on multiple mini-vacations throughout the year instead of one longer vacation.
As a full-time blogger and business owner, my laptop comes with me everywhere.
Even on vacation, I still enjoy waking up early and getting an hour or two of work done before the day officially starts. This makes me comfortable knowing that I've checked in on everything, all is good and then can step away for the day and enjoy living in the moment!
Mini vacations don't have to be expensive!
I don't necessarily need to go far or plan an expensive trip to feel rested and relaxed. Getting out of your current environment and into a new one can do wonders for yourself.
When's that last time you went to the lake, beach, mountains or other destination that's been on your wish list?
If you are on a fixed budget (let's be honest, aren't we all?) try to drive to your destination or fly if you can find a great rate.
I love using Airbnb because it's oftentimes cheaper to get an entire house for the same price as a hotel room.
I've used Airbnb to book cottages by the lake, internationally, in the mountains and right on the ocean. Sign up for $40 in Airbnb credit here!
Confide in a friend or loved one
Whether it's meeting a friend for a drink, going on a walk or Skyping, it's really important to have a support system.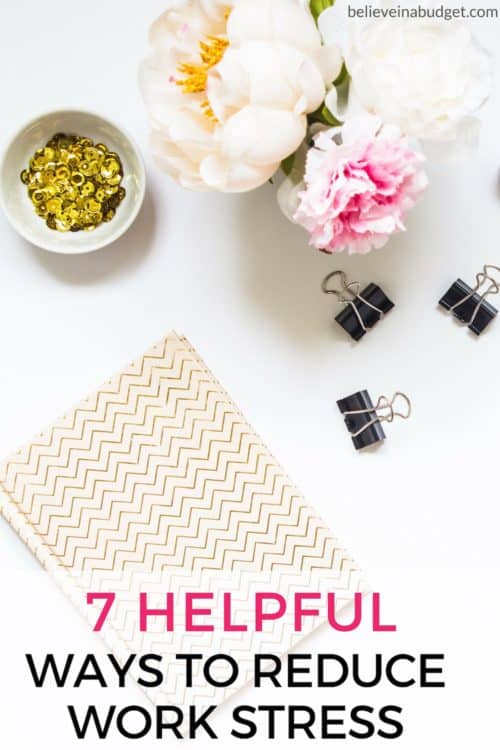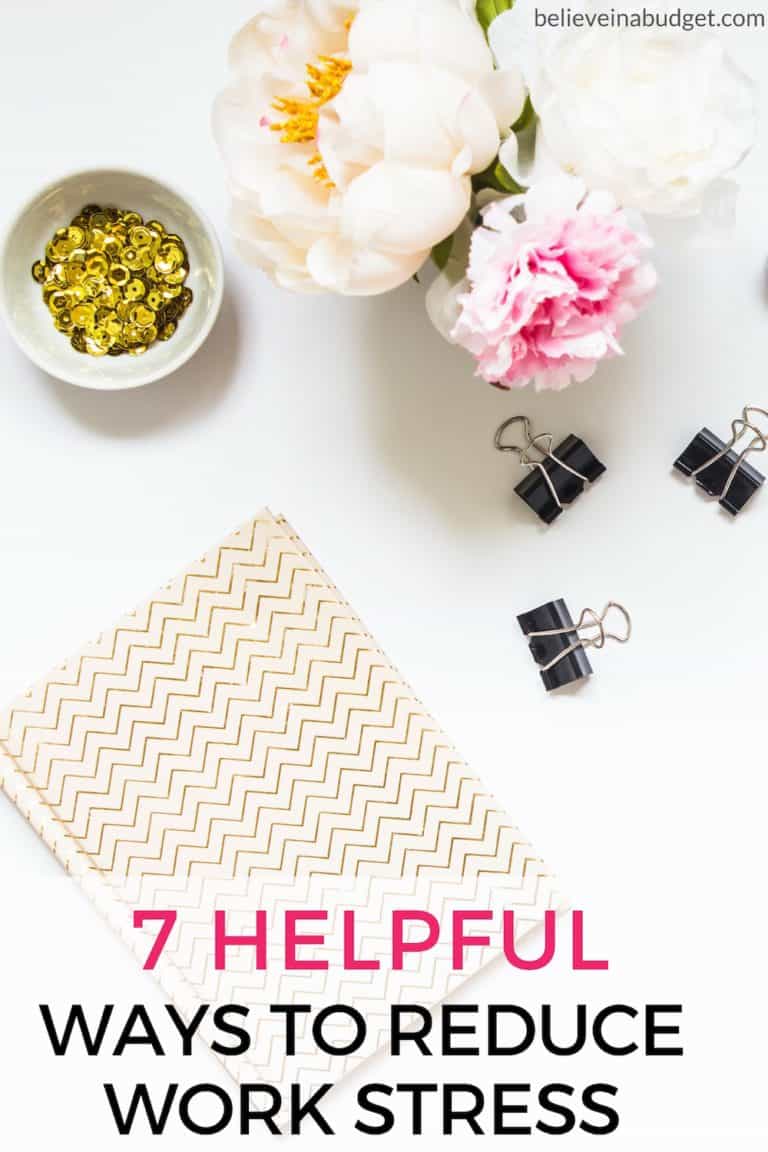 It's really unhealthy to keep everything bottled up inside!
It can be incredibly helpful to vent and blow off steam if you've had a rough week.
It's also equally important to share your wins and other highlights from the week!
As I've gotten older, I have a small but strong handful of friends that I really care about.
When one of my friends has a victory or win, I celebrate with them!
When they are having a bay day, whether it's professionally or personally, I've got their back.
Fortunately, my friends all have the same belief system and I know they are there when I need them.
While it wasn't easy, I've also eliminated anyone that is toxic in my life.
Reduce your level of caffeine
This might just be geared towards me, but I've drastically reduced how much caffeine I consume each day.
I love going to coffee shops to work and can sip on an iced coffee all day long.
The amount of caffeine I was drinking every day definitely wasn't helping with my stress and anxiety. If anything, it was magnifying it!
These days I pretty much stick to decaf, which still has small traces of caffeine in it. I can feel a difference in my body when I have a regular cup of coffee.
Coffee makes me happy though (well, mostly the creamer makes me happy) so this is the best compromise for me 🙂
Write in a gratitude journal
By nature, I sometimes dwell on the negatives instead of all the positives. It's really easy for me to get caught up in all the things I didn't accomplish. Sometimes I'll keep a running tab and my head and think to myself:
I didn't finish that blog post
I didn't send out my weekly newsletter
I didn't empty the dishwasher or do laundry yet
I didn't call so-and-so back
After realizing how quickly I could get caught up on the negatives, I purchased a gratitude journal.
This really helped change my perspective!
Every Sunday, I sit down for ten minutes, reflect on the week and write down five things that I'm grateful for in my life in my gratitude journal.
Now I focus on the positives and use my gratitude journal to write down things such as:
I got to wish my dad and grandfather a Happy Father's Day and am fortunate to have close relationships with both of them
My senior dog had successful surgery and made a full recovery
My cousin had a healthy baby girl and I couldn't be happier for her
This has really helped me focus on the positives instead of the negatives!
I've realized that it's good to have a never ending to-do list. This means my blog and business is busy and I have work to do!
On a personal level, this just means that I'm a list maker. My to-do list is just an extension of how I stay organized. Instead of looking at my to-do list as a burden, I use it as a tool that is there to help me.
Work with a wellness coach
I work with a wellness coach every week! She's a personal trainer as well, so I have the best of both worlds.
This is definitely one of the more expensive options, which is why it's at the bottom of this list. If you can find a friend that can double as an accountability partner, that works too!
Each week, we get together and go on an hour walk. We talk about anything and everything.
She's helped me focus on where I want to be on a personal level and where I want to be on a business level. We've worked on eliminating the negativity, self confidence issues, mental well being, goals, etc.
Final thoughts
If you've made it this far, thanks for reading! This year has been quite the journey for me. My quality of life has improved greatly from where I was six months ago and I really am happy!
I've feel really fortunate to have this blog and business and love what I do. My period of uncertainty was a great learning experience.
I've always been honest about sharing what works and doesn't work on this website, and I think it's important to share some of the low points I've experienced.
Overall, I know I'm on the right journey and am so grateful to be where I am!
The Side Hustle Challenge
Join a tribe of people that learned how to earn hundreds (and even thousands) of dollars in side hustles!
Have you ever experienced anxiety, self-doubt or burn out? What have you done to fix things?