September was another amazing month for earning online income. This was my best month ever, which is something I feel like I have been saying every month. I can't believe my income continues to increase and I'm excited to share what's working for me.
As I mentioned last month, I renamed this report to my monthly online income report. Originally these monthly posts started off as solely blog income report, but now that I ready to freelance full time, it makes more sense to change the title.
This is my seventh online income report to share! This report only includes income I received from the month of September. I don't include any money that is pending. If the money isn't in my bank account, it doesn't make it in this report.
To recap, making money from my blog has been a slow, but steady one. I started blogging a year ago, but didn't get serious about my blog until January of this year. I made the smart decision to stop treating this blog like a hobby and turn it into a business.
If you are thinking about starting a blog, this tutorial will help you start a blog today. You'll also get a FREE domain name for a year! I was able to quit my job and blog full time, all within my first year of blogging. I am really glad I took a chance and started a blog! I invested around $140 to start my blog using Bluehost, and I made $13,000 in 6 months of blogging. That's the best return of investment ever!
Some of the changes I made was to become more socially active online. I joined Twitter, signed up with Pinterest and started reaching out to other bloggers. I committed to write regularly, improve my photos and have better content.
In March, I had my first online income report! Since then, I have been slowly making money each month. Here are a few of my other online income reports:
Notice how there is a jump in my income? That's no coincidence. While it's been months in the making, I announced on this blog a few months ago that I planned to transition from full time employee to full time freelancer. I was no longer satisfied at my job and it was time to make the switch.
Since I made money freelancing in July and in August, I decided I would document and post everything on this blog. As I already mentioned, September was my best month yet!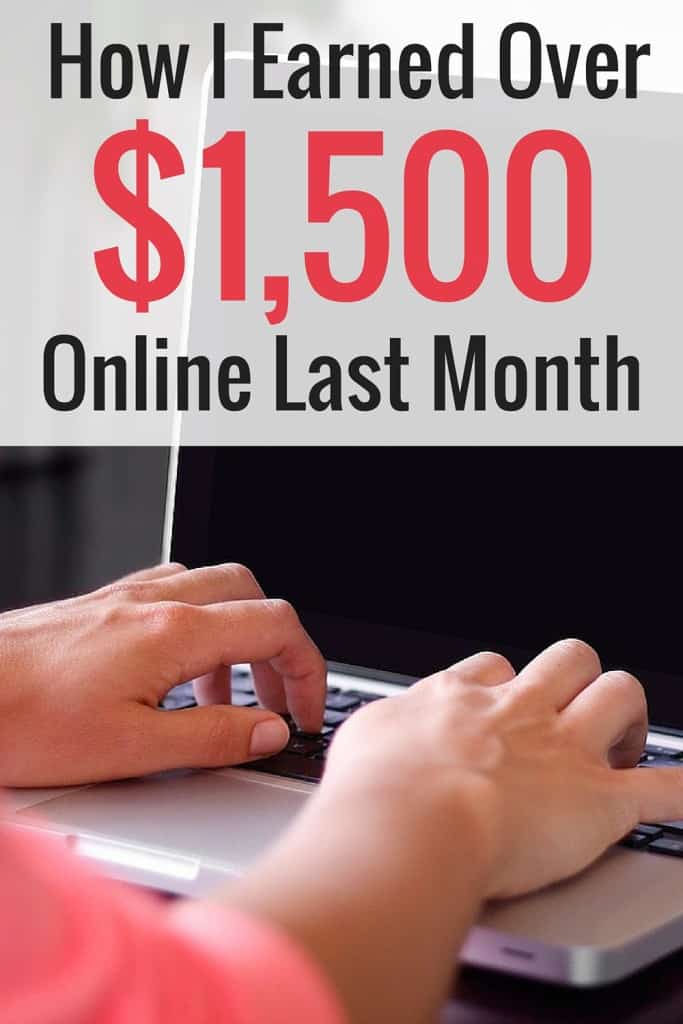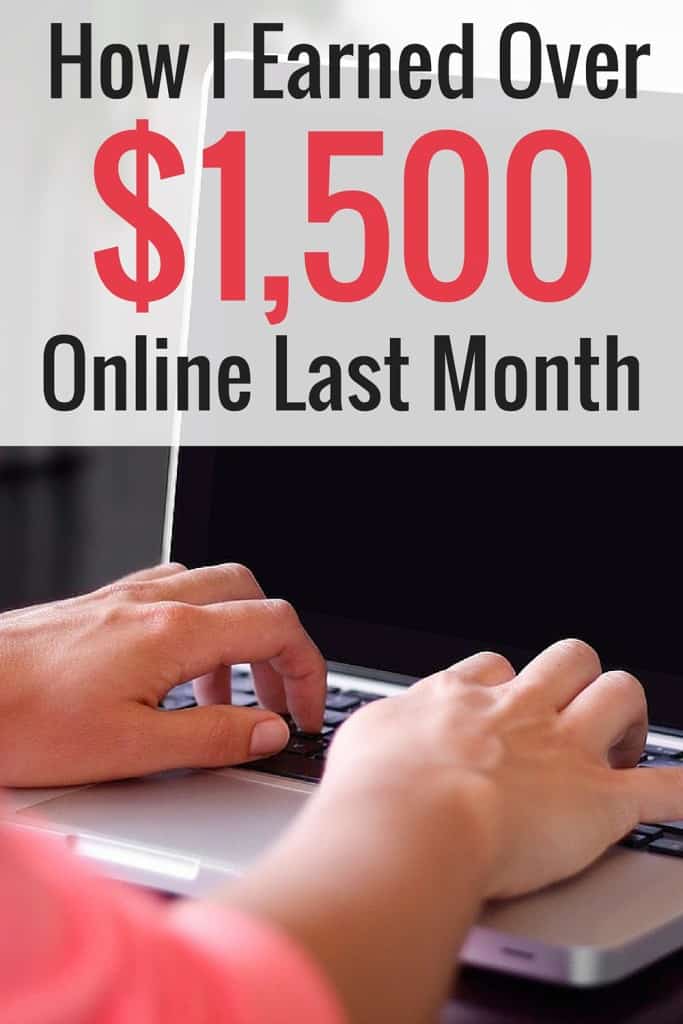 Here is the breakdown of my online income report for September:
$1396.80 Freelance Income
Grand Total: $1530.94
Are you sitting down? Can you believe this? I knew I was having a great month, but this is amazing for me. I worked really, really hard in September. When I wasn't at my full time job, I was freelancing at all hours of the day. I definitely didn't get enough sleep. It was tough, I was tired, but seeing this number makes it all worth it!
This amount is the grand total and before I deduct taxes. Right now I am putting away 30% of each paycheck I earn.
If you want to keep track of your online income (which I highly recommend) check out Freshbooks! It's what I've used to track business income, expenses, invoice clients, and more. Click here to learn more about Freshbooks.
This is how I earned my affiliate income:
Even though I earned more affiliate income this month, I am only reporting on what I was paid! I worked with:
Rakuten – Hello, free money when you shop online! I always go to this website first when I am shopping online as they list every retail shop on their website. Once I click through and make a purchase, Rakuten pays me a percentage of real cash back on my purchases. This goes directly into my PayPal account. Get $10 off your first purchase of $25 using this link.
Ibotta – It's another free cell phone app. You use it after you go grocery shopping and use your receipt. It's basically a rebate app, so you can earn anywhere from 50 cents to $5 off everything you buy.
My favorite part about this app is that it's not always brand specific, like a lot of coupons are. So you'll be able to scan "any brand of bread" for 50 cents off, etc. If you do coupon – you can STILL use Ibotta and get a rebate. For the diehard couponers out there, this will often result in getting an item for FREE. Crazy, right?
If you want to grab the Ibotta app and start making money off your grocery receipts, click here to get started. You will receive a cash bonus of $10 when you scan your first item!
Bluehost – If you want to start a blog, Bluehost is the site I use to run Believe In A Budget.
If you are thinking about starting a blog, this tutorial will help you start a blog today. You'll also get a FREE domain name for a year! I was able to quit my job and blog full time, all within my first year of blogging. I am really glad I took a chance and started a blog! I invested around $140 to start my blog using Bluehost, and I made $13,000 in 6 months of blogging. That's the best return of investment ever!
Free 7 Day Blogging Course via Email
Join thousands that have learned how to start and grow a profitable blog. Sign up for free tips below and get started right now!
This is how I earned my freelance income:
Pinterest management
Consulting
Niche consulting
Pinterest management, photo packages and consulting are all different services I offer on my Hire Me page. I absolutely love this aspect to blogging. While many people excel at writing, I do well with images and pictures.
I love connecting with bloggers and companies who need help with creating photos for new blog posts or updating old photos for previously published content. I also provide basic consulting services for people who have no idea how to utilize Pinterest.
This niche has opened a lot of doors for me and I couldn't be more thrilled with the response. If you need help in these areas, please contact me! I'd love to chat and see how I can help!
I am also providing consulting services related to my career niche. When I decided to leave my full time job, I was determined to find a location independent job. I absolutely love my day job career and was determined to somehow stay in the field. I knew it was possible, but really had to scour the internet to see what was out there.
Finding online jobs
To get to this point, I did a lot of digging and even wrote a post about all the different job boards I found. The job boards I searched included a huge array of career fields, so I think it's possible to find almost any job online these days.
You don't have to be a writer to do well freelancing or helping bloggers. Do you specialize in spreadsheets and accounting? There's probably a business out there that needs your help. Are you great at creating newsletters? There are bloggers that have no idea how to set this up.
What I am getting at is there are jobs out there that some bloggers don't even realize they need! Change things up, be different and go after what you are good at. This helps you stand out and get noticed!
Google Adsense
Get excited because I received my first check from Google Adsense. That was the hardest $104.14 check I've ever worked for, ha! It took me months to earn this first check and I couldn't be happier.
Here's a breakdown of my monthly expenses
Total Expenses: $130
I nixed a couple expenses. Although small, I managed to shave around $14 off my monthly expenses from the previous month. I made the decision to stop paying for a couple of apps I was using. I thought I needed these programs to succeed and it turns out my business is still doing fine without them.
This reduction in expenses will save me around $168 a year! Because I am still a DIY blogger, meaning I can't afford to outsource much, every penny counts. This money can go towards a number of things, such as VA help from Fiverr, marketing or who knows what!
I now use Tailwind for all my pinning, but forgot to cancel my Board Booster membership hence the $5 charge. I paid for a yearly subscription to Tailwind that features unlimited Pinterest pinning and it's a crazy better deal than Board Booster.
I am really excited to see where October takes me. October will be a crazy month anyways as I will be leaving my full time job, moving across the country and starting my freelance career. I hope you plan to continue with me on this journey and see where it takes me!
What are your freelancing specialties? What would you like to do?