I love being a pet parent. If you have pets, you know that they're basically part of the family. That means when holidays and birthdays roll around, you may want to get them a fun gift.
Pet gifts can be fun and creative just like any other gift. They can also be very budget-friendly whether you're looking for stocking stuffer for your dog or comfy furniture for your cat.
Check out my ultimate budget-friendly gifts for your pet under $10, $25, and $50.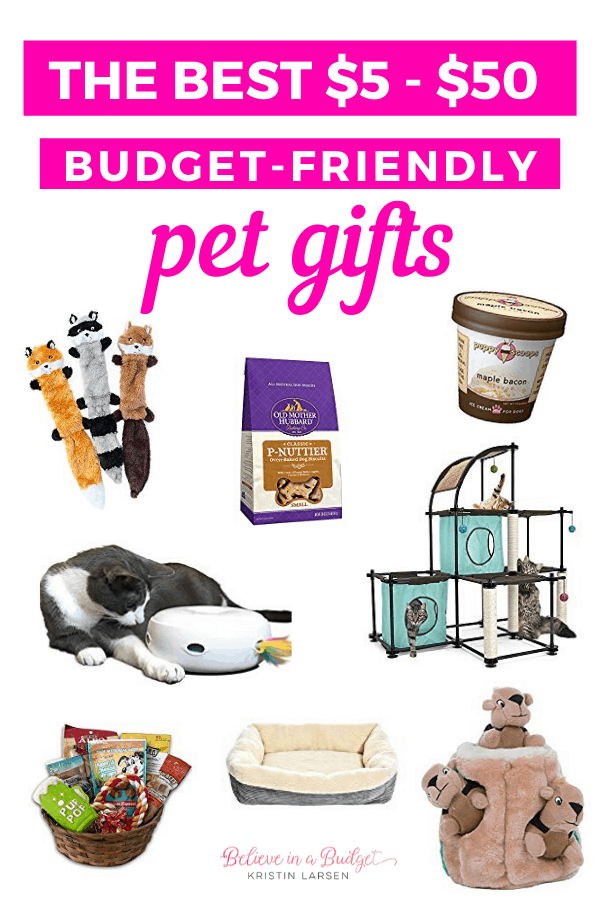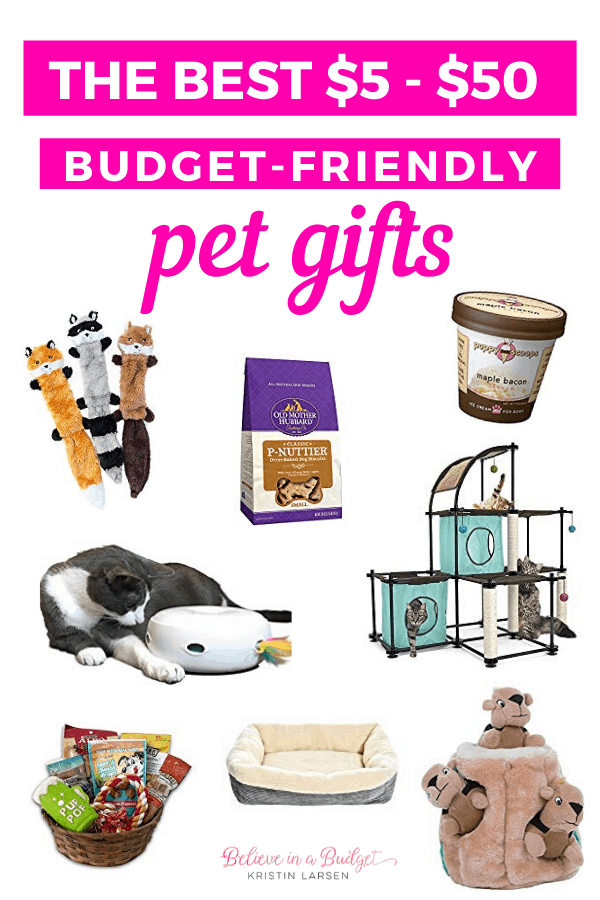 Best Budget-Friendly Pet Gifts for Under $10
Homemade Dog Treats
If you would like to bake your own dog treats and gift them to friends and family, check out Diva Dog Bakery.
While there is a course available to help you start a homemade dog treat bakery, the recipe book inside the course has over 18+ recipes for various dog treat recipes.
Plush Toys
A new plush toy is always a great gift for a dog. These Zippy Paws toys for dogs are soft squeaky and shaped like familiar animals. They actually aren't filled with any stuffing to ensure they last longer and are mess-free when your dog plays.

Store Bought Dog Treats
Dog treats may be a regular item that you get but for special occasions consider stepping it up a notch. These all-natural dog treats are oven-baked and have savory flavors. They make the perfect stocking stuffer and are only $7 on Amazon.

Chuckit Paraflight Dog Toy
If you don't have a good frisbee for your pet, consider getting this lightweight one on Amazon for under $8. Chuckit's dog flyer toy is durable, floats in water, and even comes in a glow in the dark version.


This is perfect to use in the yard, at the park, or even at outdoor events so both you and your dog can squeeze in some fun exercise.

Outward Hound Interactive Puzzle Toy
If you're looking for a creative and affordable gift for your pet, this interactive puzzle toy is great for any dog. Keep your dog busy with this activity puzzle tree trunk and plush squirrels that go inside. This toy comes in three different sizes to accommodate all dogs large and small.
Best Budget-Friendly Pet Gifts for Under $25
Pet Bed
Give your dog or cat a special place to rest with a comfy bed. Some cats especially prefer to have their own space to lay out and observe everything. This bed is under $20 and it's also self-warming. Perfect for a cat or dog.
Pet Fushion Interactive Cat Toy
House cats would play 'catch the feather' or string games with you for hours on end if your schedule would allow it. Pet Fushion has an interactive electronic toy that can help continue to stimulate your cat's mind and add in healthy exercise.
This fun toy moves on its own (with batteries included) and teases your cat with a rotating feather so they can try to catch it. It's super easy to use and your cat will have a blast playing with it.
KitNipBox Subscription
You've probably heard about beauty, clothing and food subscription boxes. Now, Amazon has a subscription box that you can purchase for your cat.
You can get your first Happy Cat KitNipBox box for $16.99 and it includes 5 toys, treats, and other goodies. Each box is uniquely themed and high-quality products that your pet will love.
The KitNipBox is also a great way to give back. With each box that's purchased, the company donates a portion of the proceeds to animal welfare organizations nationwide. This includes shelters, rescues, TNR efforts, and other feline welfare causes.
EEToys Dog Chew Toy
The perfect chew toy for a dog is a safe one. You probably don't want your dog chewing up items around the house or breaking up their toys and swallowing the small bits. This isn't safe or healthy for them.
This EEToys chew toy is perfect for aggressive chewers and has a lifetime replacement guarantee. This particular bone toy is also made with non-toxic materials and it's good for your dog's dental hygiene. Plus, it's super fun to play with!
Best Budget-Friendly Pet Gifts for Under $50
Pet Fountain
Provide your cat or dog with fresh water all day long with this automatic water fountain for pets. It has a triple filtration system and also comes with 3 replacement filters. For just $22, it's a must-have gift for a pet.
Cat Furniture
Cats love to climb so to keep them busy, you may want to invest in some solid furniture to help them get their energy out then relax afterward. This interactive kitty condo is only $43 on Amazon. It comes with ball toys, climbing platforms, a scratching post, and a soft fleece resting area.
It's also a modular design so you can change the set up to fit your space and your cat's needs.
Doggie Gift Basket
This gift basket is perfect for your dog's birthday or a Christmas present. It's filled with treats, chew toys, and other goodies that your pet will enjoy. It comes already made up so you don't have to do anything extra.
ThinkPet Warm Reversible Coat
Keep your dog warm this fall and winter with a high-quality reversible winter coat. Many areas throughout the country endured extreme cold temperatures last winter and you still have to take your dog out during that time so it's best to keep them warm.
This coat comes in a variety of sizes and it's highly reflective so your dog can be seen while out on walks.
Related reading:
Giving a gift is a great way to show someone that they are valued and demonstrate how much they mean to you. It's the same with your pet. Use this list as a guide or brainstorm to help you determine the perfect gift that your pet will enjoy using or having for a long time.