By now, you've probably noticed I love using my Simplified Planner to organize my blog, business and personal activities.
While I love the flexibility of working from home and creating my own blogging schedule, it's really important for me to have a routine. Through a lot of trial and error, I've also worked hard to figure out a schedule that works for me.
Related reading:
Ten ways to use your Simplified Planner efficiently
So how do I stay organized? I use my Simplified Planner to stay on schedule and power through my to-do list. Here's a few tips to help you create an effective blogging schedule:
1. Find your golden hour. This is the time of the day that you work best, stay focused and can get a lot of work done. For me, I work best early in the mornings.
2. Work smarter, not harder. There's no rule that says you have to work eight hours a day. I find that I can blast through work during my golden hours instead of working all day long.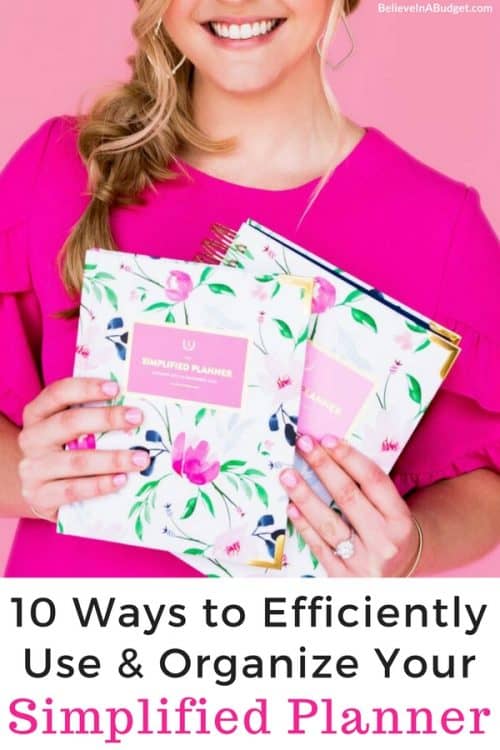 3. Write your schedule out ahead of time.
Every evening, I typically write down my schedule for the following day as well as try to plan out my work week ahead of time as much as possible.7
I find that I'm the least productive if I start out my day with no real schedule!
4. Color coordinate your tasks. I like to keep work tasks in one color, home/personal tasks in a different color, etc. This really helps me group together tasks and stay organized.
5. Work in batches. If you have repetitive tasks that you have to do every day, try to work ahead and get all the work done and schedule it in advance.
6. Brain dump everything into your planner. I refer to my planner for everything!
I use it to write down personal appointments, coffee work sessions with fellow bloggers, Skype business hangouts, dates I publish blog posts and more. Basically, I keep my whole life in my planner!
7. Color coordinate your activities. I use different colored Le Pens to write down different tasks. For example, I might use a pink pen for household tasks, a green pen for blogging tasks and a blue pen for a list of errands I need to do. I like color coding and grouping tasks together.
I love crossing off tasks that I have completed. It makes me feel like I am accomplishing things and getting my list done!
8. Don't be scared to write in the margin or any of the white space. Sometimes I'll remember something totally random and need to write it down, so I'll add it to my planner – sometimes, wherever I can find space! At the end of the day or even week, I'll look back through my planner.
9. Use washi tape or highligthters to block out vacations or extended periods of time. I use washi tape for marking vacations, conferences and other multi-day in the monthly calendar view. I also use washi tape to block off hours during the day on the daily planner.
10. Use the pockets to keep important documents. I really take advantage of the front pocket! It's a great place to keep bills, mail and paperwork. Since I take my planner with me everywhere, I've found that it really makes sense for me to keep everything in one place.
I've been using a Simplified Planner for five years!
For over five years, I've been using a Simplified Planner. It's my go-to planner to help me stay organized. I save all my planners – aren't these colors in this picture below super fun?
Also, I want to be fair and let you know that I've always paid for my planner. For some bloggers, they might write a review about a product in exchange for receiving something for free. I have always paid for my planners. I've tested out several different planners the past few years, and I always stick with the Simplified Planner.
To give you an idea, here's a picture of some of my planners from the past five years! I think I've actually owned a total of six, because I attempted to experiment with two different planners – one for work and one for personal use.
It ended up being too confusing for myself and I didn't like carrying two planners around. So now I use one planner that houses everything and it's worked out really well.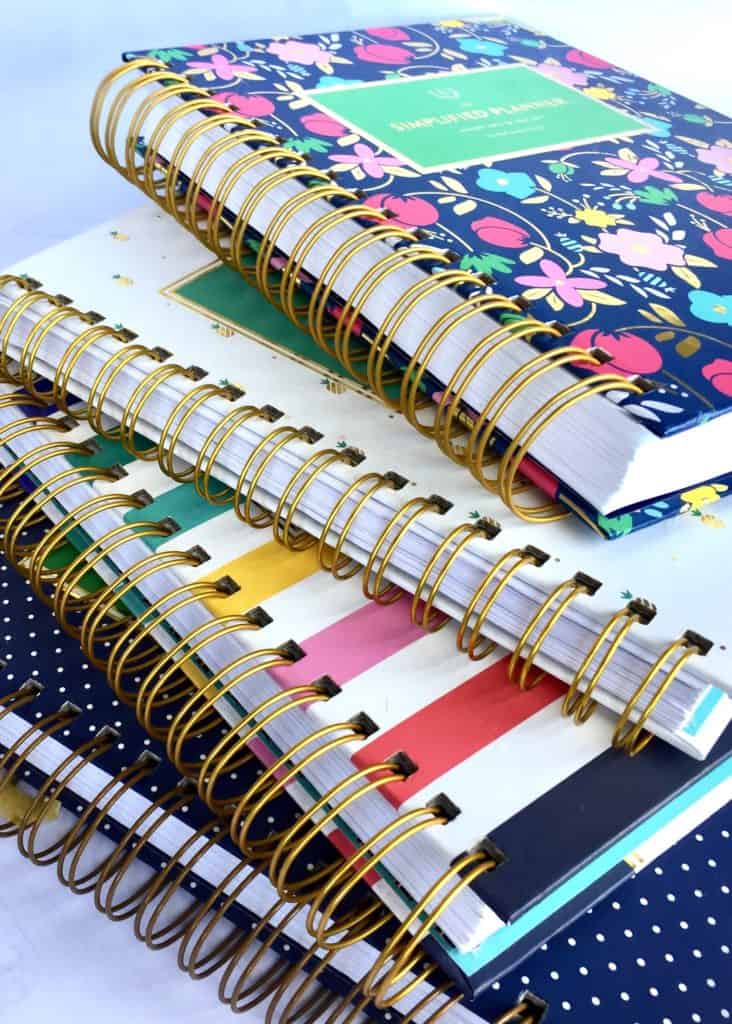 Seriously, it's so hard to pick a cover, ha! I have the hardest time each year picking one out 🙂
Even though I run an online business and blog, I stay organized by using a physical planner.
I find it really gratifying to be able to cross off items on my to-do list each day!
The Simplified Planner is easy to toss in my tote bag, purse, keep on my kitchen counter or have out on my desk when I'm working.
I've shopped around for other planners to see what else is available, but always come back to this planner.
I don't know about you, but it's so hard to find the right planner.
I never even realized that I'm picky about a planner layout, and this planner totally works for me!
I really like the size, weight, page layout and of course, the cover options that are available 🙂
Cover options for the Simplified Planner
Here are six cover options for the Simplified Planner!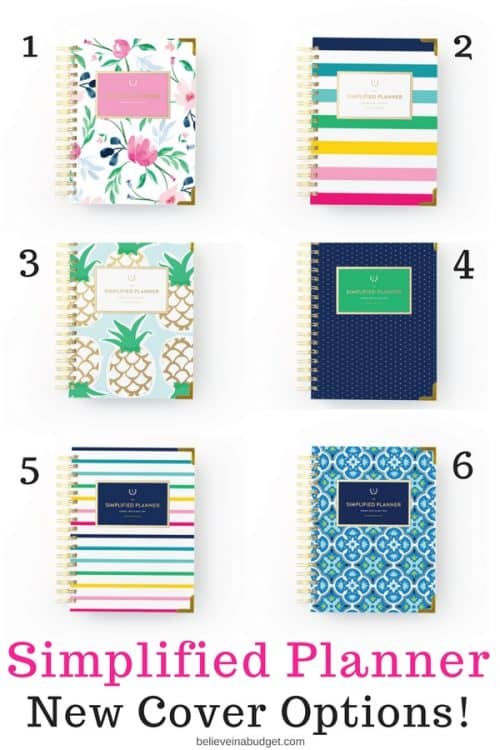 What the inside of the Daily Simplified Planner looks like!
Here's what you can expect when you open your planner:
7 x 9 inches (1.25 inches thick)
Thick, 70lb, pure white Mohawk Via paper
Space for schedule, to-do, and notes
One day per page + shared weekend pages
Full month calendar views
Hourly schedule from 6am – 9pm
Monthly Simplicity Tips
Simplified Prep Work
Simple color throughout
Colorful stickers
Gold wire-o binding
Hard cover with gold foil details
Protective gold corners
Pocket inside the front cover
Colorful, sturdy mylar tabs
Fuchsia + gold keepsake box
In regards to the paper quality, I have been very satisfied with the thickness of the paper. I tend to write a lot and hate when the ink or marker bleeds through to the other side.
Luckily, I don't have to worry about that with the Simplified Planners. I've used a number of different pens over the years and these are my favorites:
Planning is such a big part of my daily routine. I don't know what I would do without a planner. It really keeps me on track and organized.
How do you stay organized?
Free 7 Day Blogging Course via Email
Join thousands that have learned how to start and grow a profitable blog. Sign up for free tips below and get started right now!