I'm not in love with writing, but I do enjoy journaling. Is that a thing? I want to share with you how to start journaling as it's really helped me on a daily basis.
Given the fast-paced nature of life, it's so important to be able to sit down and brainstorm your thoughts and plan out your day.
Journaling helps me feel organized, in-control, and hopeful about the now and the future. Most importantly, I love how I do whatever I want when it comes to journaling. I have options, but there's no right or wrong way to do it.
Those fancy Instagram images of people journaling with colorful pens and writing with calligraphy-style penmanship next to a seemingly perfect latte don't have to be your reality. You can journal however you want.
If you struggle with organizing, writing, or reflecting (or all 3) consistently, I'd highly recommend you try journaling. But first, before you jump in, I wanted to use this post to show you how you can start journaling for the best results.
Related reading:
A Few Reasons Why You Should Start Journaling
People start journaling for various different reasons. Most people just want to get their thoughts out of their head and on paper.
It's unrealistic to expect yourself to remember everything, and journaling can be great for your mental health because it allows you to release all your thoughts and get them on paper.
Other people journal to remember certain experiences and parts of their day so they can look back on them in the future. This means you can basically use your journal like a diary.
I like using journaling to reflect and plan and this allows me to focus on things like gratitude, generosity, and hitting my goals.
It's proven that journaling for at least 15-20 minutes per day can improve your mental health and well-being by reducing stress.
How to Start Journaling
Narrow Down a Time
Ready to start journaling? The first thing you need to do is get it on your schedule. This shouldn't be difficult seeing as how you don't need to spend a lot of time journaling each day.
If you can set aside 10 to 15 minutes per day, that's a great start. Or, you can even decide which days of the week you want to journal if you don't feel you'll do it each day. It's totally up to you!
For example, if Wednesdays and Sundays are slower days for you throughout the week, commit to journaling on those days. If you find you have more time in the morning or want to use journaling to get off to a good start for the day, choose to write when you first wake up.
Some people even set a goal to journal before they get out of bed. Or, maybe you realize you need a pick-me-up and prefer to journal around lunch time.
You can even set a reminder on your phone or an alarm to remind you to stop what you're doing and journal. Whatever you decide, make sure you commit to it and show up for yourself.
You won't be able to reap the benefits of journaling if you don't simplify the task and narrow down a time to do it.
Choose a Journal
Your journal should make you feel motivated and inspired to write in it regularly. There are many different types of journals, so it's important to take the time to find which one is best for you.
Take pride in your decision because you'll be using your journal all the time. If you're looking for the best of the best, I'd recommend checking out my journals and notebooks (shameless plug).
The first product I created was this leather sketchbook. My idea behind this product was to create a luxury higher-end journal that could serve as a keepsake, but also work as a sketchbook and note taking.
If you're pouring out all your thoughts, feelings, and experiences into a journal each day, why would you want to trash this collection of writing anyway?
Before creating this product, my biggest struggle was finding high-quality and durable materials. I wanted a blank journal that had thick paper, was durable and also gave me joy when using it.
Notebook paper always seemed too thin and flimsy to me and I wanted the journal to be flexible to meet your needs but also premium quality. I also like being able to use the front and back of each page.
This sketchbook is:
100% Genuine leather and ages over time to give it an aged look
120 unlined pages (240 front & back)
Off-white cream colored sheets that are thick and will not bleed with 120gsm paper quality. This is the highest quality paper available!
Brown satin ribbon bookmark and pen holder add a special finishing touch.
Includes a front interior pocket to store photos.
Each journal is secure with a leather strap and tight binding and stitching.
I also created a line of notebooks that are modern and durable that are perfect for journaling. I wanted a notebook that would be different from the sketchbook, but still serve someone who wants to journal.
These notebooks are great because they are easy to thrown in a purse or backpack. Unlike a lot of notebooks, they are extremely durable because they have a hard cover.
Because of the cover's thickness, you don't have to worry about the notebook being flimsy, tearing or falling apart like other notebooks.
The notebooks come in three faux leather colors, so they are perfect for anyone:
Each journal includes:
96 pages / total 192 useable pages
The best paper quality notebook with 150gsm, the highest paper thickness available.
Both front and back of paper can be used without marker or pen blotting through, allowing maximum use of journal.
These notebooks lay flat, making it easy to take notes and stay open during use.
A satin ribbon that matches the cover color
Pen holder.
Elastic bind that matches the cover color and helps keep your journal closed.
A safe-keeping pocket to hold photos, notes, and receipts.
Pick a Topic
Once you've selected your journal, you're ready to start writing. You can write freehand about whatever comes to mind, or you can choose a topic for the day.
I like to go in with a topic because I feel it makes my journaling more intentional and focused but to each her own.
You also don't have to focus on a super deep or reflective topic when journaling. It's all about how you feel and what you want to write out for the day.
Some common journaling topics and ideas you can get started with include:
Goal for the day
Progress on goals
What you're grateful for
Weekly wins
Your recent decision
Upcoming plans
Daily diary
Future plans
Habits you're trying to develop
Recent experiences you don't want to forget
Your favorite things
Pet peeves
Reflect on current events
Favorite quotes or songs
I am a really visual person, so I journal a variety of ways. I like to change things up depending on my mood.
Sometimes I like to color code my pages depending on my mood (I typically love bright colors). Other times I'll use colored pencils when writing a motivational quote.
Other ways to use Your journal
You can also use your journal to jot down ideas and plan things out. You may find it helpful to journal your:
To-do lists
Meeting notes
School notes
Bible study notes
Exercise or nutrition log
Drawing, sketches, or doodles
Some people even like using journaling prompts each day, but you can also take a more freehand approach so you choose your topic as you go.
Choosing your topic before journaling for the day is something I recommend especially for beginners because you'll be able to jump right in and not waste your time waiting on an idea to come to you.
We all have busy schedules, and you can totally journal efficiently by narrowing down your topic at the start of the process.
Don't Be a Perfectionist
We all may have a little perfectionist in us but when it comes to journaling, just brush those thoughts aside.
It's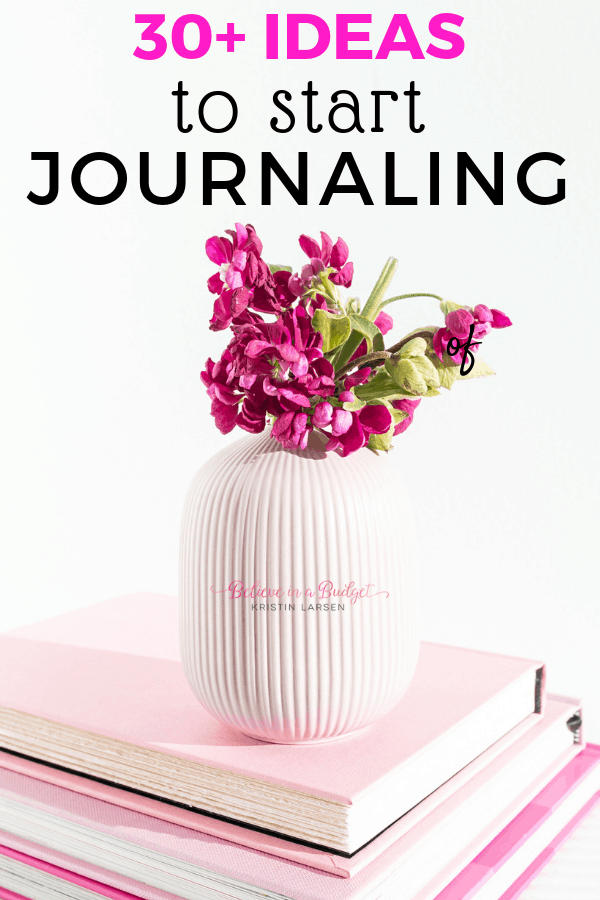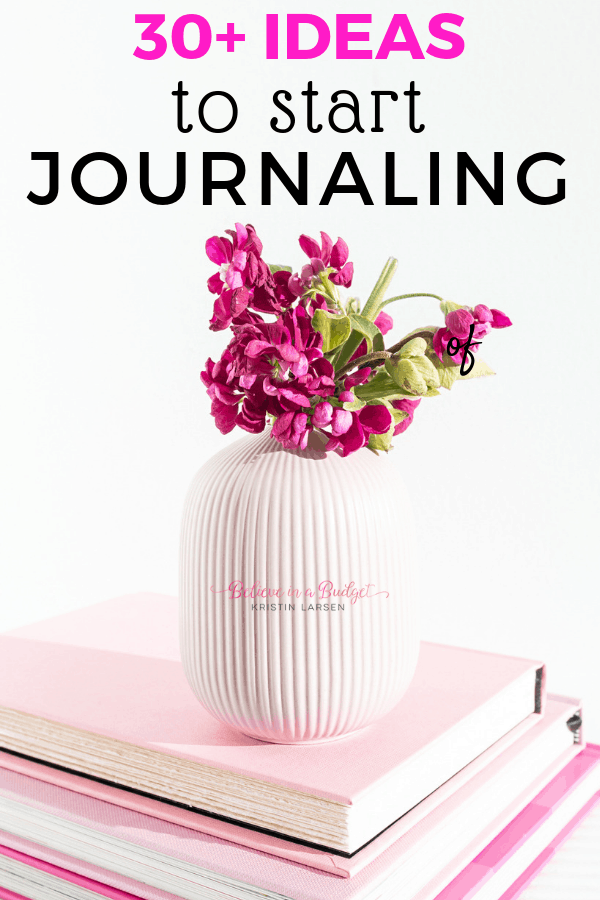 important to write as your true authentic self to debunk all your thoughts.
Don't worry about grammar, spelling, or your artistic abilities.
Heck, you don't even have to write in complete sentences if you don't want to.
Journaling can be messy and an easy way to brain dump your thoughts.
You can scribble down your thoughts, words or short phrases.
On the other hand, you can make your journal pretty, planned out and organized,
It can be whatever you want.
If you turn journaling into a rigorous writing job, you won't enjoy it as much.
Journaling should be a relaxing and almost therapeutic process. If you prioritize your perfectionism, it will be the exact opposite.
No one has to see your journal aside from you.
So long as what you write down is clear and organized in your eyes, that's all that matters.
Mix It Up with Some Fun Journaling Essentials
Journaling is basically your personal project. There is no right or wrong way when you're thinking about how to start journaling.
One thing I like to do is mix it up with some fun journaling essentials. As a former interior architect, I did a lot of hand sketching and drawing during my career.
I've never lost my passion for testing out various pens, markers and pencils. Here are some of my favorites that I keep in my home office:
You can even pick up some labels and highlighters at your local office supply or art store. Make it fun and really customize your journal however you like!
If you're looking for a new positive hobby to adopt this year, I'd definitely give journaling a try.
It's easy, therapeutic, and can help improve your mental health and wellbeing. Plus, it's fun and can help you stay on track with reaching your goals.
Have you ever thought about journaling? Why or why not?