The holidays are coming up fast. While decorating and organizing wish lists may give you warm feelings, you first need to make sure you're controlling your spending. I don't like to think about money with a scarcity mindset which means I like to stretch my dollar as often as I can.
Instead of creating strict limits for your holiday spending, it may be better to develop a realistic budget then focus on making extra money and maximizing holiday deals and savings. The holiday season is one of the best times of the year to save money on your shopping because there are so many deals to consider.
So how do you get the most bang for your buck and make the most of the savings? Here are some of my best hacks, tools, and recommendations to help you find the best holiday deals this week.
First, Start Stashing Away Cash ASAP
Before we get into the great hacks, it's important to make sure you're stashing away cash to spend on holiday expenses. Nothing feels worse than seeing a great deal and being unable to take advantage of it because you don't have the money on hand.
Instead of borrowing money with your credit card or a loan, it's best to start saving up for the holidays well in advance. Create a budget and estimate your expenses. Then, break up your goal into monthly or weekly increments.
You can set up automatic transfers or you can use an app to help. I love using Qapital to help me save for the holidays because it's easy and painless to use. Sometimes saving money can seem like a hassle and you might forget or just find it unexciting. Qapital is a banking app that also has a new checking account feature. You can either use the checking account and earn interest on your balance or use Qapital to help you save your spare change.
You can set up your own specific savings goals, then every time you swipe your card, Qapital will round up the spare change and save it for you.
For example, if you spend $3.30 on coffee one morning and Qapital is rounding to the nearest dollar, it will automatically take $0.70 to save for you. While that may not sound like a lot, it can add up over time especially if you make a few purchases each day with your card or pay bills.
Another tool you can try using is Digit. Digit connected to your checking account and studies your transactions. Then, the app makes small regular savings transfers to based on what you can afford to set aside. I love Digit because it's effortless and sometimes I don't even realize I saved some much money.
Learn more about Digit here and sign up for a free trial.
Quick Ways to Make More Money
To speed up the savings process, you can always try a few side hustles to help you earn more money. Here are the best flexible ideas that will allow you to make extra cash fast.
Once you start saving some money, you can prepare to take full advantage of the holiday shopping season and utilize some of these hacks.
Break Your Shopping Trips Up
In a perfect world, we'd all get our holiday shopping done in one fell swoop. It's likely that this isn't the reality for most people especially if you like to shop around for deals. You may find yourself shopping at multiple stores and possibly even going back and forth to the same store for various different things.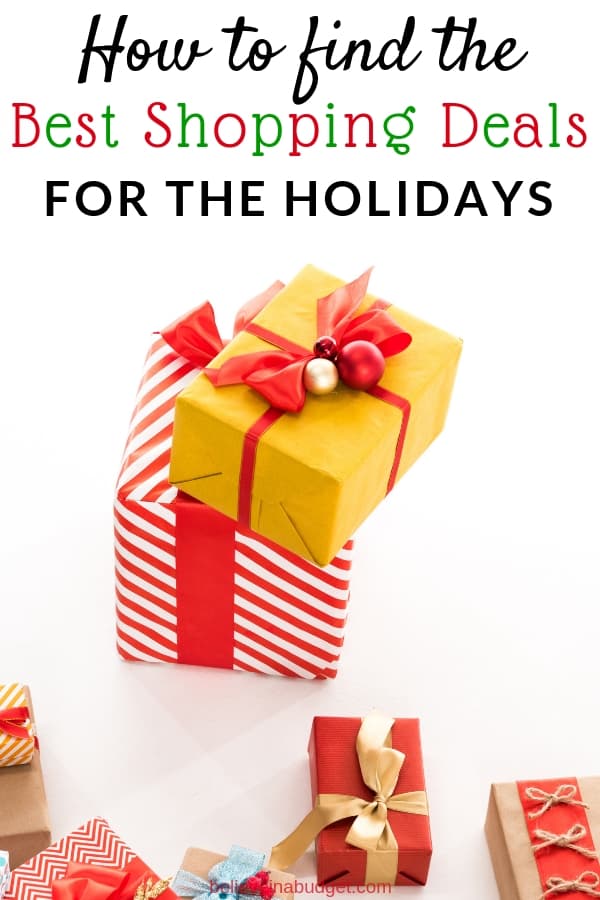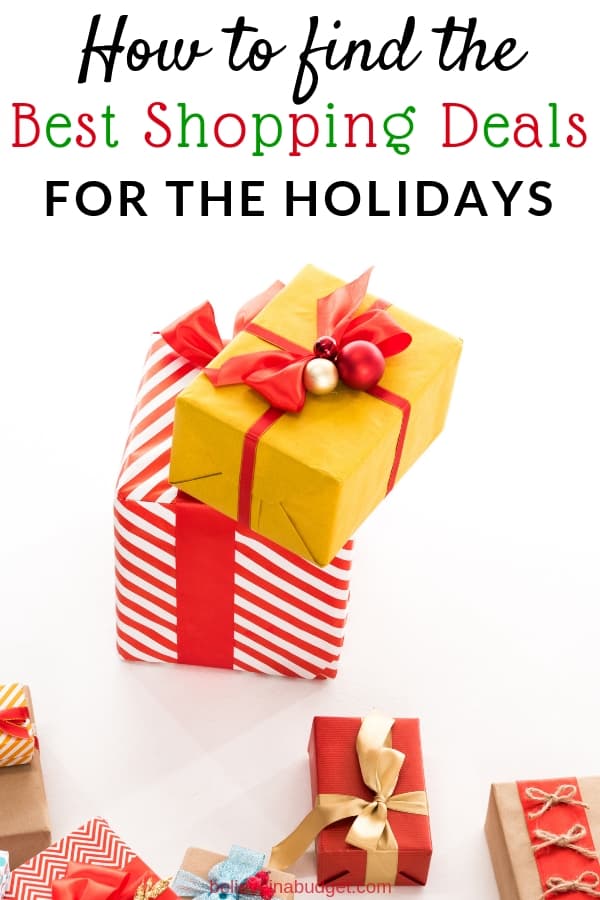 Having multiple shopping trips can actually work in your favor this time around. Most stores will have holiday deals and coupons but the catch is that they give them to you after you make a purchase.
Retailers do this in order to get you to come back.
Even though you just spent $40 in the store, they'll hand you a coupon for a BOGO deal or $20 off your next $40 purchase in the hopes that you'll come back and do more shopping before the holiday are over.
You can beat stores at their own game by breaking your shopping trip up and purchasing just an item or two at your store of choice just to start.
Then, once you receive a coupon or limited time offer, plan to come back to the store and make it a full shopping experience so you can rack up some savings.
Earn Cash Back
Holiday shopping seems like all fun and games until January hits. This is the time of year when most people's wallets take a huge hit.
What if you could actually be receiving a big fat check around this time to replenish your bank account?
If you plan on doing quite a bit of shopping online this year, using Rakuten is a must. Rakuten is a free cashback site that partners with popular retailers to literally pay you to shop. Rakuten offers anywhere from 1% to 10% cash back or more in addition to flat-rate cashback deals.
This beats out most cash back credit cards. To use Rakuten, you can simply shop through their portal by choosing the website you want to visit, or make sure your account is logged in and download the Google browser extension.
As soon as you visit a partner site, an Rakuten cash offer notification will pop up. Activate it and shop as you normally would. After you checkout, your Ebates account will be credited with cash back.
Rakuten pays users what they call 'Big Fat Check' each quarter (as long as you meet the $10 balance minimum) and you can choose to receive a paper check, a gift card, or cash via PayPal. The next check will be sent out to users around November 15th followed by another quarterly payout in January.
If you want to try Rakuten, here's a free $10 gift card to places like Target when signing up!
Use Coupons
You don't have to be an extreme couponer to take advantage of coupons. All kinds of coupons are available during the holiday shopping season. You can stack offers by using online and store coupons to maximize your savings. Just be sure to read the fine print.
If you're planning any holiday parties or looking to buy some holiday decor items on a budget, I'd recommend downloading the free Ibotta app. Ibotta pays you rebates on grocery and household items.
For example, alcohol can get expensive if you're hosting a party. You can use Ibotta to find deals you can redeem so you don't have to pay full price on a nice wine.
Also, don't forget about coupon codes if you're shopping online. Sign up for retailer's mailing lists or join their rewards program so you can get first access to coupon promo codes. If you're planning on taking holiday photos, see which studios or photographers in your area are offering coupons. Get creative!
You can earn free Amazon gift cards by using loyalty rewards programs like Swagbucks and Inbox Dollars and score a few free Christmas gifts for others in the process.
Free 7 Day No Spend Challenge
Join thousands that have saved hundreds with the no spend challenge. Sign up to take the No Spend Challenge for free!
Purchase Discounted Gift Cards in Advance
One commonly overlooked way to maximize savings for your holiday expenses is to purchase discounted gift cards. There is a huge drive for businesses to promote and sell gift cards during this time of year.
Restaurants, retailers, service providers, etc. may all offer discount gift cards or even give you a coupon if you purchase one of their gift cards. You can also check out sites like Cardpool and Gift Card Granny to find discounted gift cards for your favorite stores. Consumers use these sites to sell their unused gift cards for an extreme markdown.
While scoring a discounted gift card can be a great way to save money on a practical gift for a loved one, there are other ways to work this strategy.
Instead of just giving the gift card to a friend or family member as a present, consider using it to purchase some of your holiday items. Shopping with a gift card or a prepaid debit card is a lot safer than using cash or a debit or credit card due to risks like pickpocketing and card skimming.
Price Match
Price matching is basically a practice where one store guarantees to sell particular goods at the lowest price. If you find an advertisement from another store that offers an item for less, the store will match the lower price and sell you the item for the amount listed on the competitor's ad.
There are some restrictions that may apply. For example, the item you want to price match in the store has to be identical to the item in the ad with the lower price. You also can't use any internet ads most times if you're trying to score a lower price for an in-store item, but everything else is pretty much fair game.
Lots of stores have a price matching program and I'm actually surprised that most people don't take advantage of it during the holidays. This is a key strategy to use especially if you're going to be purchasing electronics.
Cell phones, computers, and game systems can be pretty expensive so you want to make sure you're getting the best price. Price matching is a great strategy to use on Black Friday if you don't want to go to multiple stores to take advantage of their individual deal.
Just find a store that price matches and has all the items you need in stock so you can still get the same deals but consolidate your store trips.
Seize the Opportunity to Save More
There are so many opportunities to find the best holiday deals and maximize your savings regardless of what your budget looks like. When you learn how to shop smart and take advantage of holiday deals, you won't have to worry about the risk of overspending or getting into debt.
✕
The Side Hustle Challenge
Join a tribe of people that learned how to earn hundreds (and even thousands) of dollars in side hustles!
Related reading:
Have you created your holiday budget yet or got a head start on shopping? What's your favorite way to find the best holiday deals?