If you like custom phrases on glassware or clothing, I found an amazing creator that started her very own vinyl business.
Custom vinyl prints can be in the form of words, logos, patterns and more!
I am so excited to interview Jenny, who started her business from scratch just a couple of years ago.
Hi Jenny! Can you share a little about yourself and your vinyl business, Vulpine Vinyls?
Hey there! I'm Jenny, and I'm the owner of Vulpine Vinyls. We're a small vinyl business focused on novelty and gift items. I run the business out of my home in Milton, Vermont.
I started Vulpine Vinyls during a time when my mental health was at an all-time low. It was January 2021, we were going on year 2 of the COVID pandemic, and I worked the night shift as an emergency dispatcher and call-taker. It was an incredibly stressful job in a very toxic work environment.
The vinyl business became a great stress reliever for me. Given how quickly it took off, I started having hope that I could actually make it my full-time job. I found another job in March of 2021, moved to part-time work in September, and made Vulpine Vinyls my full-time job in November!
I love how your current business started as a rebrand of an old Etsy shop. How did the rebrand happen?
I've always been a creative person, and long term I wanted to own my own business. My grandmother taught me to crochet when I was 11-12 years old. I continued to do it in my free time whenever possible.
Since the yarn is so expensive, I started an Etsy store in 2016 to sell some crochet items to fund my yarn purchases. My best seller was this enormous elephant rug. But I soon realized that the amount of time invested in making the item resulted in very low profits for most projects.
I started to shift to making my own crochet patterns. But they take a lot of trial and error to create, and I just didn't have the time to dedicate to them.
So eventually, I stopped investing much time in my Etsy store and just sold a few patterns here and there.
Then, in December of 2020, my mother and husband gave me a Cricut machine for Christmas. I was so excited to start playing around with it. I started working on some personalized boxer briefs as my husband's Valentine's Day gift.
I'd showed some photos to my co-workers, who recommended I start selling some of them on my Etsy shop. I started with one listing for the boxer briefs in January. They took off during January and February for Valentine's Day.
I worked full time and fulfilled orders in the evenings and weekends. I loved every second of my busy days. After the Valentine's Day rush, I decided to add women's underwear to the mix. And I designed some matching couple's sets as well.
From there, I jumped to projects involving adhesive vinyl instead of iron-on vinyl. I started making punny plant pots with sayings like "I wet my plants" and "I soiled myself."
Since then, I've added glass cups, mugs, tumblers, pet bowls, socks, baby bodysuits, and labeled pantry containers.
I've recently purchased a laser engraver and plan to add laser engraved cutting boards and cups to the shop soon!
Were you working with vinyl much before you started the shop? Or have you learned more about vinyl as the business has grown?
I had absolutely no experience with vinyl prior to starting my business. It was very much a learn-as-you-go experience, and it's not necessarily the way I recommend starting a business!
YouTube tutorials were very helpful as I was starting out, and I tested different types of vinyl to figure out what worked best for me.
I see you have both an Etsy shop and a Shopify store. Which platform do you prefer and why?
Etsy and Shopify both have their pros and cons. Etsy is a marketplace, so you already have people on the site looking for items like yours.
When it comes to your own independent website like mine with Shopify, you have to be able to drive traffic to your store via advertising or social media. I don't have a huge following on social media, so for now, Etsy is preferred until I'm able to drive more of my own traffic.
Another difference between Etsy and my website is your customers' brand awareness. When folks purchase off Etsy and are asked by friends or family where they got their item, they'll often say, "I got it off of Etsy!" instead of "I got it from Vulpine Vinyls!".
As a result, people will go to Etsy and possibly purchase from a competitor. When someone purchases from your website, they're more likely to remember the name of your business and recommend you by name to others.
You also sell wholesale on Faire. How does the wholesale side of your business compare to the retail side?
I just started selling wholesale in May, and so far, it's going really well! I'm so excited and honored to have my products in 61 small shops worldwide!
Selling wholesale is a whole different experience than selling retail. Many of my retail items are personalized and take a lot more time to create due to this.
With wholesale orders, I get orders for larger quantities of the same item, so it's much more efficient and easier to get in a rhythm while you're making them.
However, I think I'll always prefer retail over wholesale due to the personal connection with my customers. I check in with all my customers after their order is delivered to ensure everything arrived safely and is as expected.
People often share a story about the gift recipient opening their gift and their reaction to it, and I love hearing how their order helped to make it more special for them.
Knowing what you know now, what advice would you have given to yourself at the beginning of your vinyl business journey?
If I could have given myself some advice when I was just starting out, it would be to take it slow, focus on similar products, and not diversify too quickly.
I was so excited to start making different things that I branched out much faster than I should have. As a result, I had a lot of inventory and didn't allow myself the time to create good workflows before adding a new product with a whole different manufacturing process.
Where do you see Vulpine Vinyls in five years?
I have high hopes for Vulpine Vinyls over the next five years. I hope to continue to grow and start hiring additional staff.
Long term, I'd love to open a retail space, but it's not as likely to be successful in my location since we are rather rural.
Additionally, I would love to see Vulpine Vinyls evolve past vinyl and into more permanent materials such as sublimation and laser engraving. I love creating with vinyl, but currently, my cups are handwash only and can't be microwaved.
I'd love to be able to offer a more convenient product for my customers that they don't have to treat as delicately as my current items.
Author Bio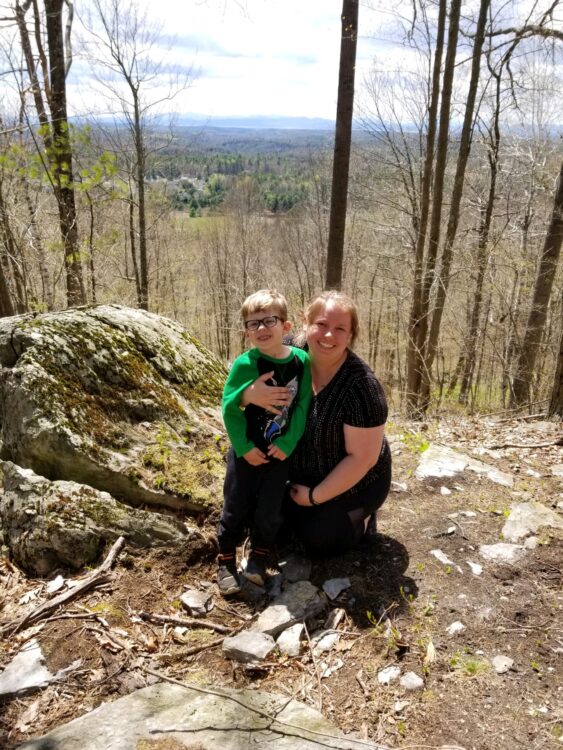 Jenny is the owner of Vulpine Vinyls, a small business based out of Milton, Vermont. The business was born out of an idea for a sassy Valentine's Day gift for her husband and has evolved into the naughty, punny, and sometimes wholesome store that it is now.
Before starting Vulpine Vinyls, Jenny worked full-time and attended school part-time, graduating with a bachelor's degree in business management from Northern Vermont University in 2018.
Jenny didn't know what the heck she wanted to do with her life, so she spent 5 years working in various roles at the Community College of Vermont, following in her mother's footsteps. Looking for fulfillment and purpose, Jenny then made the terrible decision to work an extremely stressful job as an Emergency Dispatcher and 911 Call Taker with the Vermont State Police.
In January 2021, Jenny started Vulpine Vinyls and finally felt the fulfillment she'd been searching for. In March 2021, Jenny got a new job, where she worked until she could make her business her full-time gig in November of 2021.
When not working, Jenny enjoys spending time outside with her husband and son, crocheting, and reading.