Here is my annual blog update and review of how my businesses and blog performed in 2019, as well as some personal news.
This is a great way for me to review my entire year and discuss my goals, accomplishments and more. It's also a way to share the not-so-great things and keep it real and authentic.
I continue to struggle with how much personal experiences to share versus keeping it professional. In the early days, I was much more personal with my blog posts.
I started off only using my first name and it took my about six months to share my full name and a headshot.
After five years, I've definitely maintained some privacy but have found a nice balance between the online world and real life world.
I'm excited to share what I have been up to this past year when it comes to my professional life and personal life!
What Happened to My Online Income Reports?
The major difference in 2019 versus previous years was that I did not publish any online income reports in 2019.
This lead some people to believe that I actually stopped blogging. This could not be further from the truth.
I was simply tired of writing them because they would often take me an entire day to compile data, verify numbers and felt very repetitive each month.
In 2018, I started having mixed emotions about income reports. In the beginning, they brought me a lot of joy. I was able to share how my blog was growing, how my online businesses were becoming more successful and it was a lot of fun.
Once my income started skyrocketing each month, I got nervous and dreaded writing a report each month. I was worried people would judge me and think I was bragging about my income.
I felt like even though I was evolving and growing, maybe readers weren't on the same pace as me and would no longer feel I was relatable.
The other factor was that as much as I tried to separate the two, my personal life and online life started overlapping more and more. This was one of my biggest fears.
Would someone in real life that I really don't even care about find out what I did for a living, look up this blog and judge me based on my monthly income?
While I received primarily great feedback about sharing my income, there were always a few haters.
Once I stopped sharing income reports, people came out of the woodwork and emailed me, asking if I would continue them. Overall, it was a tough decision.
Switching to an Annual Blog Update and Yearly Business Income Report
In mid-2018, I wrote my last monthly online income report. Income reports have been a large part of my blog.
They have helped motivate and inspire me. It's also been a diary of sorts that has allowed me to go back and look at where I was at any given time.
If you have been scared to start a blog for whatever reason, this blog post will help you overcome your fear of blogging.
When I first started my blog in 2015, I went four months without making any money and that was ok! You can't expect to start a blog and become successful overnight.
Instead, I put my time and energy into my blog and treated it like a business from the beginning. I went from $0 to making $60 in my very first online income report.
This is my favorite income report of all time because it shows how I went from zero dollars to something!
Monthly income reports were written for my first four years of blogging, with nearly fifty online income reports in total.
However, I decided to finish 2018 by writing a 2018 annual online income report and business update.
This felt like great closure on the era of writing blog and business income reports. Writing an annual blog update is really helpful for closure as well and helps me wrap up the year.
Previous Income Reports
If you want to see how my blog has grown over the years, my income reports are the best way to track my progress.
These are really helpful if you want to start a blog, have a blog but aren't making money, or have an income-producing blog but want to up your game!
While these aren't all of my income reports, here's a few so you can see how my income has grown over time:
You can find all of my income reports here if you would like to see every single monthly report from 2015 through 2018. Some of the December reports also include the monthly report as well as an annual blog report all in one.
I also recommend grabbing these (mostly) free resources if you would like to make money blogging:
2019 Annual Blog Income Update
While I won't be dedicating an entire blog post to this, I am ok with briefly sharing some numbers from 2019.
Between all three of my businesses, it's safe to say earnings were over $700,000 this year. That's an increase of 40% from the previous year. Expenses were still as lean as possible, as you know I'm all about budgeting and watching where expenses go. Income sources:
Products/courses
Affiliate marketing
Ad revenue
Coaching
Pinterest management/consultations
Sponsorships
My goal was to work smarter, not harder.
Let me tell you, it's still a learning process.
I am constantly finding ways to streamline my work. I worked an average of ~30 hours per week. Some months, I put in a lot more hours depending on if I was working on a big project.
I also had some major pre-planned downtime in the spring and in November and December. This is so interesting because, in the early days, I was hustling 24/7 to grow this blog.
Making my first $100 blogging was a lot harder than making my first $1,000, $10,000 and $100,000. I had to put in the time and work hard to reap the benefits down the road – there are no shortcuts!
Reviewing Previous Years
Here are some more blogging data and numbers from Believe In A Budge dating back to when I launched the blog in 2015.:
In 2015, my income was $12,895.85 (I was still at my full-time day job for most of the year)
In 2016, my income was $90,302.12 (my first year of being self-employed)
In 2017, my income was $289,462
In 2018, my income was $511,986.82
In 2019, my income was @ $725,000 (still waiting on exact numbers from the accountant, but this is pretty close)
As you can see, each year income has increased. There's no way I would have seen growth like this at my day job.
When I look back at this blog post about a day in the life of a part-time blogger, it brings back so many memories. I can instantly re-live the entire blog post about how hectic it was trying to work full time, commute, side hustle, and blog.
I wrote this post sharing how I launched a profitable blog and what I did month-by-month. This post is worth the read because it answers one of the most common questions I get asked, which is how have I made money blogging since I started my blog.
It includes about 18 months of blogging income and where all my income came from.
The other factor that helped start it all was offering Pinterest virtual assistant services. You can read about how I got my start here thanks to my blog.
I also recommend checking out these resources if you would like to make money online:
Where My Blog and Businesses Spent Money
As I mentioned before, I try to run a lean business with low overhead. Believe In A Budget operates really well like this, where as Harpeth Trading and Pinterest VA need extra support. Here's where some of the expenses went this year:
Some of this income was split 50/50 with my BFF and business partner at Pinterest VA.
Team members (really blessed to have found some amazing people)
Affiliate payouts (always the best kind of expense to pay)
Pinterest, Facebook, and Amazon ad expenses (by a landslide, Pinterest ads had the best ROI at just ten cents per click)
PayPal, Stripe, Amazon, and Shopify (the amount paid in fees is insane)
Accounting (in the beginning I did this myself, but have paid a firm the past few years to handle my books and my tax returns monthly as it's too complicated at this point)
Lawyer
ConvertKit, Constant Contact and Drip (yes, all three were used for newsletter/customer management)
Hosting, domain purchases and renewals
Travel for work
While not a direct expense and everyone has different retirement and savings needs, here are additional expenses:
Sending payment to the IRS money for quarterly taxes
Health insurance (I have a better plan being self-employed than I did at my day job!)
HSA account (I use Lively, which is free! Here's $25 when you sign up.)
Retirement, investing and savings
I'm probably forgetting something, but you get the idea.
If you read my income reports, you will notice in the early days I had no expenses except hosting and picking out a blog theme for my site. While the above seems like a lot, this is covering three different businesses!
I Sold Harpeth Trading
I didn't see this coming!
Earlier this year, I came to the conclusion that I was too busy and something had to give. Between Believe In A Budget and Pinterest VA and my personal life, Harpeth Trading was not getting the attention it deserved. Even though sales were coming in steadily, I just didn't have the time to spend on it.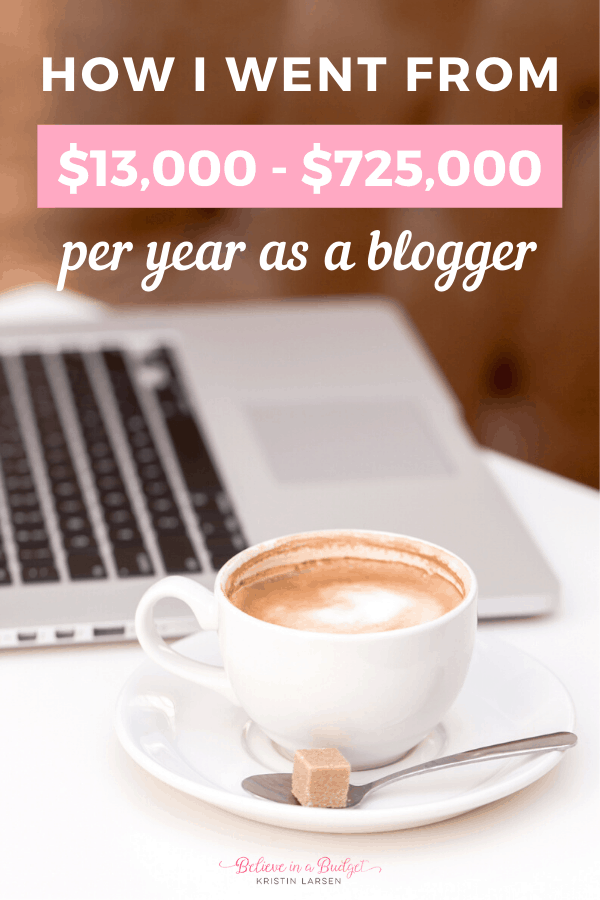 I received emails about other businesses wanting to collaborate with me and even purchase wholesale, but I was no energy and it was just hard to keep up with!
So there are definitely opportunities I missed out on, but it everything happens for a reason.
I floated around the idea of selling the business and within a week of putting out some feelers, a company reached out and asked to purchase it.
It happened really fast!
The process was simple and took about a month. We had a lawyer draft the paperwork, had a few meetings and it was done.
I'm a little sad because this was my first venture into creating physical products, but I can add so many more skills to my resume for the future!
Working with manufacturing, designing and creating products, advertising learning Amazon FBA…the list goes on and on.
I did not include the sale of Harpeth Trading in the above.
It was a one-off source of income and not part of my regular monthly income.
I'm excited to see where Harpeth Trading goes because the company that purchased it has done some amazing things with their other products and it's in good hands.
2019 Highs and Lows
Transitioned from Side Hustle Mode to…Not Side Hustling?
After four solid years of side hustling, working hard and around the clock, it was time to slow down.
While I needed to side hustle in order to become successful, it was time to rest. In all honesty, my first full year of blogging was a success and financially, similar to what I would have made at my day job.
I probably could have been satisfied with this, but I knew I had plenty of room to grow. Plus with only a year of full-time self-employment under my belt, I was in no position to slack off.
Fast forward a few years of maintaining 'side hustle mode', it was time to shift gears. At first I felt like I was in a slump. I didn't want to work all the time.
I had already adjusted my schedule to work primarily Monday through Thursday, so I couldn't figure out what was going on with my brain. It took some time to figure it out, but my BFF and business partner Gina Horkey (Horkey HandBook) suggested that it was possible I was just shifting out of the hustle mode.
Clearly this was a new feeling, ha!
Prior to starting Believe In A Budget, I had been side hustling for years in addition to my day job. The whole reason Believe In A Budget got started in the first place was to share my side hustling stories, so this was a big adjustment!
I Worked On My Business, Not In It
While I worked less last year than all my previous years, it didn't mean I was producing less. It was the opposite!
I had been setting myself up with smarter strategies, like streamlining workflows, automating systems and outsourcing tasks so I could focus on the bigger picture.
Pinterest ads provided a major boost in income. If you want help with promoted pins (or any Pinterest service), this Pinterest VA finder is free to use.
I focused on booking more podcast interviews, working with affiliate programs and worked on growing my blog, not in it. There's a big difference.
When I work on my business, I can focus on where I want to grow and be in six months or one year. I have more creativity and can focus on the big picture.
When I work in my business, I'm slowed down by things that don't necessarily provide the best ROI, like checking my inbox a few times a day or doing small, trivial tasks.
Learning what makes me the most money has helped me figure out how to hire a virtual assistant for specific areas in my business.
Of course, all the above took time.
None of this was figured out overnight! I had to DIY things to save money and work in my blog and business in the early days. This helped me learn and educate myself about so many things, which is really important if you are a blogger or want to start a blog.
I Invested in More Time for Myself
My word of the year for 2019 was nurture. I think we are all guilty of not spending enough time on self-care.
It's an on-going struggle for me to realize self-care is good for my mental health and it's not indulging or being selfish.
I listened to my body and tried all kinds of different massages. While I once thought this was a luxury, it really became a necessity. My doctor told me my body was stressed out and regular massages were a must.
Adding in daily walks, hiring a personal trainer to help me start weight training and scheduling pedicures here and there were all welcome additions.
Of course, all of this involved adjusting my budget. I took advantage of coupons with everything! I searched Groupon and checked out company websites for deals. I tracked my spending.
I tend to have the mentality of 'add one, remove one' when it comes to my budget. This means if I'm adding something new to my budget, I need to remove or adjust something else in my budget to keep things balanced.
Now this isn't always possible if you are on a tight budget. For me, it meant that if I added in a massage, that was one less dinner out!
I Sold My Florida House and We Built a New Home!
The first few months of the year were spent in Florida fixing up the rental home and selling it. I purchased this home right after college. Looking back, it's hard to believe I was only 24 years old at the time!
Living out of state, it was just time to move on and sell it. While some people thrive at being landlords, it's just not my thing at this time.
While I would have loved to have turned it into an Airbnb and become an Airbnb host, it just wasn't the right neighborhood.
The Florida house sold and closed quickly in just under 45 days!
After living in middle Tennessee for the past few years and getting to know the area, it was time to stop renting and purchase a home.
While we had been looking at land (5-10+ acres) for the past couple of years, it was really hard to find anything. When it comes to land, I feel like we have to really love it or else we will be stuck with it.
Looking at existing homes was ok, but nothing really caught my eye. Instead, it made more sense to build new so we could make all our own selections and get exactly what we want inside the home.
Most of the year was spent building and we moved in around the holidays.
Note to self, moving in around the holidays was exhausting. Next time, this needs to be planned better.
I Went Offline With Social Media and Have New Content for 2020
I decided not to share the experience online at all last year, instead documenting the journey and sharing it all in 2020.
Aside from a couple posts on Instagram, we enjoyed living in the moment and kept it to ourselves. I've got plenty of blog posts lined up for this year that include selling my Florida house and building the new home.
This includes things like how I decided what upgrades to make to the Florida home, why we decided to build, the costs associated with building versus purchasing an existing home, where our money went with the new house, furniture decisions and more.
We were definitely budget savvy on some things and splurged on others! It will be a new topic on Believe In A Budget, but a nice way to share some more personal stories, which many of you have asked for via email.
I Got in a Bit of a Funk
Emotionally, 2019 was an up and down year. Looking back, I had a lot on my plate.
Selling the Florida house and building the new home was a big process. Working with contractors to make repairs and updates, especially while out of state, took a lot of trust and time management.
I had a couple of fertility appointments and testing done, but put put that on pause towards the middle of the year, with the goal of revisiting it in early 2020.
My sweet dog started having seizures (the first time she had one, it might have been one of the scariest things I've ever dealt with) which after some testing, was a sign she had a brain tumor.
With the brain tumor, there were two options. We decided to go all-in and do an aggressive form of radiation. Right now we are in the recovery phase. This was super expensive, but fortunately thanks to savings (I used up my pet savings fund and tapped into my general savings fund), we were able to pay cash and not go into debt.
And being 100% vulnerable, we had some really deep conversations at home about what's it's like for me to be a female and be the breadwinner. This was a topic that never crossed my mind that could be a big deal, but it was for the other person.
As an animal lover, I made a point to donate to different animal charities throughout the year. I wish I could give more of my time as well!
I also really struggled with emotions and going down rabbit holes and would think about hard situations for days at a time. We donated to various animal charities that ranged from being close to home to around the world.
My local friends were doing amazing things and we didn't hang out as much in 2019 as we did in prior years, but it's all because we are busy.
Sometimes when I think about all the amazing women I'm friends with, I feel really fortunate to have them in my life. Having my girlfriends to lean on and support each other is a must, and we've already marked our calendars for get togethers.
Anxiety and panic attacks decreased some compared to the previous year, but I've accepted it as a part of life. I worry about helping everyone and being the go-to person for help was overwhelming at times.
I'm working harder this year on saying 'no' and scaling back my involvement. If you are Type A, you know what I am talking about. We spent more time with both sides of the family, which is always good. Now that we are in a bigger home, it's so much easier to have family come and stay with us.
We Surprised My Dad with a Disney Alaskan Cruise for a Milestone Birthday
Ah, this is the best! My brothers and I saved and planned, and we were able to completely surprise my dad with a Disney Cruise to Alaska.
This was something on his bucket list, and it makes all of us feel really great that we were able to do this! My parents were totally shocked in the best possible way, and this is one of the best perks of being self-employed.
What to Expect in 2020
I'm still mapping out all my goals for 2020, but my main goal has stayed consistent each year. If I can keep my income at the same level as the previous year, that would be awesome. If there is growth, that's a bonus!
New Web Design and Blog Content
Believe In A Budget is getting a makeover. While we're upgrading content on the back-end, chances are as a reader, you won't notice a new 'look' until this fall.
Yes, I already have all this planned lol. After polling my audience, many of you want me to keep writing about the same topics but to expand on them in even more detail, along with sharing more personal experiences. Ok, you got it!
KristinLarsen.com Will Be Live Later This Summer
I've had some requests for coaching, but not sure how to tie it in with Believe In A Budget. Since I've owned KristinLarsen.com forever (it redirects to Believe In A Budget), it's time to make that happen.
I've been asked for help with a lot of different topics, so I'm trying to best figure out how to narrow that down and how to best serve as many people as I can!
A New Course Will Be Released in the Future That is Dog-Related
Yes, you heard that right! Long before Believe In A Budget, I had a pretty good side hustle at something dog-related (not dog walking).
It's completely different than anything available and a great side hustle that can be done in-person or online. I want to share what it is, but I'll let you know later on as it is ready to go live. Yippee, this will be a fun one!
I'm Still on the Fence About Social Media
Twitter, Instagram, YouTube, TiKToK, podcasts…everyone has a favorite. Aside from Pinterest (which I don't consider to be a social media platform), I don't have a favorite platform!
Many of you told me that you still love to read blogging content, but all major news sites state that video is the way to go. I haven't decided which platform is my favorite and the best way to go about marketing myself.
I love connecting one on one and in a group setting, which leads me back to coaching. The struggle is real, but I need to figure out the best way to help reader outside of what I am doing now. I feel like if I'm going to commit to a platform, I have to be 100% invested. So far, I don't know…
That's a Wrap
Another year, another blessing. Hard work pays off. I love what I do and can't imagine not being in the online world.
If you had told me in 2014 that I was going to spend the second half of the decade self-employed and growing a blog and business that helps people, I would have told myself Yes! Do it! What are you waiting for? Your best life is about to start!
[convertkit form=5202420]
What is One thing You are Scared To Do, But Want to Try in 2020?