On a recent vacation, we decided to rent and live in a tiny house for several days! While we could have taken the traditional route and stayed in a hotel or resort, I really wanted to see what it was like to stay in a tiny home.
Fortunately, we had no trouble finding a tiny house for our vacation!
Why people want to live in a tiny house
There are so many reasons people want to live in a tiny house.
Tiny houses are not only trendy, but they are really changing the way people think about housing.
Tiny homes are becoming a new way of living for so many people, and I love some of the reasons behind why people are shifting to tiny homes:
Lower cost of tiny home vs purchasing a regular home or renting
Ability to travel and transport home anywhere!
Adopt a more minimal lifetsyle
Less carbon footprint
Downsizing
What it was like to live in a tiny house while on vacation
While every tiny home is different, here's a few pictures of what our tiny house looked like on the exterior and interior. Of course, I forgot to take pictures of the bedroom and loft, but you get the idea below.
It was bigger than I thought it would be; roughly around 350 square feet, which includes the loft space.
Here's an exterior shot. We had a small driveway, cute but tiny front porch and tons of windows!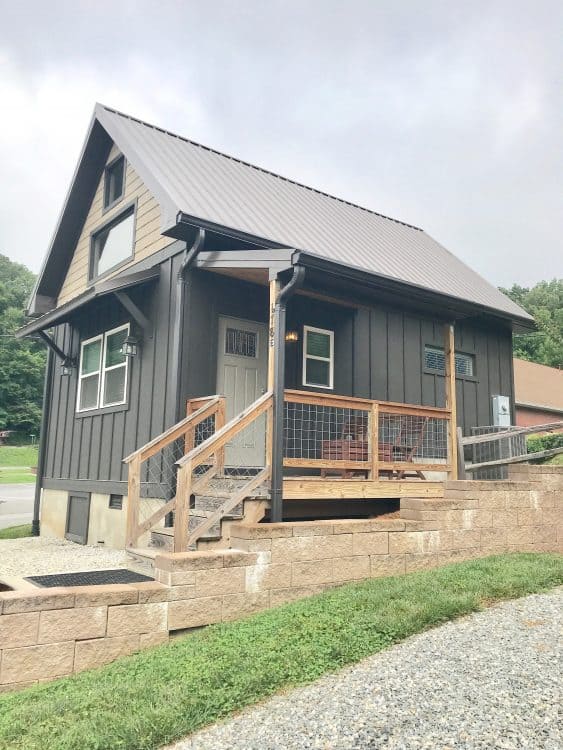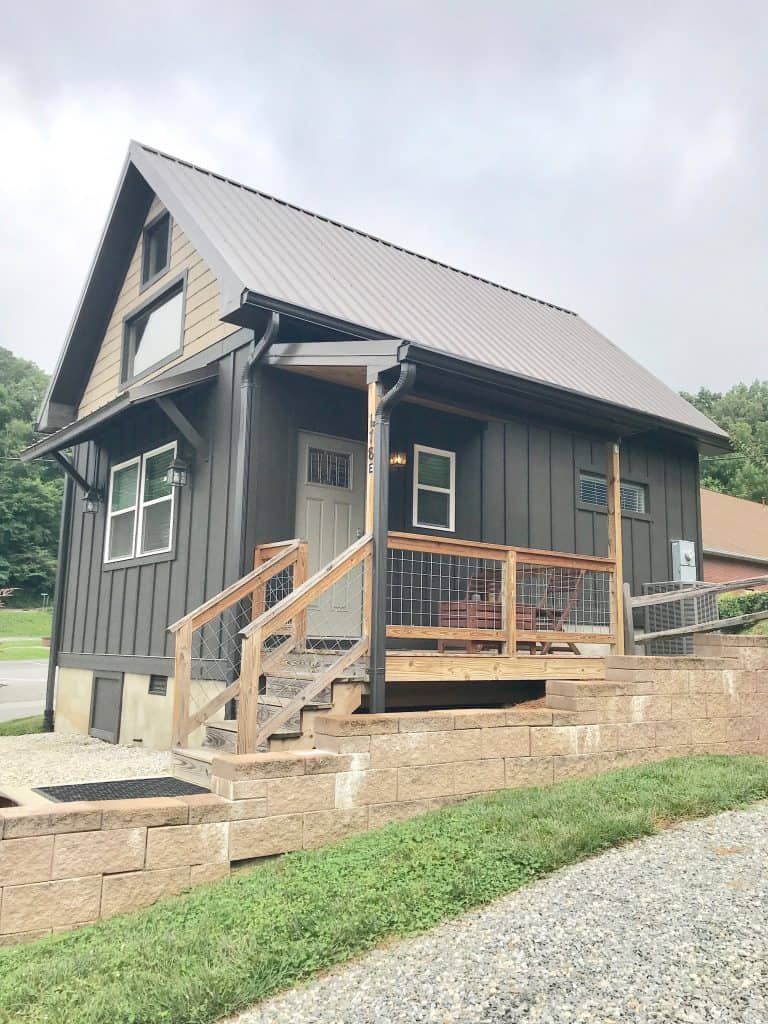 Part of the reason the space felt so big was because of the 20 foot ceilings! I never imagined a tiny home having this kind of space, so we were totally surprised.
We also loved the ladder. It was fun and didn't take up much space.
While it was no problem for us to get up and down into the loft space, which was a living room and could have doubled as an extra bedroom, it could be an issue for small children!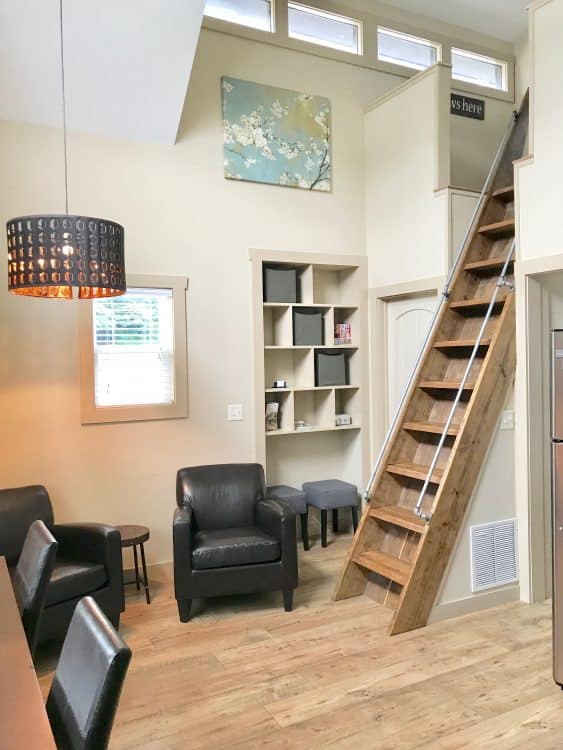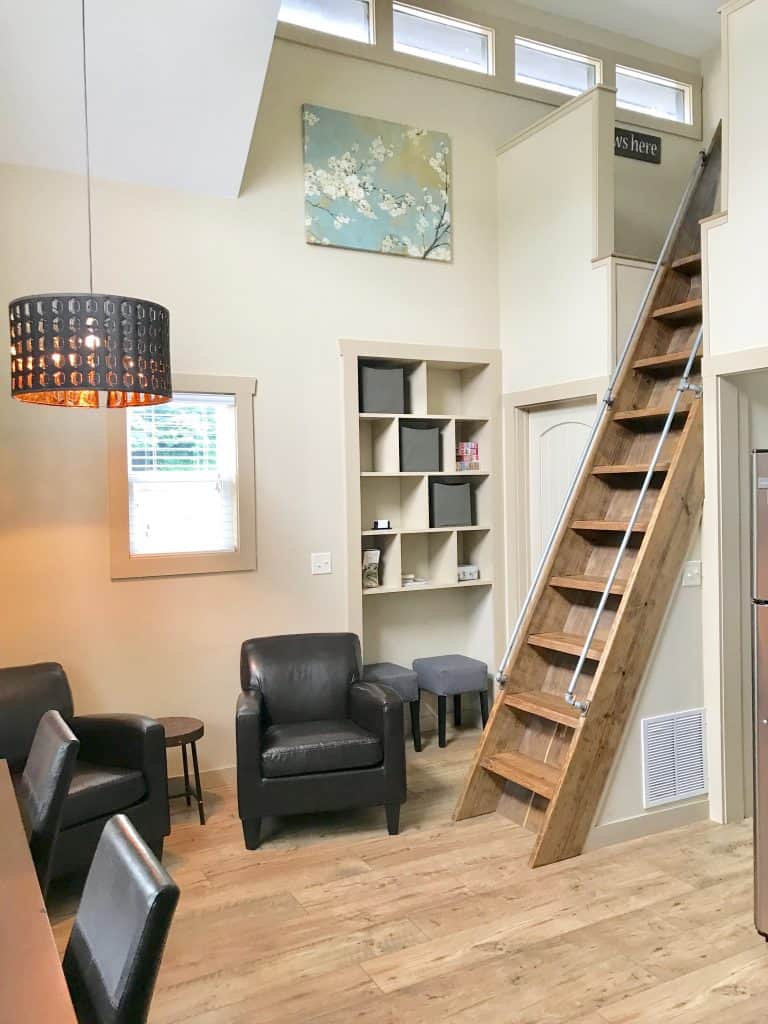 The bathroom was amazing and I'm so glad it wasn't small and cramped. It was a full size bathroom with a rainhead shower, a window and glass enclosure, which made the space feel even bigger!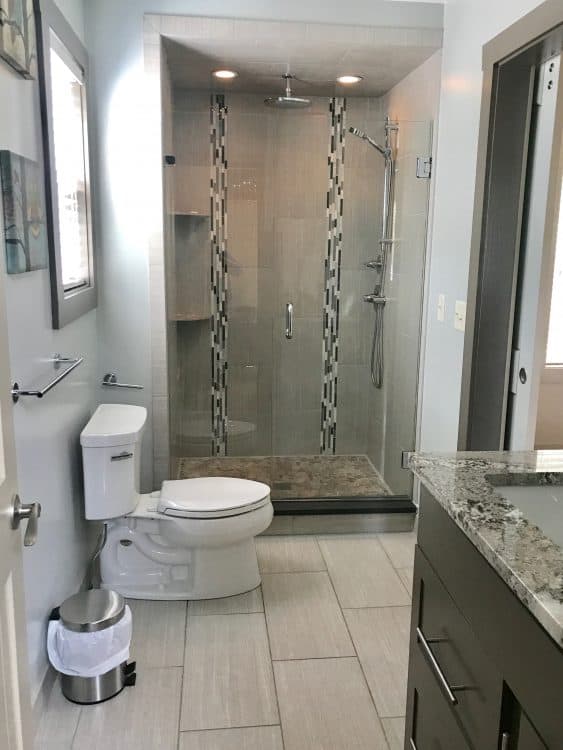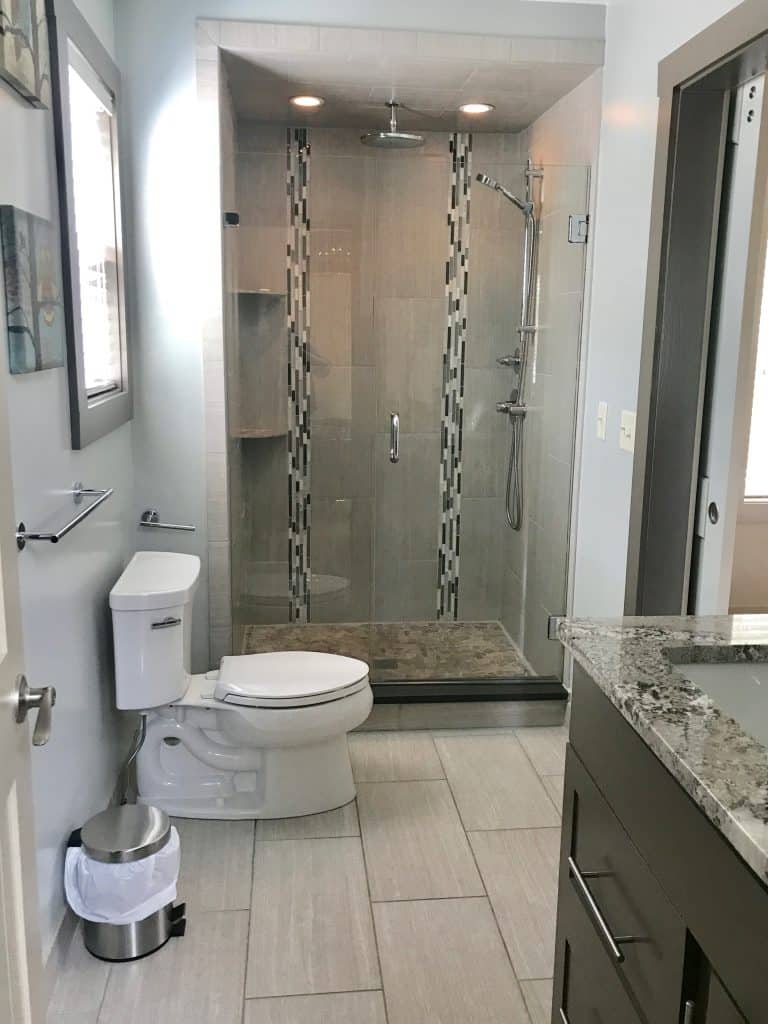 Here's a list of some of my favorite things I liked about the tiny home!
There were so many great things about staying in a tiny home on vacation.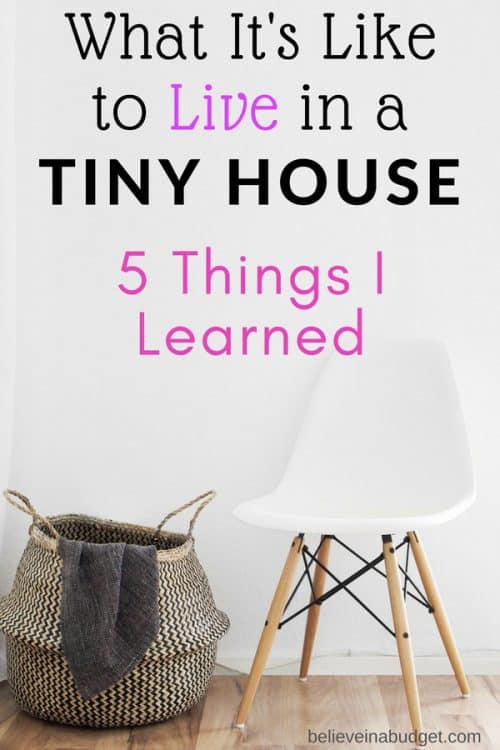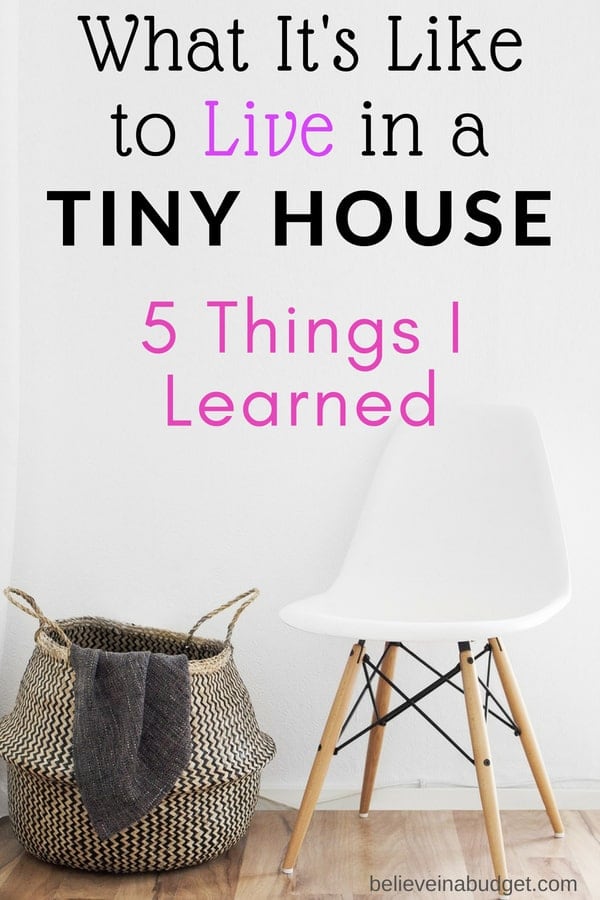 1. There are tiny homes that are designed and built to be mobile and on wheels, but I specifically wanted to find a tiny house that was a fixed, permanent structure and felt like a small home.
2. The tiny home had similar features you would find in a house!
The kitchen had granite countertops, stainless steel appliances and nice cabinets. The bedroom had a queen size bed and the bathroom was huge.
The high ceilings made the space feel so much bigger.
The light walls and floors, along with a lot of windows, made the space feel larger than it was.
Because of all of this, we never felt cramped for space or claustrophobic.
3. Every area in the tiny home had a purpose. I'm a minimalist, so being able to live in a tiny house for vacation was a dream come true!
Although this was a vacation house and not a true 'home', I definitely tried to envision what the space would look like with all of our stuff.
I would still need to cut down on on my belongings and be purposeful about what we could keep and what we would need to ditch.
4. There is less to clean. Cleaning a house each week can be a major time suck. With a tiny home, there is less house work.
5. The price.
If I were to build a home or buy an existing house, building a tiny house can be extremely affordable option! In addition, furnishing a tiny home would cost so much less than trying to have furniture for an entire home.
I think with a lot of careful planning, we could live in a tiny house depending on what stage we were at with our life.
How you can vacation and live in a tiny house
Here are the exact steps to find and live in a tiny house on vacation!
We found our tiny home through Airbnb. You can sign up here and receive a $40 credit.
Select your location.
Next, scroll down and select Unique Homes > Tiny House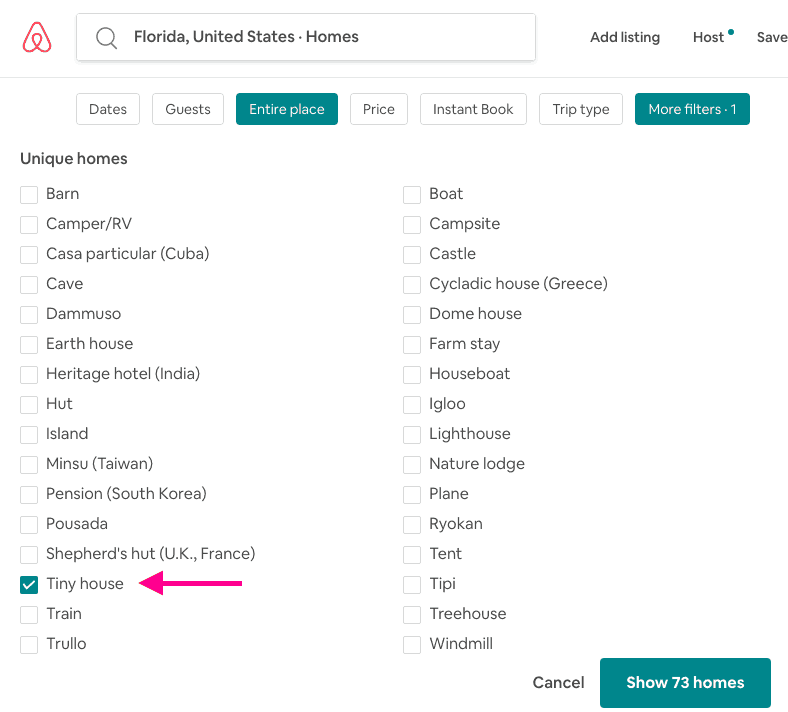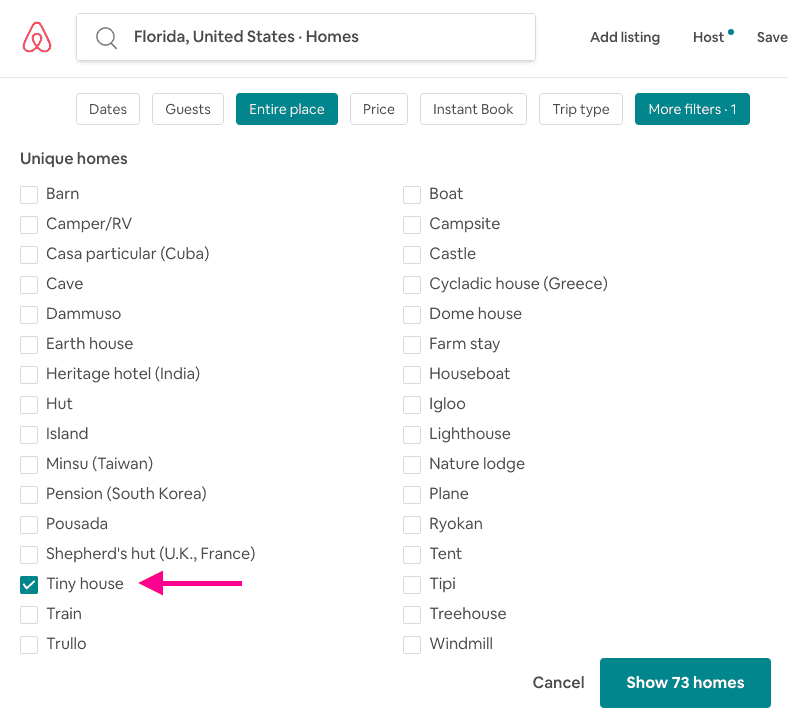 Next, you will see a list of tiny homes to choose from. All you have left to do is select your tiny house dream home for vacation 🙂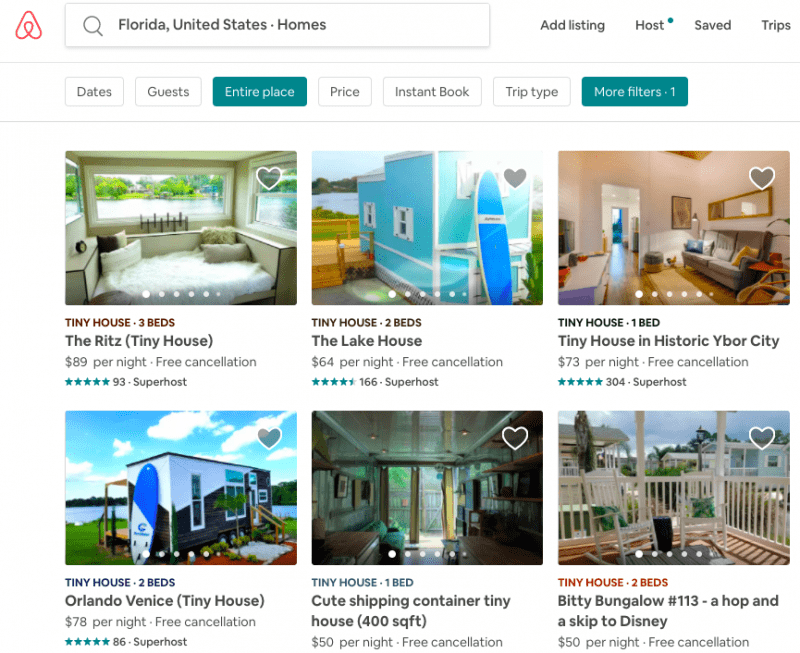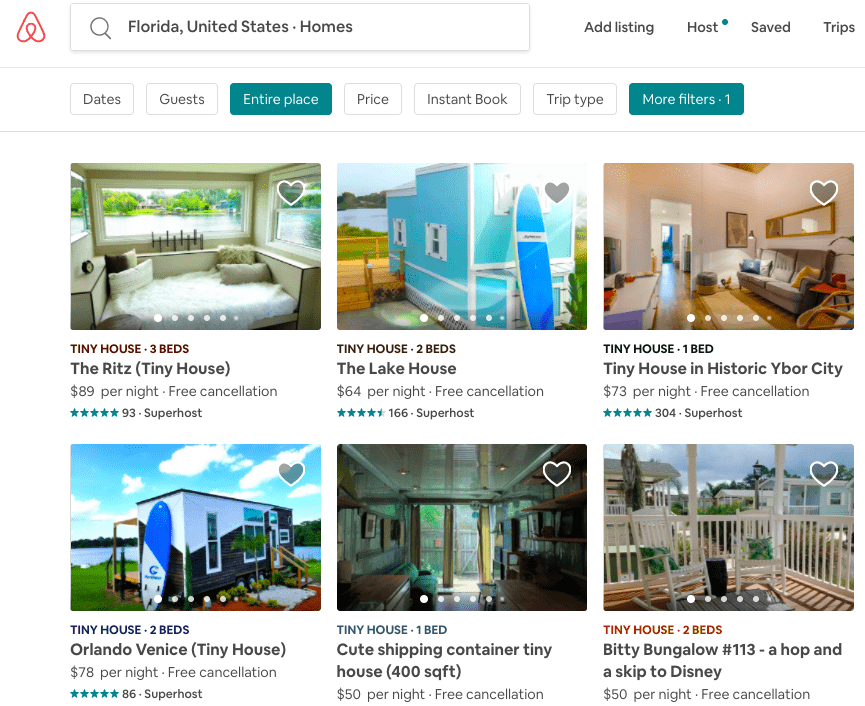 Would I ever want to live in a tiny house?
I'm really into tiny homes for various reasons. I think they are a great alternative for people that want an untraditional home life and perfect for people of all ages.
I think with careful planning and the right location, I could live in tiny house. I'm pretty organized and don't like to have a lot of 'stuff', so I would be a great candidate for a tiny home.
Unfortunately, I'm not really in the right mind-set or phase in my life where a tiny home would make sense. This would be especially challenging for someone with a family and pets 🙂
Bottom line
I love tiny houses! I think we will definitely plan to vacation and stay in another tiny home.
I can also envision building a tiny home on a property that would be perfect for visitors, like family and friends. It's such a fun and unique experience!
Related reading:
Would you ever live in a tiny house?