Do you travel during the holiday season? Travel at any time of year can be hectic, but it can be extremely stressful and costly during the holidays if you aren't prepared. I am going to share how you can budget for holiday travel and save money!
Whether you're going to see family for Thanksgiving or planning to bring the new year in at Time Square, traveling during this time of year requires quite a few hacks in order to maintain your sanity.
Start Planning Early to Budget for Holiday travel
This should probably go without being said, but you don't want to procrastinate planning for travel at all especially around the holidays.
The holiday season is hectic and there's almost always an unexpected slowdown whether it's at the airport, with your rental car company, traffic, etc.
Don't wait until the last minute to decide you want to fly out and see family for Christmas and instead get stuck at the airport all night. Situations like that will only stress you out and cause you to spend more money out of convenience.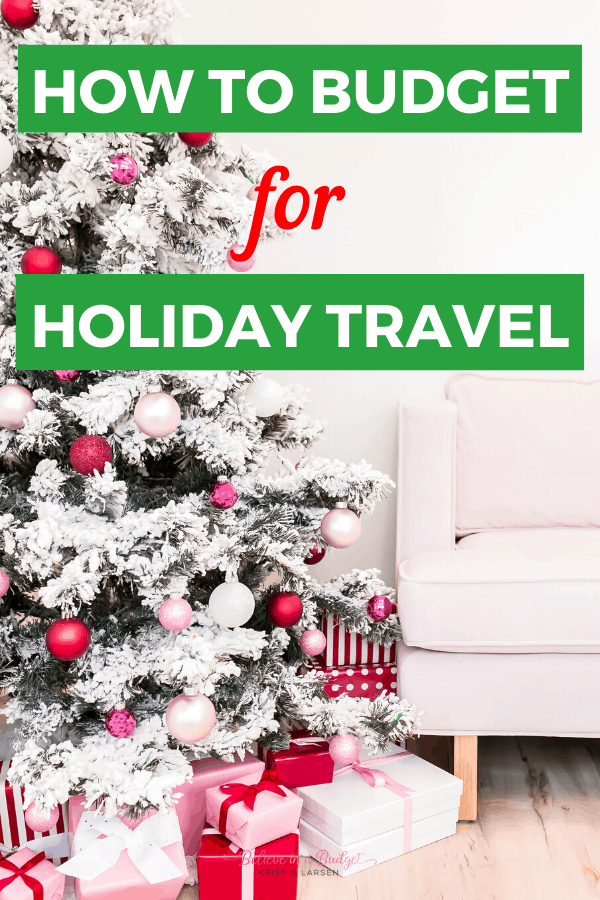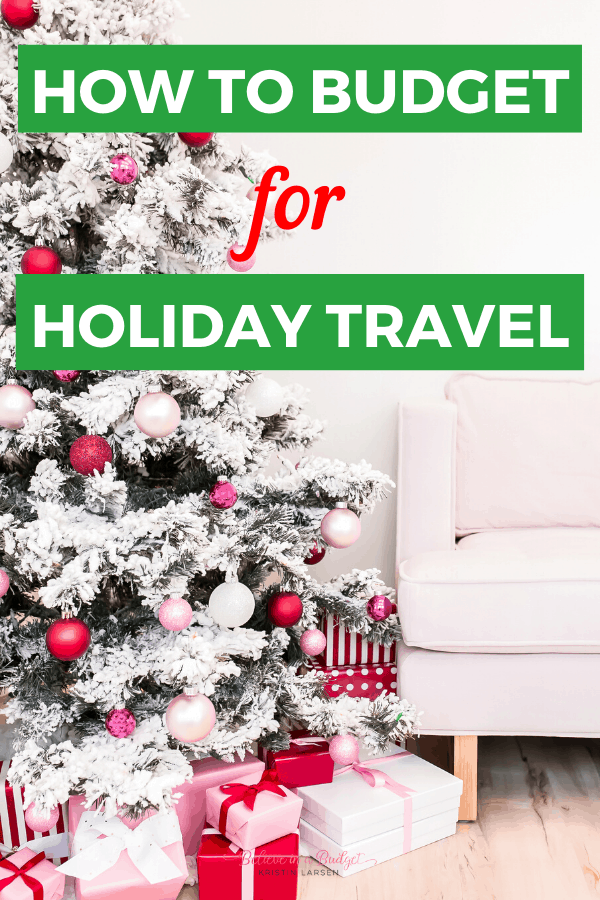 According to the popular online travel booking company Expedia, you'll want to plan your holiday trip at least 60 – 90 days prior in order to save around 10% on average.
Getting an early start is one of the easiest things you can do to save money on travel because it gives you enough time to properly research, explore all your options, and get organized.
Planning early will help you avoid taking small things for granted like taking the time to learn the airport and explore the transportation options from the airport.
Some airports are huge and you don't want to miss your flight because you didn't allow yourself enough time to check in and locate your gate.
Related posts:
How to Move Across the Country on a Budget
Being Organized Saves You Money
Free 7 Day No Spend Challenge
Join thousands that have saved hundreds with the no spend challenge. Sign up to take the No Spend Challenge for free!
Budget for Holiday Travel by Shopping Around For Flights and Hotel Offers
As you get an early start on your holiday travel plans, be sure to shop around for flights and hotel offers to ensure you're getting the most bang for your buck.
Expedia is one of my favorite sites to compare travel costs among a wide variety of competitors.
Kayak and Priceline also offer a similar service for free.
Instead of having to do all the researching yourself, let these sites do it for you.
They work out deals with major airlines and hotels to ensure you get the best discounts when you travel.
You can even take it a step further and download the Hopper app.
With this app, you can enter your desired destination and travel dates, then the app will notify you when flight prices are lower and predict price surges before they happen.
This app is great to use when you're super busy and forget to check on flight prices so you can book your trip on time.
Finally, TripAdvisor is awesome for comparing hotel options and reading some honest reviews from other travelers so you can make sure your experience is positive.
With TripAdvisor, you can learn more about the area you'll be visiting and find out which hotels offer complimentary breakfast and other amenities you may be looking for.
Cash In Credit Card Rewards and Other Points
If you have a rewards credit card, be sure to check your points and cash back to see if you can redeem rewards when you travel for the holidays.
If you use credit cards, odds are, you may have some reward points lying around that you can cash in on to supplement the cost of your flight, hotel stay, or other travel-related expenses.
Even if you just have a general cash back card, you can use some of your cash back earnings to pay for food, gifts, and souvenirs.
Just remember that being able to use credit cards wisely is way more important than redeeming special rewards. If you don't keep your utilization below 30% each month, it could hurt your credit.
Plus, if you aren't able to pay your bill off in full each month, you'll have to pay high interest rates on your bill which could basically cancel out the benefit of any rewards you to receive.
If you're not a credit card user, don't worry. You can still earn rewards to cash in for holiday travel. Check out sites like Swagbucks and Rakuten if you haven't already.
Swagbucks pays you in gift cards or cash via PayPal for doing simple things like taking surveys, searching online, watching videos, and trying out different offers.
Rakuten will help you land discounts when shopping online plus earn cash back on your online purchases.
Save Money on Lodging With Airbnb
Don't really want to stay at a hotel? If you're not going to be staying with family and don't want to spend $150 per night on a hotel room, I'd recommend checking out Airbnb.
There's been a ton of buzz going on lately with Airbnb but I really think it's worth a try even if you're used to staying at hotels.
Airbnb is basically an online marketplace that allows you to rent out other people's homes or apartments when you travel. If you have a separate home or spare bedroom, you can also rent out your space to travelers to earn some extra money.
Airbnb lists properties all over the world and it's easy to find affordable rates and even discounts if you'll be staying for longer than a week.
What I love about Airbnb is how convenient and flexible it is depending on your budget and preferences.
You can book a private room or a full apartment or home with access to a kitchen so you can make your own meals instead of spending money at restaurants while you're away from home.
Sign up here to get $40 off your AirBnB rental!
Have Easy and Affordable Meals Delivered
When you're planning your holiday travel this year, food is another common expense you'll need to consider. If you have access to a kitchen or even a fridge and microwave, you can plan to prepare easy and affordable meals.
For example, breakfast is one of the cheapest and simplest meals of the day to prepare.
If you're on a budget, grab some bagels, cream cheese, and fresh fruit from a local store. If you're staying in a hotel, request a mini fridge and microwave to be brought to your room if you don't have them already.
Then, toast/heat up the bagels before spreading on the cream cheese and enjoy it with a banana or any other side of fruit.
If you have full access to a kitchen, you can prepare tons of other cheap meals and even take turns cooking with family members.
When I visit family who lives in a larger city, I like to take advantage of Amazon Fresh to order food items from the grocery store and have them delivered to me.
GrubHub is a website and app that allows you to order food from nearby restaurants for delivery. They do charge a small delivery fee and minimum purchase requirements based on the restaurant, but they always offer a ton of discounts so you can save money on your orders.
I know I'm not the only one who struggles with eating healthy and whole meals when traveling. Eat Purely offers some pretty tasty options for breakfast, lunch, and dinner.
Anyone can download the app, but you'll have more luck finding restaurants that deliver through Eat Purely if you're in a larger city. They are currently planning to do more outreach and expand into smaller and suburban markets.
Pack Wisely and Limit Luggage
Don't underestimate the costs of bringing extra unnecessary luggage when you travel. Lately, when I travel I've been packing with a more minimalist mindset to avoid bringing a ton of stuff I never end up using.
Depending on how long your trip is, you may be able to fit all your belongings into a carry-on suitcase that you can bring on the plane with you.
This will cut out the checked back fee which could range anywhere from free to $50 depending on which airline you fly with.
If you're driving, you probably want to pack light regardless to avoid having to keep up with a ton of luggage or possibly even buy an extra back on the way home to transport gifts, souvenirs, etc.
When it comes to your clothing, consider creating a capsule wardrobe of a few of your favorite versatile pieces so you can create multiple outfits.
Also, try packing your clothes in reusable air compression bags that will shrink the space they take up in your suitcase.
I found out about these bags and ordered some on Amazon a few years ago and they're awesome. I also have these three different size suitcases (they were a good deal!) so I can pack wisely based on how long I will be on vacation.
If you're planning on bringing gifts, see if it would be cheaper to ship them ahead of time. Stop by your local post office and price out boxes, bubble wrap, and shipping labels.
If you're bringing gifts with you when you fly, don't wrap anything because you may need to unwrap it if security decides to inspect it. Also, avoid traveling with food items like jam, peanut butter etc. because you'll almost always get stopped in security and the hassle often isn't worth it.
Get a Head Start So You Can Enjoy the Holidays
Now that I've given you a ton of tips to help you save big on your holiday travels, the best thing you can do is get a head start and begin planning and researching early.
You'll be much less stressed when the holidays roll around so you can actually relax, spend time with your friends and family, and enjoy your travels.
How do you budget for holiday travel?
✕
Free 7 Day No Spend Challenge
Join thousands that have saved hundreds with the no spend challenge. Sign up to take the No Spend Challenge for free!