Summer is almost here! It's no secret that I love side hustling. While I'm all about soaking up some sun during this time of year, I also know that it's a great time to make extra money with summer side hustles.
People spend more money in the summer and some industries experience peak sales around this time of year. This allows you to offer new services for seasonal or year-round work.
A summer side hustle can be a great way to earn more money to help you:
Pay off debt
Save
Add more to your retirement fund
Pay for a large purchase in cash
Go on a relaxing summer vacation
Here is an epic list of summer side hustles you can try!
Epic List of Summer Side Hustles
Airbnb
Have extra space in your home? Rent it out with Airbnb. Over the years, I have stayed at a handful of AirBnB's and saved a ton of money. I've been able to rent an entire house, condo, and apartment instead of a room at a hotel.
If you have a spare bedroom or will be traveling over the summer, consider renting out your place on the website for some extra cash. Here's how you can become an Airbnb host.
You can learn more about how to use Airbnb here. Using the link, you will also get a coupon for $40 off your first stay anywhere!
Mow Lawns
Mowing lawns is a side hustle almost anyone can take on and it's in high demand during the summer months. You can start your own lawn mowing business by advertising in your neighborhood and purchase some basic start-up materials.
Target people who are unable to get out and mow their lawns often or people who just don't have time to do it. Come up with a basic price point and you can alter it based on the size of the lawn.
You can even offer additional services like trimming and gutter cleaning to upsell your services.
Lifeguard
If you're planning on laying out at the pool all summer long, you may want to consider making money as a lifeguard.
If you can swim well and know CPR, this could be a perfect fit and a pretty easy way to make money.
Now is the time to start seeking out applications with local pools and park districts.
House Sit
Summer is probably the biggest travel season since kids are out of school and people are eager to take trips. You can cash in as a house sitter if you don't have any major plans.
House sitters don't have to technically live in the home while the owners are gone, but you may be asked to do light tasks like collect mail, water plants, or feed and walk animals.
To find clients, you can sign up with sites like HouseSitter.com, HouseSittersAmerica.com, and MindMyHouse.com.
Start a Blog
Summer is usually a slower traffic season for blogging, but this could give you the perfect opportunity to get your ideas off the ground and start working on some content.
Blogging is definitely a passion project. It requires lots of time and planning but your blog can be profitable if you remain persistent.
I went from making $40/month to over $4,000/month in the span of six months. That's crazy! Here is a tutorial that walks you through how to start a blog.
Babysit
With kids out of school, the demand for babysitters is sure to increase. Parents may be seeking part or full-time care for their kids to avoid paying for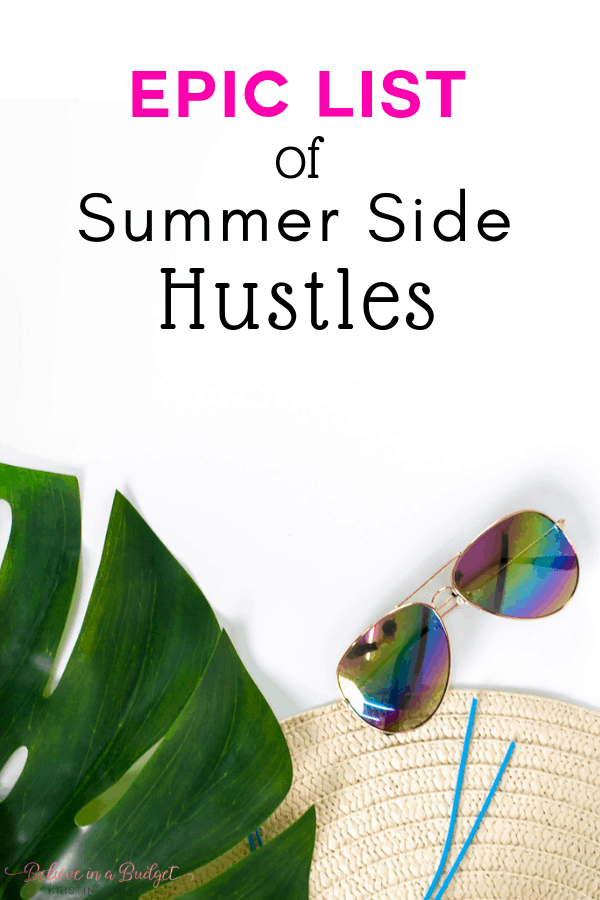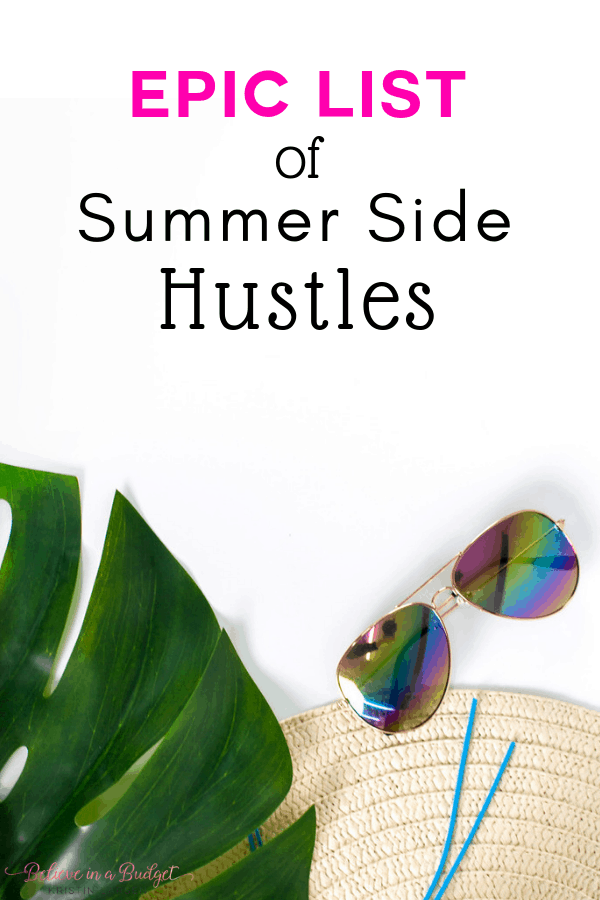 expensive daycare or summer camps.
As a babysitter, you can earn anywhere from $10 – $20 per hour which adds up.
When setting your rates, you want to consider the area you live in along with how long each babysitting job will be. You may even want to offer a full-day, half-day, or weekend rate for repeat clients.
Walk Dogs
Walking dogs is one of my favorite summer side hustles. It's a great way to earn money while being active and getting to hang out with some furry friends. Aside from referrals from friends and family, my absolute favorite site to use to land dog walking gigs is Rover.
Tutor
If you're a student or just excel in certain academic subjects, you may enjoy doing some tutoring over the summer. You can help kids practice reading and spelling, or even help other students brush up on math over the summer or write college application letters.
Check out sites like Tutor.com and Chegg to get started.
Rakuten
Rakuten is my favorite company to use when I'm shopping online. Hello, they basically give you free money in the form of cash back!
Every time I shop online, I always start at Rakuten. They have a list of all the places you normally shop at and you just click on the store you want to visit online.
After you make a purchase, you earn a percentage of the sale! They literally give you cashback on every purchase you make. The cashback ranges from 1% to 14%. The money is then deposited into your PayPal account.
I've made over $900 from shopping online and earning cashback. Join Rakuten here!
Shipt
Shipt is an Internet-based grocery delivery service. You can try it for two weeks for free as a customer, or you can apply to be a shopper and get paid to pick up groceries for other people. You must be 18 or older and have a reliable vehicle (the year must be 1997 or older).
Shipt shoppers can make up to $22 per hour.
Sign up to be a shopper for Shipt here.
Amazon Flex
With Amazon Flex you can get paid to deliver people's Amazon packages. You'll set your own schedule and work when it's convenient for you. Amazon Flex delivery partners can earn $18 – $25 per hour.
Learn more about Amazon Flex here.
Protip – if you use Amazon, make sure you have a free business account so you can shop for better deals!
TAKL
TAKL is a service-based app where you can sign up and perform services for people in your area. You can complete tasks like cleaning, packing, moving, hauling away debris, lawn car, vehicle washing, and more.
The app determines the standard rate for your area for the tasks and all payments are processed online so you don't need to deal with collecting it from the customer. Sign up here to get started.
Take Surveys
Taking surveys online for cash used to be the best-kept secret but now it's widely talked about and for good reason. I have made thousands of dollars over the past few years from taking surveys online!
That being said, all survey sites are not created equally. There are a few companies that I love to use and earn cash back into my PayPal account, as well as reward points that I can use at places like Target, Walmart, and Macy's.
Here is a list of the best survey companies to make money:
Freelance
Freelancing is another popular side hustle you can get started with if you haven't already. When I started this blog, I quickly got into freelancing by offering my Pinterest management services to other bloggers and businesses.
You can find clients to hire you for freelance work as well whether it involves writing, creating graphics, editing, or digital marketing. Check out this course to learn more about how to become a virtual assistant.
Freelancing your work, whether it be writing, creating graphics, or assisting with digital marketing, can become a great side hustle. Upwork and Fiverr are both popular user-friendly websites to help you find a freelancing job.
Related:
30 Days or Less to Virtual Assistant Success
Email Management for Virtual Assistants
Create A Virtual Assistant Agency
Resume Writer
Help people find jobs by writing their resumes. Did you know that you can actually get certified to do this? If you have writing skills and are interested in career trends, this could be a great side hustle. You can make $150 – $200+ per resume.
If you need help polishing your writing skills and landing clients, this course and group will help you land clients.
Work on a Cruise
Ever thought about working on a cruise ship? If you're looking to travel for free this summer, you should give it a shot! There are plenty of jobs to choose from on the ship, such as a server, bartender, masseuse, cashier, chef, and much more.
You'll get free food, room and board, and other perks while you work on the ship. Some cruise lines will even allow you to bring a family member to sail on board for a limited time.
Here's more information if you're looking to work for Princess Cruises or Carnival Cruises.
Have a Garage Sale or Sell Stuff Online
Purge all your stuff this summer and have a big sale both online and offline. You can sell some of your stuff online on sites like eBay or Amazon.
If you aren't sure how to even get started on how to sell and ship things on eBay, this tutorial will walk you through everything you need to know. This is one of the classic summer side hustles and still lucrative.
For the bigger items, you can host a big garage sale. Also, consider flipping thrift store items to make money selling used stuff long-term.
Mystery Shopper
Mystery shopping is a really fun side hustle I've tried in the past. You basically get paid to shop in your neighborhood. You'll go to certain retailers or businesses and make a purchase and interact with an employee. You generally get reimbursed if you have to make a purchase and you'll get paid for completing your shopping trip as well.
Learn more about how to make money mystery shopping here.
Event Planning
During the summer, the events industry is booming. Everyone is having parties and events to celebrate birthdays, weddings, baby showers, graduations, etc. Planning events requires a ton of work and organization.
Hosts often exhaust themselves trying and rarely have time or energy to enjoy their own event when they're the ones planning it. If this is something you excel at, you could make good money to plan and execute summer events.
Event planners make around $20 per hour but you could charge more if you provide exceptional service and put the party host at ease.
Home/Office Cleaning
A home or office cleaning business doesn't require much when it comes to start-up costs. You just need to let your work speak for itself. Some people may be off traveling this season or may just be too busy to clean their homes.
If you have evenings and weekends available, that would be a great time to clean some small offices.
Mover
Sometimes good help is hard to find, especially when you're moving. I've had people flake on me before when I was moving from one place to another and it can cause a lot of stress.
Consider becoming a dedicated mover this summer if you are able to lift boxes and larger items. You can search for gigs on Craigslist, in Facebook groups, or create a profile and list your rates on MoversCorp to advertise your local moving services.
Advertise On Your Car
Advertising your car can also be an easy way to earn some extra passive income. All you have to do is put removable ads on your car and drive around like you normally would.
Some companies require you to drive a certain number of miles per week so if you have a little commute to work each day, that would be ideal.
One company called Carvertise is a legit, trusted company to pay you for your services.
Detail Cars
Car detailing is an often-overlooked side hustle with tons of potential. Think about it, how many people drive around with cars with interiors that could use a little TLC?
Maybe they are looking to clean up their car before selling it, or maybe they just don't have time to clean it regularly.
Even if you have no experience, you can learn how to detail cars by watching YouTube videos and just by some of the main materials and cleaning products you'll need.
Sell Your Electronics
Have old electronics laying around? Whether they work or not, you can sell them online for extra cash. Decluttr is my favorite site for doing this. You basically send them information about your item and they send you a quote and a shipping label if you want to sell them your item.
Once you mail your item, they pay you cash. Learn more about Decluttr here.
Theme Park Guide
If you're just looking for seasonal work, being a theme park guide can be a fun and active opportunity. Just start compiling a list of all the parks near you and start grabbing applications. Some theme parks near you may even be open and hiring year-round.
Personal Trainer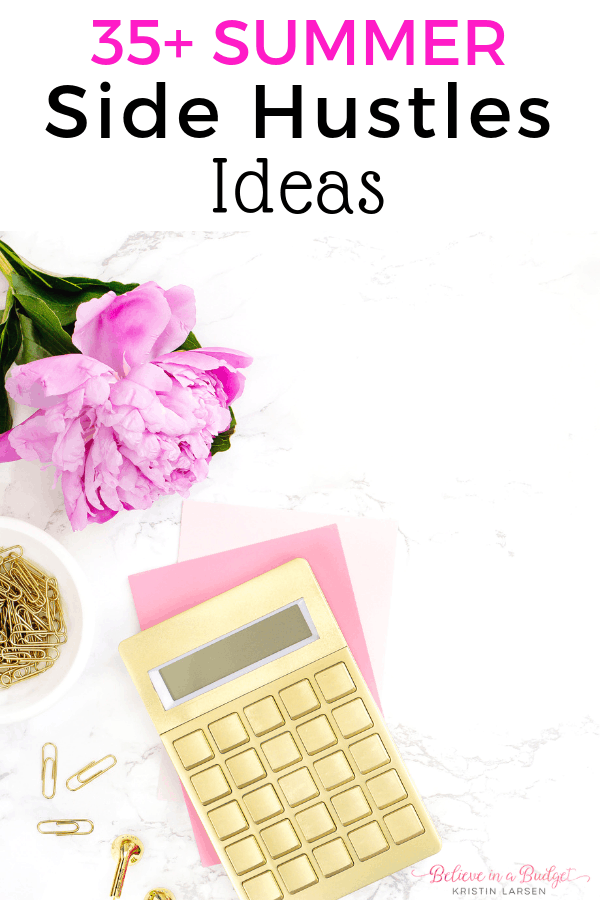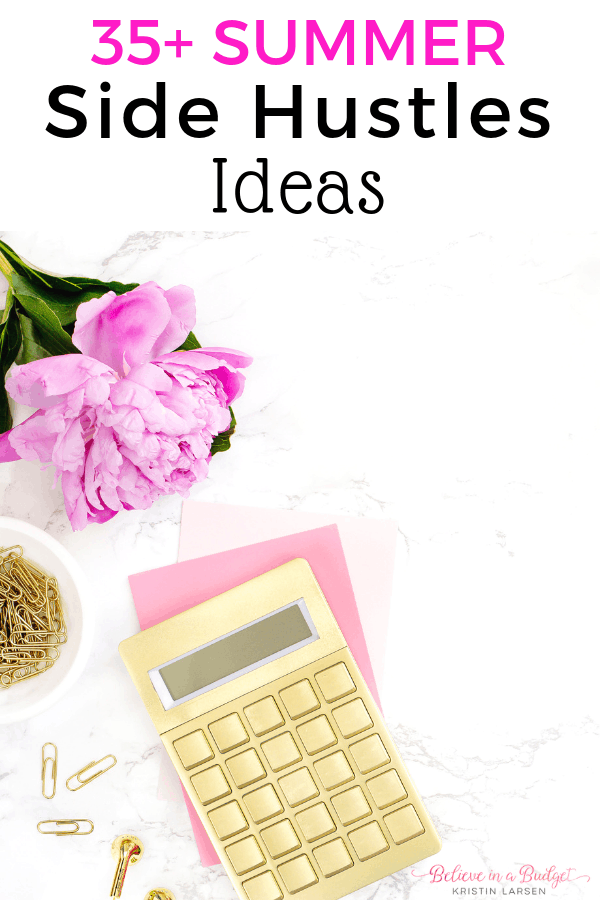 Have a passion for fitness? You can help people who are either trying to get or maintain their summer bodies. You can become a Certified Personal Trainer if you want to work in a gym, or you can just workout with people on the side and provide motivation.
If you are in good shape yourself, it's easy to sell your services to clients.
Group Fitness Instructor
Another way to stay fit and make money this summer is to become a group fitness instructor at your local gym. You will probably need to get certified and take a few classes, but you'll be able to teach yoga and pilates classes for free and get paid.
Sports Referee
This is another fun and active side hustle. There will be tons of sports teams competing this summer in the area whether it's a traveling basketball team of a 5th-grade soccer team. Knowing the particular rules of a sport already can help, but you may also need to take a class.
Recycle Scrap Metal
If you have a truck, you can pick up scrap metal in the area and sell it for cash. Selling your scrap metal helps the environment because the materials get recycled for use again.
Become a Vendor at the Farmer's Market
Becoming a vendor at your local farmer's market allows you to sell within your community at an event that's already widely marketed. This works great if you are selling something perishable, a craft you have made, etc. This is a great way to make extra income, test your products, and get feedback.
This post will teach you how I got started, what all goes into becoming a vendor, and how I became the farmer's market manager (which was a paid part-time job!)
Rent Out Your Car
Don't do a lot of driving that much? I work from home so using my car is not always a necessity. Turo is a cool service that lets you rent out your car.
Listing your car on Turo is pretty easy. You'll sign up for an account, and create a free listing by describing your car and uploading some good photos. Turo will develop a listing price based on your car's market value, location, the current time of the year, and other related data.
You'll get notified when someone requests to use your car and you can choose whether you'd like to confirm their request or not.
There you have it! Plenty of side hustles to keep you busy and making lots of extra money this summer. All that's left to do is choose something flexible that interests you and get started!
Have you tried any of the summer side hustles on this list?