Side hustles are super popular these days. If you want to earn extra money and can't secure a pay raise or a new job right now, side hustling can be a solid solution. But how do you find the right side hustle?
For me, my side hustle became my full-time job and I love it. When I started this blog, I just worked on it during my spare time but I took it very seriously and after a while, I was able to create a thriving online business.
Your side hustle can provide you with so many opportunities, some of which you may have not even expected. Plus, the extra income you earn can help you pay down debt, get caught up on bills, and even save for the future.
If you're looking to jump on the side hustle bandwagon and start making more money in your own way, you may be wondering what type of work you can do.
Having a side hustle can not only provide you with the extra income you desire but it can also be a creative outlet or even grow into something bigger.
Related reading:
There are literally hundreds of side hustle opportunities out there, so here's how to find the right side hustle that fits you and your needs.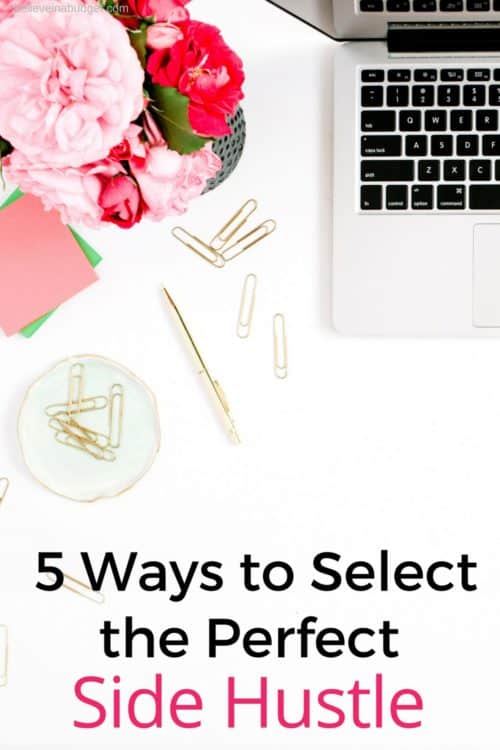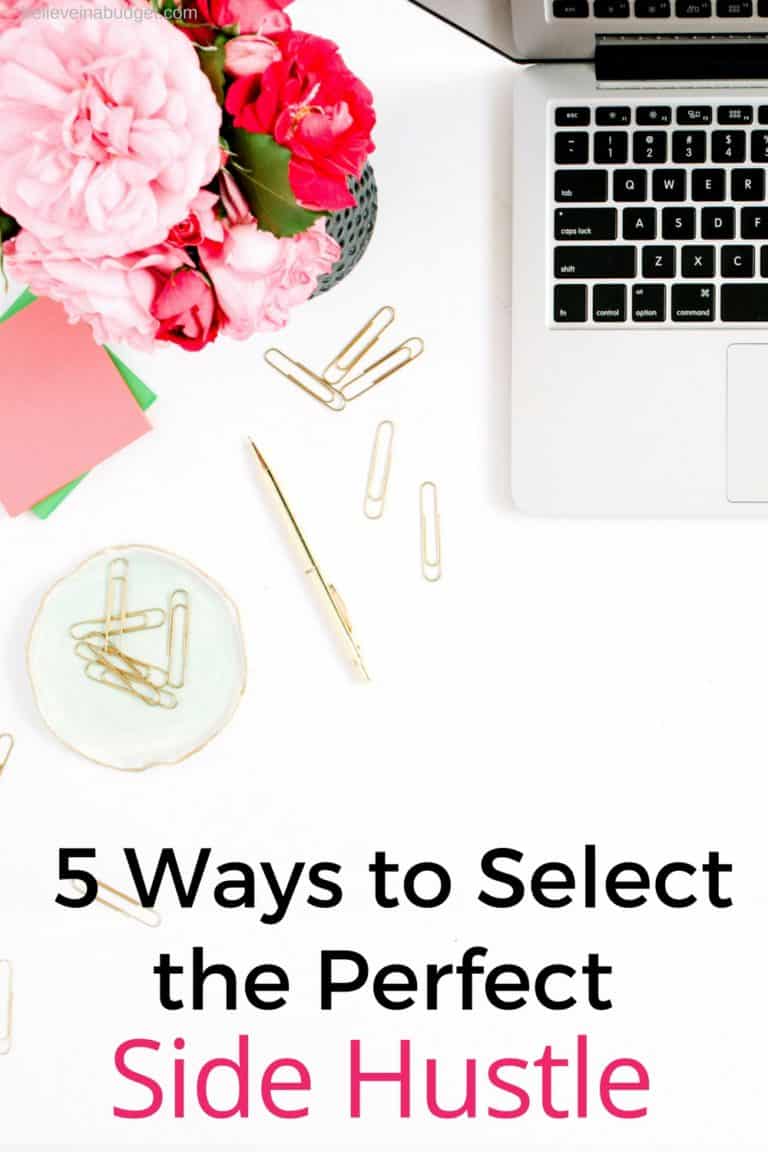 Generate a List of Your Skills and Interests
The best way to start figuring out what side hustle would be right for you is to create a list of all your skills and interests.
Side hustling can be a lot of work especially considering the fact that you have other responsibilities in your life including a regular part-time or full-time job as well.
It's important to make sure you choose a side hustle that you are good at and can enjoy. That way, it doesn't feel like this huge extra chore. Take some time to really think and reflect when you generate this list and consider all your skills and interest.
Are you good at writing? Do you love social media? Are you a DIYer? Do you enjoy talking to other people? Do you have an interest in marketing? Can you play any instruments or do you excel in certain academic subjects?
Even if you like doing something as simple as organizing or playing with pets, jot that down on your list because it will help you find a focus as you generate ideas for your side hustle.
I've done my fair share of side hustles in the past including everything from pet sitting and dog walking, to doing panel studies and taking surveys. When I started Believe in a Budget, I developed an interest in Pinterest marketing and virtual assistant (VA) work.
That led me to develop a new skill and become a Pinterest VA. I earned around $3,600 per month just doing this part-time.
Be Honest About Your Availability
Once you have your list of skills and interests, you may already have some good ideas for a profitable side hustle you can do.
Before you jump ahead to this point, it's important to think about how much time and energy you'd be able to dedicate to a side hustle.
Be realistic about your current schedule and how it could change. How many days do you normally have off from your main job? Would you have any free time during the morning, evenings, or weekends to dedicate to your side hustle?
You probably don't want to be working around the clock, but it's best to come up with a realistic amount of hours you could set aside to side hustle each week.
This may be 5 hours, 10, hours or 20 hours per week. It all depends on your schedule and availability.
Also, don't forget to consider your energy levels. Find out when you have the most energy during the day to dedicate to making more money. For some people, this is in the morning while other people thrive better at night.
If you know you probably won't have the time or energy to get off work and work on your side hustle, you may want to choose some flexible work you can do in the morning before work for example.
Explore Income Potential
Next, narrow down the amount of extra money you want or need to earn. Side hustles are often driven by our financial goals so it makes sense to understand what your monetary needs are before you commit to something.
Ask yourself why you want a side hustle in the first place. Obviously you want to make more money but why?
Maybe you want to pay off debt. Maybe you want to save up for an awesome international trip once a year. Or, perhaps you're interested in replacing your day job income with a work from home opportunity.
Once you have a clear reason 'why', choose an income goal that fits your situation. Not all side hustles are made equal. While some may be fun and low-effort, they can also have a low-earning potential so that's something to keep in mind.
If you only want to earn extra money so you can go to more brunches and happy hours with your friends, you may find side hustles like taking surveys online or mystery shopping would fit the bill.
If you prefer to make $250/month to pay one of your bills or supplement your housing payment, you may find dog walking, pet sitting, or working part-time at a retail store helpful.
On the other hand, if you're looking to make $500/month or more, you might want to consider some of these side hustles with a higher earning potential.
Decide When You'd Like to Start Earn Extra Money
When most people hear about side hustling or start considering the idea of starting a side hustle, they get dollar signs in their eyes.
While the money aspect can be great, you have to accept the fact that you may not be making money right away.
Some side hustles like driving for Lyft allow you to make money quickly because they pay weekly. Other side hustles take longer to payout and if you consider getting into freelancing or blogging, you may not make much money at all in the beginning.
The nice part about freelancing is that it's flexible, meaning you can choose your rates along with the hours you work. However, it may take a few weeks to land a new client especially if you don't have much experience. You may need to do trial services for less than your desired rate when you're starting out just so you can get some experience under your belt.
With blogging, you may not earn any money during the first few months. I published my first income report 4 months after taking my blog seriously and earned $60 for the month. Those 4 months were the hardest for me because I was new to blogging and still figuring everything out.
However, over time my income grew as I continued to work hard on my blog and it's been paying off ever since.
Some side hustles are great for quick, short-term income while others may require an investment of your time and money but will become a solid source of income you can depend on long-term. It's up to you to decide what you're looking for at this moment.
Narrow Down Your Options
Now, it's time to narrow down your options since you know what your interests and skills are, your availability to work, your income goals, and how long you're willing to wait to start generating an income.
I'd recommend jotting down a list of your top 5 options. If you have less, that's okay too. Record the pros and cons and other implications of each then compare and contrast to see which side hustle idea sounds like an absolute match.
This process will take longer for some than it will for others. You may have already determined a winning side hustle in one of the earlier steps or you may spend more time analyzing your options. There is no right or wrong way to go about it.
When you do make your decision, though it should feel right and get you pretty excited.
Get Started!
Time for the fun part! After you find the right side hustle for you, the only thing left to do is take action and get started. Side hustling is work, but it can be so rewarding especially after choosing to do work that makes you feel fulfilled and brings in a nice income.
To make sure you get started on the right foot, look for all the newbie tips and information you can find. If there are free or cheap guides and resources, start educating yourself so instead of making any common beginner mistakes, you can focus on becoming successful quicker.
Do you have a side hustle yet?