One of our favorite trips of the year includes going to the Smoky Mountains. This time we had the opportunity to go to Dollywood as well, and I'm so excited to share our trip with you! This was my first trip to Dollywood and we had a blast. If you have been thinking about going to either destination, I hope this review helps you with your vacation research.
Related reading:
I will also be reviewing how we planned ahead for our trip and went to the Smoky Mountains on a budget. Even if we are on vacation, we always save money in advance for our trip. This helps create a stress-free vacation.
If you want to plan a debt-free vacation but are worried about how to save money, I suggest checking out this blog post that will help you budget for a weekend getaway.
One of the best things you can do is earn extra income and save it for a vacation. This list has dozens and dozens of side hustle ideas that you can do in your spare time that are free!
Where to Stay When Visiting the Smoky Mountains on a Budget
We always alternate where we stay, and have previously vacationed in Pigeon Forge, Gatlinburg and Bryson City. Both Pigeon Forge and Gatlinburg are in Tennessee, next to each other and on one side of the mountain.
Bryson City is in North Carolina and on the other side of the Smokies. Altogether, it's a 32 mile drive to travel directly from one side of the mountain to the other. While that distance may seem short, it still takes over an hour to get through the mountain due to the curvy roads. There are a ton of other roads you can take that wind through the mountains as well.
This year, we decided to stay in Bryson City. It's a sleepy but busy little town that centers around the Smoky Mountain Railroad. It's also close to a town called Cherokee, which is an Indian Reservation that welcomes tourism.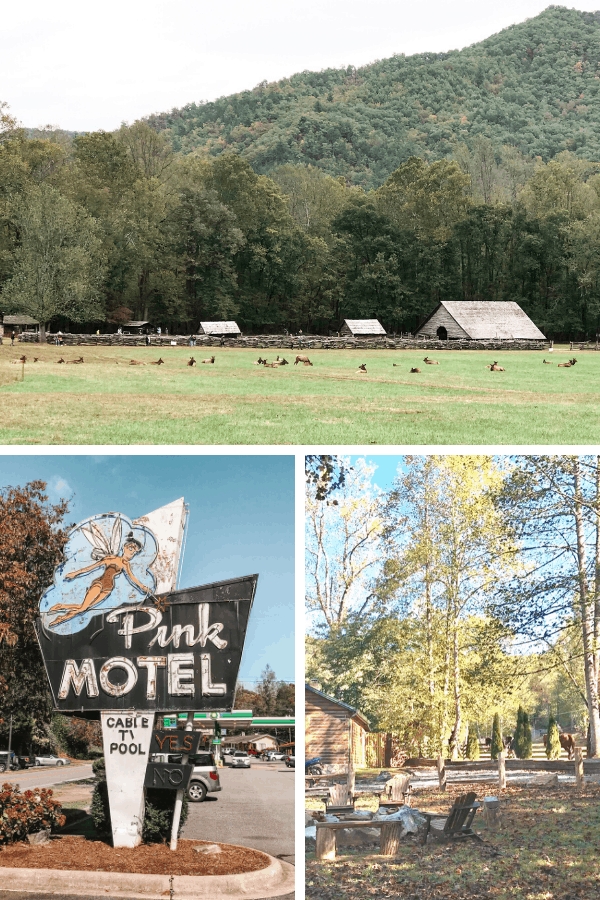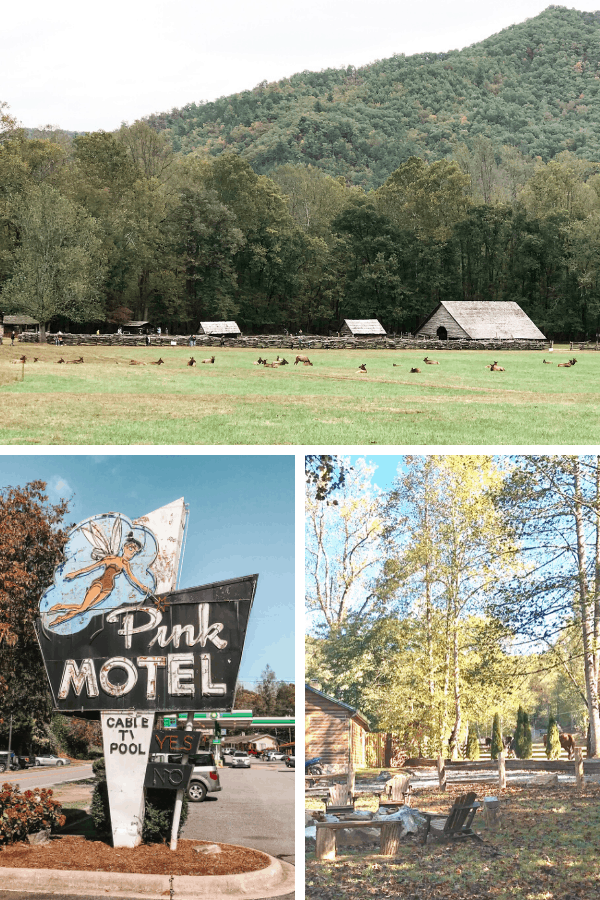 Here is a review about our AirBnB tiny home we stayed in the last time we went to Bryson City. I also have a video review from a different AirBnB home from when we stayed in Pigeon Forge as well!
Every time we go to the Smokies, we always stay at an AirBnB.
We have found that we always get the most bang for our buck with this option, especially as we can rent an entire home or cabin and most places are dog friendly. Here is an AirBnB coupon for $55 off your stay!
This trip was no different.
We rented a cozy cabin with a great view. We wanted something quiet and this cabin came through! We were also next door to a horse trail, so we spotted lots of local riders on the trail.
How We Spent Our Week
There is so much to do, it's hard to cover it all! It's easy to spend an entire day in each of the cities – Bryson City, Cherokee, Gatlinburg and Pigeon Forge.
This time around we wanted a quiet, relaxing vacation. We window shopped in Bryson City and Cherokee. We dined out, grabbed coffee and did a lot of walking. We spent time at the cabin and had a lovely front porch with rocking chairs.
While I tried to stay away from working for the most part, I did spend a couple early mornings working on a couple of blog projects before starting our day. Being able to work from anywhere on my blog and business is so empowering and it's the best of both worlds.
If you want to start a blog, you can learn more here. I share free tips on how to get started, a long list of over fifty blogging ideas, a tutorial and how to get your domain name for free. I started blogging in my spare time while I was still at my day job and it changed my life!
Our time away was the perfect amount of quietness we needed in our lives!
We also spent a couple of days exploring the Smoky Mountains.
We saw elk, a bear and hiked to Clingman's Dome. This spot is the highest elevation at the Smokies, with an elevation over 6,000 feet high.
Clingman's Dome boasts views of 100 miles and the ability to see seven states. Unfortunately, when we got to the top of the mountain it was foggy and raining and windy. This was our view, ha!
Even though we had a foggy encounter at the top of the mountain, we had great views the rest of the time. The leaves were just starting to change colors and the scenery was gorgeous.
Our Day Trip to Dollywood
We spent one day at Dollywood and had such a blast! There is so much to see and do at Dollywood, and it's hard to do it all in one day. As we went in the fall, it was also Harvest Festival, which included seasonal decor all around the park.
If you plan to spend more than one day at the park, I recommend getting the season pass to save money. Dollywood actually has two parks – the main park and Splash Country, which is a water park. I am sure if I was a local, I would be here all the time with my family and friends!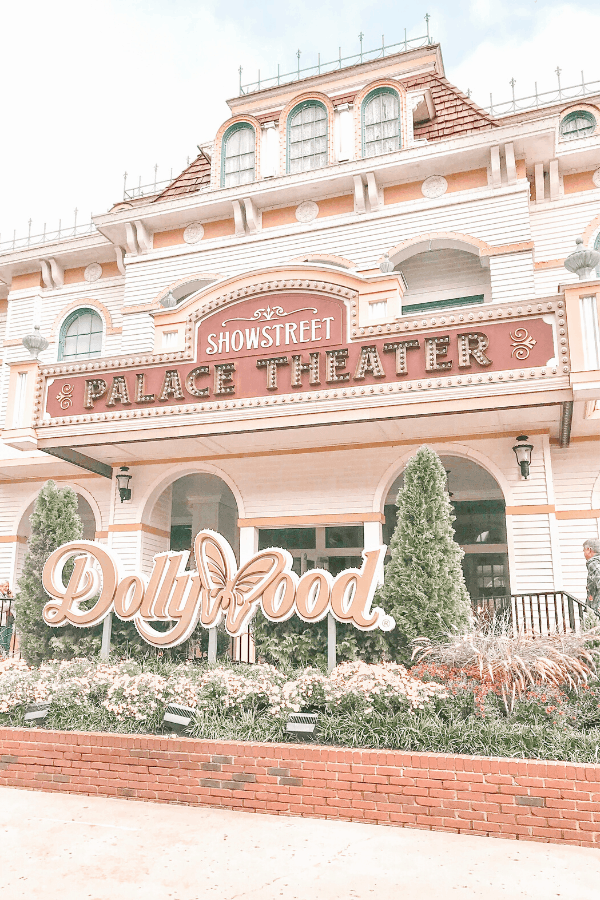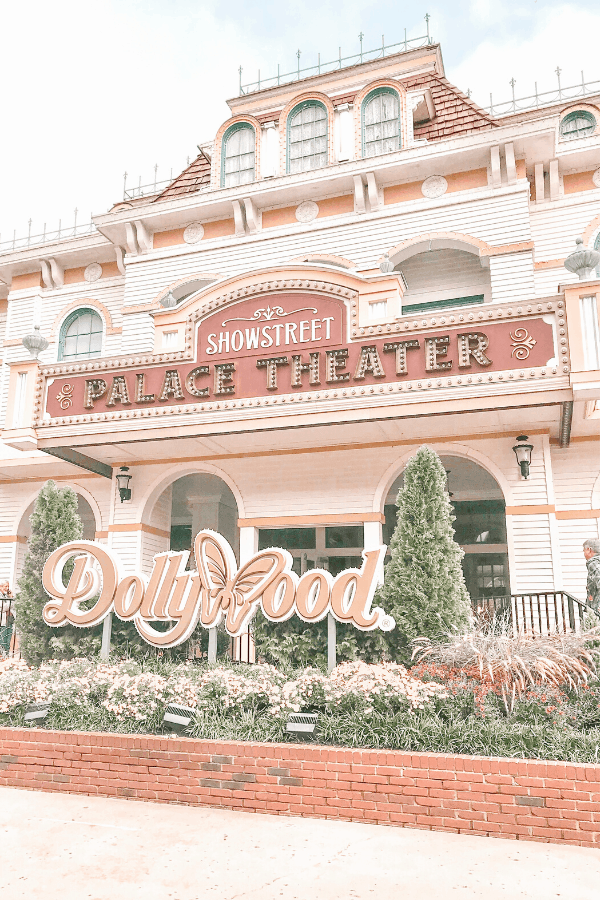 Dollywood is really great destination for people of all ages and interests. There are plenty of rides for adults and children, a dedicated children's area, tons of food options and shops galore!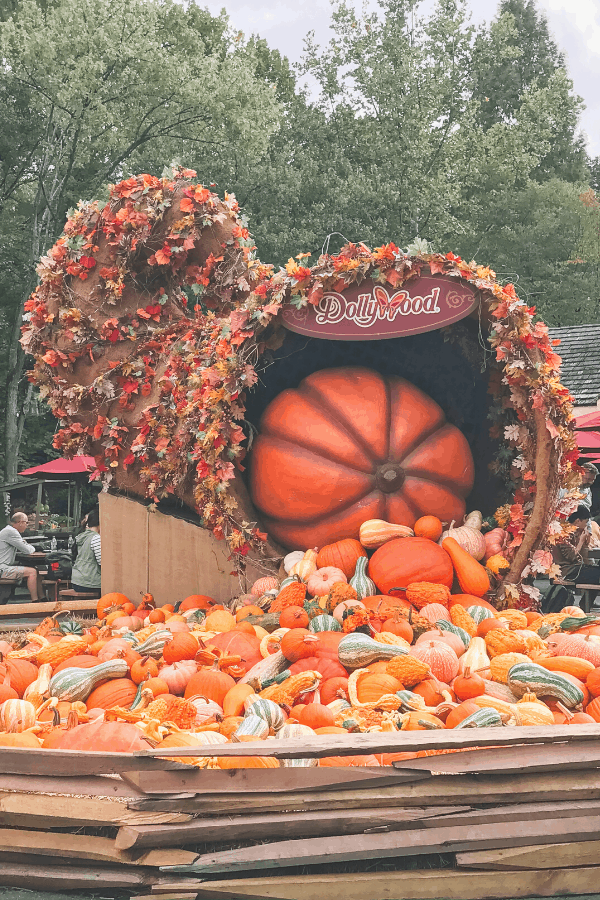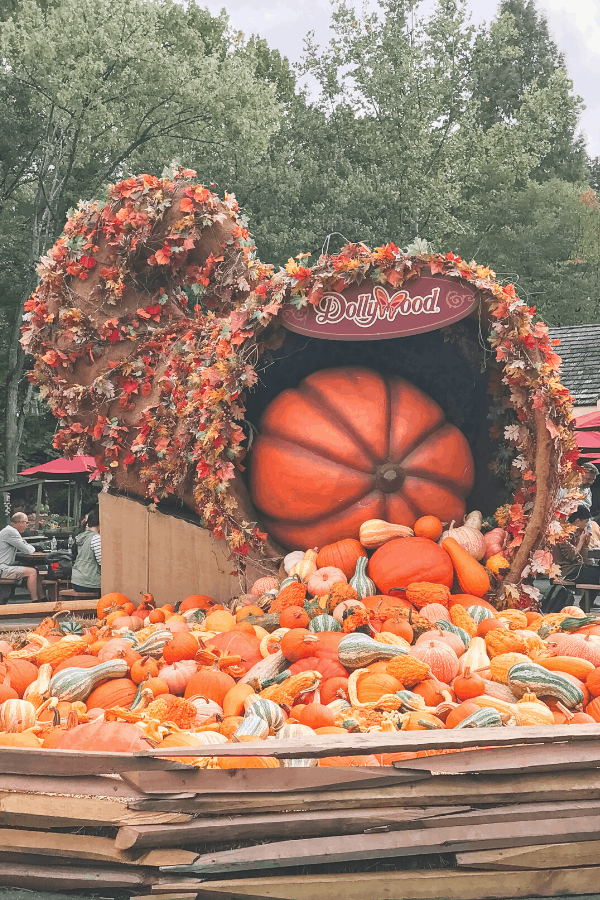 Speaking of shops, there is a shop for everyone! In addition to the Dollywood-related trinkets, the park sprinkles in independent merchants and crafters. I have a love for all things paper, and we got to watch an exhibit on how to hand make marble-dyed paper.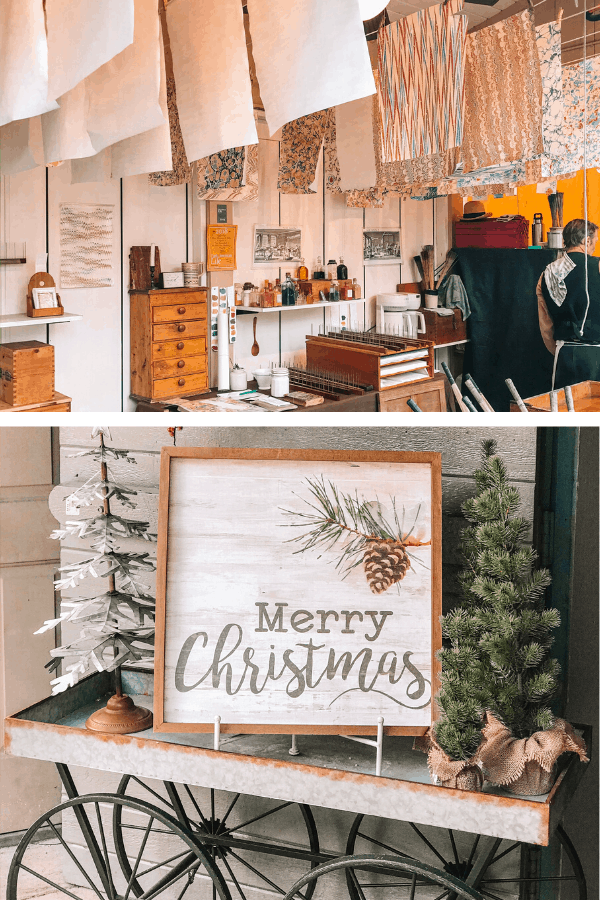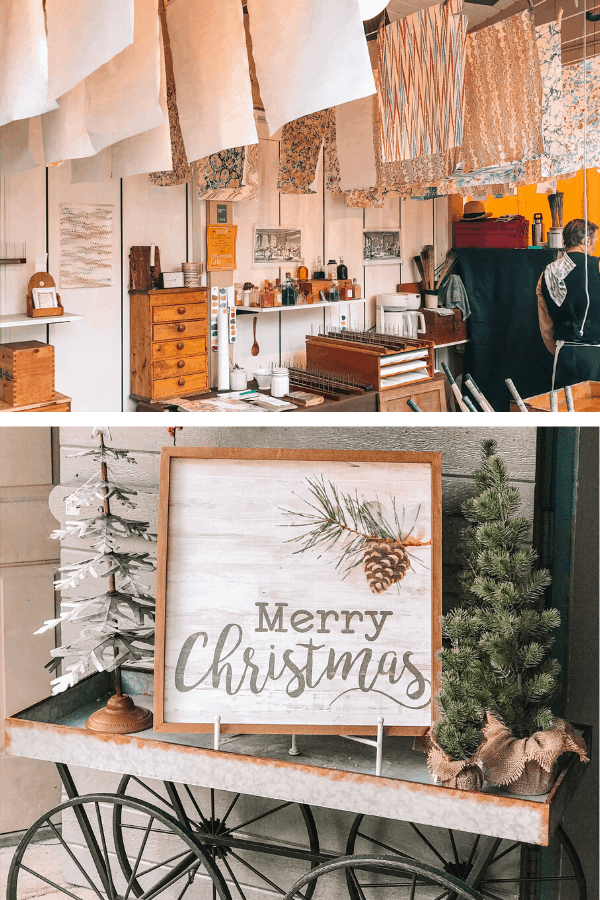 We also found the most amazing Christmas shop with a water mill inside it! Incase you were wondering, the Christmas shop was my absolute favorite!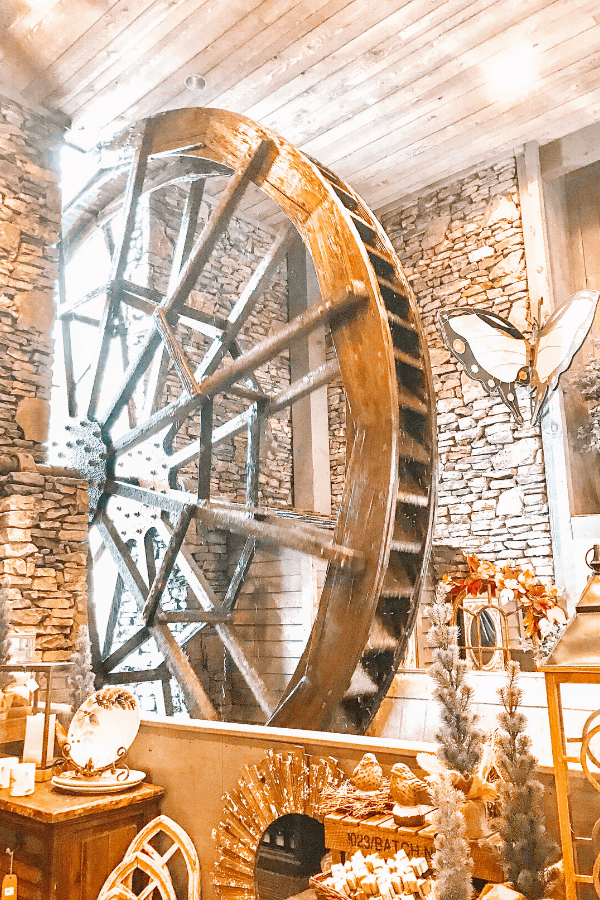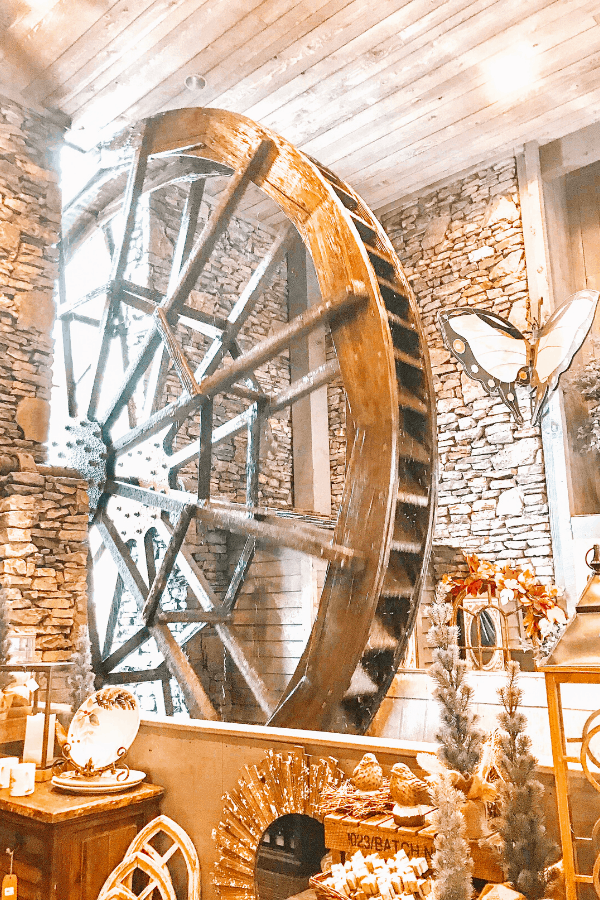 The park also includes several different theatre shows, with some taking place inside and outside. Visiting the church was one of my favorite quiet spots.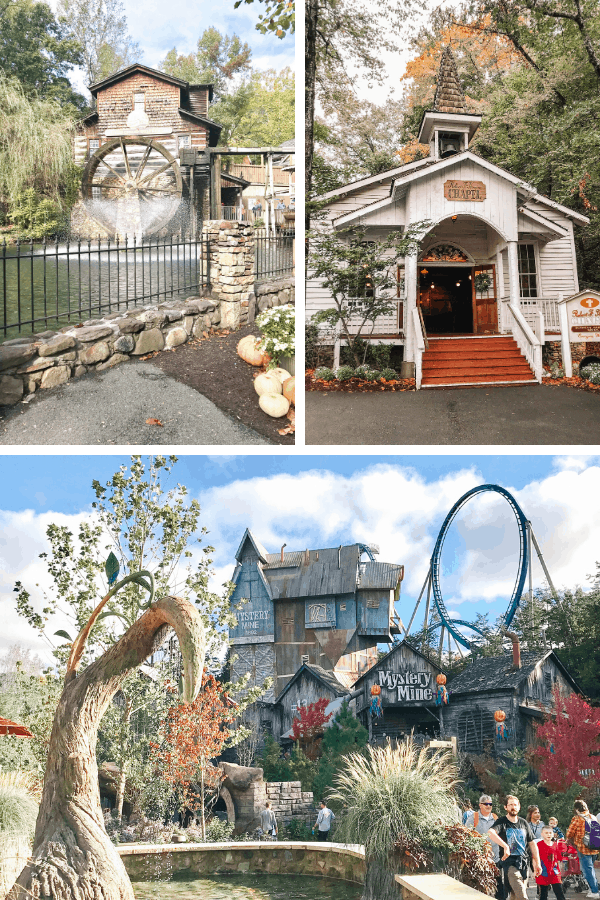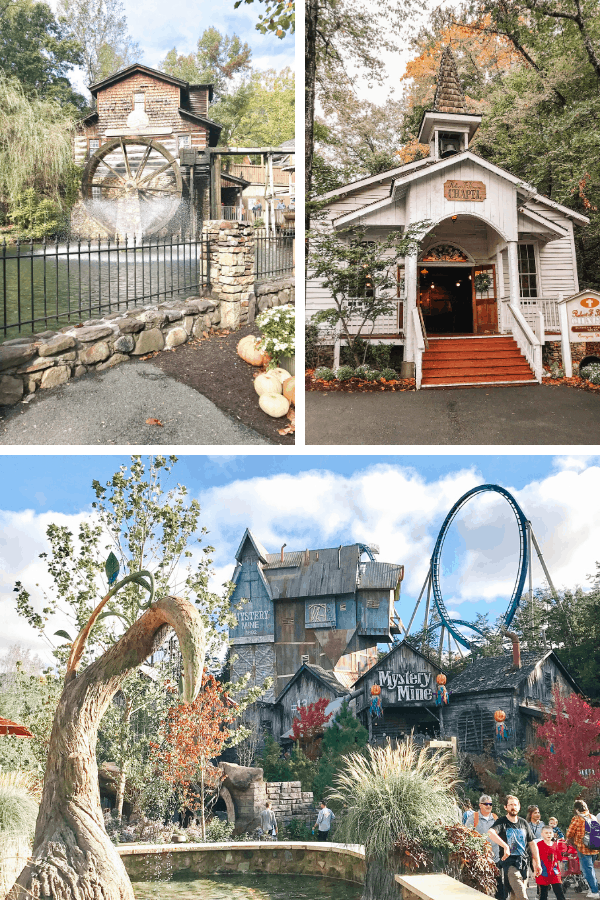 Don't forget to ride the Dollywood Express! This might just be one of the most popular rides at Dollywood. It's a 20 minute train ride that takes you through the Smoky Mountains and the views are just breath taking!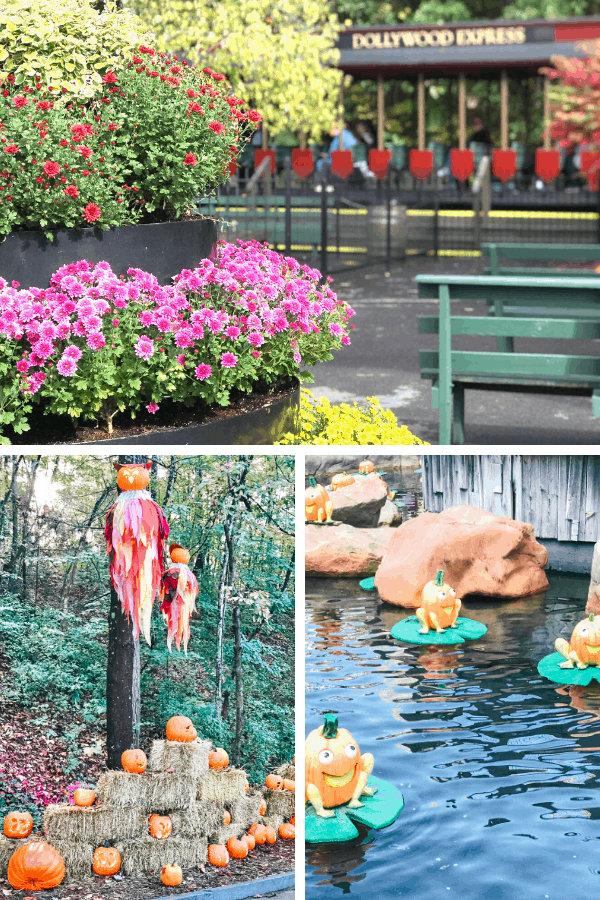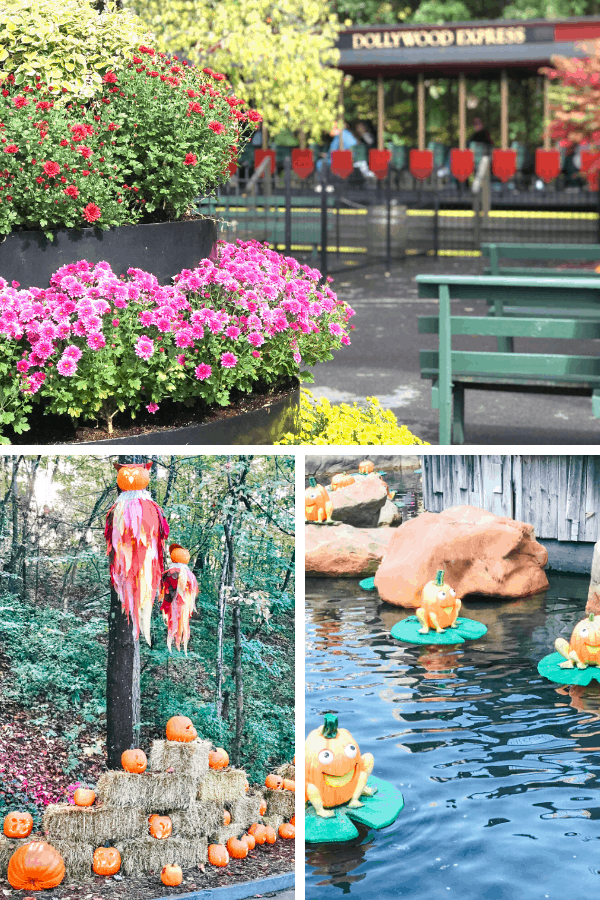 I was so excited when we stumbled upon the Eagle Mountain Sanctuary. Through a partnership with Dollywood, is the largest sanctuary and exhibit of non-releasable Bald Eagles in the United States.
While it was sad to see these beautiful creatures in captivity because they could not survive in the wild on there own, they are getting the best possible care and living in an environment that is natural and wild as possible. You can even watch the eagles with the Dollywood Eagle Cam.
All in all, we had the best day at Dollywood!
How We Created a Budget for Dollywood and Our Smoky Mountains Vacation
I always have a budget when planning a vacation! Saving in advance and being able to pay cash for everything is a must.
For lodging, we saved money using an AirBnB. We specifically wanted a cabin and the picturesque view, so an AirBnB was the way to go.
We also packed a cooler for the road trip and to have some basic items for the cabin. This included mostly beverages, snacks and some meal prep items. We have the cutest YETI cooler and YETI mugs we use for road trips as it keeps the ice frozen for a few days at a time.
Here is a longer list on what and how to plan for a road trip.
Instead of stopping to grab dinner on the drive to and from the Smoky Mountains, we easily saved $20 – $30 each way by pre-packing a meal for the car.
We even packed items like coffee beans and creamer (we made sure there was a coffee pot at the AirBnB where we were staying) because I knew we would be staying outside of town and wanted to still have coffee each morning.
If you are not able to pack any groceries ahead of time, make sure you save money on groceries with these helpful tips.
Part of our vacation experience included dining out, so I budgeted ahead for meals. We researched the area in advance to get an idea of places we could eat and what we could anticipate spending. Fortunately, we stayed in budget!
Another area of our budget was shopping money. While I am definitely the saver out of the two of us, we did want to plan on doing some shopping. We already had plans to visit a Christmas shop from the previous year to look for a couple of decorations and spent a little under $50!
Additionally, we spent a very small amount at the different visitor centers at the Smoky Mountains. Ranging from $3 – $5, we like to purchase patches from our trips and our purchase went to help the national park, so it was a purchase well spent!
Right now we are saving our patches from our travels and trying to think of a fun, crafty project we can do to display them.
I cannot wait until our next visit to the Smokies!
Have you ever been to the Smoky Mountains or Dollywood?