This is my 2020 annual online income report. In addition to including my blog and business review, I'm also sharing a personal update as well.
I worked more than I planned, made smart business decisions and have never felt more confident with the direction of my business.
While it's been quite a year for so many of us, my business continued to grow and had the best year yet. It's been tough to see so many people struggle. As someone who was laid off during the recession from ten years ago, I totally get it.
Writing my annual income report is hard to write this year because of what is going on, but also something important to document as part of my journey.
Unfortunately, it was not the best personal year, which I will get to below.
As we head into 2021, it's hard to believe my online journey started around January of 2015. Time flies, right?
Personal update
Like many of us, it was a roller coaster of a year. I started early 2020 off by breaking my finger, which left me unable to type for a couple of weeks. As someone who is on the computer all the time, trying to type with one hand was super frustrating.
Fortunately, I have a wonderful team that tolerated my need for a lot of meetings where they could take over tasks for me. Typing with one hand was not efficient!
My sweet dog Montana was previously diagnosed with a brain tumor. We made trips to and from middle Tennessee to Atlanta for treatment and I thought we were in the clear. Sadly, her seizures started up a few months later with a new brain tumor and we lost her in the spring.
This was overwhelming for me. She was such a big part of my adult life that I really struggled with her passing and was quite depressed.
One moment I will cherish forever was a family reunion in Florida right before the world changed. This was the first time all of my family got together in what had felt like forever, so it was such a great time.
It would be the last time I saw my grandfather in person as he sadly passed away in the fall. He was a big role model and an important person in my life, and I really miss him.
Add in another relative's death and a shift in healthcare needs for another, there were some periods of overwhelm. Work became my escape from reality and I worked much more than I planned to last year.
Shifting a bit, one area I am happy about was my ability to contribute to causes I believed in, which were primarily animal-focused.
I donated to the koalas in Australia, a pet search and rescue after Beirut's explosion, an animal rescue from the California wildfires, programs at our local zoo, a couple of minority women's businesses in third world countries, among others ones that spoke to me.
While I wasn't quite ready to adopt a new dog, we decided to become pet foster parents to a beagle through a local organization.
I'm not quite sure what happened, but here we are four months later still with her, so I guess she's part of our family now. 🙂
While I had hoped to donate more of my time to local organizations, it just didn't work out.
We've also lived in our brand new home for a little over a year! In 2019 we built a house and it's been such a silver lining as we've been home so much.
How my blog and business got started
I have enjoyed sharing my income reports over the years. Without a doubt, my favorite income report is my first one. I made $60 after just four months of launching my blog and it gave me the motivation to keep moving forward.
After my first income report, I spent the next six months hustling. I worked a long day job as an interior architect and designer and used all my spare time to start my business. I spent most of my time setting up this blog and learning something new every day.
If you would like to start a blog, I provide tips and ideas here.
I also accidentally started a freelance hustle as a Pinterest virtual assistant. After my blog soared in traffic due to my Pinterest strategy, I shared a blog post that went viral.
From there, I was approached by fellow bloggers asking me to help grow their Pinterest presence.
While I had never considered freelancing, I seized the opportunity and said yes. I couldn't find anyone else offering these services, so I pioneered the phrase Pinterest virtual assistant and got to work! Learn how to become a Pinterest VA here.
Before I knew it, I was averaging $3,600 a month from working very part time hours as I was still at my day job.
If you would like to hire a Pinterest VA to help with your blog or business, you can fill out my free Pinterest VA finder.
To date, I've helped hundreds of clients partner with my students and alumni from my best-selling program Become a Pinterest VA TODAY!, which I launched in 2016.
How creating my own business allowed me to quit my day job
I had reached the point in my life where although I loved my day job as an interior architect and designer, working for someone else was not my long term goal.
I craved independence, my own schedule and the opportunity to have control of my financial future.
Needless to say, this joint period of working my day job and juggling my new blog and Pinterest management business was rewarding, but also a lot of work.
To be blunt, it was exciting but also exhausting. I wrote about what it was like to be a part time blogger while working a full time job and it was quite hectic.
I prioritized my motivation over everything. As I could see my hard work paying off month and after month, I knew I was working towards something special.
Between both my blog and my Pinterest virtual assistant business, I was able to turn in my notice to my day job just ten months after getting started.
It was the greatest moment for me!
How my business previously performed over the years
After sharing my first income report, I went on to share more than forty income reports from 2015 until mid 2018.
This included a mix of blogging, offering my services and eventually grew to include many different things, like affiliate marketing, ebooks, products, courses, etc.
There are so many different streams of digital revenue and it's important to be as diverse as possible. This way if one area decreased in income, you have other ways to make money.
What I love about having an online business is there are so many different ways to earn a living.
Here's several annual income highlights since starting my online business:
2015: I made just under $13,000 while still at my day job for most of the year.
2016: I made a little over $90,000 which was my first year working for myself.
2017: My income tripled and came in just under $290,000.
2018: My income nearly doubled, coming in at around $512,000.
2019: We arrived at a little over $725,000 for the year.
I am so glad I started writing these from the beginning, as it kept my online journey very real and authentic, and a great way to reflect on what I have accomplished.
I decided to publish my last monthly income report in the summer of 2018. While they were great for tracking purposes and similar to writing in a journal, they weren't really bringing me joy to share them publicly.
My goal was always to track my progress and show others how I went about things, and I more than proved how anything is possible.
While I no longer write income reports, I do spend time every month reviewing financial statements from my bookkeeper. I also work with my CPA monthly to make sure everything is running smoothly and most importantly, we are paying the IRS the right amount.
In the early days, I did my taxes myself. Between this blog and my two other brands Pinterest VA and Diva Dog Bakery, there's just way too many moving pieces. Having a bookkeeper and CPA is vital for my business.
2020 Business income and expenses
As I stated above, I stopped sharing monthly income reports. This will also be the last annual income report I provide as well, as I just don't think they are necessary anymore.
In 2020, my income was a little over $840,000. I am happy with this amount!
Revenue came from these areas:
Products/courses (this was the highest area of income)
Affiliate marketing
Ad revenue
Membership community
Coaching
Sponsorships
While I accomplished a lot, I would also like to point out that I didn't do it alone. I have a wonderful team that helps with a number of things.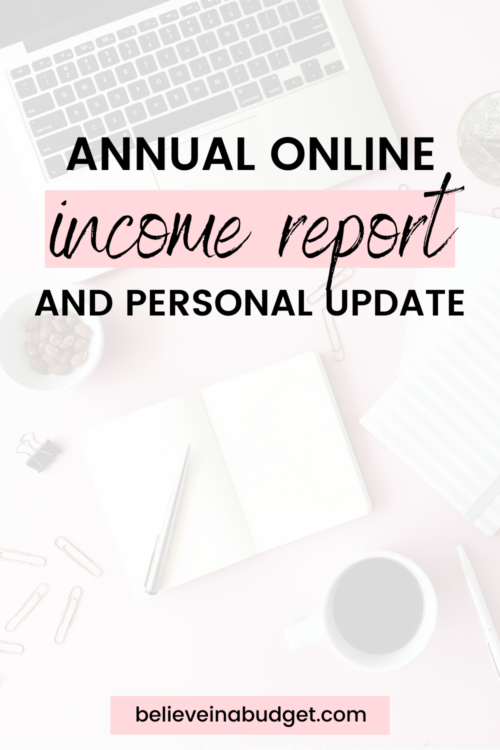 I have no desire to manage a large team by any means, but it would be impossible for me to grow at this level by myself.
It would also be unrealistic to make you think I handle everything on my own.
My team members shine in so many different areas.
This includes things like handling multiple inboxes, working with affiliates, managing our program and membership, tech and automation, blog posts, coaching, working directly with all our subcontractors, etc.
Subcontractors include areas like help setting up Facebook ads, design work, etc.
I'm a firm believer in paying team members what they are worth. I want my team members to know they are valued!
One of the best things I did last year was create an organizational chart that maps out everyone's role so we can all see who handles what areas.
I've really worked on removing myself from certain areas of the business and have total trust in my team members to handle a number of things.
It's a great visual tool that I reference all the time.
This provided me the freedom to focus on helping my students and alumni flourish inside Become A Pinterest VA TODAY! and Diva Dog Bakery.
I also get to focus on company goals, growth and the bigger vision instead of getting tied down in tasks a team member can do instead.
Expenses also increased last year as the business grew. This was primarily for increasing team member's roles and income. Affiliate payments jumped up as well, which I am always happy to pay.
Other normal expenses include things like advertising, all the various platforms to host our products and courses, hosting and domain fees, our email providers and the ridiculous amount of fees we pay for online transactions.
As a business owner, that means I'm in charge of paying for my own health insurance and retirement. I also have an HSA and investment account.
Last year I chose to hire a financial advisor and it was really helpful. While I felt like I had been making solid decisions with my investments in the past, it's been helpful to have someone I trust where I can ask questions, get advice and help me plan for the future.
Business notes worth mentioning
I worked a lot and so did my team since we were home for so much of the year. Working became a therapeutic outlet and also a way to avoid reality. Probably not always the healthiest decision mentally, but work got me through some hard times.
At least I can say that putting in the extra hard work paid off.
More and more people enrolled in my best-selling program Become A Pinterest VA TODAY!.
People were clearly looking to invest in themselves and discover new ways to work from home. My program at PinterestVA.com has helped thousands of students go on to earn income ranging from side hustle value to five-figures per month, so that was definitely a success.
At my fall launch, I offered an elevated program for students who wanted extra help. That sold out, which let me know students wanted this option. I'm excited to share I have big news about this next month that will be a major game changer!
I also launched Diva Dog Bakery, which was my passion project that I had put on hold for years.
Many years ago, I used to have a pretty lucrative side hustle baking and selling dog treats. I found a lot of success selling my treats on Etsy and had my own website. I also found a lot of success selling in-person at local farmers markets and craft fairs.
My dog treats were invited to be part of the 'swag bag' for the Emmy Awards, which was a very surreal moment.
My goal finally came true! After I felt comfortable with how Believe In A Budget and Pinterest VA were running, a few months ago I reintroduced Diva Dog Bakery. Instead of bringing it back as a bakery, I created a course about how to start a homemade dog treat bakery.
This has been a great change of pace to my schedule and a creative outlet. Baking dog treats is fun. My first launch went really well. It's been fun to welcome new students who love dogs and want to bake!
Believe In A Budget continued to make money, but it was not a top priority. Different blog posts are still full of great content, but SEO is definitely on my priority list for 2021.
Putting the time into this blog over the years has certainly payed off. While it's not possible to get rich overnight from blogging, it can really pay off in the long run.
I spent more time on Believe In A Budget behind the scenes instead of writing a bunch of posts. Instead I let the blog posts work for themselves via Pinterest and Google search results.
I pretty much hit all of my goals in 2020, but I didn't really have anything too over the top.
Have my income increase or remain the same – income increased
Launched KristinLarsen.com, which I plan to grow in the future – done
Hinted at launching a new course that would be dog-related – done
What to expect in 2021
I like to plan out my year in advance with wiggle room. Knowing all of my launch dates for Pinterest VA and Diva Dog Bakery is super helpful. I will also continue to promote a few other programs that I think are beneficial for side hustlers and entrepreneurs.
Believe In A Budget will get back to regularly scheduled blog posts this year.
There's so much to talk about when it comes to side hustles. I always have my eye out for someone doing something new and different. I love hustles that not only helps others, but produces income for the side hustler as well.
Believe In A Budget is definitely in the personal finance space. Diva Dog Bakery will obviously be in the pet space, which is new for me!
Diva Dog Bakery's website is also going to be more robust. We have a number of articles in the works. I'm really excited to see where it takes us this year!
Pinterest VA is wonderful and we're continuously making updates so I can really help my students and alumni. I'm really proud of how many clients came to me. They were ready to hire people from my program.
We provided over $630,000 in annual client leads in just the past twelve months inside my membership group for Pinterest VA, which was a win-win for everyone. This doesn't even include income students earned on their own!
Final thoughts on my past year and my annual online income report
While 2020 had some ups and downs, it was a big part of my personal and business life. I went back and forth about sharing this blog post. It's not as on point as some of my previous annual income reports.
I made some big decision in 2020 that will have a positive impact on my business for quite some time.
Going all in on my goals, beliefs and dreams was well worth it.
I also turned off a lot of distractions and nixed certain social media sites that were a time suck. Instead, I focused on checking off the boxes on my to-do list.
Like always, the goal is to keep moving forward and hopefully plan some much needed vacations later this year!
What are your 2021 goals?