Coming up with passive income ideas can seem so fun and exciting because it allows you to buy back your time in a way.
Wouldn't it be cool to make money in your sleep? What if you could earn money while you're watching TV or on vacation?
It sounds nice, but earning passive income is not a walk in the park. Fortunately, I'm going to share 25 different passive income ideas to help you accomplish this!
Most of us earn what's called 'active income'. This means you might go to work or work from home and trade your time for money.
There's nothing wrong with this and I'm totally in support of doing work you love and that gives you purpose.
If you no longer have to work in exchange for money, you will not only diversify your income, but you'll free up additional time to do more of what you love.
25 Passive Income Ideas
Passive income does require a lot of work and effort upfront. You also don't need a ton of money to start earning passive income.
This blog has been earning passive income since the very beginning. You can read my very first income report and then check out how all my income has grown over the years.
Here are 25 passive income ideas you may want to try out.
1. Rent Out Storage Space
I've been wanting to try Neighbor for awhile now. Renting out storage space is easy to do and a great way to earn passive income.
Neighbor is like Airbnb only you don't have to host anyone – just their stuff! If you have the extra space in your garage, closet, basement, or attic, Neighbor gives you a way to start earning money from your space.
Compared to competitors storage rates can be up to 50% cheaper through Neighbor.
Neighbor can be the perfect side hustle for anyone who doesn't have a ton of time to dedicate to earning extra money. Once a host's listing is booked and approved hosts are paid at the end of each rental month.
2. Invest in High Yield Savings Accounts
You can earn a passive income by simply taking your money and investing it into a high yield savings account. These accounts will allow you to get a good return on investment by just leaving your money in the bank.
Traditional brick and mortar banks do have savings accounts, but the interest rate doesn't really make opening the account worth it.
Online banks offer better rates and make putting your money in the bank more beneficial. Some banks offer APY around 1% which is great. Capital One 360 allows customers to open up to 25 savings accounts.
Out of all the passive income ideas, this one should be on your to-do list.
While I like to have an emergency fund, I also like it to earn interest. This way my money is always growing without doing anything extra on my part.
3. Rent Your Car for Rideshare
If you can't make money from space in your house then how about renting out your car? Yes, there are actually a few sites that will allow car owners to list and rent out their vehicles.
If you are willing to let your car rack up mileage Hyrecar is a platform to list vehicles for Uber or Lyft drivers.
Since both Uber and Lyft require cars to pass an inspection make sure that is done prior to trying to rent out a vehicle.
The inspection document should include photos of the vehicle, and registration when creating a profile.
Car owners are in control of how long they would like their vehicle rented out. When handing off keys be sure to walk the car with the renter to check for any scratches or dents.
4. Laundromat
Owning a laundromat would come with some expenses like utilities and machine maintenance. It could still be profitable and be well worth the investment.
According to Brian Wallace, President of the Coin Laundry Association, the annual gross income from one laundromat can be between $30,000 to $1 million.
Clean clothes are something that a family needs and if they don't have a washer or dryer then they have to turn to a laundromat to help get them done.
5. Rent Out Rooms
I'm sure by now that you've heard of AirBnB. This has been one of the most popular passive income ideas homeowners looking to pay off their mortgage faster.
This is another passive income opportunity that won't take a ton of effort on your part. Some people make a living off renting out rooms or even entire houses to travelers.
Airbnb is able to calculate rentals in the area and give you an idea of how much you could make daily, weekly, and monthly by renting with them even before you list your space.
If you would like to learn how to become a host, get started here.
I have stayed in over a dozen AirBnB for work and vacation. Here is a $40 coupon off your stay!
6. Round-Up Savings
There are a few apps out there like Chime that can save your money without you having to put forth the effort.
Chime Bank can round your change from a debit card purchase to the nearest dollar, then place the difference into a savings account. This can be a long or short term way to help build up savings.
Each time you make a purchase or pay one of your bills with your Chime Visa debit card, you'll get a deposit into your automatic savings account.
The account is instantly available if you need it, but should be left alone to build a passive income if possible.
Chime bank members can also set up a percentage of their paycheck to be automatically deposited into this same account each payday as well.
7. Rent and Deliver Baby Gear
One idea that will take some effort, but could be well worth it, is renting out and delivering for Baby Quip.
Do you have car seats, high chairs, cribs, bathtubs, or strollers that you aren't using? Listing them on Baby Quip can help you get some good use out of that baby equipment.
Sometimes parents don't have room for cribs or strollers on their trip and Baby Quip is that platform that offers ways to rent out equipment at a reasonable price.
Traveling with kids can be hard enough, but having to drag some of that equipment around an airport can make it even tougher.
Customers choose where and when they are going on their trip, and what equipment they will need.
On average Baby, Quip providers make up to $500 a month. Providers may need to deliver and set up the equipment as well.
8. Write an E-Book
Have an interesting story or some expertise to share?
Consider writing your own ebook and you can make passive income from the royalties.
You can use platforms like Amazon or Shopify to self-publish an e-book.
In my Shopify store, I sell a range of workbooks, which are mini ebooks.
For each book, you end up selling you'll get a percentage of the sale. This is something that can continue to help you earn a passive income over time.
9. Blogging
One of my personal favorite passive income ideas is blogging.
If you've been playing around with the idea of starting a blog, I say go for it! Blogging requires a lot of time and effort upfront, but starting a blog was one of the best decisions I ever made.
It doesn't cost much to get started, and if you're serious about treating your blog like a business you can monetize it with ads, affiliate marketing, sponsored posts and your own products.
Learn how to start a blog in minutes here.
10. Creating and Selling Printables
This can be a very lucrative side hustle to start. Etsy is a very well known platform to begin selling on.
Printables are something you can create that customers can download and print off from home.
Common themes are meal planning, holidays, bachelor/bachelorette parties, and financial planning.
People can easily bring in hundreds or even thousands per month of passive income from printables.
Once you get it set up, it's something that is really easy to maintain. No need to worry about shipping and you only have to create your digital products once.
This free ebook teaches you all the different digital products you can sell throughout the year.
11. Peer2Peer Lending
Are you willing to lend out money? Peer2Peer lending is a way for people to get a loan without going through a bank or financial institution. This offers individuals another option than borrowing straight from a bank.
Sites like Lending Club offer business loans up to $500K and personal loans up to $40,000.
Loans are typically 3-5 year terms, and borrower monthly payments will include both principal and interest. With Lending Club, you can become an investor with a minimum investment of just $1,000.
12. Create an Online Course
Creating an online course can be your ticket to passive income if you have something interesting and helpful to teach others.
Teachable is one of the most popular platforms out there to help create and sell your courses.
Deciding to create a course can help transform your business. You have unique experience and knowledge that can help others so you might as well market this to improve people's lives.
When I started blogging, I became really interested in Pinterest and start using it to grow my blog.
Over time, other people wanted to know how to this so I created Pinterest Presence along with Become a Pinterest VA Today!. Both courses have helped thousands of people grow their blogs and earn money as a Pinterest virtual assistant.
While selling courses is not completely passive income, it does help you get to a point where you're not trading as much of your time for money anymore.
You set the price of the course and wait for the money to start coming in. The best way to promote the course is through social media and your email list and work from there.
This free workshop helps you learn how to get started creating you very own course.
13. Social Media Influencer
Do you have a social media following? Becoming an influencer can be a wise choice to make.
Companies will pay you to help advertise their products. Pick which niche you're comfortable with and begin posting.
While you don't have to be a big influencer, the more engaging you are with your audience, the better.
Don't overwhelm yourself with social media and just stick to 1-2 platforms that you want to grow.
Be yourself and focus on ways to add value to people's lives and share helpful tips and advice.
You can find social media sponsorships by signing up for a few influencer networks.
14. Advertise From Your Car
Did you know you can use your car to advertise for companies?
Carvertise offers to wrap your car with a company ad and pay you to drive around. You simply fill out an application and then are matched with advertisers that like your driving profile.
They want drivers who drive in the area they are trying to target. Drivers have to have a clean driving record, drive at least 30 miles a day, own a vehicle that's a 2008 vehicle or newer, and have a factory finish paint job.
Standard payments are between $100-$200 a month. Instead of being chosen to drive around with their car wrapped, drivers can also be selected to park their cars in certain areas and earn $30 an hour from just sitting in one place.
15. Buy a Profitable Website
Instead of starting a blog from scratch, you can buy one that is already performing well.
You can then take what they are doing with the blog and build on it. One of the best places to shop for affordable and established blogs is Flippa.
If you don't have time to create new content for the blog, you can hire writers to help keep new content coming.
You might not need to change much at all either. The blog might be fine as is, the previous owner just didn't have time to keep up with it anymore.
16. Create an App
There are so many apps out there, but there is always room for more. This have become one of the lucrative passive income ideas for entrepreneurs.
Creating the app yourself is the cheapest route, but if you didn't want to put in the work you can always pay a freelancer or mobile app development agency to build it for you.
To avoid those extra fees, you can learn app development yourself and create your own.
According to Sensor Tower spending on Google Play and the Apple Store hit $39.7 million in revenue in the first half of 2019 alone.
One way to make money from an app is by creating a game app that offers in-game purchases.
Another way to make money from a mobile app is by charging for subscription services. Some sort of monthly subscription fee isn't uncommon for apps.
Keep in mind that both Google Play and the Apple Store take 30 percent of all app and in-app purchases.
17. Invest in Real Estate
Investing in real estate often requires more money to start. Keep in mind that you don't have to become a landlord or get another mortgage to invest in real estate, however.
Platforms like Roofstock give you the opportunity to find an investment property.
You can use the site to browse properties and find out what the total investment is, to determine your potential return. Once you put your investment into the property it will then become yours.
Some properties even have the tenants already in it. Roofstock can provide payment history, a copy of the current lease, and tenant details.
Fundrise is also a good option for crowdfunded real estate opportunities and you can get started with just a $500 minimum investment.
18. Invest With a Robo-Advisor
Another great option to help build a passive income stream is by building a diversified portfolio investing in stocks and bonds.
There are Robo-advisors like Betterment and Motif Investing that will help manage your account and invest your contributions.
Just attach your bank account to make the monthly contributions and these Robo-advisors will do the rest.
19. Cashback Sites
I love shopping online. It's so convenient and practically a no brainer if you're short on time or would prefer not to run out to the store.
I like how when I do shop, cashback sites like Rakuten give me some of that money back. Not only do I get what I'm shopping for, but I also get money back to put towards something else.
Rakuten always has nice cashback deals and is even offering a free $10 welcome bonus just for signing up. Just add the browser extension to your computer and each time you visit your favorite store's website you'll be notified when cashback is available.
20. Sell Stock Photos
Have a good eye for taking photos? There are sites out there to share your stock photos. You'll be paid each time someone uses your photo.
This isn't something you'll get rich from, but certainly something that is worth giving a shot.
The more platforms you use the better chance the photos will get chosen which means more money in your pocket.
iStockand Shutterstock are a few of the places to begin earning money from stock photos. Over the past 15 years, Shutterstock has paid out over $1B to its contributors across the world.
I also recommend creating an Etsy shop to sell your stock photography. This is a great way to get in front of a big audience.
21. Sell Music
Know how to make great music? TuneCore offers a way for artists to circulate their music all across the world.
This company helps provide the tools needed to help artists make money off their music.
TuneCore has over 150 digital store and stream services they partner within over 100 countries worldwide.
Every time you are streamed on Spotify or your music is downloaded on iTunes you will get paid. TuneCore never takes a portion of your sales.
They do charge a fee per song to put it out for the world to listen to. The fee is $9.99 per single or $29.99 per album.
22. YouTube Channel
Many people turn to YouTube when they want to learn something or be entertained. Have you ever thought about starting your own YouTube channel?
It can turn out to be one of the best decisions you've ever made.
It's not easy to build up your audience but once you do, you can monetize your channel with ads.
Be sure to niche down and start with the basics. Don't focus on having the best camera or video editing skills in the beginning. All of that can improve in time.
YouTube offers multiple ways to make money including advertising revenue, channel memberships, merchandise, and super chats.
23. Rent Your Parking Space
If you live in a busy city, you may be able to earn passive income by renting out your parking space.
Parking is scarce in some places and people would be more than happy to pay a fee for a parking space throughout the week.
Site like SpotHero and Curbflip to find parking often help people find parking for a fee.
Not all locations are a good fit for those platforms, but SpotHero says they can let you know within 48 hours if your spot can be added to their site. Prices are set by the spot owners.
24. Cashback Rewards Cards
If you use them the right way, rewards credit cards can be a nice tool to utilize.
By selecting the right card, they offer bonus points for spending a certain amount of money in a specific timeframe. For example, you may get an extra 50,000 points for spending $1,000 in the first 3 months of having the card.
This is not only a great way to get customers to want to use a card, but also a way to earn rewards that you can use for travel, merchandise, or cash back.
Just make sure when picking out a rewards card that the interest rate isn't too bad and that there isn't an annual fee for having the card.
You don't want to carry a balance on the card each month and pay interest because this could cancel out the benefits of getting the rewards.
25. Sell T-Shirts
T-shirts are another item you can sell online that's easy to make especially if you're looking to generate passive income.
Just like with selling printable downloads on Etsy, you can create t-shirt designs and sell them multiples times online. TeeSpring is a popular site that allows you to sell your t-shirt designs.
Keep in mind that you'll have to some marketing work and you may want to invest in social media ads, but this can still help you generate passive income in the long run.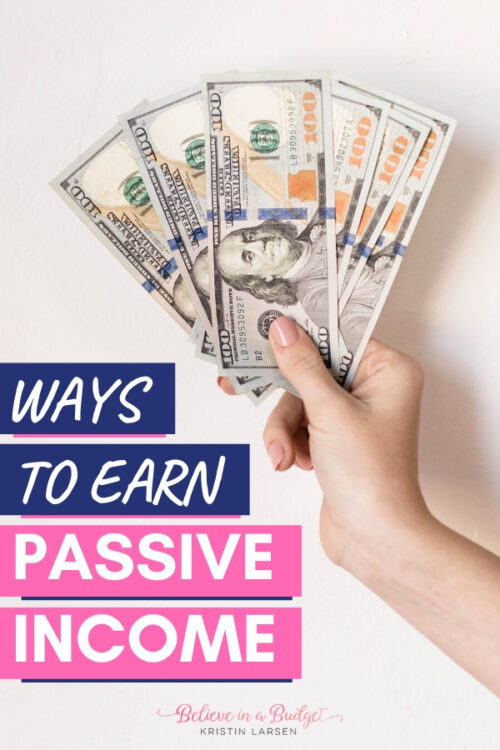 Consider Starting One Of These Passive Income Ideas
If you're looking to diversify your income and stop trading so much of your time for money, trying out one of these passive income ideas is a great option. Passive income sounds easy, but it's not especially in the beginning.
Be ready to plan carefully and work hard, but the reward and fruit of your labor will be well worth it in the end.
Free 7 Day Blogging Course via Email
Join thousands that have learned how to start and grow a profitable blog. Sign up for free tips below and get started right now!