I am so excited to share my very first blog income report! I am completely shocked and really happy.
I didn't make much, but it doesn't matter to me. This blog is an outlet and a way to connect to other bloggers, so having actual blog income is stunning.
If you are thinking about starting a blog, this tutorial will help you start a blog today. I wrote a 'how to start a blog' post that will help you:
Decide what to write about! I am sharing over 50+ ideas for you to blog about.
Show you how to set up your blog online (it's like a 15-minute process)
Get a FREE domain name for a year! (this usually costs around $15)
My Blog Income Strategy
In January 2015, I bought my blog and decided to get serious and treat it more like a business. I really wanted to make blogging a side hustle that earned me money! While I loved the idea of blogging as a hobby, I really wanted to earn income from it!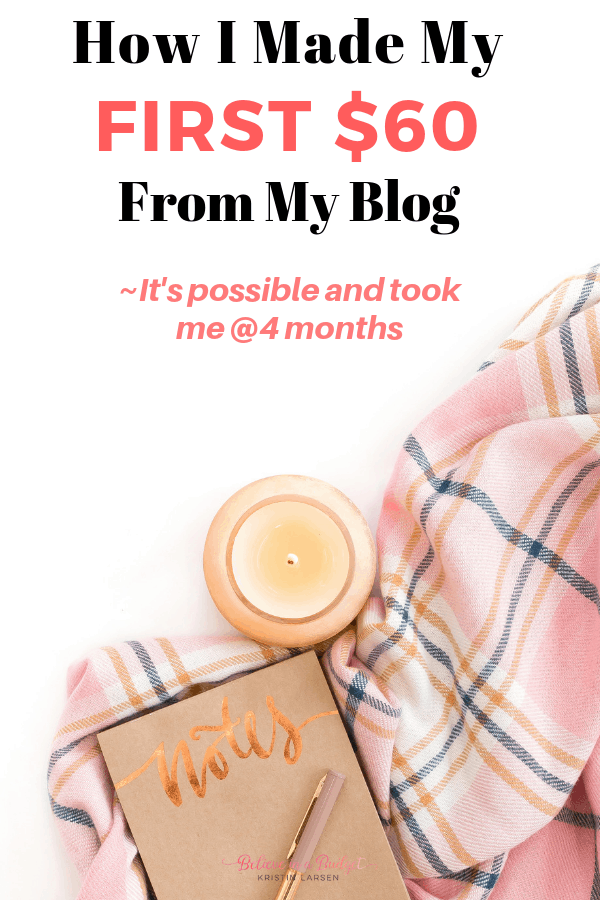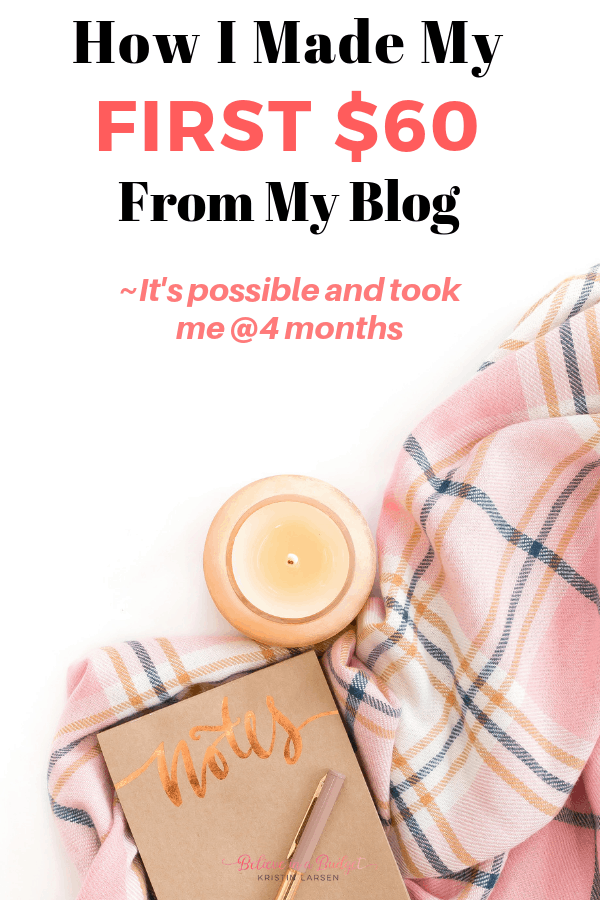 I finally got confident enough to comment on other bloggers' posts (shy, introvert personality here), joined Twitter, and signed up with Pinterest.
At the start of 2015, I committed to writing 2-3 times a week, improving my photos and making my website more user-friendly.
Using Bluehost, I paid for a domain and a WordPress website, used a free theme and had no idea what I was doing.
This was my only expense for my first several months of blogging. Talk about a cheap, low cost to start an online blog/business!
Ad Income
I knew I wanted to monetize my blog and earn blog income at some point, so I added Google Adsense onto my website.
What is Google Adsense?
It's a free, entry-level of ads you put on your website to help your blog make money.
It is one of the harder ways to earn income, so don't expect to get rich overnight!
Ad income comes from traffic to your website. So in the early stages, you will still be growing and won't have a lot of traffic. Thus, low income from ads.
As time goes on, you will get more traffic and start earning income from ads!
I read over and over again that blog income from Adsense would take time to build and that is definitely true when just starting out. All in all, it took ten months of blogging to get my first $100 paycheck from Google. This was the hardest way for me to earn income as a new blogger with low traffic.
Affiliate Income
Next, I added a few affiliate links to my blog based on the products I was currently using.
I was comfortable telling my audience about a book I read, a blog theme I installed myself, and a product I used on the blog or in real life in some of my blog posts.
I chose to only add affiliate links that I could 100% recommend to others. By adding a couple of products that I recommended, some of my readers ended up purchasing them.
This was a win-win!
First, I was able to share my experience and give an honest review of something I was using.
Second, a reader trusted my opinion and used my link to make a purchase. The reader was able to get the item for the standard price (there's no extra pricing added) and I was able to earn a commission.
How exciting!
So drum roll please…
My First Blog Income breakdown
Here are my earnings from my first monthly blog income report.
Ad Income
I have set up Google AdSense but did not earn any paid income. I made around $15 from ads on my blog. Because I have not met the $100 threshold for payout, I am counting this as $0 in paid income.
Affiliate Income
I actually earned more than $80, but some of the affiliate sales are not paid out until the following month. Because of this, I have decided to only report income when I actually receive payment.
My affiliate sources are small but pretty diversified.
As a new blogger, I am starting off slow with affiliate links. I am still learning how to use them, how I can write about them in my blog posts, and how to make sure my recommendations help other people!
The affiliate sales from my first income report come from four different sources.
Right now I am recommending:
Rakuten – This is where you get free cashback when you shop online! You literally get cash back when you make an online purchase. The cashback is deposited into your PayPal. If you want to try Rakuten, use my exclusive link to get $10 off your first $25 purchase AND earn cash back.
Ibotta – This is another free cell phone app. You use it after you go grocery shopping and use your receipt. It's basically a rebate app, so you can earn anywhere from 50 cents to $5 off everything you buy.
If you want to grab the Ibotta app and start making money off your grocery receipts, click here to get started. You will receive a cash bonus of $10 when you scan your first item!
StudioPress – When you start a blog, you need the Genesis theme to start a WordPress blog. There are other themes out there, but the Genesis theme is supposedly the best theme to use for Google search results. The Genesis theme is like the bones of your blog or the bottom layer of your blog.
Restored 316 Designs – I picked this company to use a child theme for my blog. A child theme goes on top of the Genesis theme and how you customize your blog. There are a ton of themes to choose from depending on your blogging niche, what colors you like, and layout.
I think it's really important to be a part of different affiliates as I don't want to depend on just one source.
I actually had two more affiliate sales from different sources from the previous month, but as I mentioned above, they do not pay out until this month so I am not including them in my March blog income report.
As I am only counting income received, I had $61.83 that was deposited into my PayPal and bank accounts!
Expenses From My First Blog Income Report
My only expense was paying for a professional email for $5 per month.
I did not include my expenses from Bluehost, as I paid for my domain name and hosting a year in advance.
I did not have any other blog expenses. Starting a blog is one of the cheapest start-up side hustles you can start compared to other businesses. Yippee!
Blogging Income Motivation
I have no idea what my blog income report will be next month.
Part of me thinks this is a fluke and can't be real and the other part of me is in total disbelief and shock!
I've been reading so many other blog income reports from bloggers I admire, so to finally have my own monthly income report is so exciting and amazing!
Clearly I can't quit my day job yet, but I am still excited that I have proven I can make money online from blogging.
What's happened since I published MY First income report
Although I published this income report in 2015, I wanted to update this blog post and share that I have now been blogging for more than five years.
I'm excited to report that blogging changed my life.
I quit my job in October 2015 to blog full time! You can read about my big announcement here.
In under a year, I was able to:
Additional Monthly Income Reports
After writing this first income report, I decided I would continue to write monthly blog income reports.
I like being transparent and share what works, how much money I make, what I need to work on, and more! My monthly income reports are a great way for me to reflect where I am with my blog and see my progression over the years.
Since writing my first income report, I have gone on to publish more than 50+ monthly income reports over more than four years.
Here is just a small example of some of my income reports from my first twelve months of blogging.
As you can see, each month I started to make more and more money online.
I also wrote a recap on how I increased my blog income over a 16 month period that can be read here. I share very specific information month by month that helped increase my income.
Don't Let Fear of Blogging Hold You Back
One of the biggest lessons I learned was that fear was holding me back from believing in myself and my blog. I was scared to share my feelings, scared I would fail and that no one would read my blog.
I bet you might have some of the same fears if you have been nervous to start a blog. You can read the post here.
How to Start a Blog
If you are ready to start a blog yourself, read this tutorial on how to start a blog.
In the tutorial, I share over 50+ blogging ideas, walk you step-by-step on how to set your blog and what to do after you launch your blog. You will also learn how to pick a blog name and get it for free!
Thank you for reading my first blog income report! Do you have any questions?