Here is my February online income report. I'll be honest – I don't really like sharing income reports anymore because they make me super uncomfortable. Writing that last sentence was really hard! I am generally positive and happy and love my blog and work life, but this has been a tough area for me to cover lately and I'm just being honest 🙂
My biggest issue? While I love sharing my reports with the blog and entrepreneur community – seriously, y'all can ask me questions about my income and I have no problem answering. My struggle is talking about what I do for a living in an environment to people that don't do what I do. Naturally in a social environment, people want to know more about me and what I do for a living. I dread it!
So lately, it's easier for me to just say that I telecommute and work from home and I leave it at that 🙂
A few months ago, I stated that my December income report would be my last online income report for a while. The timing felt right. I was finishing up the year, I had a decent amount of income reports under my belt, and was ready to close that chapter on the blog.
Since then, I've had more support and emails from readers asking me to continue writing the income reports. So I don't know what to do. I guess for now I will keep doing them, but y'all – it's a struggle! #firstworldproblems
I think my audience likes knowing that almost two years ago, I published my first income report proudly stating how I made $60. It took me about four months and I busted my butt to make that money! I was SO excited to know that my hard work was paying off and blogging was legit!
Since then, I've been sharing my slow but steady climb to increase my monthly online income. I'm not an overnight success! I didn't instantly start making thousands of dollars from my blog within a few weeks of launching my blog.
Instead, I put in the work each month and it showed! Each month my income increased a little more, although there were a few months it dipped back down too. Whether I have a great month or so-so month, I'm happy to let readers know what I did wrong and the lessons learned. Running an online business is hard!
My January income was through the roof! I released my course called Become a Pinterest VA TODAY! with my JV (joint venture) partner Gina. We made a conscious decision to release this course in January for four days and then close enrollment. This course compliments my Pinterest Presence course and vice versa, so sales increased for this course too!
So what happened in February?
Overall, my income decreased and went a little more back to the normal, but upward progression I've been experiencing.
I also closed Pinterest Presence as it will relaunch at the end of April, which means I didn't make any money from this typically open course. Pinterest Presence is getting an update, which I'm really excited about! Unfortunately, when I closed course enrollments, that meant no course sales.
Here are some previous online income reports:

Breakdown of my February online income report:
February was my sixteenth month I have been self employed. I started this blog in January 2015 and quit my day job in October 2015. I haven't looked back since!
Here's the breakdown:
$806.45 Ad revenue (this amount has been down as I've been trying to cut down on ads)
$500 Partnerships/Sponsorships
$12,179.11 Affiliate Income
$1,639.75 Courses + products
If you want to keep track of your online income (which I highly recommend) check out Freshbooks! It's what I've used to track business income, expenses, invoice clients, and more. Click here to learn more about Freshbooks.
GRAND TOTAL: $15,170.31
I'm really happy with this number, but it's really eye opening for a few different reasons for me. Let's get into it!
Lack of products + courses
First of all, here is a chart comparing my income from January versus February.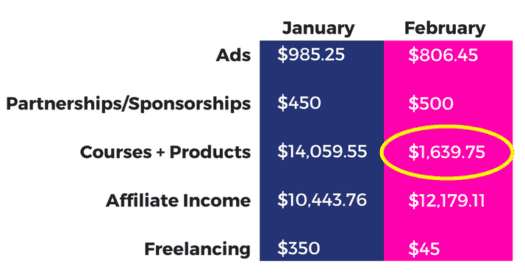 Holy crap, right?!
The biggest difference is how much I depend on my courses and products to earn a living! With the launch in January, my income was higher than normal.
The downside to February was I also removed Pinterest Presence during the middle of the month, so most of my income came from Side Hustle to Success, my small $39 course on how to side hustle.
Unfortunately, March will probably be similar if not less for course and product sales. On the plus side, Become a Pinterest VA TODAY! and Pinterest Presence are both relaunching in April, so that month has some serious potential to be good 🙂
Affiliate income continues to climb steadily
I'm also really, really happy with my affiliate income growth. I didn't focus on affiliate income when I first started this blog. It didn't make sense to me and I didn't really understand it for about a year into blogging, ha!
Last year I made the decision that I wanted to switch my main source of income from freelancing AKA my Pinterest management company to more passive income. The main reason for wanting to do this was because my Pinterest management company was growing (almost too fast) and I was working more than I wanted to!
I know this might sounds ridiculous to some people, but I wanted to slow down and focus on my own brand. I needed to figure out how to switch gears and grow my affiliate income, as well as my courses and products.
My affiliate income comes from around ten main sources. The great thing about this blog is that it focuses on side hustles, online entrepreneurs and how to blog, so I have three different audiences. This means I can find affiliate programs that are pretty diverse to increase my income!
Here's a chart on how much my affiliate income has grown in the past year: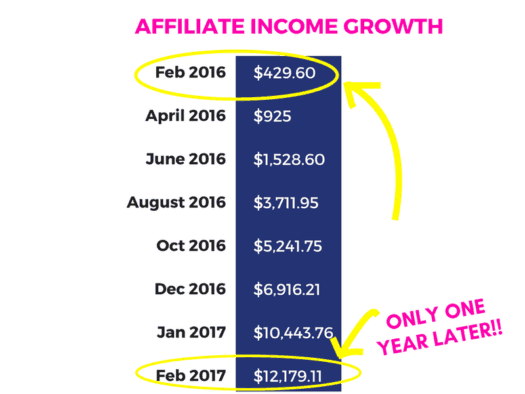 I made some serious effort to focus on making this switch in Q2 of 2016. It took several months, but I made the switch. A year ago my income probably came 90% from freelancing; today it's 5% or less.
It's really crazy to look at this chart and see how much my affiliate income has increased. Awesome! If you need help growing your affiliate income, take a look at this course.
I get requests all the time about Pinterest management. I do take on work here and there so I can 'stay in the game' 😉
What I really love is that when I receive a client request for my services, instead of saying no, I can now refer them to a solid group of Pinterest VA's that have taken my courses and are qualified! Everything comes full circle, right?
Here's some highlights from February:
I hosted a three hour Pinterest workshop at the Thrive conference in Houston, Texas. I was really excited about this because I would be running the workshop solo and could really have fun with it! Unlike a panel or speaking session, I put my group of students to work with custom workbooks 🙂 One student said it was like Pinterest bootcamp, ha! I received a lot of compliments after the workshop about how much my students learned. I really didn't think I would be able to go for three hours, but we actually ran out of time because the group was so interactive! Loved it!
Become a Pinterest VA TODAY! is looking fierce. The course material, bonuses and workbooks have been updated to reflect super helpful feedback from students so we could make the course even better. Gina and I have worked so hard to make this course full of information and it's going to be a steal at $69. I know there are courses on the market for hundreds and hundreds of dollars, but it's really refreshing to create a course that's affordable, fun and full of real life examples from both Gina's VA business and my Pinterest business. This course is relaunching on April 7th if you want to get on the waitlist.
I partnered with Kate from Cashville Skyline and we quietly introduced a new course called Side Hustle Your Way Out of Debt. It's a combination of Side Hustle to Success that's paired with her signature course on how to get out of debt and how to budget. We are going to be releasing this again and plan to do more promo for it!
I'm still learning to love Facebook. I spent $200 on a Facebook ad in January and made over $4,000 in affiliate income. It seemed like it worked, so I just kept the ad going in February and once again made a little over $4,000. For $178, I was able to reach over 24,000 people, spent 12 cents per engagement and had a relevancy score of 9. No idea if this is good or bad. Unfortunately, I might have missed out (?) on an extra 474 clicks. I didn't make the image in my ad clickable, so readers had to click on just the URL I had listed in the ad. Ugh! Now I know that readers really want to click on pictures. I'll be fixing this for the next go round! Is this TMI? I know a lot of bloggers don't talk much about how much they are spending on Facebook ads, but I'm ok with it. It's all still a big mystery to me, ha!
Monthly Expenses
These were my February expenses:
$72 WiseStamp (one time payment, I'm good for a year!)
$35 MailerLite (I LOVE using this company for my newsletters, opt-ins and automation and it's so affordable!)
$500 fix my 9 month old Macbook (the screen got crushed while I was traveling, grrrrr. Not happy with the airline about this)
$1,025.86 purchase of a new Macbook (yup, there was a 1 week turnaround time for getting the laptop back. I made it about 3 hours before I realized I can't live without a laptop. So now I have two…)
$863.64 Affiliate payouts
$0 Tailwind. I pay for this annually. Tailwind is the scheduler I use when I do all my pinning on Pinterest. It's my favorite scheduler I use for my clients and myself.
TOTAL EXPENSES: $2,938.95
I still have to deduct around 30% of my income for taxes as well. I pretty much do everything myself, except for blog maintenance and small tasks. I like doing a lot of the work and am not sure what I would really source out. Outside of the laptop issues, my expenses were fine. If anything, I could spend more money on Facebook ads 🙂
What's next
It looks like I've been MIA from the blog, and by all appearances – yes, I have been! I've been focusing on a lot of projects behind the scenes.
I've been working on a new site design, SEO and fixing a never ending list of back end issues, like redirecting posts, fixing broken links, etc. Basically, boring stuff that I don't like but have to get done in order to make this blog work better for the reader!
I've also been working on updating my courses, which is taking up nearly all my free time. Recording new videos and updating course material, especially for Pinterest Presence, is time consuming. Pinterest has been through so many changes in the past several months that it's tricky to keep the course as fresh and current as possible!
What are your thoughts on income reports? Are you over reading them or do you they inspire you?