If you are ready to organize your life right now, this could be for a number of reasons. If you currently feel like your life is all over the place, you're definitely not alone.
Life is a little bumpy right now. It can often get busy and hectic causing you to feel like you have very little control over what's going on and what's next for you.
If this sounds like your current situation, it's important to take a step back and focus on getting reorganized.
This will help eliminate stress, and help you feel more in control so you can work toward meeting your goals.
Let's organize our lives right now. Let's get it together and finally come up with a plan to make things easier.
If you're like me, you're bordering between being a total disaster and having it together on a daily basis.
Wait, you're not? Am I the only one?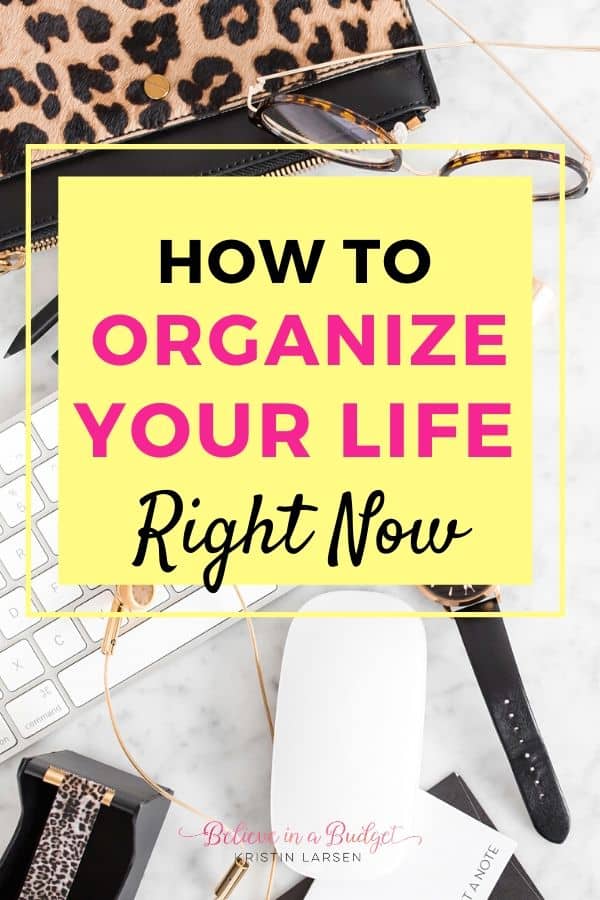 I used to wonder how everyone looked so pulled together when I felt like I was a total scatterbrained disaster!
Ever since I started my own blog and business, I've been on a mission to organize my life the best I can.
Not only have I gotten more organized, but in the process, I have been able to streamline my day and become more efficient.
In this post, I'm going to show you exactly how to organize your finances along with your personal and professional life.
Organize Your Personal Life
Eliminate clutter
Taking the time out to declutter and reorganize your stuff can do wonders.
I recommend you do it monthly if not weekly. It's amazing how much time I can waste looking for things, whether it's personal or business related.
Right now, with so many of us at home, this could be a great project to tackle.
By eliminating the clutter, I've been able to clear my mind and feel more refreshed to tackle my work and personal life.
Clean out personal email inbox
I used Unroll. Me to clean up all my email accounts.
I'm tired of all the junk mail and end up deleting more emails than actually reading them.
I used this free app to wipe out my inboxes so I only get the emails that matter.
Less emails means more time to be doing other things.
Switch to paperless billing when possible
Save the paper, cut down on the clutter and have all your bills sent to you via email.
It's much easier to save bills online and as .pdf's in case you need to keep them. Plus it's a snap to do a search in your inbox than to find an old bill.
Use online storage for files and photos
I recently went through over 7,000 photos I had saved on my laptop.
That's crazy!
I deleted the ones I no longer wanted.. Now I have more room on my laptop and these pictures are stored safely online in case something happens to my computer.
Invest in a quliaty printer and scanner
Invest in a quality printer and scanner and upload all your documents and paperwork in online storage.
I use a small but mighty HP Deskjet Printer and Scanner. I'm fairly conservative about how much printing I need to do at home, but I want something that will work well. This one is a good price point if you want something nice but on the lower end.
Write it down
Passwords, addresses, documents should be kept in one place. Whether you use an online system or a notebook, create one place to keep track of everything.
Related reading:
Clean up your cell phone
Like most people, I use my cell phone for so many things! These days, it seems like I use it more for work than anything. But I also know when I am on my phone too much!
Delete apps that are time sucks. For me, that meant removing Facebook, Instagram, games and lots of other apps. This saved space on my phone and allows me to focus on other things.
Clean your car
I can always tell when my life gets too hectic because my SUV gets messy.
I know it sounds ridiculous, but it's usually a red flag that tells me, if my car is messy, other parts of my life probably are too.
Whether you take your car to get detailed or like to clean it yourself, it's amazing how much better you feel once you are riding around in a clean vehicle.
Organize Your Finances
This can take time, so don't try to do everything at once. Make it your goal to tackle one new project per day so you feel less overwhelmed.
Check and monitor your credit
Have you checked your credit report and score lately? You should be monitoring it at least a couple times a year to make sure there aren't any mistakes on it. If you want to get a mortgage or a loan, you need to make sure your credit is in tip-top shape!
I recommend using Credit Sesame to check and monitor your credit. It's free and easy to use. Plus, they also offer identity theft monitoring services.
Start saving with an automated app
Whether you want to start an emergency fund or a vacation fund, you have to start setting some money aside. If you're like most people and struggle with saving, you should consider using Digit.
I've just started using this free program and love it. Digit lets you save money each week from your checking account.
What I really like about Digit is that it analyzes my bank account and determines how much I can really save per week.
Some weeks it might be $5 and other times it might be $20. You don't have to worry about overdraft and can contribute less or more if you need to.
As of now, I don't know an easier way to save money! You can learn more about Digit here.
[convertkit form=5279423]
Organize your Blog or business
I am finally happy with where I am when it comes to using the right financial and organizational tools.
It took a lot of trial and error to figure out what works best for me and to figure out how to get the best system in place.
Re-label your online folders and files
There's nothing worse than going to look for something in one of your folders and not being able to remember where you stored a file.
Take 15 minutes and clean up your folders.
Rename them, delete ones you don't need and organize them better.
I like to pretend that if someone has never seen my folders before, would they be able to find something?
Start that blog once and for all
If you've been eyeballing how pretty some blogs look and been lurking around, just start your own blog. It's pretty easy to do and fairly inexpensive.
If you are thinking about starting a blog, this tutorial will help you start a blog today. You'll also get a FREE domain name for a year!
I was able to quit my job and blog full time, all within my first year of blogging. I invested a small amount of money to start my blog using Bluehost, and I made $13,000 in 6 months of blogging. That's the best return of investment ever!
Get a PayPal account or business checking account
I have a PayPal business checking account and business checking account.
It makes sense to have both types of accounts because you want to be as flexible as possible when working with other businesses.
Invest in Freshbooks
If you are a freelancer or small business owner, consider switching to Freshbooks.
Plans start at $9.95 a month and you can try them out for FREE for 30 days. Click here to learn more about Freshbooks.
Organize your Side Hustles
If your goal is to start making more money, it's time to start tracking your income better.
If you are already side hustling, step up your game!
Take surveys to make cash back
Get organized and make extra money! One of the advantages of learning how to properly organize your life is the potential to change things up!
Create a new email account just for taking surveys. This will really help you stay organized! I make several hundred dollars a year taking surveys from home and on my cell phone.
These are the top surveys I take:
Swagbucks
Aside from being able to shop online, Swagbucks lets you watch videos that earn you points! These points can then be exchanged for gift cards and cash back. You can earn gift cards to places like Amazon, Target, Starbucks, Walmart – basically places you normally already shop at. You also get a $5 bonus when you sign up here!

Pinecone Research
This is similar to other survey sites – you earn points for taking surveys and then you redeem your points for a pre-paid Visa gift card or rewards. I like Pinecone because you get to give your opinion on products (and even test them out), so your input influences whether or not products hit the shelves. You can sign up here!
Survey Junkie
I've been using Survey Junkie for years! You simply take surveys and get rewarded. It's one of the very first survey companies I started working with when I started side hustling! Click here to get started with Surbey Junkie!
Opinion Outpost
These surveys are on current events, products, food, medicine, etc., and you can earn cash back or gift cards, like Amazon, PayPal and more. Sign up here to get started with Opinion Outpost.
YouGov
This is one of my favorite survey companies. You answer really current questions related to the economy and you also get to see the results. You can cash out for a ton of different gift cards, like Visa, Walmart and more. Sign up here and receive 2,000 bonus points!
VIP Voice
VIP Voice lets you earn rewards for completing surveys as well as writing in an online, virtual journal, which makes it different from other survey companies. Sign up here to get started with VIP Voice.
MyPoints
MyPoints is a long time favorite. Aside from using their website to shop online, you can earn a ton of reward points doing their surveys. I have been with MyPoints for ten years, that's crazy.
I've earned a lot of points over the years, simply from taking surveys. I've been all about this side hustle for a long time, ha! If you want to sign up for MyPoints, you can even a cash bonus. Join MyPoints and earn a $10 cash reward!
My Soap Box
If you're a fan of gift cards, My Soap Box is a great survey app to start with.
You're also able to share your opinion (whether good or bad) on most products that you use on a regular basis.
Get free money with cash back and rebates
Rakuten
I've been using Rakuten for a while now and have made over $700 back online. I get paid a percentage back of each purchase in cash and it's deposited into my PayPal account. Hello, free money! Join Rakuten here!
Fetch Rewards
Every time I go shopping, I save my receipts for Fetch Rewards. I earn points for every receipt, which go towards redeeming gift cards.
Fetch Rewards is free to use and you can sign up here.
Extra Tips For Organizing Your Life
Get proactive
Write down how you plan to hustle harder.
Keep a list of all the companies or people you would like to connect with to sell your services or sign up with.
Add each name to your spreadsheet to keep track of your progress. This will help you stay motivated and continue to expand your income.
Use a separate email and PayPal account for side hustles
Aside from my business email, I have a personal email and a side hustle email.
I prefer to keep things separate and this system is really efficient.
My side hustle email is dedicated to mystery shops, panel studies, rewards and cash back related emails. I also use my side hustle email for all my money making apps as well.
There is no better time than right now to get organized. Even if you can only complete one task at a time, you are already improving your life
What is One Thing You Can Do To Organize Your Life Right Now?
[convertkit form=5278136]