Pinterest is one of the best platforms to grow your website's traffic these days. Even after regular algorithm changes, Pinterest remains one of the top traffic sites for bloggers and business owners.
My top referral source for driving traffic to my blog each month is Pinterest! In fact, over 90% of my monthly traffic comes directly from Pinterest.
Please note, this blog post and Pinterest case study was written in 2016 to document what it's like to be a beginner blogger using Pinterest. Some updates have been made so this blog post can be relevant with current information in 2020.
When I first started blogging, I spent way too much time worrying about SEO, ranking well in Google search results and figuring out long-tail keywords.
Once I realized this was a moot point for me, I chose to ignore every blog post and article that discussed how important these things were if I wanted my blog to do well.
Instead, I started spending more time on Pinterest. Immediately, I started seeing results! My blog traffic continued to climb each month, all directly from Pinterest.
Here's a snapshot of my traffic as a first-year blogger:
From January to July, I was getting between 1,000 to 5,000 page views a month. Once I implemented Pinterest last summer, my traffic started increasing.
After my first month of using Pinterest, I went from 5,000 to 40,000 page views in August! Since then, my traffic has continued to climb each month.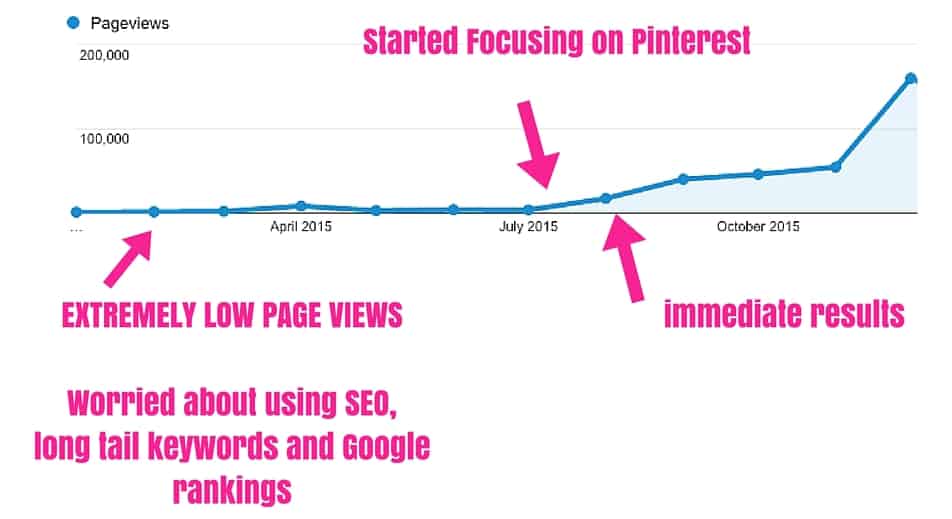 Pinterest is a platform I feel extremely comfortable using. If you are not using Pinterest, you need to start immediately.
Compared to other platforms like Twitter or Facebook, Pinterest has a much higher reach to your targeted audience.
Pinterest Case Study
One of the biggest misconceptions with Pinterest is that a user needs to have a high following to do well. This is not true and just one of the reasons it varies from social media platforms.
What if I told you it doesn't matter how many Pinterest followers you have? Sure, common sense says high following should convert into high traffic right? Well…not necessarily.
I am going to show you how I drive traffic to my blog each month from Pinterest with a low following.
In my first year as a blogger, I had around 2,700 followers on Pinterest. Today, I have over 18,000 followers.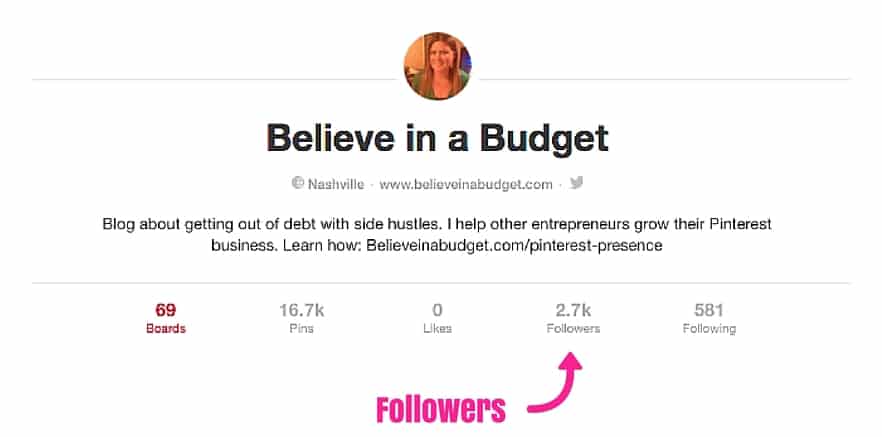 Even though I had a small following early on compared to bigger bloggers, my audience reach is really high. Each month, my pins are seen by 600,000 to 800,000 viewers.

A higher audience reach may result in more traffic to my website.
In the past month alone, I've had around 200,000 page views to my site, even with my small amount of Pinterest followers.
This means my audience reach converts really well when it comes to click-thru rates to my blog. The primary goal when using Pinterest is to have the audience click on one of my pins and visit my website.
Traffic from Pinterest allows me the opportunity to do so many things, such as:
Increase page views and ad revenue
Have someone subscribe to an email
Purchase a product
Read a tutorial, blog post or review
and so much more!

Why Traffic is So Helpful Vs Followers
Early on as a new blogger, I didn't pay for promoted pins. All of my growth to my blog is organic and I can monitor what is working and not working via Pinterest analytics and Tailwind analytics.
Today, I use promoted pins on a regular basis for as low as $5 per day.
Second, I spend roughly $15 a month for Tailwind. I have an annual plan, which is the scheduling tool I use to schedule all of my pins in advance.
I have been using Tailwind since it's inception and it only gets better and better.
In addition to scheduling pins, I am also able to be a member of Tailwind Tribes, which is a place to connect with like-minded Tailwind users who help share each other's content.
Tailwind Tribes has been a helpful, additional way for a larger audience to see my pins. Again, I am not relying on having a high amount of followers to view my pins. Instead I focus on getting my pins in front of as many eyes as possible.
Third, I spend roughly an hour a week to plan my Pinterest schedule on Tailwind. This saves me a lot of time instead of manually pinning each and every day.
Resource: 10 Ways Your Blog and Business Can Benefit from Pinterest
Blogs and Businesses Should Focus On For Getting More Traffic From Pinterest
Unless you have a great marketing plan to utilize Pinterest, it doesn't matter how many Pinterest followers you have.

If you don't have a pinning plan, it doesn't matter if you have 100 followers or 1,000 Pinterest followers.
Of course, if you have a high amount of followers and have a solid marketing plan, you will see the results and drive even more traffic to your blog.
If you aren't pinning in front of the right audience, with the right pins and on a regular basis, your followers aren't going to see your pins.
Instead, you should focus on finding the right audience.
There are several different factors that go into creating a dynamic Pinterest presence:
Vertical pins that follow the 2:3 ratio, such as 600x900px or 1000x1500px
Fonts that are big, easy to read and really stand out
If using an image, select an image that conveys your pin's message. Basically, make sure the image being used matches the context
Write a CTA – call to action – that will help a Pinterest user solve their problem
When creating boards, make sure each board has a description that includes key words that are relevant
Create and organize boards based on your pins' themes and topics
Not all Tailwind Tribes and group boards are created equal
Just because a group board has a high following does not make it your ideal board
Using Pinterest and Tailwind analytics, research who your audience is. You can learn what topics our viewers are researching – use this information to your advantage!
Use Tailwind's scheduler to pin in advance and save time
Bottom line – you need to do a few different things if you want to succeed on Pinterest.
Just because you create a beautiful pin doesn't mean someone is going to see it. And just because you schedule your pins each day, viewers aren't necessarily going to click on your pin if it doesn't meet the criteria of a perfect pin.
The Monthly Pin Community
If you are a new blogger or an experienced blogger that has yet to tap into Pinterest's resources and want to grow your traffic ASAP, the Monthly Pin Community is a great resource.
Each month, you receive 10 Pinterest pin graphics that can be customized to fit your brand. You simply have to swap out the graphic, change the text, and add your logo.
In addition to 10 custom Pinterest pins, you will be a part of a private community that provides design feedback, monthly office hours, pin design homework, and more!
To learn more, check out the Monthly Pin Community.
[convertkit form=5202421]
Related reading:
Do you use Pinterest? What's your best traffic source?