Fall is here and if you love fall festivals, football, and pumpkin spiced lattes you're certainly not alone.
Like all the other seasons, there's plenty to do, see, and experience and you probably don't want to miss out. This doesn't mean that you have to spend a lot of money though. There are so many ways to save money this fall!
However, this is also the perfect time to reign in on your spending to recover from summer expenses and back-to-school shopping along with preparing for the expensive holiday season.
Related reading:
If your spending increased over the summer, fall can be the perfect time to redeem your finances with minimal sacrifices.
Here are 7 of my favorite ways to save money this fall
Find Free and Cheap Events in Your Area
Fall festivals are my favorite because they are a ton of fun. There's activities, contests, music, seasonal food and drink and more. Most festivals include free music and entertainment so you can make a day out of it without having to spend a fortune.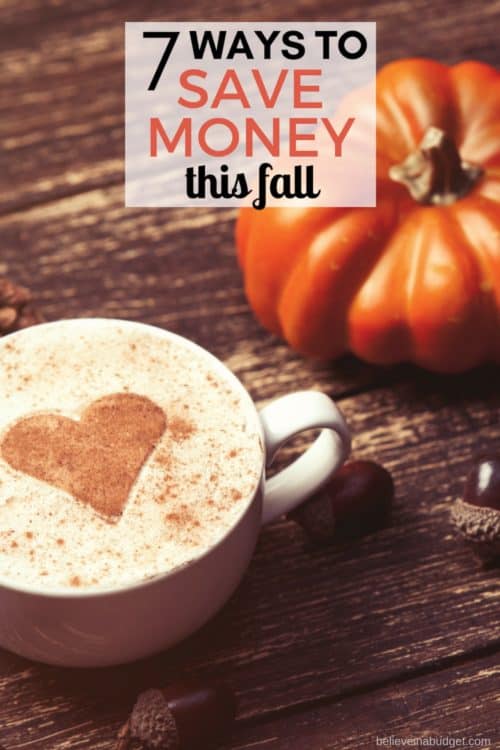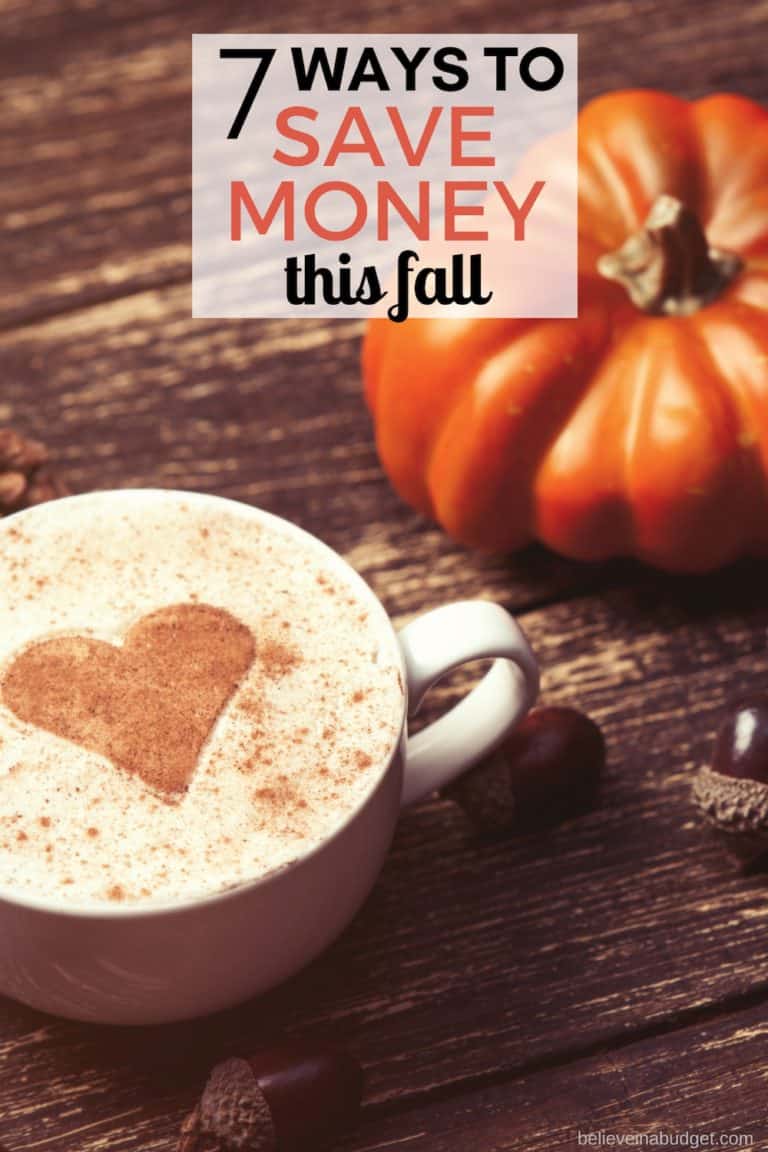 Carnivals are also popular during fall and while it may cost money to enter and go on rides, you can always look for discounts ahead of time and eat before you go so you won't have to buy any extra food.
This is one of my favorite ways to enjoy the outdoors and save money this fall!
Check to see if your local area is having any free fall festivals or if there are discounts available for special events.
You can also refer to sites like Groupon to save money on popular local events. You'd be surprised at what you find!
Check Out Local Football Games or Alumni Meetups
If you are a big football fan, support local high school and college teams by attending their games this fall instead of spending a ton of money to attend NFL games.
NFL games are fun, but they can really get stressful and hurt your wallet by the time you purchase a ticket, plan out travel, and pay for parking and extras.
High school football games are often only $5 for adults and visitors while college football games and homecoming game tickets usually start at $25 and up.
Plus, you can tailgate before college games and split the cost of food and drinks with friends if you grill out.
If you are a college alumni, check to see if there is an alumni group in your area. Many groups meet up up during the football season to watch games at a local restaurant or pub.
Often times alumni groups will get a discount on their food or drink purchase since it's a large group that will frequent the same establishment all season.
This is going to be one of my favorite ways to save money this fall and such a great way to meet new people!
Visit a Farm
Don't forget to visit a pumpkin farm or apple orchard this year if you want to support local farmers.
Farms that are open for the season to consumers tend to offer a ton of fall-themed entertainment and food.
It's a great experience, but it's not always necessarily frugal right off the bat.
If you want to save money and still enjoy the experience of hand picking apples and choosing your favorite pumpkins, try to visit the farm on a free or discounted day which may likely be during the week.
Want an extra tip? Orchards will usually discount apples that have fallen off the tree onto the ground. There is usually nothing wrong with these apples and a great way to save money.
If you're planning a visit with a large group, call ahead to see if you can get a discount on admission.
Also, bypass the gift shop and the expensive gourmet food if you're not interested.
Apple cider donuts, apple cider, pies, and coffee are usually pretty cheap, but it gets expensive when you start looking at other items like homemade jam, premium fudge, and full on meals.
DIY Your Home Decor
I don't know about you, but decorating my home for the fall really helps get me into the spirit of the season and create a cozy atmosphere.
Purchasing decor for your home can seem like an unnecessary luxury, but you when you DIY you won't spend much at all.
You can carve pumpkins you've picked up and use them as a vase for flowers or fill them with small light fixtures to put on your doorstep at night.
Use scented candles as centerpieces and leaves and pinecones to create a door hanger or a wreath.
If you can't find the items you need outside, consider trying some of these places to find things you can DIY and turn into fall decor for your home:
Dollar Tree
Hobby Lobby
TJ Maxx
Facebook groups
Cook at Home With In-Season Fall Produce
Lots of delicious produce is in season now. You can take advantage of this by cooking at home more with fresh fruits and vegetables.
You can make your own apple dishes and desserts and puree pumpkin for pumpkin pies, pumpkin pancakes, etc. Consider using fresh squash in your spaghetti sauce and swap out white potatoes for sweet potatoes in some dishes.
When you're out grocery shopping, don't forget to use Ibotta to earn rebates on your purchases.
The app is free and before you go shopping, you can check Ibotta to see which items (like food, beer, wine, pharmacy items) have rebates and cash back offers. Then, buy the featured products you need at the store.
I use Ibotta every month and earn cash back that I let rollover so I can use the money for Christmas shopping when the time comes. Ibotta is one of my favorite ways to save money and I can combine my rebates with coupons. It's a win-win!
Sign up now and get $10 cash from Ibotta!
Get Discounts on Fall Drinks
If you're a proud coffee drinker like me, you're probably going nuts over all these delicious fall drinks.
While I love a pumpkin spiced coffee as much as the next person, I know how much it can add up each month!
When you do enjoy a coffee out, I recommend signing up for loyalty rewards programs from your favorite cafes in order to earn free drinks.
Starbucks is my favorite rewards program that allows you to earn free drinks, food, and even free refills.
As always, you can make your own warm fall coffee drinks at home too if you have a coffee maker or Keurig. If you're a big fan of apple cider, just purchase a gallon at the store and enjoy it at home hot or cold.
Because I am such a huge fan of a pumpkin spiced latte, I've really had to get creative and watch my coffee budget.
I recently purchased this pumpkin spice syrup and now make my own fall flavored coffees at home. By far, this is my favorite way to save money this fall.
I use this mug and my coffee stays warm or iced for literally the entire day. Plus it fits in my car's cup holder, so I take it everywhere with me.
I was literally buying a coffee a day prior to buying my own syrup and now I am saving so much money!
Another way to score free fall drinks is to use loyalty rewards apps like Rakuten and Swagbucks.
Rakuten will pay you cash back quarterly for shopping online while Swagbucks will allow you to earn points for completing simple tasks that can be redeemed for gift cards or as cash via PayPal. Sign up for Rakuten here and get $10!
With Swagbucks, all you need to do is earn 500 points in order to redeem a $5 gift card to places like Starbucks, Dunkin Donuts, and Caribou Coffee. Sign up for Swagbucks here!
Related: Epic List of Side Hustles
Get Creative With Your Halloween Costume
Planning on dressing up this year for Halloween or need to get costumes for your kids or pets? It's so much fun to get Halloween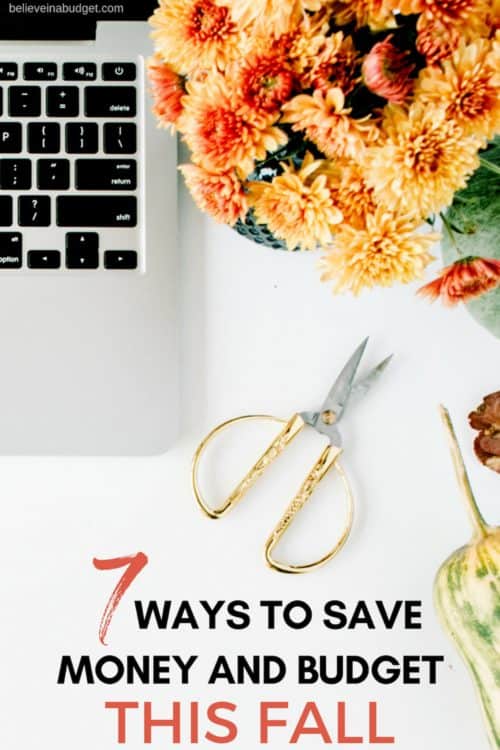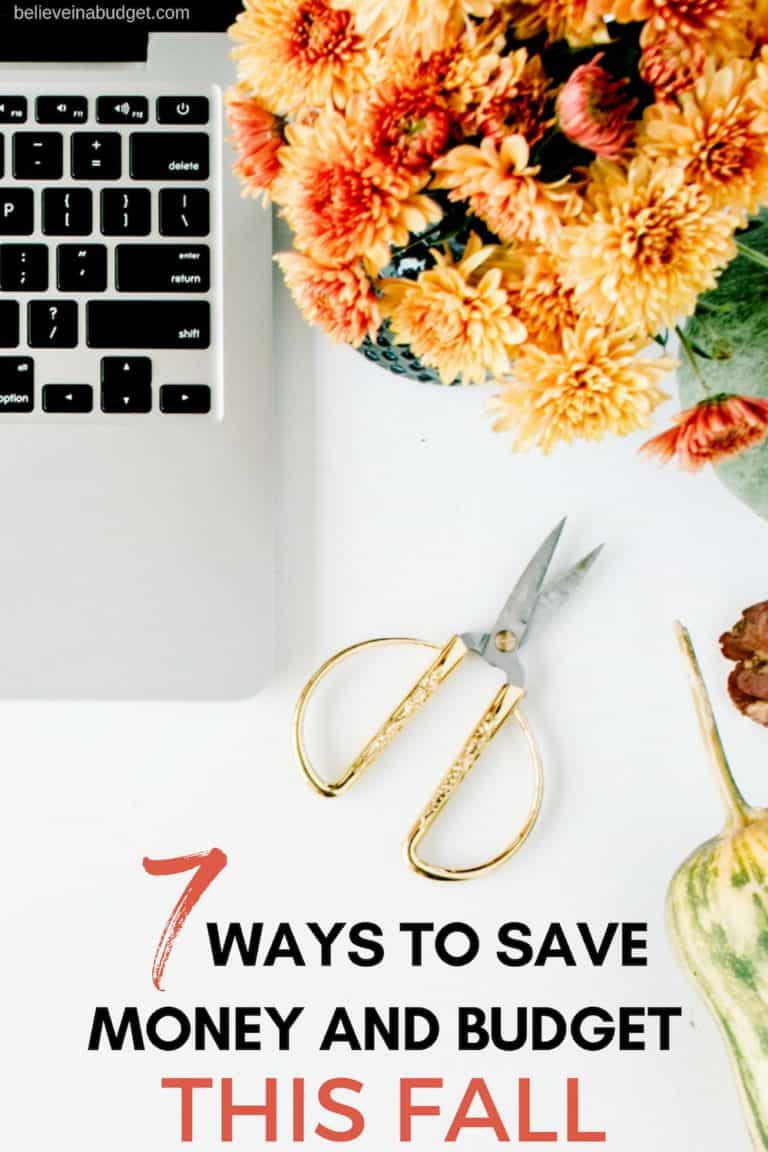 costumes but the ROI on the really sucks since most people typically only wear them once per year.
You can get more bang for your buck by lining up a few Halloween events to attend and taking a more frugal route when it comes to putting your costume together.
You'll need to get more creative if you want to cut costs.
Pre-made costumes that can be found in Halloween stores are simple because all the work has already been done and the accessories are even right at your fingertips.
However, store-bought costumes can range anywhere from $20 to $100+ with the exception of dog costumes.
Dog costumes are super cute and more affordable. You can check out some of the best budget-friendly animal Halloween costumes here.
When it comes to costumes for people, try checking out your local thrift store first to save money.
You may find some nice gently used-pieces or even an entire costume.
Some stores donate unused costumes to thrift stores at the end of the season so you may even get lucky and find a brand new costume at the thrift store from a previous year.
You can also sell your costume from last year to supplement the cost of your new one or see if anyone is willing to trade in your area. The local library or park district may host a Halloween costume exchange or you can ask them to host one.
Shopping for a costume on Amazon is another option if you get started early enough.
If you need something very specific, consider making your own costume and piecing together the items you need.
The simpler the character, the easier the process is. You can check out Pinterest for some creative ideas then go from there.
Make the Most of Fall Without Draining Your Wallet
There are so many simple ways to save money this fall and when you take action and commit to some of these ideas, it will pay off the in the long run.
Instead of splurging over the next few weeks, prepare your finances for the holidays and all the unexpected expenses and come along with it. This doesn't mean you have to sacrifice fall fun, however. But it is all about balance and your priorities.
What low cost activities do you enjoy in the fall? Are you going to try to save money this fall?