Earlier this year, I wrote a post about how to schedule Pinterest pins for free without the use of a paid pin scheduler. I thought it would be worthwhile to revisit this subject as Pinterest has completely changed the way my blog receives traffic.
When I first started blogging, the majority of my traffic was coming from Twitter.
Once I decided that I needed to grow my audience and increase my traffic, I turned to Pinterest.
I read so many blog posts about how Pinterest was the leading referral for blog traffic, but I couldn't figure out how to make this happen.
Pinterest Case Study
To give you a true example of how implementing a Pinterest scheduling plan, I thought I would share my referral history from Google Analytics.
Below is a snapshot of how my blog traffic has grown from creating a regular pinning schedule.
As you can see in the photo, in February I was only receiving around 1,000 referrals a month from Pinterest.
On a side note, this was the same time I made the decision to treat my blog like a business instead of a hobby.

Once I implemented my Pinterest strategy, my traffic started to increase in March and April.
Although extremely risky, in May I decided to back off from my Pinterest pinning schedule. I wanted to see what would happen to my traffic if I stopped using a Pinterest schedule.
Almost immediately, my traffic tanked!
In June I decided to stop this crazy experiment and restart my pinning schedule on Pinterest.
It took a little bit of momentum to get started again, but my referral traffic started to slowly increase in July.
By August, my Pinterest referral traffic increased by 400%, with 10,000 referrals to my website from Pinterest alone. That's a lot of growth in a short amount of time!
As you can see, it's extremely possible to grow your blog traffic, simply by creating a Pinterest strategy and schedule!
Use Pinterest For Free – Pin Manually
Pinterest has the option to schedule your pins for free. However, with Pinterest, you'll only be able to schedule 30 pins at a time. This is great if you're just getting started, but as you grow, you'll need to schedule more pins throughout each day. But for now, 30 pins scheduled at a time can mean 4-5 pins each day.
To schedule pins in Pinterest, all you need to do is sign into your account. Once you've done that, you'll click the + button in the upper-right corner of your screen. You can do this on your computer, or do it via iPhone if you have one. Once you choose the + button, you'll choose "Create Pin".
From there, you'll need to upload the image you want to share. Also, remember to fill in the pin's title, description, and the URL of the post you're sharing. After that, you'll click the pencil icon, and schedule for the time you want the pin to go out.
Need to see the Pins you've scheduled? Just go to your profile and click on "Pins". You'll be able to see all the pins you've scheduled for the future.
Just as a note, you can't edit a pin once you've scheduled it. So make sure it includes all the information you want it to have! If you need to make changes, you'll have to delete the current pin and start over.
if you don't have time to pin manually
Creating a manual schedule to pin on Pinterest can be time-consuming, especially when first starting out. It can also be a little tricky if you have dozens of pins that need to be scheduled.
As your blog grows, it can be worthwhile to consider switching to a Pinterest scheduling service. Luckily, there are options if you need help with how to schedule pins on Pinterest.
I recommend Tailwind. One of the best features of Tailwind is the program's amazing insight of when to schedule pins, your peak performance times, and what keywords in your Pinterest descriptions get the most clicks.
Tailwind also offers a free first month of pinning and then has different membership levels, with the yearly membership the most cost-effective.
If everything seems a little overwhelming or you simply don't have the time, you can hire one of my Pinterest students to help you.
I help bloggers and small businesses figure out how to grow their presence on Pinterest and increase their traffic to earn more income online.
Related reading: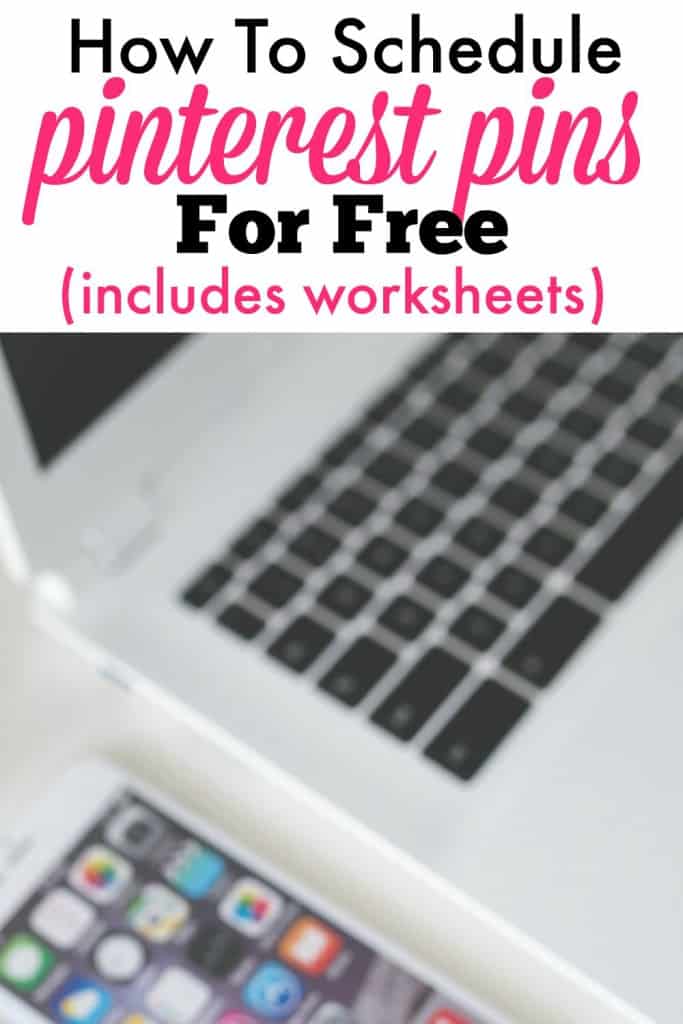 Get started! Learn how to schedule Pinterest pins for free
Whether you are just getting started with Pinterest or are ready to step up your Pinterest presence, I created a free Pinterest pinning worksheet that everyone is welcome to use. You can print it as many times as you want!
These worksheets really helped me when I was starting out, and I still refer to it when using my editorial calendar and planning posts for the month. I also created instructions and tips to get started pinning on Pinterest.
How often do you use Pinterest?
{Resource: 10 Ways Your Blog and Business Can Benefit from Pinterest}