Whenever I think of a business owner with a creative design business, I always think of my friend Kelli from Pink Lemonade Company. We became friends after taking a mastermind program together and then went through another mastermind together.
If you are looking for a visually creative design business and side hustle, keep reading.
Hi Kelli! Can you share a little about yourself and your business, Pink Lemonade Company?
Sure thing! I started Pink Lemonade Company, officially, in 2011 and it resembled more of a side hustle until about 2016.
At that point, I found myself in a position where I needed to figure out rather quickly how to bring in a full-time income. I was suddenly single and had three children to solely support.
It was a moment of 'I can let this take me down, or I can rise from the ashes'. And I uncovered a belief within myself that had been hidden and I decided to let nothing stop me.
Fast forward to today. My life looks a lot different and my little creative design business has grown into a multi-six figure business. It's great but the self-empowerment I discovered along the way is what excites me most.
That's what gets me out of bed in the morning. That and recognizing that creativity can lead to possibilities that we might not have imagined for ourselves otherwise.
Pink Lemonade Company started out as a website design and branding studio, right? How did the company transition into what it is today?
Yes, I did website design and branding along with various custom design projects for a lot of years. And I enjoyed it…until I just didn't anymore.
I'd wanted to create more freedom in my creative design business. For me, that meant needing a way to bring in more money, while figuring out a way to work less so I could be with my children more.
I was very much burnt out. The only thing I really still loved about my business was designing digital graphics and digital papers in Photoshop. I was doing pretty well on Etsy selling digital files but it was always kind of a fun side thing.
I was of the belief that this was too fun to become my full-time gig. Who would pay me to sit around and just have fun and be creative, right? That was my line of thinking.
And it was around this time that I started really working on my mindfulness practice along with my money mindset and self-development.
I kept feeling a nudge to look more at finding a way to follow my creativity and how I could get paid for the thing I loved doing the most.
I wasn't interested in selling one file at a time on Etsy. It was too much of a grind for me. But I loved the thought of creating something bigger with more of a community. So from that PLC Insiders, our graphic membership was born.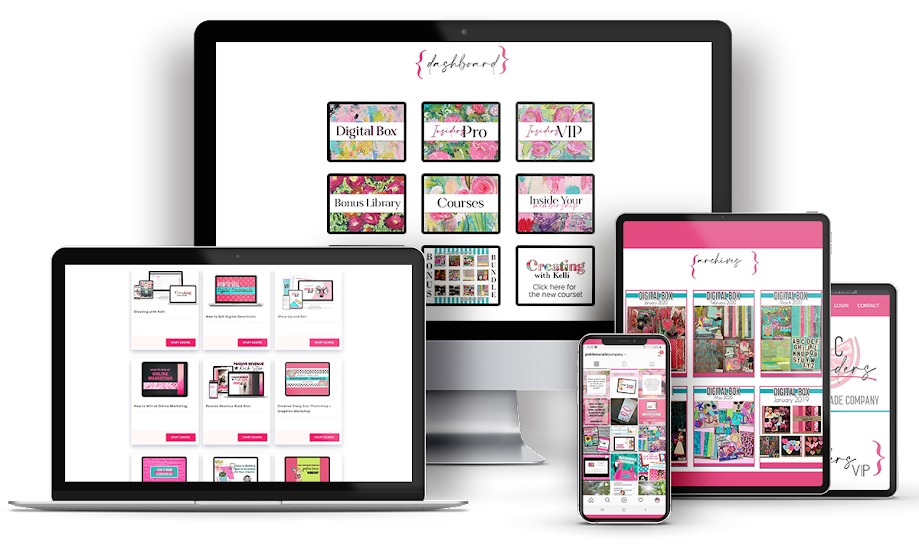 I had no idea what I was doing but following that creative nudge was my North Star.
The lesson in that was huge for me. It really showed me that if I have those creative sparks of inspiration I need to follow it (even when it seems ridiculous, or too big of a project, or just crazy).
Let's first talk about PLC Insiders, your exclusive commercial use graphics membership. I love the graphics you offer! What sorts of projects do members use your graphics for?
Thank you! It's so fun and truly a testament to being able to get paid to do what you love even if it's fun and easy. So the members are the coolest, most creative people. They always blow my team and me away with their fun ideas.
Some use the graphics in their own digital download designs that they sell on Etsy or their website. We have a lot of members who use the graphics to create Sublimation or Direct to Garment design files.
There are just so many ways to use them. And once you add in your own imagination the possibilities are endless. Planners, website design, social media graphics, invitations, and other printables, the list goes on and on.
What sets PLC Insiders apart from commercial use graphics someone can purchase from a large stock photo site like Shutterstock?
I think one part of that is because my style is so different. But also I think our tight-knit community plays a big part in that as well.
Pink Lemonade Company has an amazing following of women. They are there to support each other, cheer each other on, and the whole idea of community over competition is the overall theme.
We also have really loose terms of use on our graphics. And that was something that I felt was an integral piece of how the membership would work. It's not always easy to find graphics that you can use in your business.
There are so many graphics out there that are 'for personal use only'. Or you have to pay quite a bit of money for a commercial license.
When I started out in business and I would look for certain graphics to use for a web design project or marketing materials – I would run into this problem a lot.
I would find the perfect graphic.
But I couldn't use it because it was for personal use.
Or I couldn't afford to pay the commercial fee attached to it.
And no disrespect to anyone who has those terms on their graphics.
When you create something, you decide how your work will be used and you have every right to put limits around your work.
But, for me, I wanted to create a space where creativity is basically given free rein.
I also want small business owners to feel empowered to take what I've created, add on their own magic, put their own spin on it, and they can turn around and make money on that.
Although you offer a graphics membership, a big part of what you do is teach students how to start their own creative design business. What compelled you to start teaching versus simply offering designs and design work?
Once PLC Insiders was up and running, I began to see the true potential of leveraged income. I was hooked on the concept that we are able to make money from our ideas.
I was also hooked on how my little membership site was helping other creatives. People in my audience were wanting more and wanted to know how I was doing what I was doing in terms of designing in Photoshop. So I started creating courses on design and Photoshop.
And as my creative design business grew, I got more and more requests about not just how to design but how to run a creative online business.
So here we are today. I have never loved my business more. It has become this playground of creativity where I can create what I want and help my audience to create and sell their ideas as well.
I still have a passion for designing and marketing. So I do my thing and then teach what I know to work in the online space.
Does a design business look the same for everyone or are there variations in what people can offer?
I think that is one of the coolest things about having a design business or an online business in general. The variety of it all. We can infuse our businesses with our own personalities and our own skills and ideas.
We all experience life differently. And we all have a different perspective and when we put that into our business I believe it can really draw in the people we are meant to serve.
In my program, Creative Business Accelerator, we focus on helping our clients with not only the strategies and systems needed for a successful online business but also with helping them structure their business to serve themselves, as the owner, as well as serve their customer.
Because we truly can create a business that not only feeds our families but also feeds our souls. And part of that is bringing in our uniqueness, bringing in our own take on life, and, of course, following our own creative nudges.
We have a lot of designers in CBA and they each look so vastly different from one another.
You really emphasize the concept of working less and making more. I love this concept and it's something I've prioritized in my own businesses. With a creative design business, what opportunities are there for passive income?
The opportunities are unlimited or rather they are limited to your imagination only. And I believe our ideas and our imaginations are unlimited.
Design businesses, in this day and age, can really set us up for a whole range of passive income. Design businesses are so digital now. And digital products don't really carry that much overhead.
So maybe that looks like I create a new bundle of graphics and sell that. The cool thing about that bundle of graphics is that it can live on my website. And I can sell it over and over without having to do much work.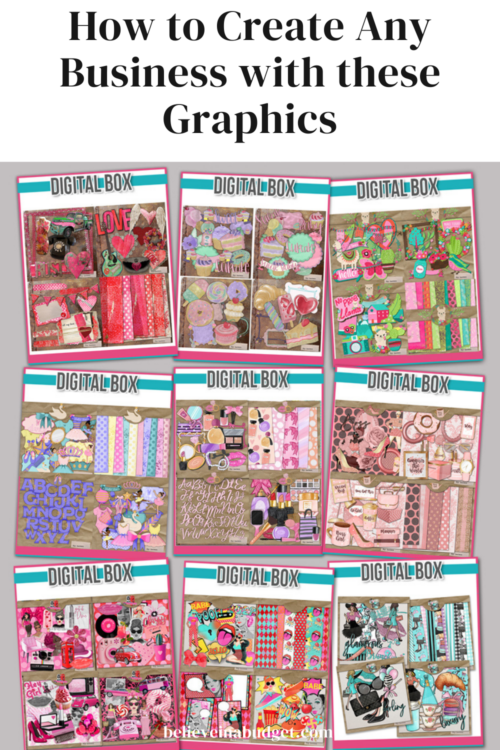 I get inspiration from something in daily living.
Then that might spark an idea!
I can go into Photoshop and create something from that and turn that into a sellable product – that's exciting to me.
Back when I was really needing to get scrappy and bring in some more income, I would sell Facebook cover images (back when having cute Facebook cover images was a big deal).
I would also create a set of 50 social media images.
One set of 50 social media images are still being sold.
It is used as an upsell now on one of my smaller design courses.
So that product that I created 5 years ago or more, is still bringing in revenue without me really lifting a finger.
Opportunities like that are abundant when you have a design business.
Knowing what you know now, what advice would you have given to yourself at the beginning of your creative design business journey?
Ohhh, I have so much to say to her. Before I give her advice, I would have to tell her how amazing she was for just taking a chance and being brave enough to take this crazy ride even when it made no sense whatsoever.
I was so scared in the beginning and even more so when I really found myself in a desperate place and I had to make this work. But I would go back and tell her not to waste so much time DIYing everything and to invest in herself and in her business earlier.
I know it often seems like we can't get the money together to pay for a course or a coach but once we decide we are doing something and once we make that declaration, the money will work itself out.
It's scary. But I know now looking back that it really does seem that the universe and God conspires to make it happen for us once we go all in and move forward. But we have to take that first step.
I think it's so important to be surrounded by people who are doing what we want to do and just be in that environment of the ones growing and moving forward with their dreams.
I'd also tell her that you can completely be yourself and you don't need to be polished, professional, or any of that to run a profitable business.
I think I was under the impression that I needed to be someone other than who I was and that to make more money I had to change something about myself and be more serious. And, that simply isn't true.
Earning Money Is Easier Than You Think
I feel like I can be more of who I am now and the pressure that was there to be better, bigger, smarter, etc. has thankfully left.
I've learned that people will actually pay me to just show up, have fun, and be creative. It would have been helpful to understand that earlier.
It would have also been helpful to really understand that our ideas are limitless so essentially our income is limitless. When I first heard that, I didn't get it. It felt like some woo-woo words that sounded cute.
It's the opposite of what we are often taught and what society mirrors for us. Earning a living doesn't have to be hard and we don't have to do work that we don't enjoy.
We can get paid to be ourselves and just create. We can come up with a new idea, take action, bring it to life, and get paid for it. That's gold right there.
Where do you see Pink Lemonade Company in five years?
That's a great question. PLC Insiders is five years old this year and so I'm excited to see where that will take me.
When I launched it, I had no idea if it would work. I thought maybe I would try it for 6 months and it would die off.
It's still going and is bigger than ever so I would love to still be doing that or some form of that in five years.
Looking back over the last five years, I wouldn't in my wildest dreams have thought my creative design business could be this good. And I love, respect, and admire who I am so much more now.
That's very valuable to me. I'm so grateful for the growth – the growth of my business, yes, but especially the growth of myself.
So, with that in mind, I just expect that the next five years will be even better – no matter what that looks like. I'm here for it.
Author Bio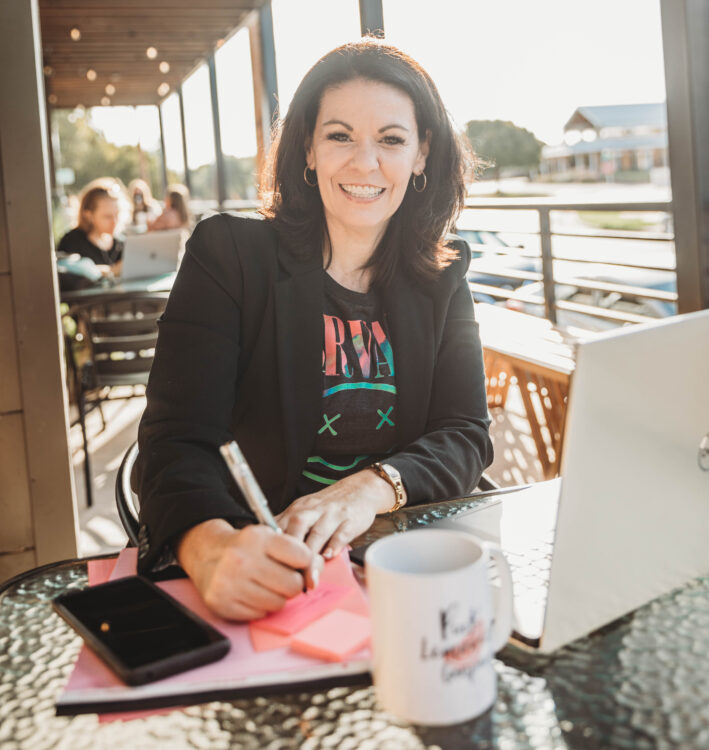 Kelli Mitchell is the owner of Pink Lemonade Company. While finishing up her bachelor's degree in IT and Web Design, Kelli started her creative design business offering website design and business branding in 2011.
As her work and brand grew, Kelli focused on creating commercial use graphics, design, and business courses, and helping others grow their own online creative businesses.
Kelli is a Texas girl whose love of fried okra knows no bounds. When not working, Kelli loves being at home watching movies with her family, taking a weekend road trip, or painting in her creative studio.
Over ten years later, her true passion still lies in helping others grow their own creative design businesses. PLC is an inviting, supportive community for creators using design and marketing skills that cultivate their creativity and financial freedom.
The mission at Pink Lemonade Company is to empower creators by helping them transform their lives through creativity and possibility.