One popular way to make money online is through affiliate marketing and Amazon. But have you head about side hustling with Amazon affiliate sites?
I am so excited to shared this side hustle with you because it is a great way to make money online.
My friend Dale is sharing more information how she has started this profitable side business!
Hello! My name is Dale and I'm the founder of the website Blogging Her Way. In addition to Blogging Her Way, I have started and sold four other profitable websites.
Many people have heard that it's possible to make money blogging but few people realize you can actually make money from selling blogs too! In the past few years since I started creating and selling Amazon affiliate sites, I have earned over $100,000 from this side hustle!
Since I've done this quite a few times now, I have figured out the fastest and easiest way to monetize a new website so I can quickly turn around and sell it for a profit, and that is through the Amazon affiliate program.
If you're interested in learning more about this side hustle, read on!
What is an Amazon affiliate site?
An Amazon affiliate site is a blog or website that is monetized through Amazon Associates, which is the official name of the Amazon affiliate program.
As part of the Amazon affiliate program, you can include links to Amazon products on your website, and earn a commission when someone makes a purchase after clicking your link.
This is known as affiliate marketing and it's an arrangement where both the company (in this case, Amazon) and the publisher (in this case, you, the blogger) benefit. You drive traffic to Amazon, and they pay you a commission of all sales that you generate.
One great thing about the Amazon affiliate program is that you earn a commission on everything someone adds to their cart, and not just the one item they clicked on.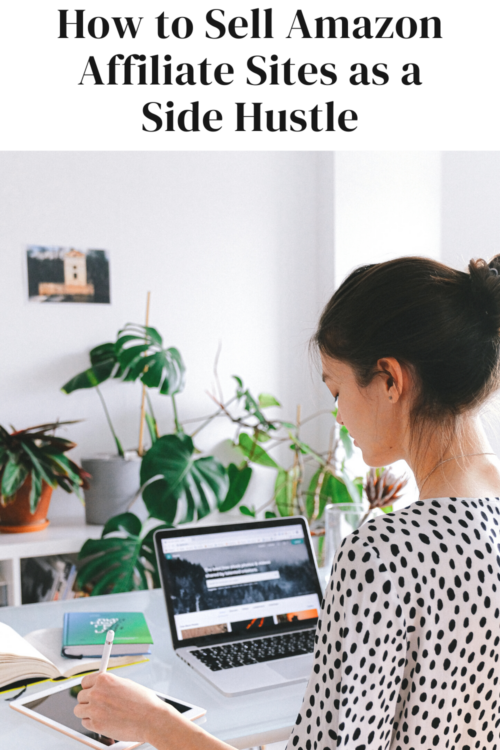 Since we all know how easy it is to end up buying way more than you planned when shopping online, this can really add up!
Although Amazon does not have the highest commission rates (between 1% and 10% depending on the product category) you can easily make up for it in the volume of sales.
Another good thing about the Amazon affiliate program is that it works for any niche since Amazon sells literally everything! Monetizing a website with the Amazon affiliate program also makes it easier to sell later on (which I'll discuss in a minute) because the new owner can easily swap out your affiliate links for their own.
What type of content should I write?
When starting a blog that you plan to monetize with the Amazon affiliate program, it's important to have a defined niche and target audience.
One of the most successful websites that I sold was in the college niche. So I was writing for college students and their parents.
Some of my most popular blog posts were on topics such as:
College dorm room essentials
Best college graduation gifts
Christmas gifts for college students
Things I wish I packed for college
As you might have noticed, these are all product-focused posts. When I would write these posts, I included an Amazon affiliate link for every item on the list.
By doing this, I was able to earn $500 to $1,000 a month from the Amazon affiliate program!
You can learn some of my best Amazon affiliate marketing secrets in my ebook, Amazon Affiliate Affluence.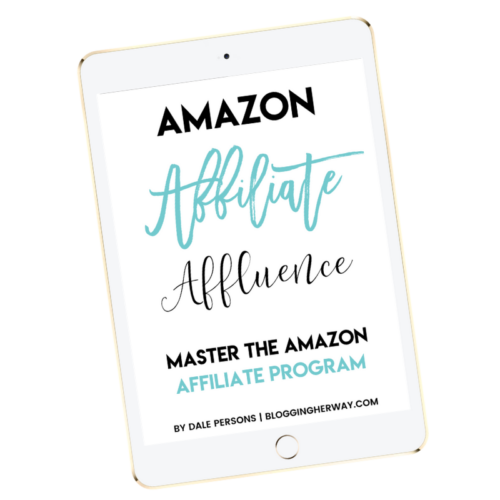 Another website I had was in the travel niche. My most popular blog posts that generated lots of Amazon affiliate sales were destination-specific packing lists as well as a gift guide for travelers.
So as you can see, when building an Amazon affiliate site, it's important to write product-focused content like this, while still making sure to be helpful and provide value to your target audience!
When it comes to choosing your niche, I would recommend picking something you have experience with or are interested in. This will make it a lot easier to write content!
You should also take advantage of seasonal events. For example, November and December are the biggest shopping months of the year with Black Friday and Christmas.
This is when many Amazon affiliates have their highest-earning months.
By making sure you have a lot of holiday-focused content on your blog (and are publishing it well in advance of the holidays) you can increase your earnings.
How much should I write?
Another question many people have is how many blog posts do I need to write?
For the sites I have sold, they've contained 20 and 150+ blog posts at the time of selling. I have held onto sites for anywhere between six months and three years before selling them.
While there's no "magic number" of blog posts to have, and you should never sacrifice quality for quantity, more is definitely better.
The more blog posts you have published, the more traffic you can get, and the more income you can generate from your website.
When starting a new website, I personally aim to publish at least 10 to 15 blog posts in the first month and then drop to a more manageable schedule (like one blog post a week) after that.
How do I get traffic?
Once you have started your blog and begun publishing content, it's time to think about getting traffic. While you don't need a ton of page views to make money, you do need some consistent amount of traffic.
It's also worth noting that with the Amazon affiliate program, you must make three affiliate sales within your first 180 days to stay active in the program. If you don't meet this requirement, you'll have to reapply and change all your existing affiliate links.
For this reason, it's important to focus on increasing your traffic within those first six months so you can start making sales.
Two of the best ways to get traffic are Pinterest and SEO. I like Pinterest because it is essentially a "visual search engine" that people use to look for ideas and tips.
Unlike other social media platforms like Instagram, where a post might only be seen by your followers for a day or two, the lifespan of a Pinterest pin is MUCH longer (months or even years) and you can reach a much wider audience – your number of followers doesn't really matter.
SEO, or search engine optimization, is another good strategy for getting traffic. This is the process of writing blog posts in a way that they rank at the top of the Google search results for a specific query.
However, SEO can take longer to start working (it can take 12 to 18 months for a new website to start ranking) whereas Pinterest can start driving traffic to your blog faster.
How much can I sell Amazon affiliate sites for?
If you've gotten this far, you might be interested in the idea of building an Amazon affiliate site, but you're probably wondering how much you can actually sell it for.
Generally speaking, you can sell a website for 24x to 36x its average monthly profit. So if your website has earned $300 on average over the last 12 months, you could sell it for between $7,200 and $10,800.
What I like to do is spend a few months writing a lot of content for a new blog, then leave it alone for a while once it starts generating income. After I have earned some passive income from it, I will sell it for a 24x to 36x multiple.
Where do I sell my website?
Once you are ready to sell your Amazon affiliate site, you might be wondering exactly how that process works.
You have two options for selling: either sell it yourself or work with a broker.
I have done both, but working with a broker can provide more peace of mind and make the process simple for first-time sellers.
The tradeoff is that in exchange for the broker finding a buyer for your website and facilitating the transaction, you will pay them a fee (usually a percentage of the sale price.)
Some marketplaces for selling websites include:
Blogs for Sale
Flippa
Motion Invest
Empire Flippers
If you choose to sell your website yourself, you can find potential buyers in Facebook groups or through your own channels.
Just be aware that you should vet your potential buyer, and be sure to use an escrow service for the sale to ensure the transaction goes smoothly.
Why selling Amazon affiliate sites is worth it
Selling Amazon affiliate sites is a unique side hustle that can be very profitable. There are many reasons this is a great side hustle.
For one, if you already have a blog, you can start a new website in a different niche and be able to exercise your creativity by writing on a new topic.
Having multiple websites is also a good way to diversify your income.
And finally, starting and selling websites is great for people who don't like to do the same thing all the time. You can always try something new and different, and after you sell your first site, you'll be ready to start another one!
If you're looking for a fun and unique way to make money online, this might be perfect for you.
Author Bio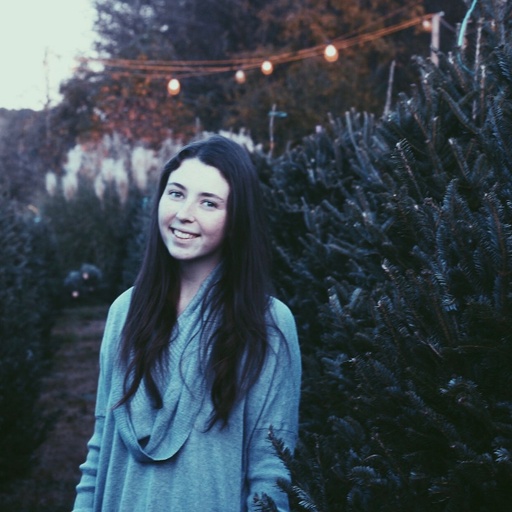 Dale is the founder of Blogging Her Way, where she teaches aspiring bloggers how to start a blog and make money doing what they love. She has started and sold multiple profitable blogs, and is always working on her latest project. When she's not blogging, you can find her reading or traveling.