It's no secret that I love a good side hustle! Simply put, a side hustle puts more money in your budget. When you have a goal and direct extra income towards the goal…. Cha Ching! You CAN reach your goal.
In 2014 I made over $4,500 side hustling! Last year, I limited my side hustling to primarily mystery shopping and panel studies, and earned more than $2,000. I am excited to see how much I can earn this year.
I even wrote a course about how to exactly side hustle and make more money.
That's why I decided to create a side hustling challenge for myself. I want to see how much extra income I can make in the next 12 months.
I reached out to some fellow bloggers and asked them for their thoughts about side hustling. I love reading about what goals other people have. This helps me stay motivated to work hard!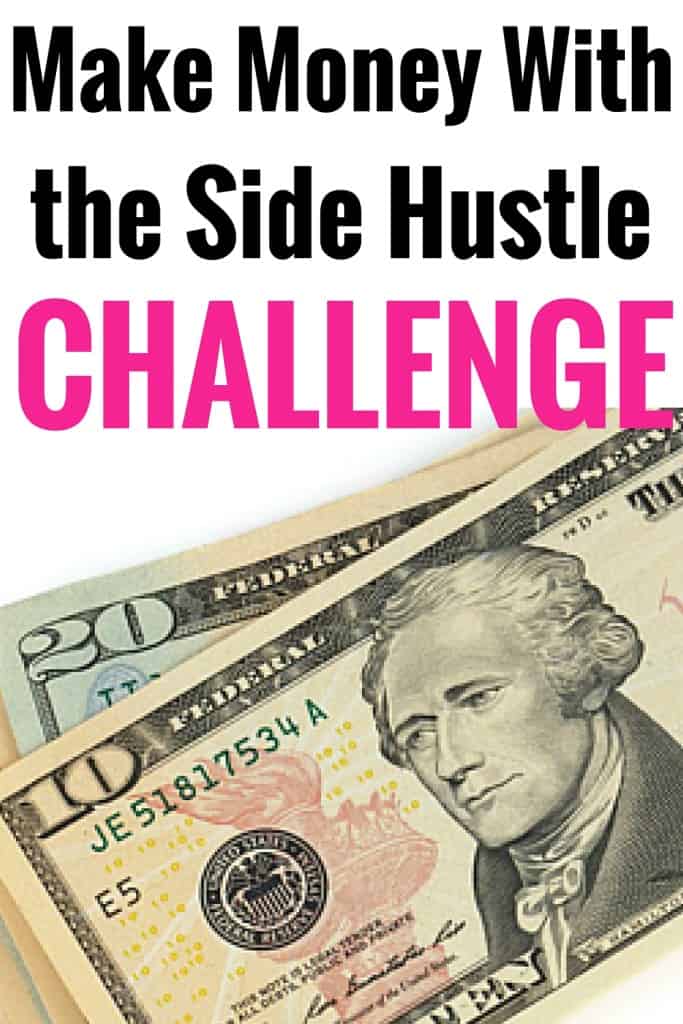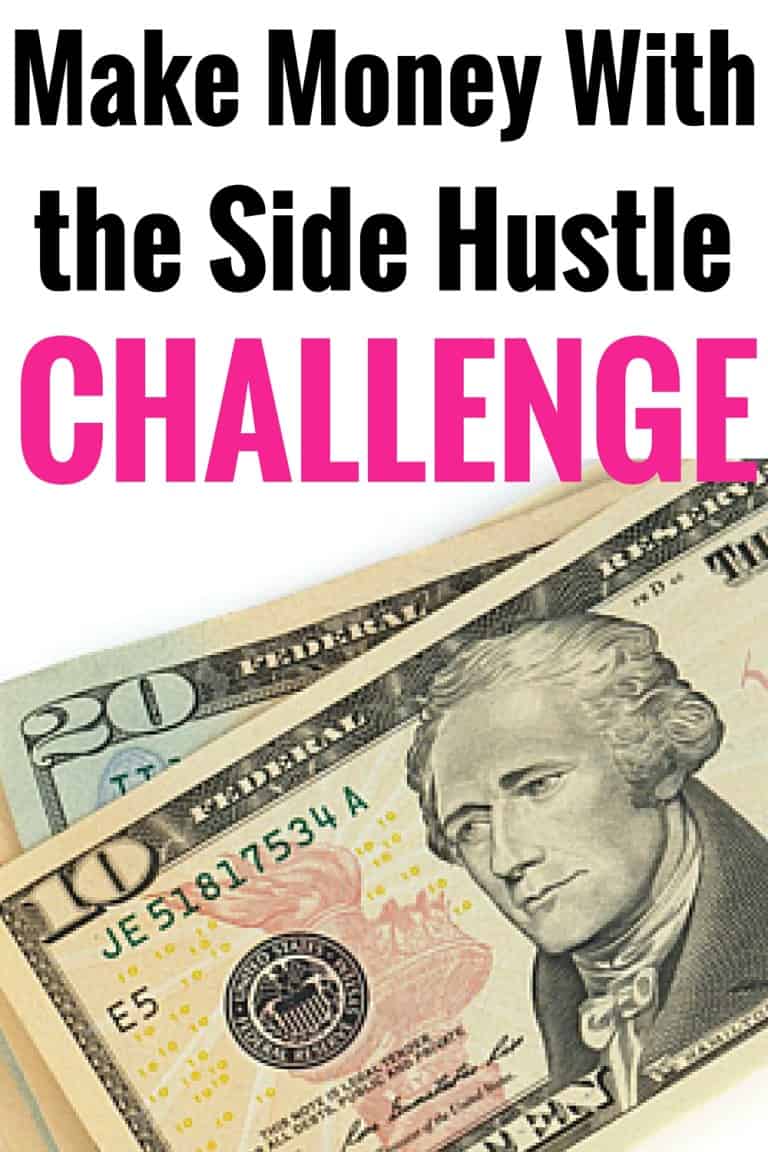 What is so great about a side hustle anyway?
"The best reason to side hustle is to reach your financial goals! I wouldn't be debt-free early without side hustling! Through earning more, you can boost your savings, pay off debt, and more. Or even just have more "fun" money! It's up to you." ~Melanie at www.Deardebt.com
"The best reason to have a side hustle is that this is often the stick of dynamite that can break up the log jam of stuck finances. You can use the extra money to quickly pay down debt or build up your savings, and you can control your own raises by simply hustling." ~Charissa at www.Cookswithashoe.com
"Side hustles help you reach financial stability and financial freedom quicker while being able to (hopefully) do something you enjoy to earn an income from. Most people side hustle to reach a financial goal in a shorter amount of time or diversify their income so they have more options." ~Chonce at www.Mydebtepiphany.com
"The best reason to have a side hustle is to have control over your income. With a side hustle you can put your destiny into your own hands and often get out what you put in. Unfortunately, I've never been able to say the same about a regular day job. Side hustling is also great if you're working toward big financial goals." ~Alexa at www.Singlemomsincome.com
What are your Side Hustle goals for 2016?
"My side hustle goals for 2016 include adding more revenue streams to my business and working smarter, not harder." ~Melanie
"I have been doing a lot of hustling in the past couple of years and 2016 is a year of rest for me. I will be cutting back on hours at a second job and some of my current side hustles in order to focus my efforts on bringing in an income from blogging.
I am going to write a money generating post at least once every two months and I am going to write an ebook to be published in the first quarter of the year." ~Charissa
"My goals are to build my side business by diversifying the income I receive from my blog and establishing more higher paying clients so I can balance everything better. I want to surpass the income I earn from my full-time job with my side hustle and start challenging myself more." ~Chonce
"I became self-employed in 2013 so I'm technically no longer side hustling. I would, however, like to grow my self employment income by about 50% over what it was in 2015." ~Alexa
The Side Hustle Challenge! Join Me!
What is my personal side hustle challenge this year?
This year I plan to seek out extra income each month through mystery shopping and panel studies. I am saving for #FinCon16 and planning a couple of mini vacations, so any extra money I can put towards these goals would be amazing.
If you would like to learn about more ways to side hustle, check out these other posts:
Don't forget – one of the best ways to make money is from blogging. I made over $13,000 in only 10 months – as a newbie blogger! If you are thinking about starting a blog, don't delay. Blogging changed my life for the better and has become an amazing way to make money.
Here are some extra ways to earn income!
Rakuten
Rakuten is my absolute favorite company to use when I'm shopping online. Hello, it's free money!
Every time I shop online, I always start at Rakuten. They have a list of all the places you normally shop at and you just click on the store you want to visit online.
After you make a purchase, you earn a percentage of the sale! They literally give you cash back on every purchase you make. The cash back ranges from 1% to 14%. The money is then deposited into your PayPal account.
I've made over $700 from shopping online and earning cash back. Join Rakuten here!
Ibotta
This cell phone app helps you make money off your grocery receipts. Yup, for real! You use it after you go grocery shopping and use your receipt. It's basically a rebate app, so you can earn anywhere from 50 cents to $5 off everything you buy.
My favorite part about Ibotta is that it's not always brand specific, like a lot of coupons are. So you'll be able to scan "any brand of bread" for 50 cents off, etc. If you do coupon – you can STILL use Ibotta and get a rebate.
For the diehard couponers out there, this will often result in getting an item for FREE. When you sign up, you will receive a $10 cash bonus when you make your first scan. Join Ibotta here!
The Side Hustle Challenge
Join a tribe of people that learned how to earn hundreds (and even thousands) of dollars in side hustles!
Take surveys
I have made thousands of dollars over the past few years from taking surveys online!
There are a handful of companies that I love to use and earn cash back into my PayPal account, as well as reward points that I can use at places like Target, Walmart and Macy's.
My favorite survey apps are Survey Junkie and My Soap Box, but there are so many other great survey apps as well!
Here is a list of the best survey companies to make money.
Start a blog
I went from making $40/month to over $4,000/month in the span of six months. That's crazy! Here is a tutorial that walks you through how to start a blog.
Blogging has totally changed my life. I even share my online income reports so other people can see how I got started and how I am growing.
Start saving, even if it's only a few dollars a week
Whether you want to start an emergency fund or a vacation fund, you have to start setting some money aside. If you're like most people and struggle with saving, you should consider using Digit or Qapital.
Qapital is a totally free app that let's you decide how much money you want to save every time you make a purchase. You can pick from $1 all the way up to $5.
So let's say I spend $24.05 at the grocery store. Qapital will then transfer $1 to my savings account.
You can link as many debit cards or credit cards as you want to Qapital. So even if you use a credit card to make a purchase, you can pick one bank account to transfer the $1 to your Qapital saving account. Click here to learn more about Qapital.
Digit lets you save money each week from your checking account. What I really like about Digit is that it analyzes my bank account and determines how much I can really save per week.
Some weeks it might be $5 and other times it might be $20. You don't have to worry about overdraft and can contribute less or more if you need to. You can learn more about Digit here.
The only downside to Digit is they charge $2.99 per month to use their service. I don't mind the fee though since it's helping me save money every week. If the fee stressed you out, use Qapital!
Rent out your space on Airbnb
Over the past couple of years, I have stayed at a handful of Airbnb's and saved a ton of money. I've been able to rent an entire house, condo and apartment instead of a room at a hotel. Have you ever thought about renting out your home for a weekend?
✕
The Side Hustle Challenge
Join a tribe of people that learned how to earn hundreds (and even thousands) of dollars in side hustles!
I am so curious to know what all of you are planning for 2016. Will you continue a current side hustle? Try a new one?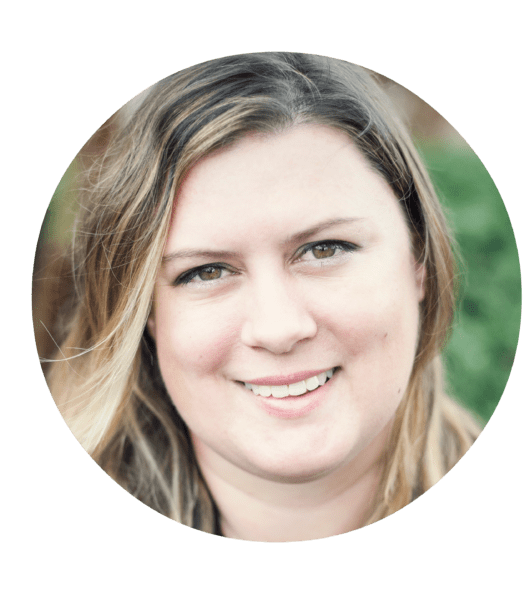 Kristin, is the creator behind Believe In A Budget. She teaches others how to start a blog and how to side hustle. Her course, Pinterest Presence, helps bloggers + businesses drive traffic to increase their website's profitability. Click here to learn more!