Trying to decide what to bring a host of a party can be a tough decision. This list of affordable hostess gifts will help make this easier for you and help you stick to a budget.
Attending events and parties can be a major highlight, especially if you're a guest and don't have to deal with the task of hosting.
A good hosts take care of all the planning and logistics, but a good guest often doesn't show up empty-handed.
Whether you're invited to a holiday party, milestone celebration, house warming, or a friendly get-together, it's wise to bring something special for the host to show your gratitude.
This is just a nice gesture that has stood the test of time. When the holidays come around, you can even stock up on host gifts if you know that you'll be attending quite a few parties.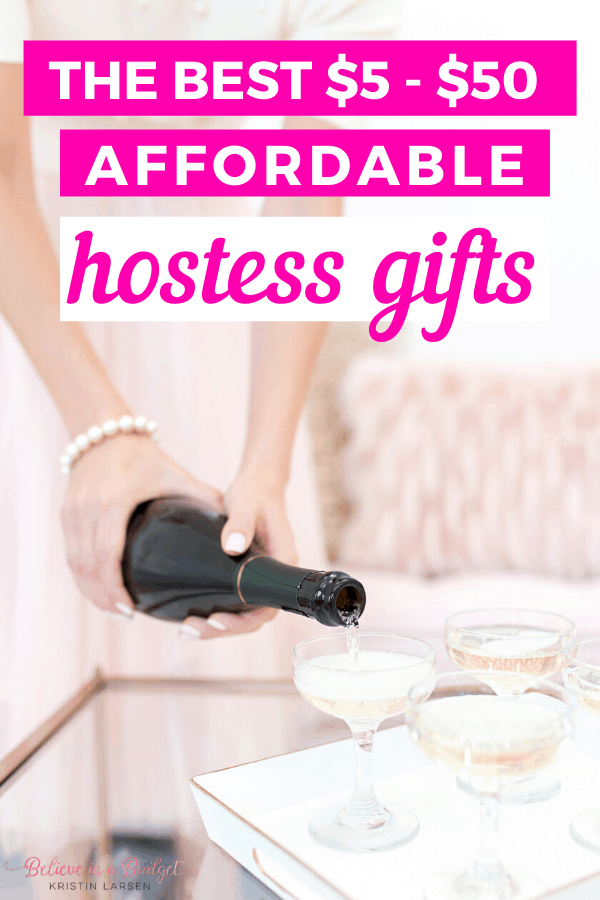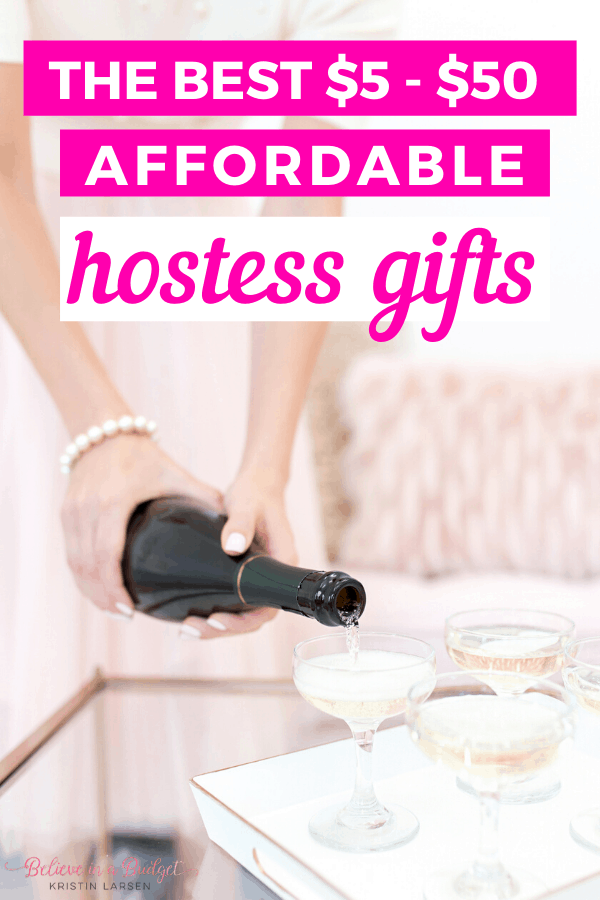 Where to Purchase Affordable Hostess Gifts
When I'm out and about, I always keep my eye out for cute, inexpensive gifts or items that are on sale. Look for coupons online before visiting the store.
For example, Hobby Lobby generally has a 40% off coupon on their website off of any regular-priced item. You can save at Target using the Cartwheel app or with a Target Red Card.
I also do a lot of shopping online, and sometimes it's easier to purchase a gift online than driving around.
Amazon Prime is a great option because of the free shipping and fast delivery. If you do not have Amazon Prime, sign up for a free 30 day trial here.
Gifts for the Hostess
If you're wondering what to choose as an appropriate gift, check out these budget-friendly options that any host would enjoy.
Below, I've broken down some of the best hostess gifts under $50 in categories that your friends, family, and colleagues will love.
Related reading:
Something Sweet
One of my favorite affordable hostess gifts is gifting food, whether I've made it myself or found the perfect purchase.
Vanilla Fudge Tin
You really can't go wrong with by bring a sweet treat to the party. It's simple yet thoughtful and easy to enjoy.
This vanilla fudge tin is under $15 and includes 28 individually-wrapped pieces of all-natural fudge. The tin says 'thank you' in dozens of different languages which is a great way to show your gratitude to your host.
Gourmet Cookies
If you're attending a holiday party, this gourmet cookie box is a tasty treat you can bring for the host. Even if there is already food at the party, the host can serve the cookies to family afterward or slowly work through the box and enjoy the different chocolate flavors.
Biscotti Cookie Gift Basket
This 'His and Her' Biscotti cookie gift basket is a fun gift for couples who host an event or party together. This gourmet sampler box is just $25 and contains 12 different cookies with a variety of toppings.
Something to Drink
Ok, this one is slightly over $50 – $59.99 to be exact, but with this $100 coupon, you can order an entire case of wine for less than $60.
I received this as a gift and it was such a surprise. I loved opening a new bottle when friends came over.
This makes the perfect gift for two reasons. First, you can purchase this case of wine and then give each bottle of wine as a hostess gift. If you go to twelve parties, that comes out to only $5 per bottle of wine.
You can also build your own case and hand select if you want red, white or sparkling.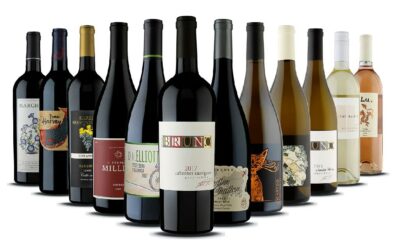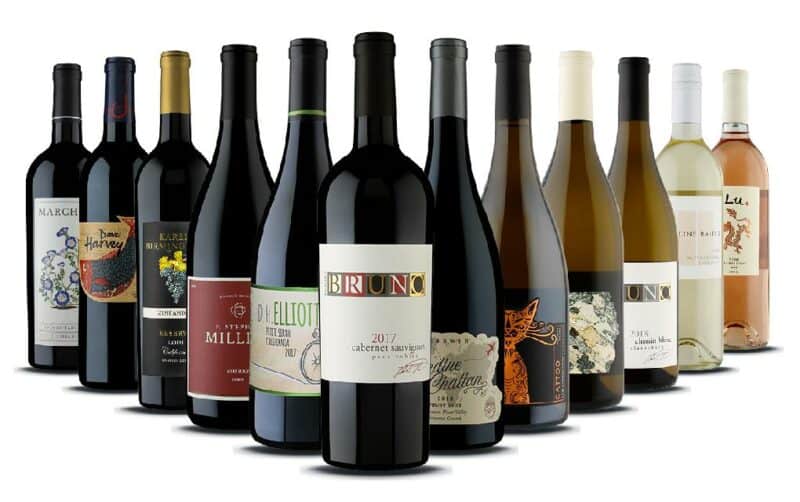 Something Cozy
Not to be left out, warm and cozy affordable hostess gifts are also great for gift-giving.
Microfiber Blanket
Some days are made for coffee and cozying up with a warm blanket and a good book. This warm blanket is made with super soft fleece sherpa microfiber and is covered in positive words and phrases. It also comes in a variety of colors and designs.
Scented Candles
If you're stumped on what to get for a hostess gift, you can't really go wrong with scented candles. Most people use them and you can always find a budget-friendly option. These aromatherapy candles are inexpensive and you get 4 in a decorated box.
Essential Oil Diffuser
Most people secretly wish for these or they didn't know they wanted one so bad until they actually get one. Using oil diffusers are a great way to improve sleep quality, reduce stress and anxiety, and improve energy levels and brain function. This is a thoughtful gift that the lucky hosts will remember for a long time.
For the Home
Mounted Metal Wine Rack
Home decor often makes a great hostess gift especially if it's super function. This mounted metal wine rack is perfect for the winos in your life and it holds up to 5 bottles of wine, 4 wine glasses, and all the corks you could imagine.
Felt Rustic Letter board
Letter boards are all the craze on Instagram right now, but they also make great gifts. People use letter boards for home decor because you can easily add motivational messages and change them out whenever you like.
Who knows, maybe the hostess will also use it to get Instagram famous. For just $21 on Amazon, this is a pretty awesome deal.
Wall Decor Sign
If you know that the host loves to decorate or recently moved to a new home, decor signs are a good gift option. There are so many to choose from and many can be very affordable.
Choose a sign that matches the host's personality or simply shares an inspirational quote or message.
Useful
Stainless Steel Tumbler
This is a universal gift that can be given to coworkers or that coffee-obsessed friend of yours. This insulated tumbler comes in several colors, has two straws, and you can't really beat the $13 price.
Journal
A journal can make a great gift for anyone whether they need to write down certain reminders, take notes, or do some daily gratitude reflection.
Harpeth Trading journals have custom features and make this a thoughtful and very useful gift for anyone.
Funny Kitchen Towels
If you want to give a hostess gift that will definitely get used, keep it simple with some funny kitchen towels. Amazon has so many different options if you're attending a house warming party, you're bound to set yourself apart with this gift.
Under $10
Don't have a lot of cash but still want to grab a nice gift for the hostess? Check out some of these affordable hostess gifts for under $10.
Spice Organizer Clips
Nothing says adulting like getting your spice cabinet organized. This spice gripper clip fits right on the cabinet door and can hold up to 12 plastic spice jars. What's awesome is that it's also just under $8.
Gift Set
No matter what your budget is, you're bound to find a gift set that matches what you can spend. This travel-size hand cream gift set is only $6.99 on Amazon – perfect for someone who travels a lot or can get use out of by setting it on their desk at work.
Bath Bombs
Bath bombs are a fun gift and can motivate anyone to plan a spa day at home. This kit includes 6 extra-large colorful bath bombs that are made with all-natural ingredients.
Capsule Letters Message in a Bottle
This is a cute novelty gift you can give to a couple who's hosting a party of event. Instead of sending thoughtful texts, each person can write nice messages about each other and place them in the capsule to read on a future date.
It's the Thought That Counts
Hostess gifts aren't always required, but it's just a nice gesture you can do that doesn't have to cost much but still goes a long way. Keep these gifts in mind when you're getting ready to attend your next party or event if you want to really wow the host!