I have partnered with Aura to bring you this post on digital safety. All opinions are my own.
Did you know that every 7 seconds someone becomes a victim of identity theft? (U.S. FTC 2020)
Whether it's checking on one of my websites, doing some online shopping or using one of the numerous apps on my phone, I'm online around the clock. While I've always taken certain security measures, I've started working toward implementing additional measures as I learn more about digital safety.
The stats are a little unnerving: in 2020, 47% of American adults experienced financial identity theft which resulted in billions of dollars in losses. Unfortunately, identity theft has become an increasing issue given the digital society we live in today.

It can happen to anyone (regardless of age) and often leaves victims feeling confused and overwhelmed as they navigate the process of changing or recovering their personal information and lost funds.
When given the option, most people would prefer preventing identity theft as well as having to deal with the aftermath once a criminal gains access to sensitive information.
While our digital footprint puts more people at risk, there are still some practical and proven ways to prioritize your digital safety and prevent identity theft from happening to you and your loved ones!
Digital Safety Tip #1: Protect Your Passwords
Your account passwords are the gateway to private information that criminals could use to commit credit card fraud, bank fraud or similar crimes. It's important to create a strong password to protect your data.
Generally, this means a password with at least eight characters, uppercase and lowercase letters, along with a mix of numbers and special characters.
While many sites are getting better at offering two-factor verification where you'll receive a text or email with a code to help you log in, there's still the risk that someone could bypass a security factor if they get a hold of your password.
Data breaches happen all the time where password data is released to hackers. To become more aware of a breach, you'll need to pay close attention to announcements or even consider setting up an alert so you can know if you need to change your password.
Another good rule of thumb is to consider changing your passwords periodically. To avoid forgetting a password, try a password manager system that uses security encryption to store all your passwords like the one Aura includes in its all-in-one app that includes identity, financial fraud and device protection.
Digital Safety Tip #2: Keep Your Computer and Mobile Devices Up-to-Date
Computer updates always seem to come at the most inopportune time – and I never like doing them! However, they are important in regards to your digital safety.
Having the latest web browser, security software, and operating system can serve as an important layer of defense against viruses and malware.
Online threats are everywhere and only increasing so it's crucial that your computer and devices be kept up-to-date to combat them.
While there are tons of security software and virus protection programs out there, you'll need to research and compare features while also being mindful of your budget and what's most compatible with your devices.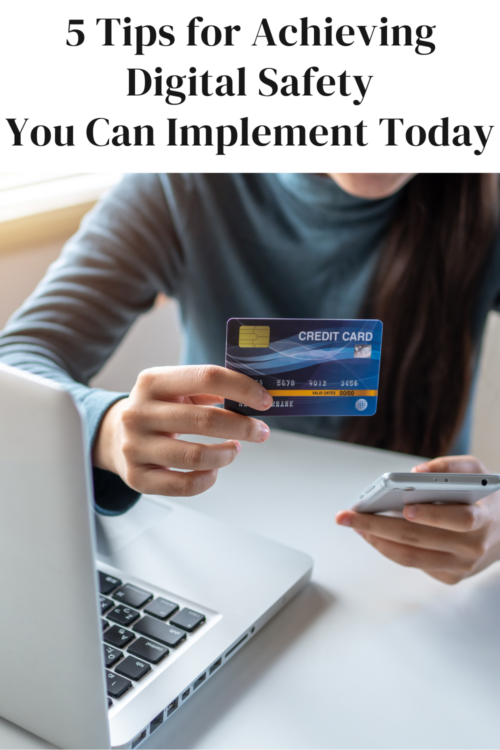 Digital Safety Tip #3: Make Sure Your WiFi Connection is Secured
While I love working at coffee shops, free WiFi is not always all it's cracked up to be. If you have an open WiFi connection, cybercriminals can easily attempt to steal your data as you browse and shop online.
This is why having a secured WiFi connection makes all the difference.
Whether you're at home or on the go, make sure you have WiFi security and a VPN connection. A VPN connection stands for virtual private network and establishes a secure internet connection so that all your data is routed through an encrypted process.
The VPN disguises your IP address when you're using the internet so it's not visible to others. Online security offered through Aura helps protect you against cyber attacks as well.
Digital Safety Tip #4: Watch Out For Digital and Phone Scams
Keep an eye out for scammers that may try to get you to reveal your personal information such as your social security number and banking info. Phishing scams are common when someone can send you a text or email with a downloadable attachment which is usually a virus.
There are also customer service scams where you may think you're talking to a support agent. Instead, it's actually a criminal trying to walk you through the process of setting up remote access to your computer or device allowing them to steal your information.
To stay on the safe side, avoid downloading attachments from email addresses you don't know. If someone emails you saying you won something or requests information check the email address to see if it's actually coming from the company.
Sometimes, the email might say 'Walmart', for example, but when you look at the email address, it's not associated with that company.
It also just takes a quick Google search to see if a company or financial institution would actually call or email you and ask for your personal information.
Digital Safety Tip #5: Get Identity Theft Monitoring
Obtaining some level of identity theft monitoring is one of the best ways to achieve digital safety and cover several of your bases at once. Identity theft monitoring often works in the background while you're living your life and taking care of daily responsibilities.
You can get monitoring to protect your social security number and bank and credit card data, as well as to provide alerts about data breaches that your passwords may be involved in.
Even if you're able to practice digital safety steps, it's nearly impossible to always be on guard for identity theft 24/7. This is why companies like Aura make it easy to increase your layer of protection and by using technology and putting proven safeguards in place.
A Comprehensive Solution to Protect Your Identity
Achieving digital safety to prevent identity theft can seem like a part-time job. There are a number of areas to monitor and if your data is ever leaked in a breach, you'll have to move fast.
Aura is the leader in intelligent safety solutions providing all-in-one digital protection for consumers. The company was founded by Hari Ravichandran, who found himself a victim of identity theft back in 2014.
Ravichandran couldn't find a comprehensive solution in terms of leveling up his digital security so he created one.
Aura is unique in that it offers full-service solutions including:
Identity protection (credit monitoring, credit report, credit freeze, bank account monitoring, dark web monitoring, public record monitoring, data broker lists monitoring)
Antivirus and VPN protection
Password management
Family protection (up to 10 people)
Parental controls (coming soon)
All these services are available in one easy-to-use dashboard. Aura provides 24/7 customer support and up to $1,000,000 in insurance to cover eligible losses and fees in a case of identity theft and fraud. There are three plans to choose from at an affordable price, all of which you can try free for the first 14 days.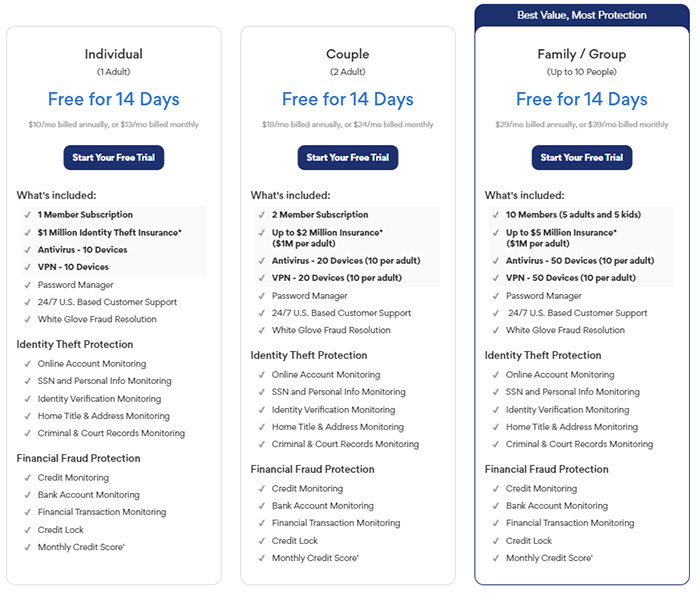 With Aura, there are no hidden fees or unclear jargon about the services that are included with your plan.
You Have Help to Get Ahead of Identity Theft
Identity theft can seem very isolating and lead to feelings of guilt and shame. The key is to try to get ahead of it if you can put safeguards in place to protect your identity.
While there are many things you can do to add protection against becoming a victim, it's also important to realize that you don't have to do it all alone.
Aura has experienced identity theft case managers and options for all-in-one protection for your finances, identity, and tech. You'll also get a money-back guarantee if you just want to try the services out to see how you like them.
Try Aura Yourself!
Aura is offering Believe in a Budget users an exclusive risk-free 14-day free trial. Learn more here!
Free 7 Day Blogging Course via Email
Join thousands that have learned how to start and grow a profitable blog. Sign up for free tips below and get started right now!