Recently I highlighted my favorite mompreneurs and women who are absolutely crushing it with their businesses. Today, I wanted to highlight some awesome black women in personal finance.
As someone who started a budgeting and side hustle blog, I've always been encouraged and inspired by successful women in personal finance.
I also know that race, ethnicity, and culture are all important factors that have always affected personal finance.
These 10 women have built their platforms from scratch and are passionate about helping others succeed financially. I hope these ladies encourage and inspire you!
1. Kara Stevens
Kara Stevens runs the blog The Frugal Feminista and has helped thousands of women regain their financial confidence and get out of debt. And, Kara started her journey with $65,000 of student loan and consumer debt.
But, she was able to pay off $40,000 in just two years. She created The Frugal Feminista to tackle more of the deep-rooted financial problems women of color might face through sisterhood, support, self-care, and solid steps and strategies.
Kara offers one-on-one financial coaching as well as wealth-building coaching for first-generation immigrants from the Caribbean.
She's also authored a few great books like Unmasking the Strong Black Woman, Heal Your Relationship With Money, and the Happy Finances Challenge.
2. Tonya Rapley
Tonya Rapley is a personal finance expert and entrepreneur who founded My Fab Finance in 2013. In 2014 she was deemed the 'New Face of Wealth Building' by Black Enterprise magazine.
She has been featured on some pretty big outlets like U.S. News, BuzzFeed, Essence, The Root, Credit.com, Refinery29, and more.
Tonya is a domestic violence survivor, wife, and mom who teaches hands-on money workshops and focuses on using her expertise to help millennials and black women in personal finance become financially free.
She also speaks to colleges and universities along with organizations and associations about money.
3. Carmen Perez
If you're on Instagram, you've got to follow Carmen who's handle is @MakeRealCents. Her actual blog is called Make Real Cents where you can find money tips and resources but she is most active on Instagram each day.
I like how Carmen explains what would be complex personal finance topics in a way that's fun and down-to-earth.
And, I love her story of paying off $57,000 of student loan debt in 2 years and 9 months. She did this by using a combination of zero-sum budgeting and cash envelopes to reach her goal.
Carmen worked in finance but quit her 6-figure job to code full time and run her financial education platform.
4. Choncé Maddox

Choncé was one of my first blogging friends and on My Debt Epiphany she shares content about paying off debt, budgeting, side hustles, and freelancing.
I was excited to see Choncé sharing her debt repayment story on Good Morning America this year. And I got to watch as she paid off $50,000 of debt in just a few years.
Choncé started her personal finance journey as a single mom with a low income.
Also, she's always sharing a lot of tips and resources about how people can stop living paycheck to paycheck and reach their financial goals regardless of what their starting point is.
If you like watching YouTube you can also check out her channel for more finance tips too.
5. Candice Latham
Candice Latham is another inspiring black woman in personal finance. She is on a mission to help people defy the odds, build wealth, and live a more authentic lifestyle.
She has a YouTube channel where she discusses everything from paying off debt and building wealth, saving money and navigating through life in your 30s.
Candice is also an entrepreneur who runs her business called The Latham Agency where she creates branded graphics and social media images and templates for clients. Check her out on Instagram here.
Thinking you may want to start your own online business too? Or maybe start side hustling to earn extra cash and impact others?
Check out some of my best side hustle ideas here.
6. Tiffany 'The Budgetnista' Aliche
Tiffany is an award-winning financial expert who loves teaching women about money. She spent 10 years as a preschool teacher in Newark, NJ. She was able to save $40,000 in 2 years while only earning a $39,000 salary.
Tiffany knew how to budget and save and was even able to buy her first home at the age of 25.
But that all changed when the 2008 recession hit. She lost everything. To help herself and other women create better financial lives, she founded The Budgetnista and the Live Richer Challenge.
Tiffany has a large platform and has spoken at over 300 events. You might have even seen her on TV, a commercial, or even the latest season of Queer Eye on Netflix.
What's impressive is how many black women in personal finance she's helped get back on track financially with her programs and advice.
7. Tai McNeely
Tai runs His and Her Money with her husband Talaat, but in all fairness, I had to add her to this list because it's such an amazing platform.
Both Tai and Talaat host a podcast and YouTube channel where they share people's debt payoff stories and other financial tips about marriage and money, saving, and more.
The couple paid off their $330,000 mortgage in 5 years on one income. So if you're in debt and are looking for encouragement, ideas, and a motivation kick, you should definitely check out their blog and give their podcast a listen.
8. Danielle Desir
Danielle hosts a podcast called The Thought Card where she talks about how others can afford to prioritize travel and live life on their own terms. She is a personal finance writer, author, speaker and New York native who's traveled to 27 countries and 4 continents.
Danielle swears that she isn't rich or privileged. She just knows how to budget and save for travel without sacrificing her coffee and spin classes.
During the day she works as a full-time research administrator at a leading medical school in New York City.
Danielle has been able to buy a home at 27 years old, pay off $63,000 of student loan debt in 4 years, and be able to travel to Iceland 3 times (2 of those times as a solo traveler).
If you're looking for advice and tips on how to balance your love for travel with your financial and professional goals, be sure to check out her blog and podcast.
Learn how to start your own money-making blog here.
9. Lynnette Khalfani-Cox
Lynnette Khalfani-Cox is a personal finance expert, speaker, and author of 15 personal finance books.
A former Wall Street journalist for CNBC, Lynnette created her platform, The Money Coach, as a way to help educate the masses and help people understand basic and complex personal finance concepts.
Lynette has been featured on many TV shows and publications.
She also creates financial education curriculums and content for nonprofits, government agencies, and other institutions.
Lynnette is a mom of 3 and shares her wealth of financial knowledge on her YouTube channel and within her online course, Money Coach University.
10. Tela Holcomb
Tela teaches people how to trade their 9-5 (literally) for a life of financial freedom by trading stocks strategically.
She says she isn't a stockbroker, but she's just a mom and wife who wanted to reach financial freedom through investing. S
he retired from her full-time job in 2014. Now, Tela trades stocks and earns over 6 figures each year with stock trading.
Tela teaches others how to understand the stock market in plain English with her program, Trade Your 9 To 5® and she also offers a free 5-day course to get you started.
I love how all of these black women in personal finance are serving their communities.
They also serve the online personal finance community as well. If you're looking to learn more about managing money, saving, investing, and getting out of debt, I'd highly recommend following the ladies on this list.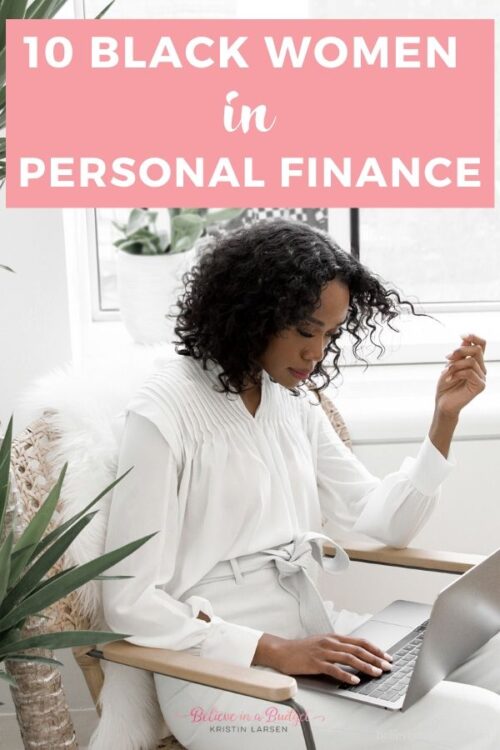 Free 7 Day Blogging Course via Email
Join thousands that have learned how to start and grow a profitable blog. Sign up for free tips below and get started right now!