This Constant Contact review and tutorial is going to show you how to set up your very first email campaign in a matter of minutes!
One of the things I wish I would have done sooner when I started blogging was start an email list. Having an email list is super important for any bloggers – especially if you want to monetize later down the line.
Sending emails is a great way to connect with your readers on a more personal level and build a tribe who becomes the first to hear about any news or promotions.
I like sending email newsletters and updates because it allows me to communicate with my readers more efficiently and help them solve a problem.
It definitely makes blogging more fulfilling. Not to mention, as a full-time blogger, I've been able to earn more six-figures per year consistently over the past few years. I owe a significant amount of my blogging success to having an email list and growing it steadily.
If you haven't started a blog yet, refer to this free tutorial to help you get started.
If you're a blogger looking to grow your email list, this doesn't have to be a difficult or tedious task. Heck, you don't even have to be technically savvy.
Constant Contact is an email marketing platform that can help you get started, build your list, and send out quality emails consistently. Plus, they're super affordable.
Constant Contact Review
First of all, what is Constant Contact?
Constant Contact has been around since 1995 and has grown into a popular digital marketing tool as the online world evolved over the years. Today, it's one of the best sites to help you with your:
Email marketing
Email templates
Marketing automation
E-commerce
Social marketing
As a blogger, it's important to realize how important marketing is. You're running a real business just like any other entrepreneur so it's great that platforms like Constant Contact are there to make effective digital marketing easy and achievable for newbies like me.
Free 7 Day Blogging Course via Email
Join thousands that have learned how to start and grow a profitable blog. Sign up for free tips below and get started right now!
Constant Contact Review: How to Start Building Your Email List
Getting signed up for Constant Contact is easy and doesn't even require a credit card. I know I'm not the only one who loves free no-obligation trials.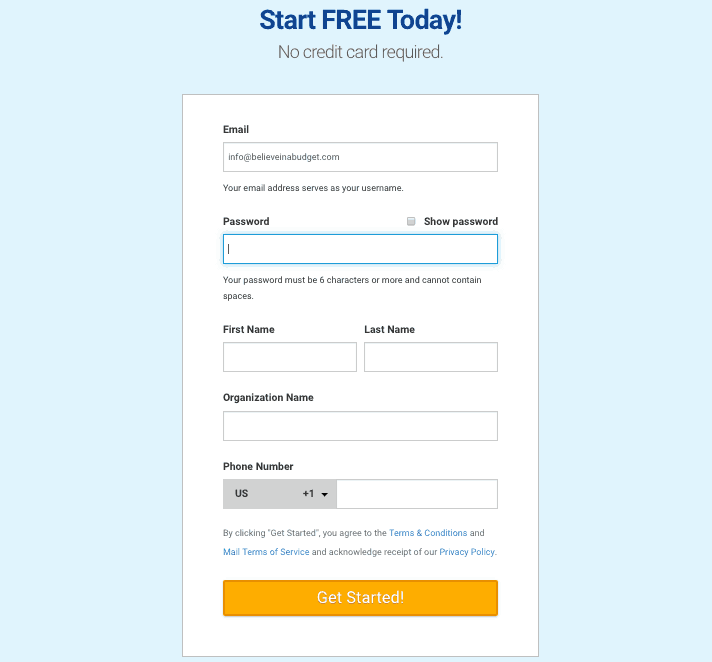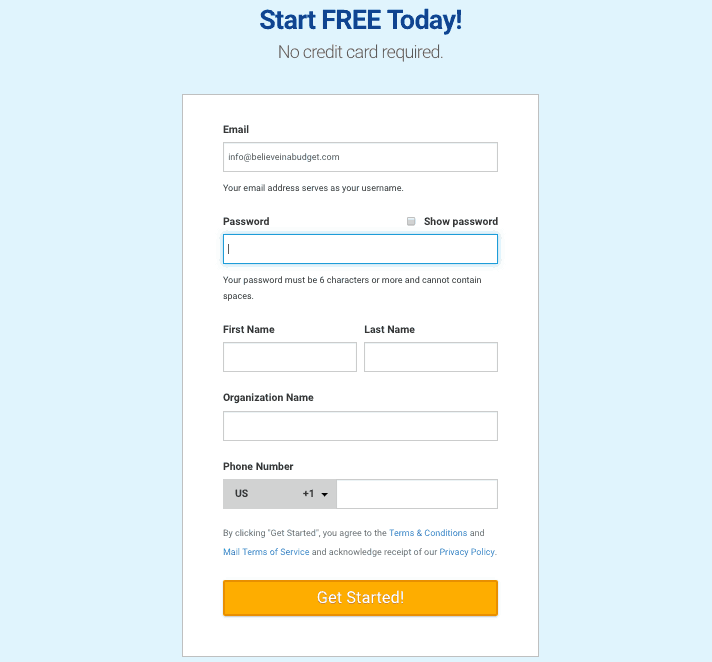 Once you start your trial, you'll be taken to a welcome page so you can complete your profile and share some more information about your business and your needs. This just takes a few minutes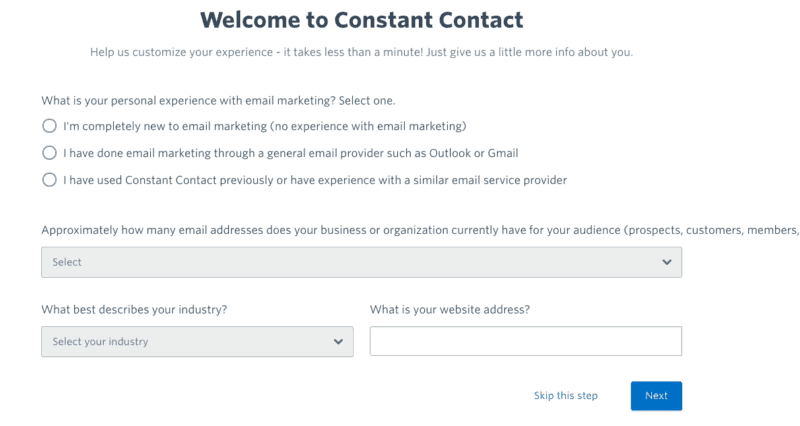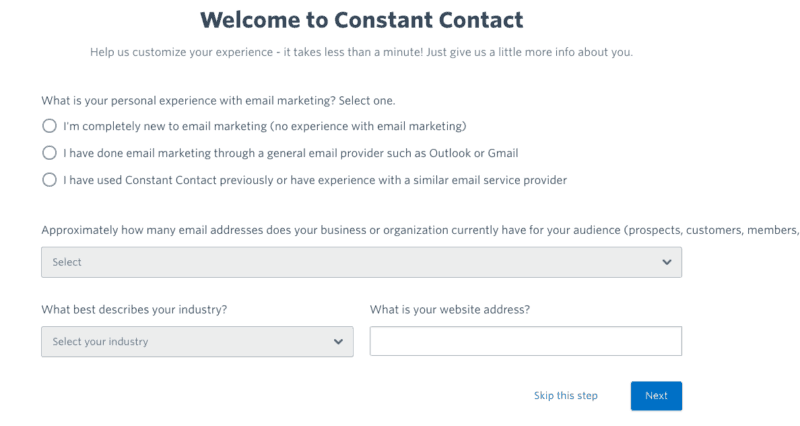 After you finish completing your profile, you'll be ready to start using the features. Your dashboard will look similar to my screenshot below.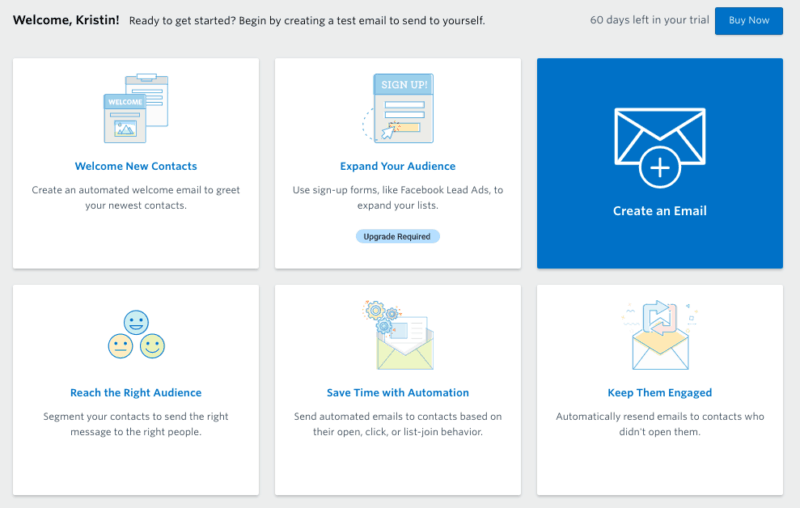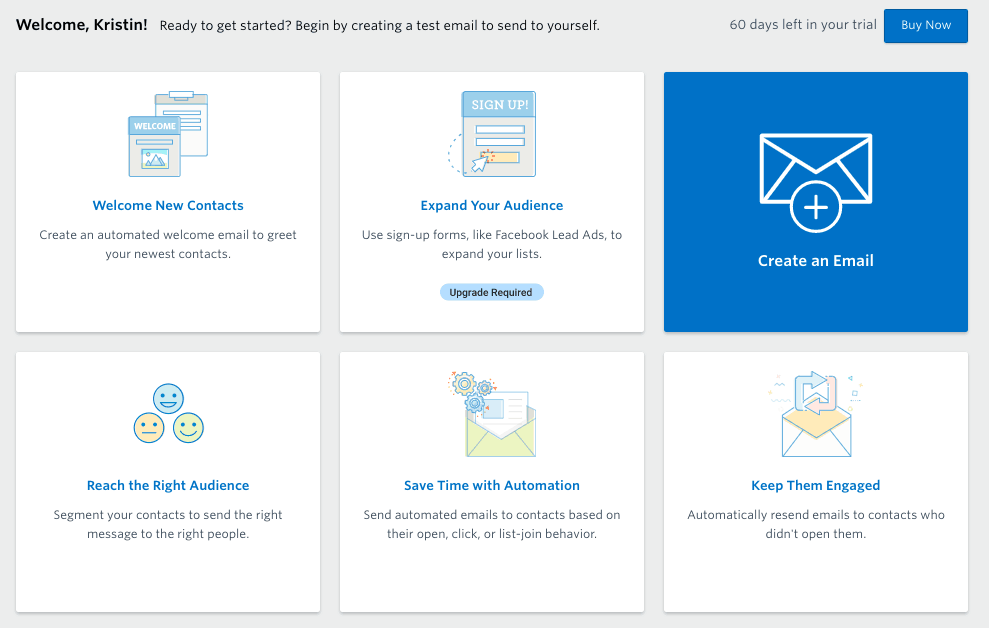 From there you can either start creating an email or click on the 'Contacts' tab in the navigation bar to add email addresses.
You can add emails to Constant Contact in a variety of ways and even tag email addresses to categorize different people's interests.


I always encourage new blogger to start collecting email addresses on their site as soon as humanly possible.
If you don't feel ready to send an email right away you don't have to. Just start collecting names and email address to build your list.
Start by adding sign up forms to your site. You can see that I have a few online, including two in this blog post! Be sure to place your forms in prominent places like in the sidebar, on the home page, beneath all your posts, within your posts, and even in the footer on your site.
Try to get creative and offer an incentive to people if they sign up instead of just saying 'Sign up here to get my weekly newsletter.' If you just make a plain statement like this, odds are that people aren't really going to sign up because they don't have much of a reason to.
They don't know what your newsletter will be about and why they should care. Instead, offer a freebie and be clear about what people will get and what they can expect when they sign up. People like to call this a 'lead magnet' and the sky is the limit when it comes to choosing what you will offer readers.
Common Lead Magnet Ideas
Worksheet or blog post turned into a checklist
Guide that helps readers solve a common problem
Short webinar or video series
Ebook
Free chapter of your published book
Coupon or deal for one of your products or services
Using Constant Contact's Features
Let's go over how to use some of Constant Contact's basic email marketing features. On your dashboard, you'll see 6 major tasks that you can do.
Welcome New Contacts
I already briefly went over how to add new contacts in Constant Contact, but this feature will actually help you set up a welcome sequence for them. When people first sign up for your list, you want to give them their freebie and set expectations right off the bat.
Make them feel welcome and let them know what you can expect from you in the future. This is the perfect time to let readers know how many emails they can expect per week, which topics you'll cover, and so on.
Constant Contact has a few different templates you can use to set your welcome email up. It can be sent to new subscribers automatically whenever they sign up.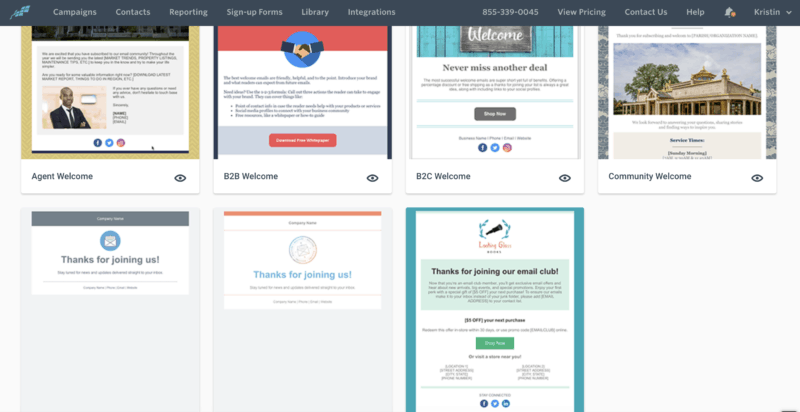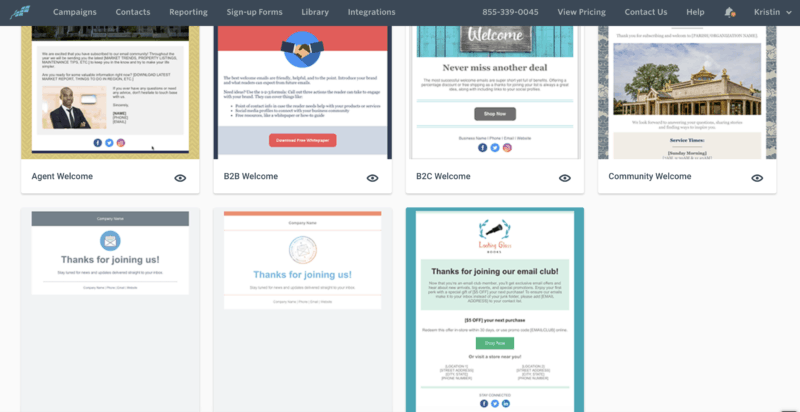 Expand Your Audience
This feature helps you grow your email list by setting up eye-catching forms on your site along with creating Facebook lead ads. This feature doesn't come with the free trial so you'll have to have a paid plan to use it.
Reach the Right Audience
I love this feature because it helps you segment your list based on people's interests. Odds are, you probably have some sub-topics and categories for your blog. Segmenting your list is a great marketing strategy because you can put people who want to hear/learn about certain things in groups.
That way, when you have relevant information to share or a helpful product to market, you can email that segmented group and they will be more likely to engage.
Automation
Automation is the key to successful email marketing in my opinion. No one has time to sit around crafting emails from scratch all day. I have no problem with sending out emails from scratch each week, but it's also effective to automate some of your emails and create series so you can help more people.
For example, if you run a travel blog and you keep getting questions about saving money on a trip to Disney World, wouldn't it make sense to create a blog series focused around that? That way when you receive the next question you can just point them to the blog series.
With emails, you can't just send someone a link to an old email where you shared a valuable tip or explained something. If they joined the list after you shared that info, they might miss out.
This is where automation comes in. Constant Contact helps you create automated email series that you can send to your subscribers to answer common questions, offer advice and tips, and even create a sales funnel.
Keep Them Engaged
This is a cool feature that helps you keep email subscribers engaged and opening your emails. Constant Contact can automatically resend your emails to people who don't open them. This is an optional feature that you can take advantage of to see if it will help you increase your open rates.
Create an Email
Constant Contact streamlines the process of actually drafting your email with this feature. First, you'll choose from a template and customize it to fit your brand.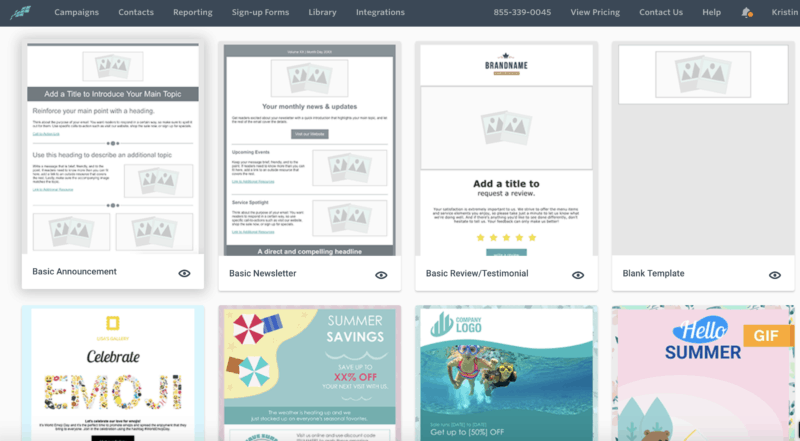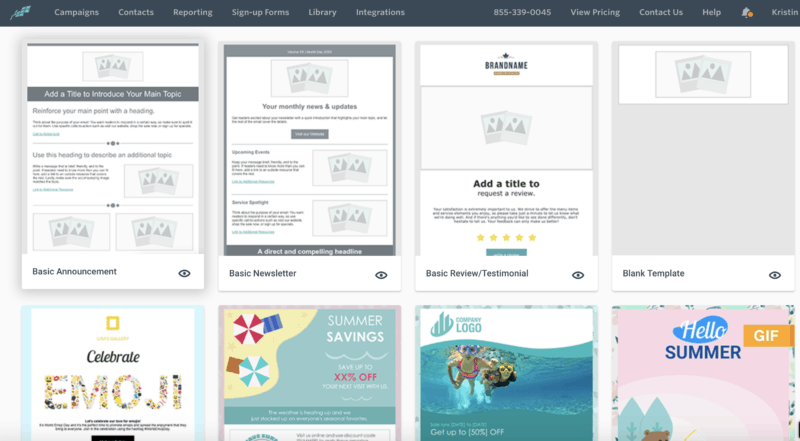 Then, you'll name your email campaign and customize the email itself. You can change fonts, formatting, and add buttons and images.
You can even integrate other programs and systems like Shopify or WooCommerce if you have an online store or Eventbrite if you're hosting an event. I like how you can keep it as simple as you want or add in extra features.
When you've finished your email draft, be sure to save it and send a test version to yourself so you can review it. From there, you can send it immediately or schedule it out and choose which subscribers it will be going to.
Constant Contact Review: Pricing
If you want to continue using Constant Contact after your trial, you can choose your plan and features. They have different prices for plans based on your email list size and the features you want.
The basic email plan includes:
Unlimited emails
Customizable templates
Branded/Industry templates
Contact list import features
Apps and integration
Tracking and reporting
And more!
The Email Plus plan includes:
All the features included in the basic email plan
Advanced e-commerce functions
Customizable pop-up forms
An automated welcome email sequence
Subject Line A/B testing
And a ton of other features
As an example, if you have 0 to 500 email subscribers and want to use the basic email plan you'd pay $20 per month. If you wanted to use the Email Plus plan, you'd pay $45 per month for an email list of this size.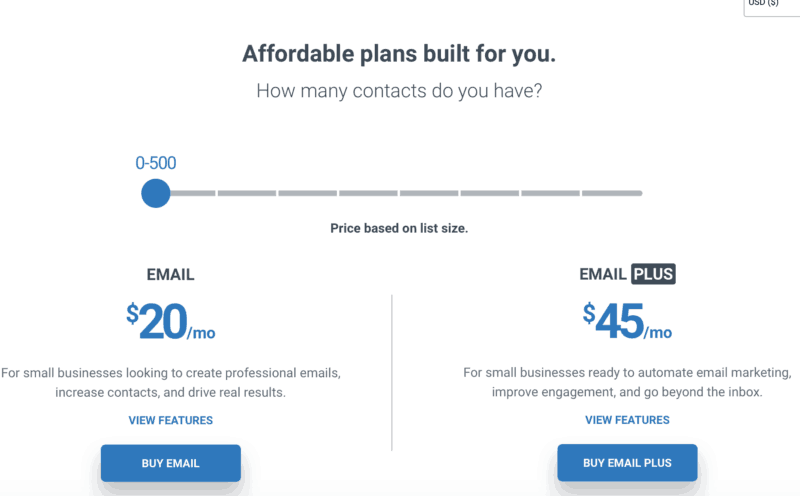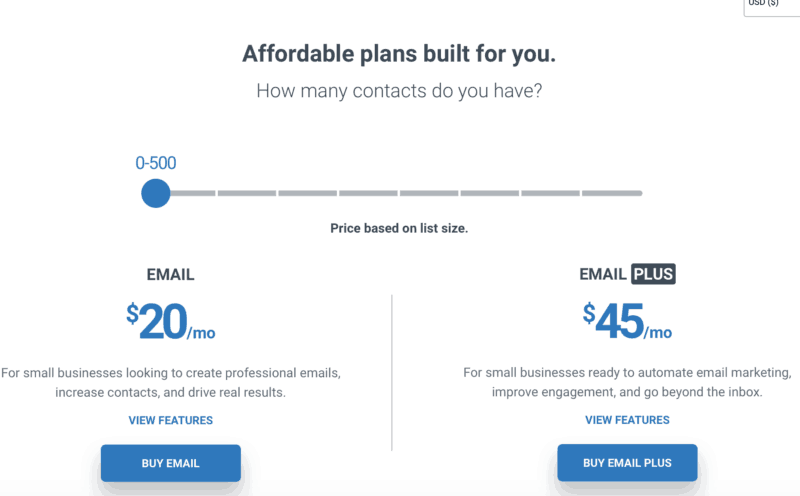 How to Build Your List
While Constant Contact can give you all the tools you need to grow and engage with your email list, you still have to work to collect more email addresses.
When I was just getting started with blogging, I wish someone would have told me how important it was to have an email list. I also wish someone would have pulled me aside and gave me some pointers for growing my list.
If you're looking to grow your email list or even just get your first 100 subscribers, here are a few things you can do.
Add forms to your blog – I already touched on how important it is to strategically add sign up forms to your blog. Make sure you have one on the home page and at the bottom of blog posts so people know they can sign up for your email list. Play around with different wording and offers to see what gets more people to sign up.
Create a content upgrade – Do you have a blog post that has been going really well? Turn it into a guide or checklist and offer to send it to whoever signs up for your email list. For example, if you're sharing a meal planning 101 blog post, consider creating a meal planning calendar or printable that you can send to new email sign-ups.
Run a giveaway – This can be a fun way to give back and get other people to follow you on social media or join your email list in order to enter.
Pitch guest posts – Guest posting is a great way to grow your blog and reach new audiences. You can even ask some bloggers for permission to add a plug about your email list at the bottom of your guest post.
Do some marketing – Consider using social media and Facebook ads to attract your target audience and get them to join your list. You can also do some guest appearances on podcast and land some media coverage for your blog in order to promote your list. One of the best ways to get features on big sites and publications is to become an expert source (you can use sites like HARO or do your own research) for different pieces and see if you can plug your email list when you credit your blog.
Engaging Email Subjects to Consider
Once you start getting more people on your email list, you may be wondering what to write about when you send an email. You definitely want to be helpful and keep the people on your list engaged.
It's a big deal to have someone take time out of their day to stop and read your emails, so you want to respect their time and keep them subscribed. Here are a few general topics you can cover if you are wondering what type of emails to send your list.
Try sending a variation of these instead of only sending one specific type of email all the time.
Blog/company/personal news and updates
Motivational content or a recent lesson you learned that could help others
Tips, advice, and how-tos
Exclusive tips related to your blog niche and a common obstacle your readers face
Freebies like printables, guides, giveaways, etc.
An exclusive challenge to help your community solve an important problem
Offers and discounts
Related reading:
Have you thought about starting an email list yet? What is your favorite part of setting everything up and building your list or are you facing any obstacles?