Now that I have relocated, many people have asked if I still plan to side hustle and mystery shop. Without hesitation, the answer is yes! The great thing about mystery shopping is it can be done from anywhere.
I have been mystery shopping for years. I first learned about mystery shopping when I was in college and have been fascinated ever since.
There are dozens of different companies out there that will pay you to visit a restaurant, retail store or do something entertaining, like go bowling or to the movies.
I have only lived in Nashville for about a month, but I have already been side hustling to make more money.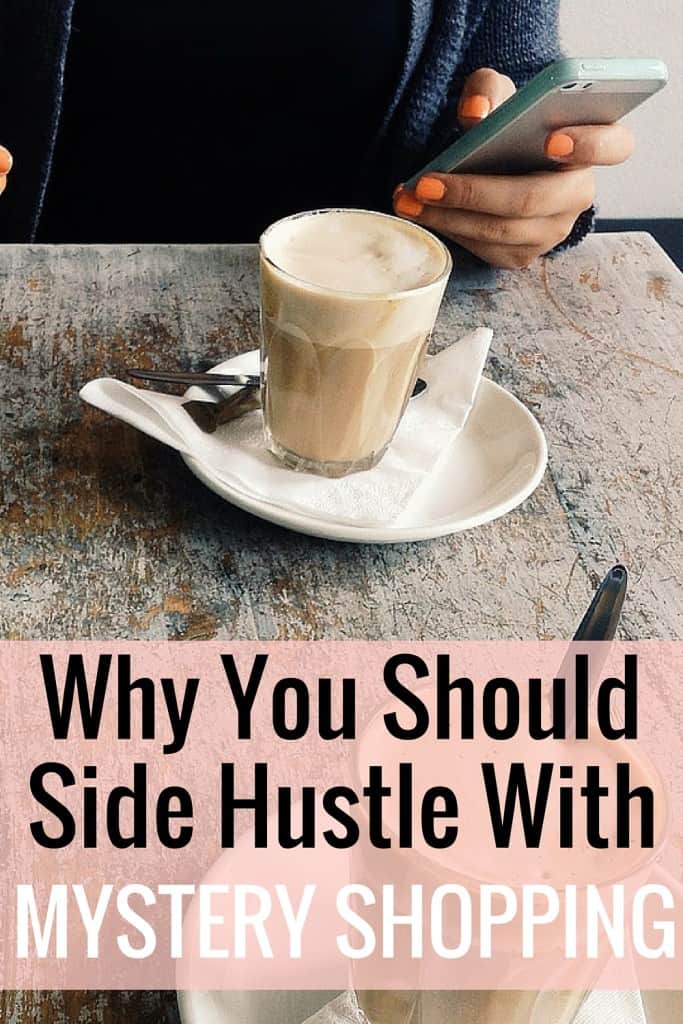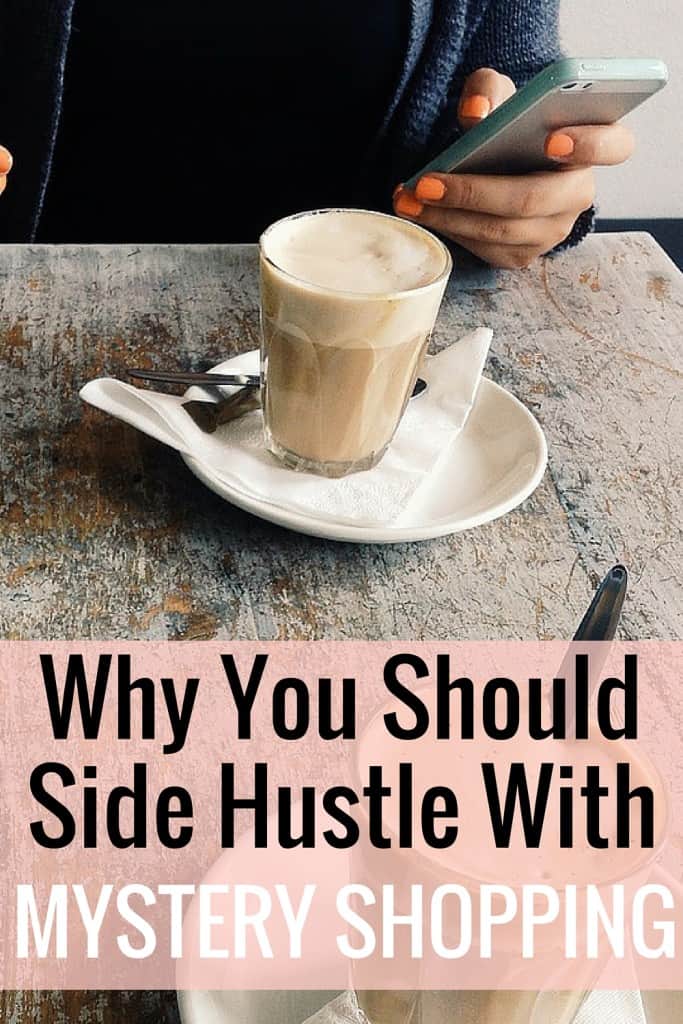 Here are the mystery shops I have completed this past month
Ordered pizza for delivery
This is always such a fun and easy shop, especially when I don't have to leave my home. I simply had to call in my order, remember information from our conversation and write it down. When my order was delivered, I had to take some mental notes about my experience with the driver as well. Finally, I snapped two photos of the pizza and that was it!
Not only will my pizza and tip be reimbursed, I also will receive a $10 bonus for completing the shop.
Completed four surveys on my cell phone while grocery shopping
These are always my favorite shops to do. While at the grocery store, I will be asked to take a few pictures of an aisle or a product, like potato chips or beer. Then I'll be asked a few questions in multiple choice format. These types of surveys take about 5-10 minutes of my time.
Unlike traditional mystery shops, these surveys pay in smaller increments because they are so short. Each survey I completed paid $5 and I was paid within 48 hours to my PayPal account.
[convertkit form=5279422]
Grabbed coffee
Friends, we all know I have mad love for coffee. There is a 99% chance I will grab an iced latte (even in the winter) so what better than to have it be on someone else's tab? For this mystery shop I was able to select the coffee of my choice and just had to ask one question to the person taking my order. Simple!
Not only will I be reimbursed for my coffee but I'll also receive a $5 bonus. That's like getting another coffee for free 🙂
Grabbed BBQ with curbside pickup
Talk about a guilty pleasure! This local restaurant in my neck of the woods was searching for mystery shoppers to dine at lunch, dinner and perform a curbside pickup. I snapped up a curbside pickup shift and it was a breeze. There was much less work involved than dining in the restaurant, so this was a no brainer. I just had to document my phone call when placing the order and take notes about the employee who brought out my meal.
What made this mystery shop even better was it paid for two meals, so my friend and I got to eat for free. This mystery shop will reimburse me for the bill and tip, as well as give me a $10 bonus for completing the shop.
Made a purchase at a big box home decor store
This is one of my tougher shops that I normally don't do, but I accepted because I knew I would end up making a purchase here at some point. After walking the floor and interacting with a couple of employees, I was able to select an item of my choice and have it reimbursed up to $13. Since my Soda Stream carbon cartridge ran out, I was able to swap it out for a new one.
Because this is around the same price as my reimbursement, this item will be essentially free once I am reimbursed. The best part is I'll also be paid $15 shop fee on top of my reimbursement.
Mystery shopping tips
There are so many aspects when it comes to mystery shopping. I could write about this all day, but here are a few of my favorites:
One of the my favorite aspects of mystery shopping is how I fit it into my schedule. I typically do not go out of my way to complete a mystery shop as I don't have the time. Instead, I personally try to select mystery shops that work with my schedule and that are close to my home. If it's more than a few miles out my comfort zone, there is a good chance I won't accept a shop.
If you are comfortable with using a credit card (and won't go into debt), use a credit card to pay for all your mystery shopping. The majority of mystery shops do not pay out until the middle of the following month. I prefer to charge my shops so I don't feel as if I am losing money. Once I am reimbursed, the money goes straight to my credit card and I pocket the difference.
Make sure you have a PayPal account. Nearly every company requires this for payment. Some companies will process a live check, but this always takes longer to receive in the mail and you will be charged a small processing fee.
Keep a planner or spreadsheet that lists the day you completed your mystery shop. It is very rare for a mystery shop company to not pay you, but it's smart to remember when you should expect payment.
Open a separate email account that is solely for mystery shopping. I receive anywhere between 20-30 emails a day on various mystery shops available in my area. I like to keep this separate from my personal email account so my inbox is not inundated.
I am excited to announce I will be releasing an in-depth guide in January about mystery shopping. There is so much to cover and this will cover mystery shopping, survey and panel studies. I will be sharing direct links to my favorite companies so you don't have to do all the research that I did over the years.
In 2014, I made over $4500 from various side hustles, so if you are serious about side hustling this guide will teach you exactly how to make more money. Get excited!
Related reading: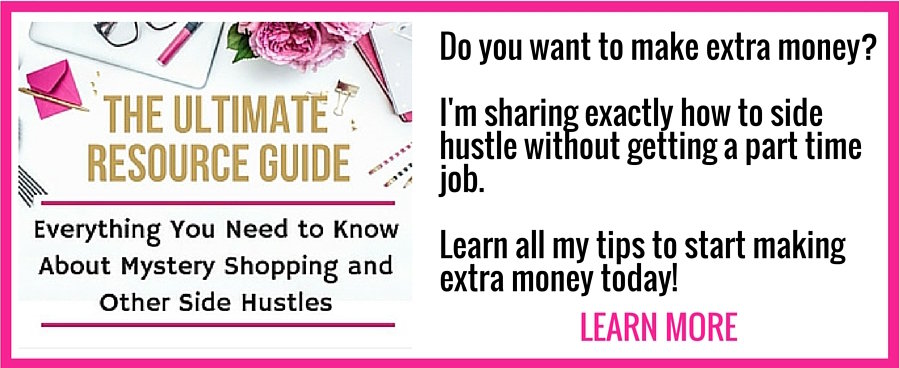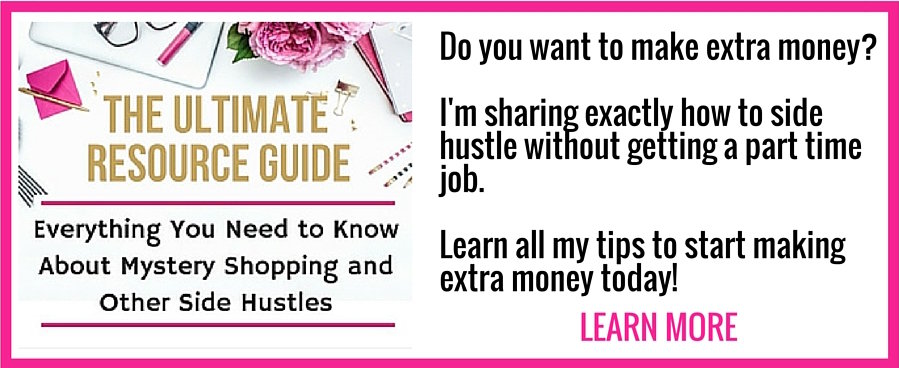 BONUS: Made cash back shopping
If you aren't using Rakuten, you are missing out! I've made around $700 so far from shopping online for normal things I would buy anyways. Basically you earn a percentage back on all your purchases, and that money gets deposited into your PayPal account. Yippee, free money!
Ibotta is another free cell phone app. You use it after you go grocery shopping and use your receipt. It's basically a rebate app, so you can earn anywhere from 50 cents to $5 off everything you buy.
My favorite part about this app is that it's not always brand specific, like a lot of coupons are. So you'll be able to scan "any brand of bread" for 50 cents off, etc. If you do coupon – you can STILL use Ibotta and get a rebate. For the diehard couponers out there, this will often result in getting an item for FREE. Crazy, right?
If you want to grab the Ibotta app and start making money off your grocery receipts, click here to get started. You will receive a cash bonus of $10 when you scan your first item!
[convertkit form=5278140]
How do you feel about mystery shopping?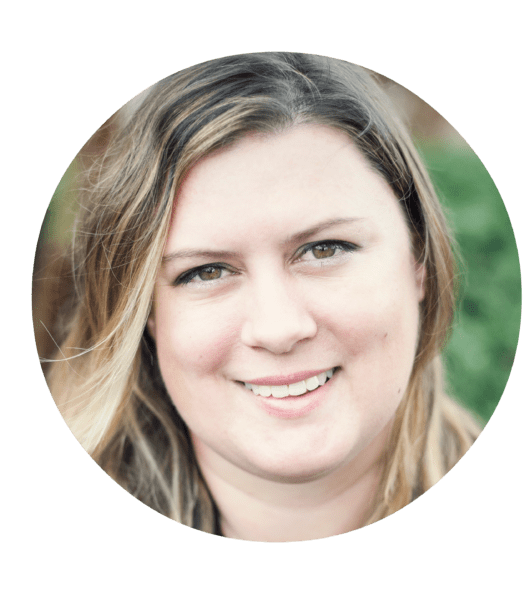 Kristin, is the creator behind Believe In A Budget. She teaches others how to start a blog and how to side hustle. Her course, Pinterest Presence, helps bloggers + businesses drive traffic to increase their website's profitability. Click here to learn more!