It's time to review my online income report from last month. This report only includes income I received from the month of October. If I haven't received the money, then I don't put it in this income report. This is the best way for me to track how much money I am making on a monthly basis.
This was an interesting month for me. To be blunt, I didn't really work but still made money. Strange concept! I took some unexpected time off for about three weeks in September and all of October to handle personal things. I worked maybe 20-25 hours in all of October. This produced some eyebrow raising results for my online income, which I'll get to below.
On the plus side, I hit my one year anniversary of blogging full time! Yup, I quit my job last October and haven't looked back. It's been a crazy ride and I am loving every minute of it. I have so many ideas and want to do so many things with my blog and brand!
If you are in my exclusive Facebook group (please join me!) you know I'm struggling with writing online income reports. I like writing them because I like being able to track my progress. At the same time, I really don't like talking about money anymore (even though I blog about making money and side hustling. I know, it's weird.)
Part of this is because my blogging life is starting to spill over into my real life. I've done such a great job separating the two worlds for nearly two years and I'm still trying to figure out the best way to do things with sharing public and private information.
Here are some previous online income reports:

Breakdown of my October online income report:
I hit my one year anniversary of blogging full time! October was my twelfth month freelancing full time. A year ago I was still at my day job and blogging part time. Starting this blog has changed my life and I can't imagine doing anything else!
$0 Partnerships/Sponsorships
$5,241.75 Affiliate Income
GRAND TOTAL: $7,157.04
Ok, so here's my takeaways:
I didn't take on any new sponsorships in October. This seems like the first time in a while I let this category go and didn't spend any time on it.
I totally forgot I got paid quarterly instead of net 30 or 45 for some of my affiliate income. So getting this quarterly income really bumped my income up!
I wasn't able to promote my courses as much as I normally do. I also rescheduled two webinars I had planned for a later date. This made a huge different in terms of income for this revenue stream. When I don't focus on promoting my courses, the sales decline.
On the positive side, how 'bout that affiliate income?! Yippee! I've been working hard on increasing this and it's paying off. Even though I worked very little, nearly all of this income was passive, meaning I didn't do much work to earn it.
Free 7 Day Blogging Course via Email
Join thousands that have learned how to start and grow a profitable blog. Sign up for free tips below and get started right now!
Online income breakdown
This income amount is the grand total before I deduct taxes. Right now I am putting away 30% of each paycheck I receive. If I break this down into sections of income, it looks like this:
5% freelance income
95% in ad income, products, affiliate income
If you want to keep track of your online income (which I highly recommend) check out Freshbooks! It's what I've used to track business income, expenses, invoice clients, and more. Click here to learn more about Freshbooks.
Courses and products
Because I didn't actively promote my courses at all, they definitely didn't do as well in October. It also didn't help that I pushed off a couple webinars, but things happen.
In my Pinterest Presence course, I share exactly how I went from 1K page views to 160K+ page views a month in less than a year, as well as how Pinterest drives in 90% of my traffic each month. If you have yet to utilize Pinterest and also need to get more traffic to your website to make more money, you can check out the course here.
My Pinterest Pin templates have been such a fun and unexpected product that I created! I receive a lot of emails from readers who struggle with making pins for Pinterest. So I created a dozen Pinterest pin templates that are fully customizable that everyone can use! You can learn more about the Pinterest pin templates here.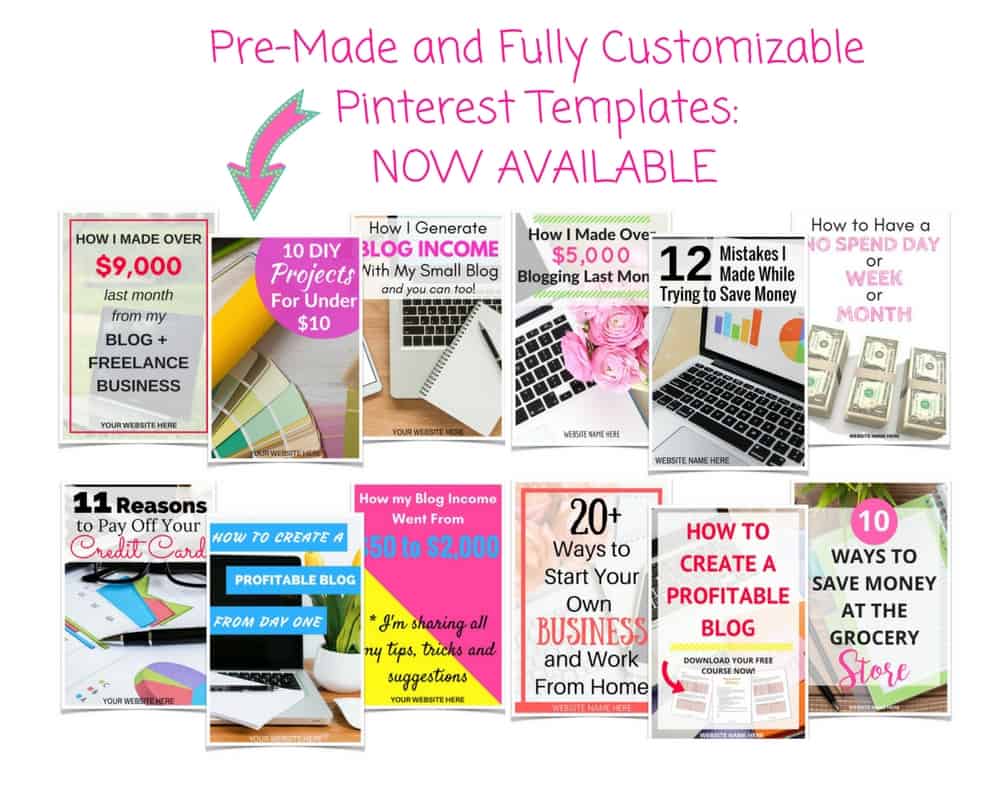 Monthly Expenses
These are my October expenses:
$9.95 FreshBooks – I stopped using PayPal and did the 30 day trial with Freshbooks. I pay 50 cents per transaction (regardless of the invoice amount) as opposed to 3-4%of the invoice amount in PayPal fees. That's crazy!
$79 ConvertKit. I use ConvertKit and LeadPages together. I've created some really great newsletters, funnels, sign up forms and even hosted webinars with both of these companies. I don't include LeadPages in every income report as an expense because I pay it quarterly.
$0 Tailwind. I pay for this annually. Tailwind is the scheduler I use when I do all my pinning on Pinterest. It's my favorite scheduler I use for my clients and myself.
TOTAL EXPENSES: $206.95
This month my expenses were around 3% of my budget. I try to take care of a lot of things on my own so I don't have to outsource.
I think it's crazy that I worked maybe 30 hours in October and made over $7,000. This tells me that my hard work for creating passive income is working. I was pretty surprised by this number as I've been horrible at tracking things lately. Once I started adding it all up, I was like holy sh*t, not bad for 30 hours of work! Ha!
However, when I don't work, my income decreases. I didn't have time to work with brands to line up more sponsorships/partnerships nor have time to focus on promoting my courses. One of these months I really want to hit the $10,000+ mark. I know if I keep working hard, it will happen!
Overall income this past year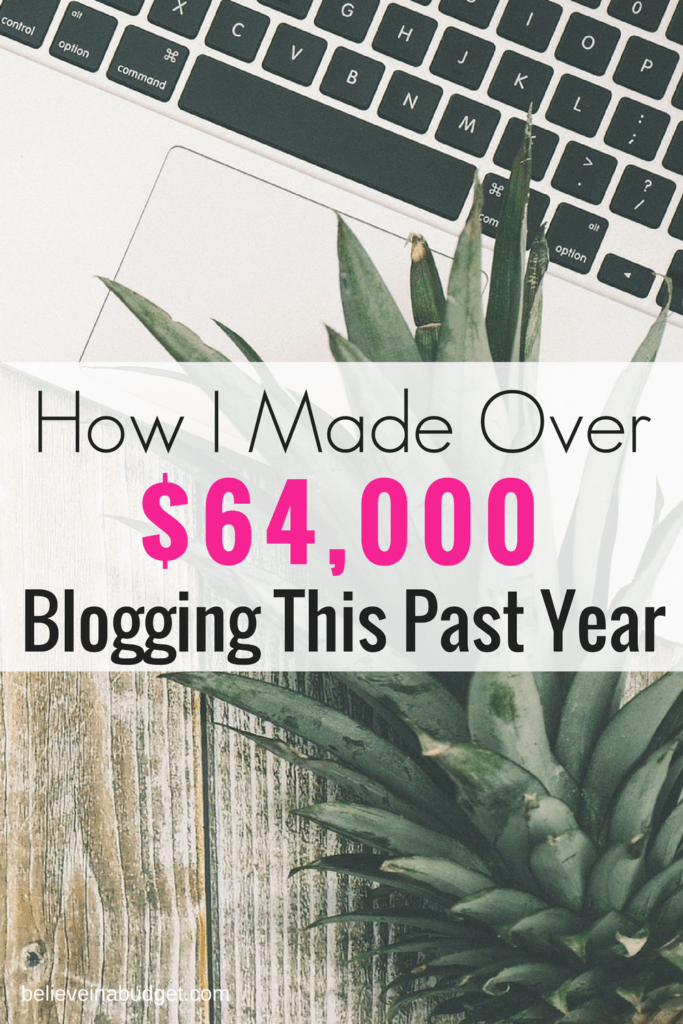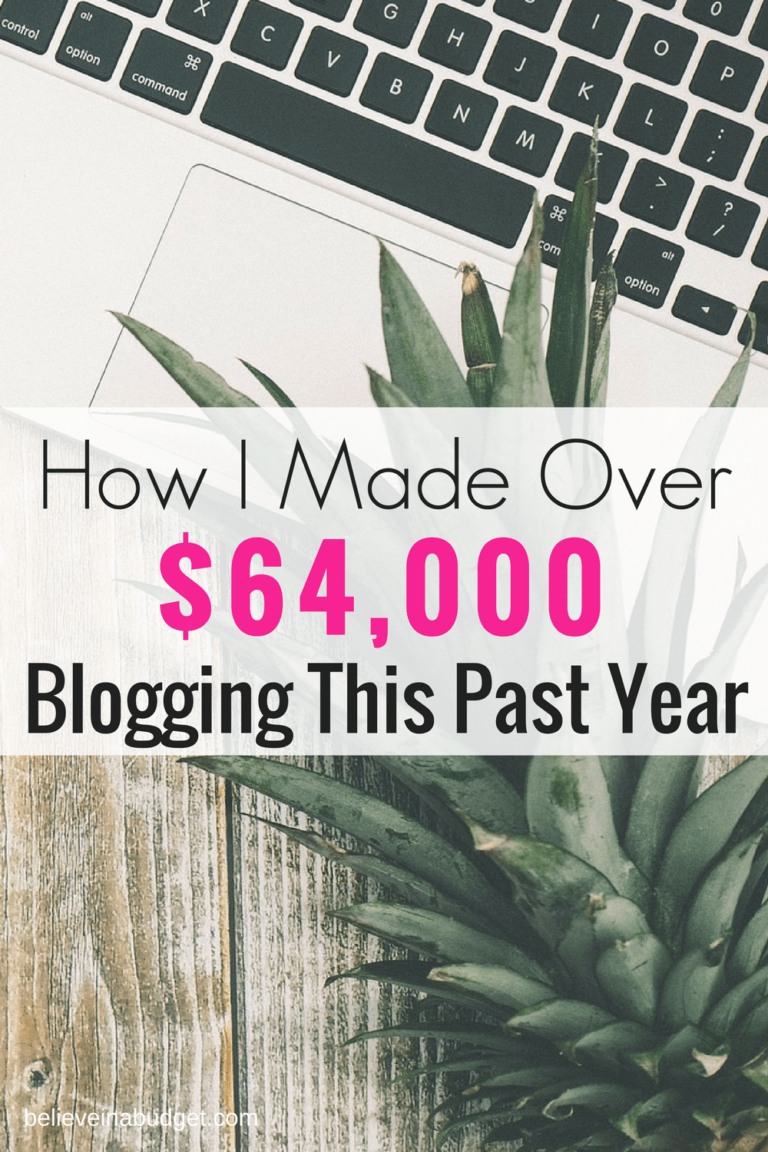 While this number is unofficial until I really add up the numbers, I think I made over $64,000 blogging this past year.
I quit my full time job last October. I saved for months ahead of time to be able to do this incase everything went wrong once I quit my job.
I gave up the security of a steady paycheck, health insurance and other benefits to take a chance and go for something I believed in, which was becoming a full time blogger.
I didn't have any expectations my first year of blogging. I knew that I would rather make less money and possibly struggle than work for someone else.
If you are thinking about starting a blog and changing your life, you can check out this tutorial that helps you go through all the blogging steps.
This number doesn't include other income I've made from side hustles, consulting for my real life line of work, mystery shopping, etc. I try to keep these things separate as they don't directly relate to the blog, so I don't include them in my income reports.
Overall I'm happy with this number! There were so many things I was able to do this past year, like traveling, that I would not have been able to do at my full time job. I'll have to look into this more and do a blog post on my overall income and a better breakdown. I'm excited!
Do you find income reports to be helpful?