With it already feeling warm and humid outside, I'm in full summer hustle mode. I created a sixty minute summer side hustle challenge for myself that I want to share with you.
I've even included two free printables in this blog post that you can download and print out to help you if you would like to make an extra $1,000 this summer.
If you are on my email list, I have been sharing tips and my journey how I'm trying to spend an hour each week side hustling in my spare time.
The Sixty Minute Summer Side Hustle Challenge
My summer side hustle goal is to make money by spending one hour per week finding ways to earn extra income. This cannot be related to my day job, so nothing related to blogging or my online businesses.
I am also going to be very specific with my time and dedicate a solid hour each week to earning extra money on the side.
The main way I plan to do this is by selling unused items around my house. This is going to be my main focus as we have a lot of stuff just sitting around.
While I am a fairly minimalist person in general, I walked around my house and noticed there are a lot of things that we no longer use. This applies to so many things, like clothing and shoes, home decor, holiday-themed decor, pet products, electronics and office supplies.
I find clutter very stressful, and while we are not hoarders by any means, I really like everything to have a purpose.
How The Sixty Minute Summer Side Hustle Challenge Works
The challenge is easy; spend sixty minutes per week going around your home and sell items you no longer need. You can spend 1-hour all at once, or spread out the sixty minutes over the course of a few days or week.
While $1,000 seems like a big goal and a lot of money, this is completely doable. For most people, summer lasts at least twelve weeks. Depending on where you live, summer might even feel longer if the weather is warm!
If you plan on doing the summer sixty minute side hustle challenge in a 12 week duration, that would require you to earn an extra $84 per week.
If you plan to make the challenge shorter or longer, just divide $1,000 by how many weeks you plan to participate. You can also complete this challenge faster if you have larger items to sell!
Related reading:
[convertkit form=5279422]
Tips On How To Get Started
There are so many ways to approach this challenge. It can be overwhelming knowing where to start, so here are a few tips to help you.
First, you need to stay organized. Start with one area in your home. Do not start with a closet, and then move into the living room. This will cause overwhelm, chaos and create a mess.
Next, use garbage bags or bins when decluttering.
For example, I started with one bedroom closet full of my clothes.
I made two piles. The plastic bag was for donation. I used a clear plastic bin for items that I wanted to sell. Whatever I don't sell will also be donated.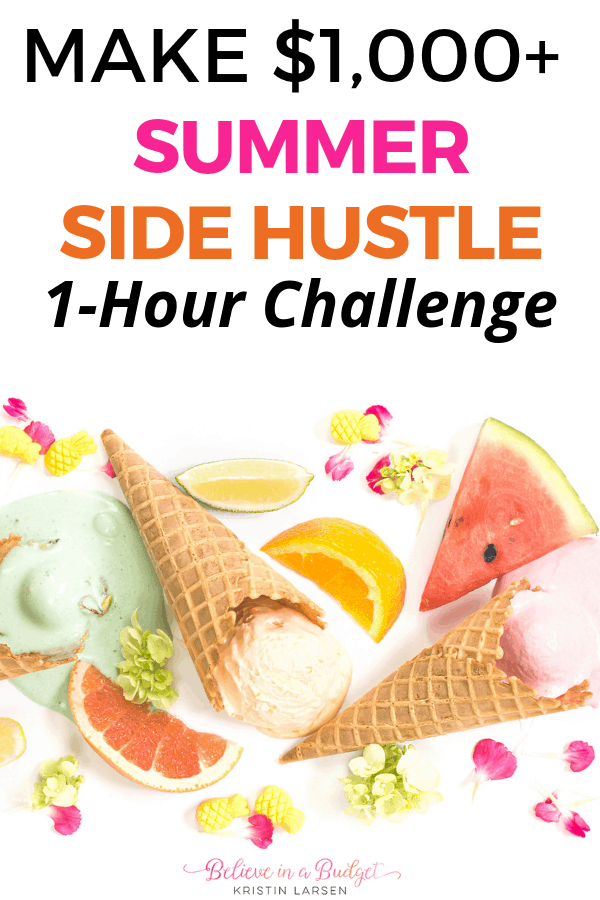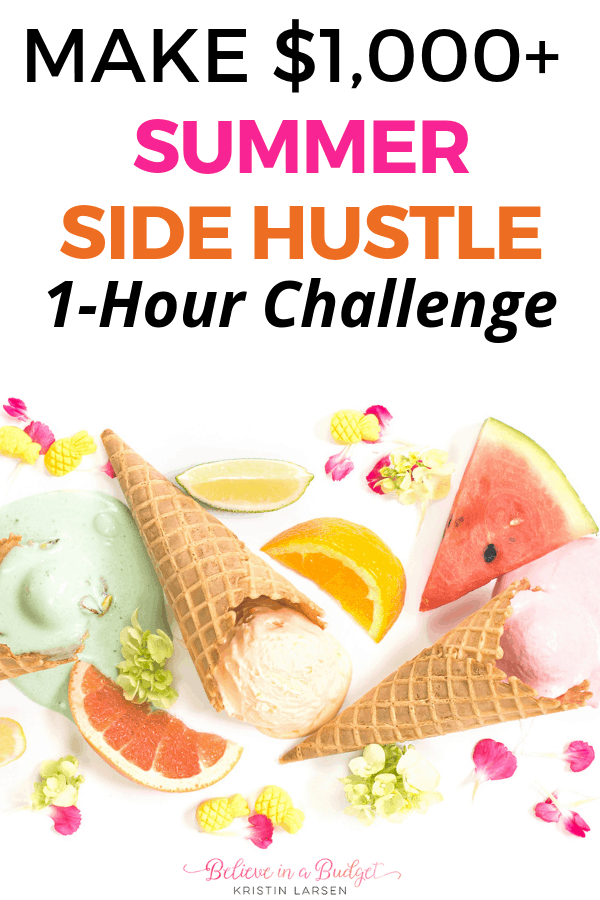 It was pretty easy to fill an entire bag full of clothes to donate. I put the bag in my car right away so I would be reminded to drop it off at Goodwill or a drop-off container that can be found in public parking lots.
For items I wanted to keep, I took one item of clothing out of my closet, photographed it and put it into a plastic storage bin.
This was tedious and I was so tempted to put clothes in the donation bag out of laziness. Isn't that horrible?
Sadly, there was a decent amount of clothes that still had tags on them, eek!
I'm pretty sure I bought these clothes because they were on sale at the time, but I actually never wore them.
Not gonna lie – I got some amazing deals.
We are talking discount on top of discount on top of discount.
Have you ever put a clearance item under the price scanner at Kohls or Macy's and have found total joy that a $67 dress is only $5.97?
But what's the point of the purchase if I have no plans to wear these items?!
I was very guilty of doing this in the past when I was still at my day job or would recreationally shop and spend money for no reason. I have a much different and healthier attitude towards shopping today. I'm much more intentional with what I purchase and have no guilt when I do need to buy something.
In my first week, I spent almost my entire hour going through my closet. I did not actually have time to list or sell anything. Instead, it was a great way for me to clean out my closet. Not only did I fill an entire plastic garbage bag full of clothes to donate, but I also filled up an entire plastic bin of clothes to sell.
Selling On EBay and Facebook Marketplace
In my first week with the sixty minute side hustle challenge, I did have a few minutes remaining to make sure my eBay account was still working as it's been a hot minute since I've been on there.
It was easy to get going again. I managed to list one item to make sure things haven't really changed (they haven't). It was an electronic item that I found buried in my closet.
Afterwards, I totally forgot about the listing. Later in the week I received an email that the item sold for $28 after the fees from Ebay. Yippee!
I am going to try to sell a lot of my clothes and miscellaneous items on eBay and Facebook Marketplace.
If you need a refresher, here's a tutorial on how to use Ebay.
To be honest, I really do not want to have a garage sale at this time. I am primarily selling small items at lower prices and don't have a lot of exciting or bigger items that would lure a lot of people in.
At the time of writing this blog post, I just finished week two of this challenge. So far with Ebay and Facebook Marketplace, I have listed and sold around a dozen items and there has been no haggling.
Part of this reason is because I am listing items at a slightly lower price because I want them to sell fast.
One way you can do this it to look at other similar listings on Facebook Marketplace. If you are looking to make a quick sale, price your items slightly lower than your competition. Because I am giving myself a time limit of 60 minutes per week, I really don't have time to go back and forth on Facebook messenger about pricing. Within hours of listing my products, they were all sold.
While a garage sale is a great way to earn extra income, I am not ready to commit to the time it takes to setup and hold a garage sale. When I have held garage sales in the past, there was a lot of haggling on pricing. With all this being said, having a garage sale might be an option at the end of summer if I have not hit my $1,000 goal. For now, I am going to stick with my sixty minutes per week to earn extra cash.
Different Ways To Save Your Money
I've been collecting my income in two forms – cash and some form of online payment.
With Facebook Marketplace, I have been paid cash. There are options to send and accept payment via the Facebook platform, but so far all my transactions have been with cash.
With Ebay, payment is sent directly to my personal PayPal account. From PayPal, I can either leave the cash in there or transfer it to a bank account.
I recommend a few different options depending on how you like to save your money..
When you are collecting cash, use a cash envelope to save your money all summer. It's a great visual way to see how much money you have made and have all your cash in one place.
When you are accepting payment online, you can use apps like Venmo or CashApp to send and receive money. Both of these are legitimate apps that are linked to your bank account or PayPal account.
Because I don't want any of my extra side hustle income to get mixed in with my regular checking account, I am keeping my online income completely separate. This way I won't be tempted to spend it.
There are two options that I recommend if you want to keep your side hustle income online and separate from your checking account.
The first is to use Qapital, which is an online savings account app. The second option is to use a Capital One 360 checking or savings account.
Other Ways to Participate in The Summer Side Hustle Challenge
Selling items online is not the only way to make money with the 1-hour summer side hustle challenge. Here are other great ways to make extra money easily over the next twelve weeks by only putting in an hour of work each week.
Mystery Shop
While the sixty minute summer side hustle is designed to only take up an hour of your time per week, this side hustle is perfect if you like to go out to eat and shop.
As a mystery shopper, you can actually get paid to mystery shop and get reimbursed for your meal and retail expenses. Yes, it's true. You can get paid to shop and eat! Learn more here.
Get Paid to Shop
We all have to shop sooner or later. You might as well make some money from your shopping by using cash back programs like Rakuten and Ibotta.
I love using Rakuten because they pay you cash back for everyday online shopping. Need something for a party or event this summer or planning an outing?
Rakuten partners with popular stores like Walmart, Amazon, and Target along with sites like Groupon so you can even score cash back on your dining out and entertainment. The cash back offers range from 1% to 14%. The money is then deposited into your PayPal account. Get $10 when you sign up with Rakuten here!
I like using the Ibotta app as well especially when I go grocery shopping. You can select rebate offers for certain products you're already planning to buy.
Then, simply scan in your receipt once you've completed your shopping trip and get cash back. This is an easy way to make your hour-long grocery trips more enjoyable and dare I say, profitable. Sign up for Ibotta here and receive $10!
Rent Out Your Space on Airbnb
If you have a spare room or guest house, consider renting it out on Airbnb this summer. You may need to spend a little extra time preparing the room and getting your listing set up.
However, once you are ready to accept bookings, being an Airbnb host becomes an ideal option for the 1-hour summer side hustle challenge.
You can set up your own check-in and check-out process where guests can come and go as they please without you even being present.
You can also outsource the cleaning when it's time to turn the room around for the next guest, or you can do it yourself in an hour.
Sell Services Via the Takl App
Whether you have a specific skill set or not, there are plenty of services to offer and get paid for using the Takl app. Register to become a provider on the app and you can take on local jobs like cleaning, packing, moving, lawn care, hanging decor, gardening, etc.
Once you set up your profile on the app, you can view all the available jobs and pick which one sounds best for you. You'll receive payment as soon as you complete the work.
Charge Electric Scooters
You may have seen people riding around on electric scooters in your area. This new bikeshare method can also be a profitable side hustle when you team up with electric scooter companies like Lime and Bird.
These scooters cost around $1 to activate plus $0.15 per minute to ride. For example, a 30-minute ride would cost you around $5.50 and riders will pay via the ap. While this is a cool way to get around, it's also an easy side hustle if you decide to charge scooters.
Since these scooters are electric, the company needs people to pick them up, take them into their home to charge at night, then put them back on the street for others to rent and use. As an independent contractor, you'd work as a Bird Charger or Lime Juicer depending on the company you work with.
All you need to do is sign up online, then use the app in charger mode to find scooters that need to be charged. It takes about 4-5 hours to fully charge a scooter, but again, you can do it overnight and only spend about an hour or less looking for scooters to pick up and charge each week. This is a pretty passive way to make some extra money on the side.
Sell Photos Online
Will you be doing any traveling or sightseeing this summer? Guys, I'm not talking about anything fancy either. This could mean anything from checking out a cool event or going on a long walk on a scenic trail in the neighborhood.
If you're going to take stunning pictures of your surroundings, you can always opt to sell those photos online for extra cash. In addition to selling photos, you can also have your photos put onto merchandise as well.
Sites like Zazzle, iStockPhoto, Shutterstock, and Deposit Photos are all great places to sign up as a photo contributor for free.
Rent Out Your Car
If you have a two-car household or just don't do a ton of driving, consider renting out your car over the summer as a side hustle. Sites like Turo, Maven, and Getaround allow you to rent out your car easily.
Like Airbnb, you can choose who you want to rent to and the company will screen each driver and provide insurance. It only takes a few minutes to list your car and vehicle owners on Getaround can easily make a few hundred dollars per month.
How to Track Your Savings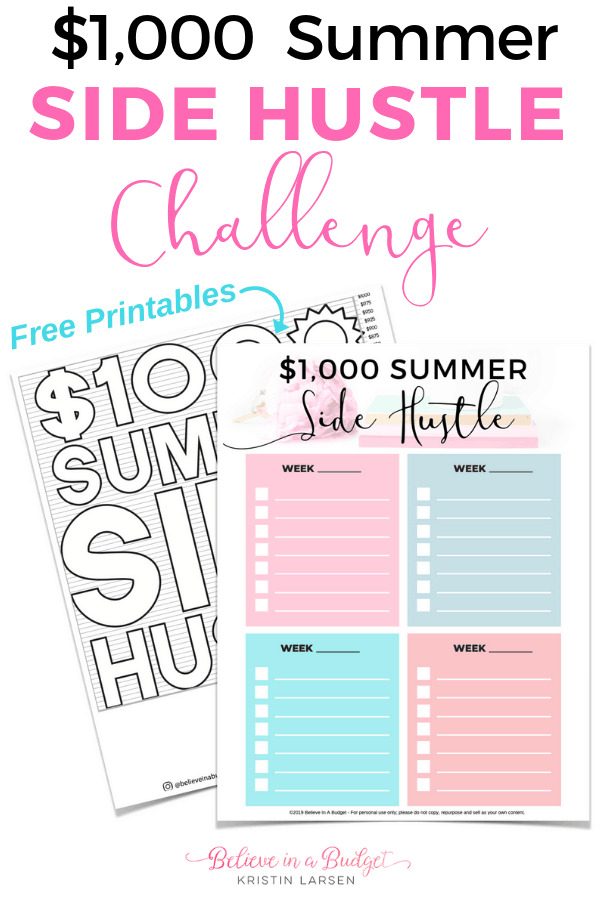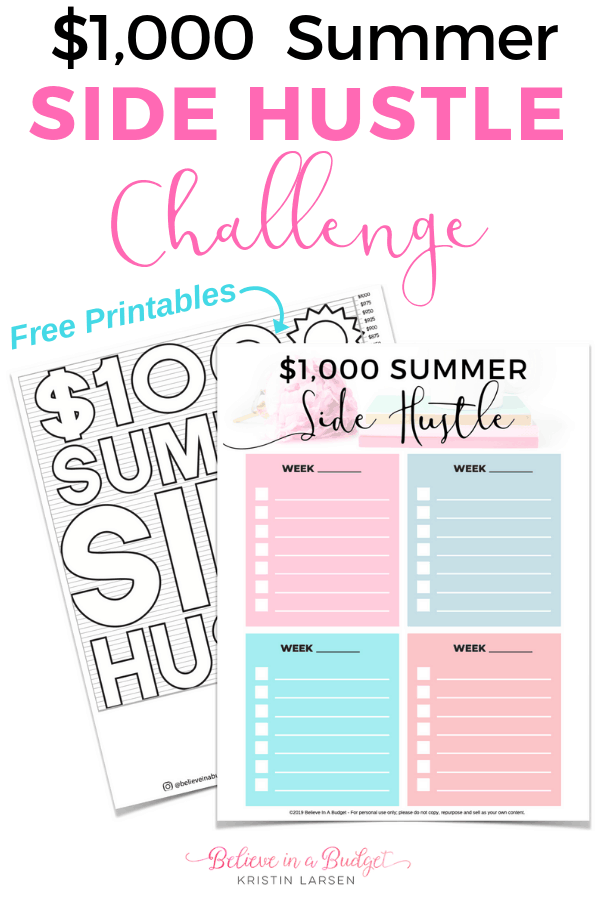 I've created two free printables that you can print out in this blog post.
Make sure you follow me on Instagram as I will be sharing my weekly recaps and progress updates in my highlights..
Each printable will fit on a standard 8.5 x 11 inch piece of computer paper. You can also select the 'scale to fit' option to make sure it prints correctly.
If you don't have a printer, you can use your local UPS store or library. It will cost under a dollar to have these printed out!
If you are looking for a printer, I use this one. I've had it for about two years and I love it.
It's super affordable and doesn't take up much space. It's also wireless, so I can print from anywhere and it also has a built-in scanner.
If you are looking for new supplies, I prefer to use these colored pencils. They are Prismacolor but a more affordable line.
I keep all of my cash inside this clear 3″ x 5″ plastic zip pocket. The zip pocket comes with index cards, but I take the index cards out and replace with my bills. It took me a while to find the right size, but I wanted something clear so I could see my cash and be reusable.
The first printable is a coloring page to help you visually track your savings.
Here is how I recommend using these printables.
First, print out the .pdf in black and white as it does not need to be in color. Then color in the $1000 summer side hustle words. This is where you can get creative! You can use colored pencils, highlighters, markers, crayons; basically anything you have on hand.
Next, I have already pre-filled the horizontal lines to go from $0 at the bottom of the page to $1000 at the top of the page. Each line represents $25.
Now, let's say you make $20 and aren't sure if you should color in the entire line. I would go ahead and color in 80% of the line, starting from the left and coloring in the line as you work your way to the right of the page. Stop at about 80% of the way. Once you make that next $5, go ahead and finish coloring in the line.
The second printable can be used a couple of different ways. I like to keep all of my cash earnings in a reusable envelope, but I also want to be able to track my earnings.
I use each rectangular grid per week. Fill out the week number, and then use each line item to record the amount of money in the box and the item name on the blank line. At the end of the week, I cut out each grid and place it in the envelope with my cash. This means I will need to print out this printable a few times as this is a 12 week challenge!
If you do not want to cut up your printable and would like to keep both printables together, it will also fit on a standard 8.5 x 11 inch piece of computer paper. I like to print this page out in color, but you can also print it in black and white.
Finally, put your printable in a place where you will not forget about it.
My $1000 summer side hustle printable is currently hanging on my cork board in my office, as I spend a lot of time in there. If you use a planner or want to put it in a binder that is not 8.5 x 11 inches, you can also adjust the paper size for an A45, A5, A6, etc.
I also recommend following me on Instagram. I will be sharing a recap each week with an update on my summer side hustle challenge progress. Everything will be posted with weekly pictures as well as updates in my stories and highlights.
Make sure you tag me @believeinbudget if you are using the printables. This way I can cheer you on!
[convertkit form=5278140]
Are You Up for the Sixty Minute Summer Side Hustle Challenge?
I honestly love this sixty minute summer side hustle challenge because it's super easy. Most of us can spare at least one hour per week to focus on any of the things on this list.
You can get a lot done in an hour and it's fun to make extra money without doing a ton of work. This is why earning at least $1,000 this summer is so doable regardless of what your schedule is like or what skills you have.
Which side hustle choice sounds best for you? Have you ever sold anything online before? I'm sure you have some great money-makers just lying around the house.