Please note, Elite Blog Academy has been updated and is now called Activate. It is the same program that has received not only an update, but a brand new way to view and learn the material.
As I started reviewing all my stats and numbers from last year, I decided to share my findings in this post.
A lot happened last year and I want to be able to document everything for future findings. The biggest impact was signing up and taking Elite Blog Academy. This amount only includes money that was put in my bank account. So even though I made money in December, I wasn't paid for it until January or later, so I don't count it.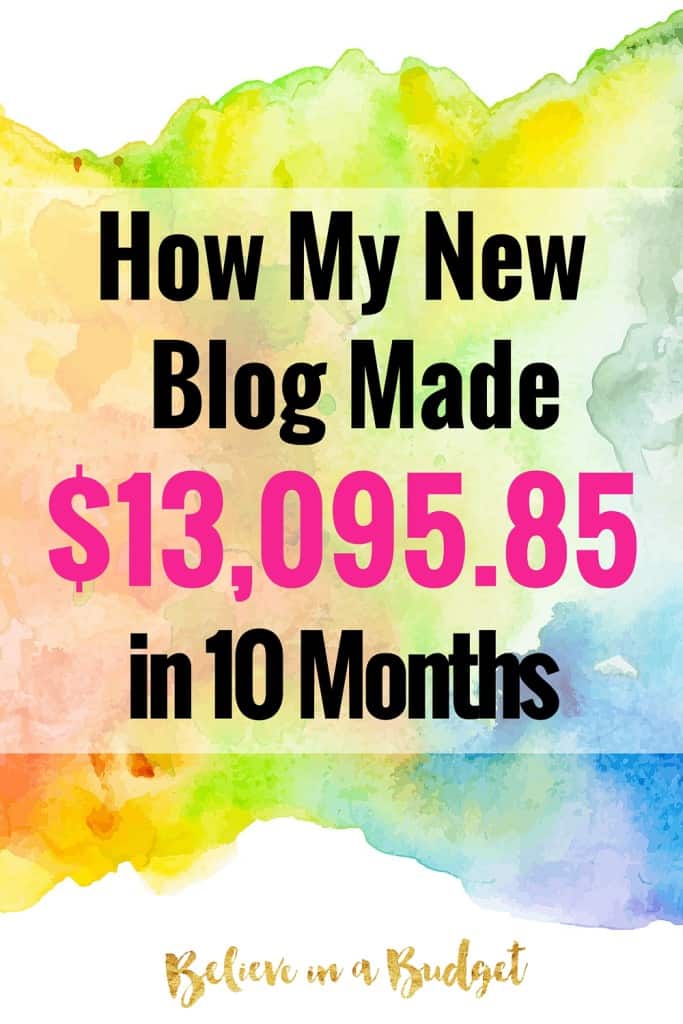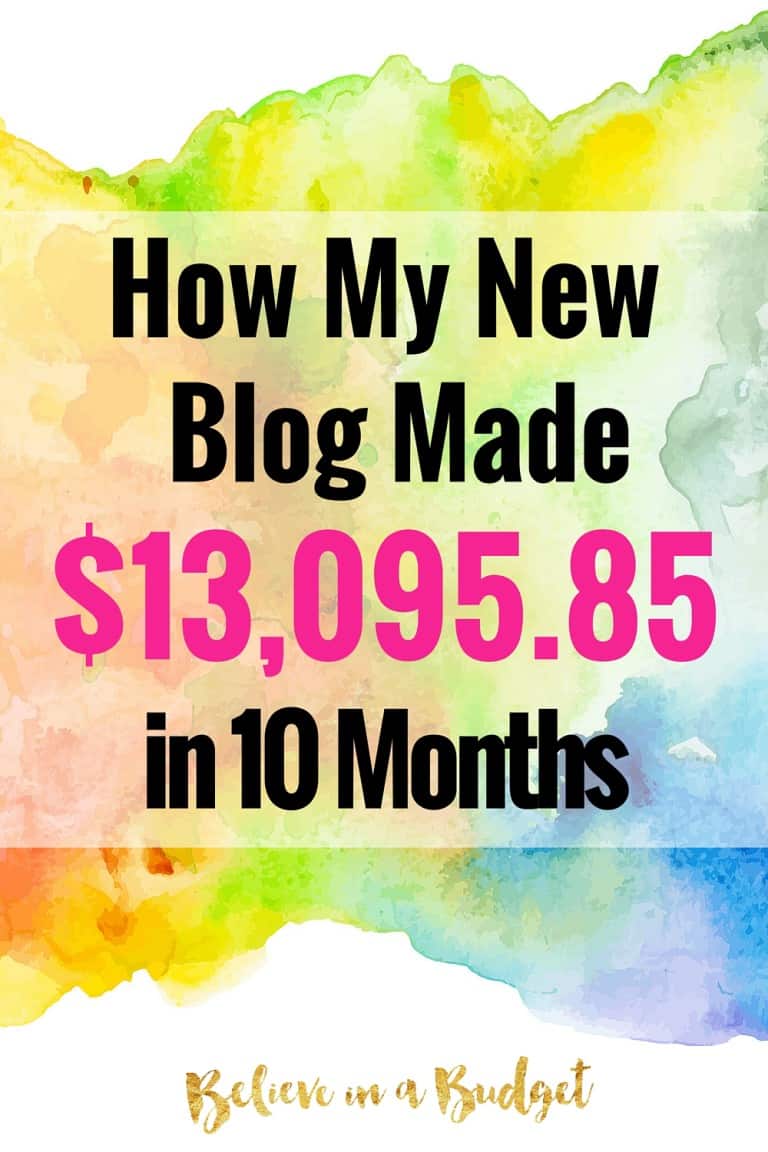 How blogging changed my life
Blogging has changed my life so much! I know it sounds corny, but I still can't believe how many great things have happened since I started this blog. Seriously, the fact that I could make over $13,000 in such a fast amount of time – while working part time from home – is crazy!
I've also made some great online friendships from fellow bloggers, and can't wait to meet some of these friends in person when I go to my first conference later this year.
If you have been thinking about starting a blog, stop thinking about and just do it.
If you are thinking about starting a blog, this tutorial will help you start a blog today. You'll also get a FREE domain name for a year! I was able to quit my job and blog full time, all within my first year of blogging. I am really glad I took a chance and started a blog!
I invested around $100 to start my blog using Bluehost, and I made $13,000 in 6 months of blogging. That's the best return of investment ever!
How I got started with Elite Blog Academy
I started my blog like most other people – I just went for it! One of the best decisions I made early on was to join Elite Blog Academy when it opened for enrollment. I was so excited to join!
The course lasted for 12 weeks and I could go at my own pace or follow the schedule that was provided. That course changed everything! It inspired everything you are going to see below. Elite Blog Academy aka EBA taught me so many things, such as:
how to create amazing blog content
how to get started monetizing my blog
how to seek out extra income for my blog through sponsored posts and working with brand
tips, suggestions and ideas on creating products
how to promote my blog on social media
and more!
If you want to get on the waiting list for EBA, you can sign up here.
EBA usually only opens once a year in February, so enrollment is limited. The nice thing is when you sign up ahead of time, you receive a few free goodies on blogging that are super helpful!
You definitely need to get on the list if you are a new blogger and it doesn't matter what time of the year you sign up for the list.
To read my in-depth review of Elite Blog Academy, I wrote this review 12 months after taking the course so I could give honest feedback. I also answered a lot of common questions I received about the course as well!
Related reading:
Time frame and breaking down the numbers
I had my first online income report in April 2015. Technically, I received this amount over the course of 10 months, so I earned this in less than a year!
[convertkit form=5202421]
Ad income – $682.21
I worked with Google Adsense and Media.net. It took me MONTHS to get that first paycheck and reach the $100 minimum threshold. It was also the most rewarding $100 check I ever earned!
Sponsored posts – $0
I didn't participate in any sponsored posts. I'm still including this anyways. Why didn't I work with any brands? I signed up with several different media influencer agencies. I got rejected from a few of them for various reasons including:
Page numbers were too low (most required 100,000+)
Not the right fit (that's what they said; would have been helpful if they were more specific!)
One of the best ad companies I like is Cooperatize. They are one of the few agencies that accepts bloggers with all different monthly page views, so they are worth checking out and getting signed up with!
Even though I was accepted into other agencies, nothing really came of it. Some agencies have the mantra "we'll contact YOU if something becomes available." Other agencies had some stiff competition and I wasn't selected.
Some companies wanted you to bid on an insanely low campaign that literally paid a few dollars, which is something I refused to do. I was a little disappointed with the amount of time and energy I put towards some of these companies.
Nothing annoys me more when I have to share all my Google Analytics, add some code to my website per the company's request and give out personal information, only for nothing to happen.
While things did start changing once I hit the 100,000 pageview mark and I now get more and more offers for sponsored posts, I probably should have invested my time elsewhere before crossing this threshold.
Working with brands directly – $0
I personally wasn't comfortable reaching out to brands until I reached the 100,000 page views within a 30 day succession.
I think you can absolutely reach out to brands before this, but it was a personal goal to reach this number. I also did not want to participate in any giveaways or product reviews, as my blog isn't really like this.
While I made no money from working with brands last year, I did put the wheels in motion in December to line up sponsored posts for the new year! I also created my media kit around the same time I was contacting companies, so I was pretty busy trying to get everything done. I'm thinking about creating a .pdf or freebie on how to do a media kit – would anyone be interested?
It can take time to work with a brand – there's the initial email and possible follow-ups, communication back and forth, creating a contract and agreeing on a price, setting a deadline and getting to the actual publish date.
Products – $0
I didn't release my first product until January of this year, but spent most of my free time writing and editing in November and December.
I am including this anyways because I want to remember how much time I put into the writing process. I went through phases writing my book – sometimes I could sit for an entire day and bang it out – sometimes I had a week gap in between writing sessions because of time constraints.
Initially, I thought writing the book was the hardest part. Nope, turns out editing was harder. And then promoting was even harder. After it was all said and done, I'll never complain about the writing process again!
Affiliate income – $679.33
This area of income has become my favorite way of earning money. This is an area I should have started utilizing when I first started blogging. At first I was uncomfortable writing about products I enjoyed using. I was worried readers wouldn't like that I could earn a referral for writing about a favorite product that helped me blog (even though it doesn't cost the reader anything extra!)
But as I read other blogs, I appreciated bloggers sharing tips and tutorials. Affiliate income is the easiest way to say thank you to a blogger for providing valuable information. If all I had to do was click on their link and they could earn income while helping me solve a problem, I could do this for my readers!
The best luck I've had with major affiliate companies is Shareasale. Many of the companies they have partnered with are brands I already use, so it was a perfect fit.
Freelancing – $11,734.31
Wow, I'm so happy with this number. I earned this income while working around my full time job. Fortunately, I was able to quit my job and this includes two months of full time freelance income. Freelance income (or anything else on this list) wasn't even on my radar a year ago.
Total income: $13,095.85
How to sign up for Elite Blog Academy
I am so excited by my accomplishments and can't wait to see what is in store for this year. Anything is possible! As someone who didn't know how to do anything, let me tell you – anyone can start a blog, work hard at it and see results!
If you want to get on the waiting list for EBA, you can sign up here. EBA usually only opens once a year in February for a week, so enrollment is limited. You definitely need to get on the list if you are a new blogger!
[convertkit form=5202420]
Do you have any questions about Elite Blog Academy?